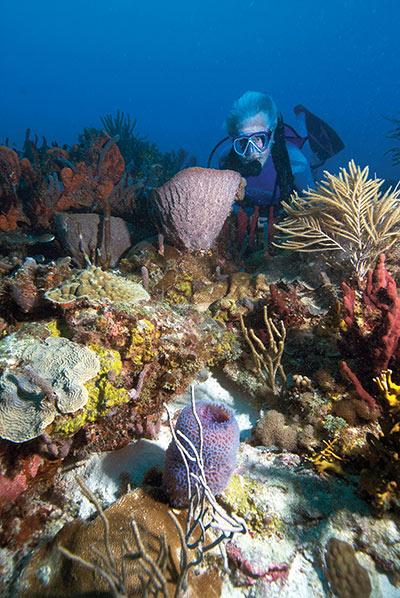 Text by Jean-Michel Cousteau
Three flights from Santa Barbara, California, to Barbados, followed by a 45 minute single propeller plane ride to Union Island, a brisk 20-minute boat ride across the southern Caribbean's turquoise water to a lush green mountain rising steadily from a seemingly endless ocean, I finally arrive at a private island known as Petit St. Vincent. Located 40 miles (64km) south of St. Vincent in the Grenadines in the Caribbean, Petit St. Vincent is where a luxury private resort meets sustainable eco-friendly tourism.
Since my father, Jacques Cousteau, first placed his newly co-invented SCUBA gear on my back at the age of seven, I have become aware of humanity's critical connection to the ocean. As a diver for over sixty years of my life, it has been both my privilege and honor to travel the world's oceans and share with others the beauty and often fragility of the land and ocean's fascinating ecosystems, such as the coral reefs. This is why, 20 years ago, my team and I partnered with a resort in Fiji to fulfill one of my lifelong goals: to bring eco-friendly services and sustainable living education to adults and children around the world. Now, I have the opportunity to bring the same design of eco-tourism and sustainability to the resort operations in Petit St. Vincent.
Petit St. Vincent is a remote island in the Caribbean. Home to almost 10 percent of all the world's coral reefs, the Caribbean has already lost over half of its corals and the health of remaining reefs continues to decline across the region. Coral reefs are the ultimate sustainable systems – mastering the benefits of sunlight's renewable energy, recycling the limited supply of nutrients, and forming the architectural foundation that supports one of the most productive ecosystems on Earth. Yet coral reefs also have endured decades of human pressures, particularly in the Caribbean – with overfishing, pollution, climate change, nutrient enrichment and unsustainable tourism being the largest contributors of declining coral reefs in the region. So, what can the average person, traveler, or diver do to help stop this massive degradation of our ocean's coral reefs and our life-support system?
Divers' Choices Matter
As divers and snorkelers, we communicate to one another underwater through hand signals. On land, we communicate to businesses and industries about our value for the environment through our wallets – that is, where we choose to spend our time and our money. 
As one of the largest industries in the world, tourism can have an immense influence on local regions and cultures, as well as environments and ecosystems on the planet. Ecotourism, known as "environmentally responsible travel", is a vital part of keeping our planet healthy.  Ecotourism emphasizes appreciation for local cultures and biodiversity, promotes conservation, and supports education and learning for travelers and local communities. The goal is to encourage the protection and preservation of valuable regions and habitats.
How do you get someone to understand, fall in love with, and protect the natural world? You take them out in nature! From snorkeling and scuba diving to hiking and hands-on learning, I have always believed in the power of nature and the environment to be the ultimate teacher. Over billions of years, species and ecosystems have evolved networks and processes that promote sustainability. Natural ecosystems and every living creature on the planet have adapted to the challenges of life – obtaining energy, reusing resources, and sustaining their species for the future – challenges we as humans continue to face every day. The solution lies in learning from nature and sharing the simple lessons that can help us live more sustainably in our everyday lives. To expose more people to these types of sustainable lessons, we encourage every traveler to be a responsible and active participant in their consumer choices including where they choose to visit and the businesses they choose to support.
Fifteen Years of Ecotourism Success
My decision to be involved in the resort on Petit St. Vincent and to open a dive center is based on 15 years of experience at the Jean-Michel Cousteau Resort in Fiji.  Our goal in partnering with small hotels has always been to demonstrate what we preach: we can enjoy a breathtaking vacation in a beautiful part of the world and be good stewards of the environment at the same time. Through our hotel partnerships, we offer guidance on how the hotel can reduce its environmental footprint and make operations 'greener'. 
My team and I have consistently encouraged energy conservation, waste management, water conservation, landscape management; promoted natural reserves and coastal restoration; supported food production and integrated pest management; and implemented education and community outreach.  I believe this is our duty as outsiders to support and promote cultural and environmental responsibility in the regions where we have partnerships with resorts. And at the same time we want to use t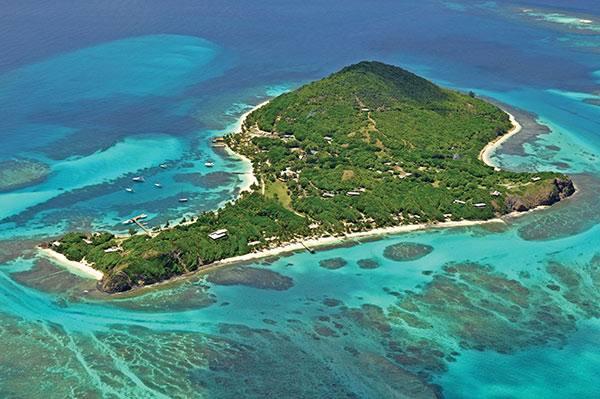 hese efforts to demonstrate to our guests that it is possible to live well and live responsibly, so that they can carry this message and ethic home with them.
As I always say, how can people protect what they don't understand? Education has always been key. Our programs enlist a naturalist/marine biologist to be a part of the staff, offering daily educational programs and excursions out in nature that we believe inspire our human connection to the environment and encourage personal stewardship for the planet. This enrichment is the center of ecotourism – understanding the value, the beauty and the fragility of ecosystems around us, and empowering guests to take action to live a sustainable lifestyle. Ultimately, we want to demonstrate that resort operations can be both economically and environmentally viable while we all become inspired to be responsible stewards in ocean protection, staff and guests.
Ecotourism Around the World
As the tourism industry continues to grow, we all must realize our influence and the power of our consumer choices on the future of sustainable tourism. No matter where we are in the world, our responsibilities as good stewards go beyond what we do at home and in our community; it's how we choose to spend our vacation time and which operators we want to support.  With the increase in popularity of ecotourism, I feel there are now new environmentally or environment friendly destinations where we can travel, without sacrificing the comforts many of us seek. 
In Petit St. Vincent, I continue my belief that businesses can be not only environmentally feasible but also economically successful. They can enhance both traveler experience and the environment around them. Following surveys of the coral reefs and aquatic life surrounding the island of Petit St. Vincent and neighboring islands, my team and I felt it would be a wonderful place to share the wonders of coral reefs with guests and locals. In November 2014, we unveiled our grand opening of the newly established local dive company, 'Jean-Michel Cousteau's Caribbean Divers'. Although the dive center will operate independently from the resort in Petit St. Vincent, they will share some common facilities and work together towards educating and inspiring guests to become environmentally conscious and practice sustainable living when they return home.
My involvement with both the Jean-Michel Cousteau Resort, Fiji, and the dive center in Petit St. Vincent enables me and my team to contribute to environmentally conscious tourism with a focus on education, habitat restoration, and commitment to protect our planet's precious resources. As tourism continues to be a major industry in our global economy, we can all feel empowered knowing that environmentally friendly tourism can happen anywhere – we just need the will to choose it.