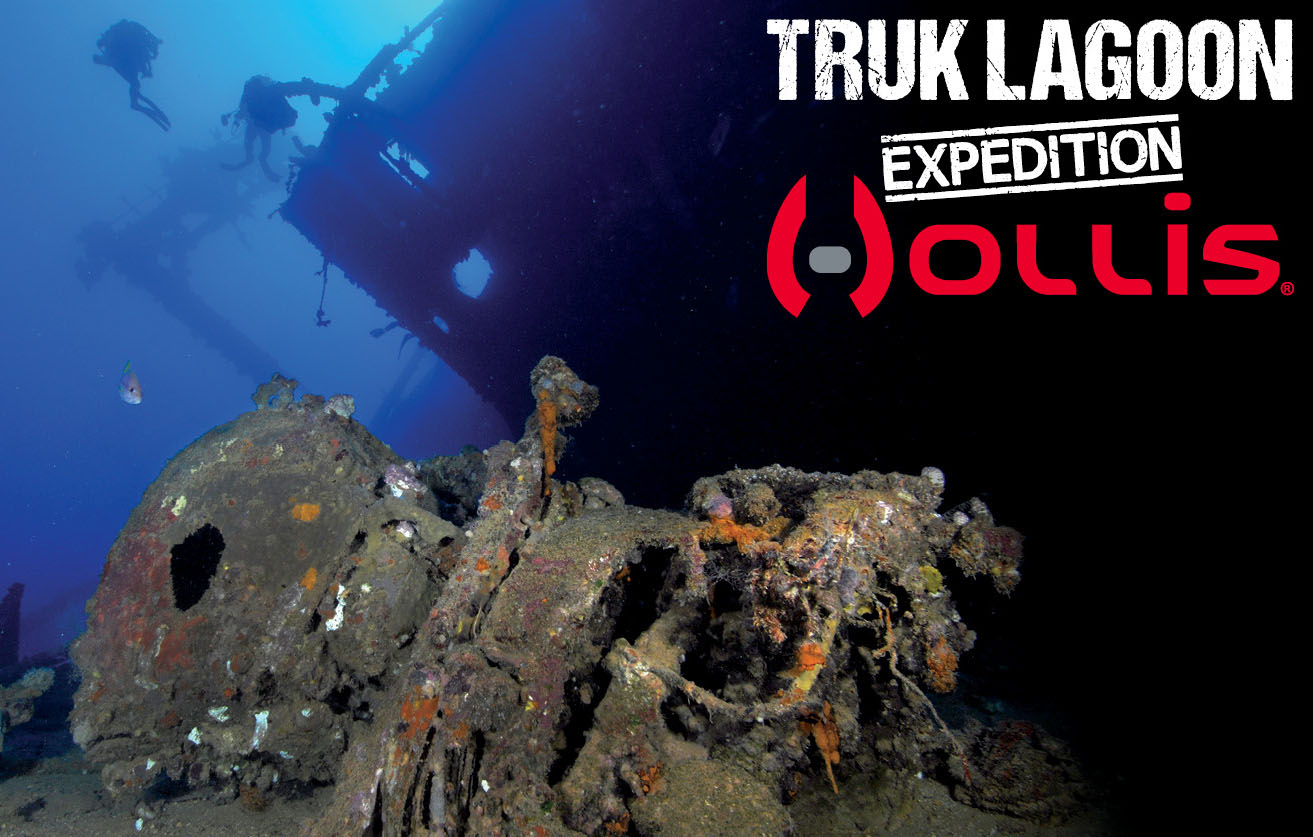 US gear manufacturer Hollis, have announced a partnership with Canada's Sea the World Adventure Travel, with their first expedition to Truk Lagoon now taking bookings for 2016. 
Divers will get the chance to join Hollis Ambassador, Bill Coltart, aboard the luxurious S/Y Truk Siren for a ten day wreck diving expedition. Divers will get to dive some of the most impressive and historically significant wrecks in the world, and witness some of the most beautiful marine life that now call them home.
So where do Hollis come into it? Well not only do you get to dive, and get advice from a Hollis Ambassador, but divers will get to try all the newest Hollis gear. A large Hollis demo bag will be on each Expedition and offers divers a chance to try new configurations like sidemount, new regs and new computers amongst others. Divers will also receive an expedition T-Shirt, schwag bag, and a post expedition video. 
Expedition Hollis: Truk Lagoon is $4950 USD per person, based on a double occupancy and includes:
10 nights aboard S/Y Truk Siren

Full board including meals, soft drinks, and beer

Post expedition video

Nitrox

Transfers in Truk

Use of Hollis demo gear

Expedition T-Shirt

OC Cylinders and lead

 

 
Flights not included
The 132 foot S/Y Truk Siren luxury diving liveaboard offers guests the best tec diving facilities, air conditioned cabins and outdoor dining. The dive deck is large enough to have individual set up stations, and big enough for large tec dive setups. Built by divers for divers, the S/Y Truk Siren is a modern and spacious diving liveaboard.
Truk is a wreck diver's paradise, suitable for both novice and experienced divers. The calm, clear, sheltered lagoon is relatively free from currents, providing safe, easy diving conditions. Many ships of war rest here among bombs, torpedoes, guns, tanks, planes, telegraphs, bicycles, shoes, trucks, and giant warheads.
Divers can swim across decks littered with gas masks and depth charges, and below deck can be found evidence of human remains, in what some call the Ghost Fleet of Truk Lagoon. In the massive ships' holds are the remnants of fighter aircrafts, tanks, bulldozers, railroad cars, motorcycles, boxes of munitions, radios, plus thousands of other weapons, spare parts, and other artifacts.
Expedition Hollis: Truk Lagoon is the first unique dive experience where you get to try the newest Hollis gear, while diving in a wreck diver's paradise aboard a luxury diving liveaboard.  It is expected to be the first in a series of Hollis Expeditions.
For more information visit: www.seatheworldadventures.com