More than a decade ago a group of technical divers made a series of 'unofficial' deep dives on the heritage wrecks of Hamilton and Scourge in Lake Ontario. This is their story
Text by Scott Stitt
It feels like we've been dropping forever. Descending through 150 feet (46m), I steal a glance upwards where the brilliant sunshine is now just a faint green glow. We're enveloped by an oppressive blackness that mocks my Sartek HID video lights. The visibility is good though. We can see our thin guideline well below. It's a hopeful sign that our target – a shipwreck – will be in clear view. Still, the bottom is at 300 feet (92m), same as a 30-story building, and these deep waters of Lake Ontario just keep getting blacker.
At 200 feet (61m) I glance over at my good friend and dive buddy, Michel 'Frogman' Guerin, a highly intelligent and capable person who inspires confidence, especially when you're doing something, well, dangerous. He's rigged like me. We're wearing so much gear that on deck it's hard to stand. Twin OMS, large volume steel tanks are on our backs, we carry powerful floodlights, and under each arm is an 85 cubic foot deco bottle. I'm also carrying a video camera in an Amphibico housing.
Our descent line is anchored with a 10-pound weight, at the surface a plastic reel doubles as a float. A Zodiac and our larger dive boat float nearby. We can't pull on the line or hang from it; it's a guide only. Ordinarily we'd grapple into the wreck with a heavy line and then tie off the dive boat to it, much safer, more secure, but it's not an option today. Damage to the wreck could be high. That's unacceptable considering our objective, the Hamilton and the Scourge, wrecks that are unquestionably historical treasures. So we're using the lightweight gear, and assume the risk.
As we drop below 250 feet (76m) I scan around for a mast but see nothing. Here the line disappears into a milky layer of silt like I've never seen before. Visibility drops to 3 feet (0.9m). Michel's light is the only indicator of his position as we reach a knot in the line telling us we're 15 feet (4.5m) from the bottom. We trim out and advance cautiously, looking, but mostly feeling our way along.
At 290 feet (88m) we make contact with something wooden, obviously man-made. It's a ship's railing. We're definitely on an old vessel of some kind but exactly where we can't say, much less if she's the ship we're hoping her to be. I move to the left following the rail and Michel follows. After a couple of metres the rail becomes a lifeboat davit extending out from the ship's transom. So, we're on a sailing ship's port rail, at the stern. We need to see her armaments or figurehead, in the other direction, if we're to make positive identification. We turn, and I follow the 'Frogman', doing my best to film as I go. Moments after we pass our down line Michel lets out a great cheer through his regulator, but I don't know why. Then he turns revealing between us a short, stout, large bore cannon called a carronade. We know the Hamilton carries these guns.
Our dive that July 15th day of 2000 followed months of research and planning. The payoff was worth it because we now knew conclusively that another of our sonar targets 500 yards (457m) to the north of the Hamilton would put us on the Scourge. We had done it. We had found two of Lake Ontario's most remarkably intact, and historically important shipwrecks.
But the longest part of the dive was still ahead. Our 20-minutes bottom time from start of the descent required 90 minutes of decompression. Just one minute additional bottom time would add 40 minutes deco time, and it was a bone numbing 32°F (0°C). Our first deco stop was at 200 feet (61m), and from there we'd stop every 10 feet (3m) until our schedule was complete. We'd started out breathing 13 percent oxygen/60 percent helium, mixed with nitrogen. At 170 feet (52m) we switched to our first deco mix of 25 percent oxygen/25 percent helium and hooked up with our safety diver, Todd Ziegler, who was on 'normoxic' trimix, with 21 percent oxygen, so he could use his dive computer. We were using bottom timers and custom generated tables written out on wrist slates. Todd confirmed our gas switch and seeing all was okay returned to shallower waters. We switched gases again at 70 feet (21m) to 50 percent Nitrox. Soon after at 50 feet (15m) Todd guided us to a heavily weighted line off the Zodiac where we completed our deco, ascending to our last stop at 20 feet (6m), switching to 100 percent oxygen supplied from surface regulators.
Todd then looked at me with enquiring eyes. "Well," they were saying. He handed me a slate on which I wrote two words: saw cannon. He quickly relayed the news topside where everyone had to wait patiently for our arrival and the eagerly anticipated details. Back aboard we were all smiles and laughter and high fives in every direction. We couldn't believe our luck.
It would take us two years to complete eight dives on the Hamilton and two on the Scourge. Our lightweight descent/ascent gear was functional in waves of one-metre or less, which we learned are rare on Lake Ontario. Then in the spring of 2002 the team suffered a devastating loss that brought the project to a crashing halt, and changed us all.
Historical Context
But let me backtrack a little first. Hamilton and Scourge were casualties of foul weather that arose during an inconsequential battle of the largely forgotten war of 1812-14, which was the North American extension of Europe's Napoleonic wars. The British Navy was formidable and while the U.S. fleet could not pose any direct challenge on the high seas, an attack on its northern colony of Canada had merit though ultimately the strategy proved unsuccessful and today Canadians remember this war as their victory.
The Scourge was a war prize, a 50-foot (15m) Canadian merchant schooner called the Lord Nelson, taken by the U.S. Navy brig Oneida days before the U.S. declared war on Great Britain. She was renamed and armed with 10 long guns, a mix of four and six pounders on her top deck. The Hamilton began life as the Diana, a 75-foot (23m) American merchant schooner purchased by the U.S. Navy in 1812. She was armed with eight 18-pound carronades and one 12-pound long gun mounted on a pivoting slide center amidships.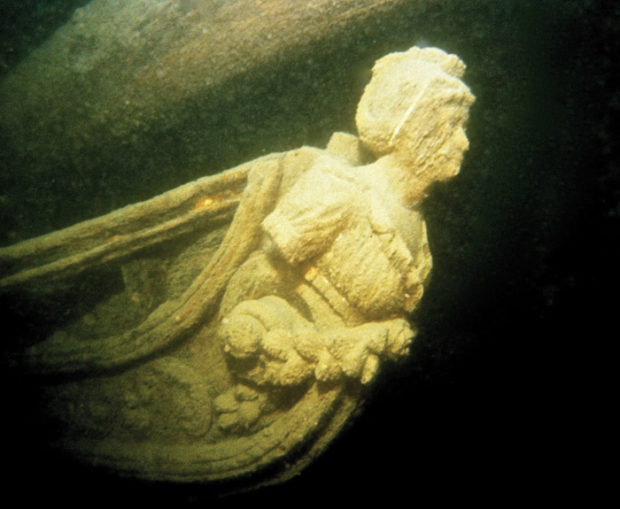 On August 7, 1813, a U.S. Navy squadron of 13 ships and a Royal Navy squadron of six vessels were manoeuvring for an advantage that neither was able to gain. No shots were fired and everyone settled in for the night and because it was so calm sails were left ready for action in the morning. At 2 a.m. a squall swept across the lake engulfing both squadrons and capsizing Hamilton and Scourge, both dangerously top heavy with their retrofitted deck guns. They sank so quickly that only 16 of 76 sailors survived.
The search for these two wrecks began in 1971 under direction of Dr. Dan Nelson, an associate archaeologist at the Royal Ontario Museum (ROM). In 1973 a vessel from the Canadian Centre for Inland Waters (CCIW) located the wrecks using side-scan sonar. As a matter of course the U.S. Navy asserted ownership, which was subsequently transferred to the ROM and, in turn, to the City of Hamilton, with the understanding certain U.S. Navy conditions would be met. They included, in part, scientific study of the wrecks to determine the feasibility of raising one or both of the vessels for appropriate conservation and display at a suitable venue with care taken for the removal and repatriation of any human remains.
Between 1975 and 2012 seven different expeditions photographed the wrecks using ROVs. The first video of Hamilton was shot in 1975. During one of those early expeditions an ROV's umbilical, or perhaps a heavy barge anchor, became entangled in the Hamilton's forward mast, tearing it off and dropping it on the lakebed. In 1980 a Jacques Cousteau expedition filmed the Hamilton using Calypso's submersible diving saucer, Soucoup, which collided with Hamilton's figurehead causing minor damage. Other damage during subsequent expeditions has also been documented. And I mention these incidents not to be critical but simply to make the point that despite the best of intentions "stuff" happens. The only way to avoid such incidents is to not visit the wrecks and if that's the plan then surely we must ask why we would bother to protect them at all?
What Price Protection?
I have no doubt that the City of Hamilton at the outset had every intention of living up to the conditions of ownership of Hamilton and Scourge as set forth by the U.S. Navy. The city planned to raise both wrecks, recover the artifacts, conserve and display all in a new museum planned for the city's waterfront. But the project budget estimates were unrealistic. As a former commercial diver I knew the city had grossly underestimated the cost or raising these two fragile shipwrecks from a depth of 300 feet (92m). The most recent estimate that I've seen was for $20 million plus $2 million annually for conservation.
The Confederate submarine Hunley was raised from only 27 feet (8m) off the coast of South Carolina in 2000 at a cost of $20 million. She was 37 feet (11m) long, 4 feet (1.2m) in diameter, and weighed 7.5 tons. Hamilton likely weighs 80 tons without guns, Scourge about 50 tons, and these estimates don't consider their internal silt loads. So they weigh nearly 10 times more and are located in water ten
times as deep.
Much can be learned also from the salvage and restoration projects of the 1628 Swedish warship Vasa, raised from 105 feet (32m) in 1961, and the 1545 British warship Mary Rose, raised from 40 feet (12m) in 1982. The Vasa was put in a purpose built museum where it underwent conservation that continues to this day. To prevent wood shrinkage and decay the vessel was continuously sprayed with polyethylene glycol for 17 years and then slowly dried over the course of nine years. Despite this effort the Vasa continues to decay. Preservation efforts are ongoing. Similarly, the Mary Rose is just now coming to the end of a 40-year conservation effort facing comparable problems.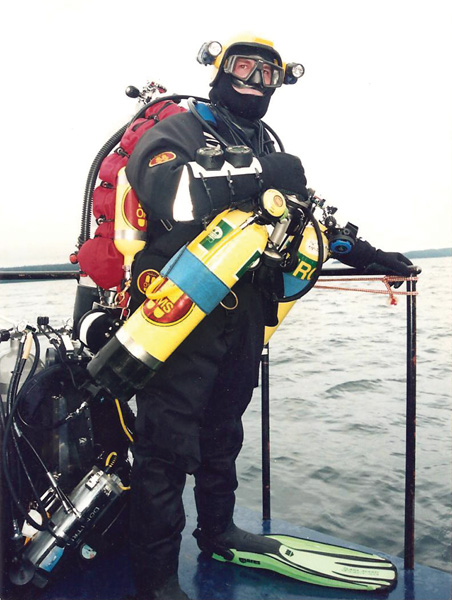 The City of Hamilton has itself most likely concluded salvage of Hamilton and/or Scourge is unrealistic for many reasons. I no longer believe that the technical complications of raising the wrecks can be overcome at any price. In fact I'll go so far as to say that Hamilton and Scourge will never be raised. Margaret Rule and Peter Englebert, archaeologists associated with the Hamilton and Scourge Project agree.
Exact location of the wrecks has been a closely guarded secret. The City of Hamilton and the Ontario Ministry of Tourism, Culture and Sport (MTCS) refused permission to anyone wanting to dive the wrecks. They cautioned any unauthorized diving could lead to arrest and confiscation of equipment. At that time no law prohibited diving these wrecks or empowered any authority to arrest and confiscate. About this time the original Hamilton and Scourge crusaders, author Gary Gentile, and marine archaeologist Scott McWilliams, tried in vain to get permission to dive the wrecks and, failing, launched suit against the City of Hamilton in 1999. The scope of Gary's efforts far exceeds the limits of this article.  For more information read Gary's book, Stolen Heritage: The Grand Theft of the Hamilton and Scourge. Check out this site:
www.ggentile.com
That year I also concluded the MTCS and the City of Hamilton were obstructing the diving public. My group of friends, which would become the Hamilton and Scourge dive team, had planned to dive the shipwreck Gunilda in Lake Superior, a 195-foot (60m) luxury steam yacht that sank in 1911 in 270 feet (82m) near Rossport, Ontario. Like Hamilton and Scourge, the Gunilda is an Ontario Heritage Site, though in this case it's a person, Fred Broennle, who holds title. In preparation I wrote Broennle and the MTCS for permission and permits. Both replied that neither was required to dive Gunilda. Really. My posture now is that "It's easier to ask for forgiveness than it is to ask for permission." Call it civil disobedience in the face of an immovable bureaucratic authority denying access to two world-class shipwrecks right in our own back yard.
Having concluded that we were free to dive Hamilton and Scourge, I also realized that no one at the City of Hamilton was going to tell us their locations. We'd have to find them first. So I spent much of the winter of 1999-2000 poring over countless documents and every clue was plotted on a chart, including two sets of coordinates offered on the Internet though they proved considerably inaccurate. Neither are the coordinates on the city's Hamilton and Scourge website a match with my own. They're likely a ruse. Eventually, our plots formed a distinct cluster. It was time to call a meeting.
Covert Caper
I had five friends whose combined skills could safely pull off the dive project I had in mind. All of them were keen and wanted details. I expressed confidence that the wreck location information compiled was solid for the search phase of the plan and with this conversation behind us we devoted the remainder of our first meeting to the details of dive planning.
Key to the search effort was Todd Ziegler, an expert with computers and geographic information systems (GIS). He put my Lake Ontario search grid scribbles into a navigational computer and selected a hull mounted side-scan sonar unit for purchase by the team. Though an experienced technical diver Todd was not trimix certified so he volunteered to be our primary safety diver.
From the outset we agreed the project would be discussed only among team members. We did not want news of our secret mission to spread because we did not want the City of Hamilton or the MTCS to interfere. We never docked our boats at the same marina twice. If anyone asked, we were simply conducting trimix training dives. We even gave the wrecks code names:  they were Chuck and Di. Hamilton was Di and Scourge was Chuck. Out of habit we still call them Chuck and Di. We gave ourselves a name: Marine Exploration Group or MAREX-Group, a non-existent dive organization. Our efforts at secrecy were so successful it surprised even us.
Documents indicated that the site was continuously monitored by radar. After a little research I considered such surveillance was unlikely but to be sure we twice visited the wreck area, had lunch, soaked up a few rays, and waited to see what might happen. Nothing ever did. No one showed up.
Our first real search day was July 8, 2000. Our five-man team set out from Pickering, Ontario, navigating over to the western end of Lake Ontario and the search area. Within 45 minutes we'd located our first promising target. We knew the wrecks were 500 yards (457m) apart so we continued to 'mow the lawn' and got another strong hit at exactly that distance. It was convincing but not conclusive. The only way to know for sure was to dive.
During the next week many hours were spent in my garage filling tanks and preparing all the gear we'd need to make a 300-foot (92m) trimix dive. We decided the first dive, described at the beginning of the story, would be on July 15 and would be on the target we found first. Three weeks after our descent, team members Richard and Wayne made their first dive on Hamilton. Visibility was at least as bad during this second dive but both divers felt they were lucky to have found the wreck at all. Poor weather conditions and scheduling conflicts conspired to keep us off the lake for the remainder of the season.
In the summer of 2001 we were back. The group completed six more dives on Hamilton without significant incident. Visibility that season was dramatically better than in 2000, averaging 20 feet (6m) plus. We filmed the entire wreck in detail in what was at the time production quality video. Importantly, we had done so without being discovered.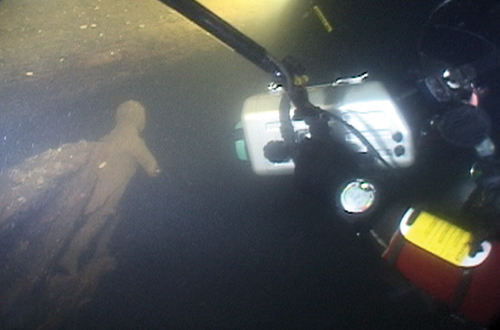 Death of a Diver
Our dives on the Hamilton completed we now focused on diving the Scourge in the summer of 2002. As spring arrived a group of my friends headed for the Trail's End Lodge at Tobermory, an annual Victoria Day long-weekend 'kick-off the dive season' get together that, regrettably, I missed due to work obligations. Members of the Hamilton and Scourge team went along, my good friend Michel the Frogman among them. He planned to test modifications he'd made to his Mark-15 rebreather over the winter. Bad weather kept dive boats at their docks so Michel and two friends made a shallow shore dive off the lighthouse at Big Tub Harbour. They entered the water together before heading off on their separate ways to sort out their gear. Then tragedy struck. Later it was determined Michel fell unconscious from hypoxia. By the time his dive buddies discovered him it was too late. Despite the rapid response and valiant efforts of Tobermory's emergency services, Michel could not be revived.
We were a team, but mostly we were a group of friends who dived together and we were devastated by the loss. Without Michel, no one wanted to carry on, to dive the Scourge that summer. It seemed our project had come to an untimely end.
But as July was coming to a close I came to the realization that Michel would have been unhappy with our decision to quit. And the others were feeling the same way so we pulled ourselves together and faced the hard truth that we'd need to find a replacement diver. He was Ray Stewart, a friend who had recently become trimix certified. By the time we got good weather on Saturday, August 17, 2002, we were ready to dive.
For the first dive I partnered up with Richard Hertz. Both of us were going to be carrying video cameras equipped with powerful Sartek HID video lights. For me that first dive on the Scourge was memorable for the 20-foot (6m) visibility, which was the best of any dive I'd made during the three-season project. The footage we shot of Scourge that day, with both of us lighting for each other, was the best of the project. The time we spent filming the ship's figurehead of Lord Nelson was almost magical, one of those once in a life time moments. Unforgettable. The dive went off without a hitch.
The second, and what proved the last dive on Scourge, took place on September 2. Things didn't work out quite so well. One of those dives where things go sideways and though everything worked out well in the end, the issues took our focus off the objective.
In short order, the video we had shot of Hamilton and Scourge was made available to the City of Hamilton. It was the only new documentation of the wrecks in 20 years. The gesture went publicly unacknowledged.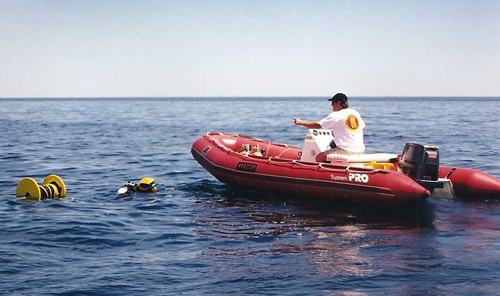 Heritage Treasures
Both Hamilton and Scourge sit upright and are intact though their timbers are water logged and spongy to the touch, which no one knew because neither ship had ever been touched by a human hand since their sinkings. At the time of our dives quagga mussels covered mostly the upper facing side of most surfaces, especially metal, such as the tops of cannons. This bi-valve mollusk is non-native to the Great Lakes and is widespread, even in this deep water. Our team saw no human remains at any time. We agreed from the beginning that nothing would be touched or removed and we saw no evidence that other scuba divers had been on the wrecks prior to our dives in 2000-2002. And to the best of my knowledge no other technical divers have dived them since. If that's the case then only five divers have ever visited Hamilton and Scourge. Many more humans have walked on the moon, and that's a shame.
These beautiful wrecks are like the sunken pirate ship a child imagines. They sit squarely on their keels, cannons run up and ready to fire, swords and boarding axes crossed over each gun port, ready for the crew to repel boarders. All that's missing is a treasure chest guarded by a giant octopus. For all that's real about these wrecks, and perhaps for some of what isn't, we wanted to dive Hamilton and Scourge. They are deep and challenging and for us they were our technical diving Mount Everest. Nothing we've dived since compares.
These treasures, I believe, have been lost to humanity by a misguided policy that's been successful at isolating them from the diving public. They've been relegated to obscurity and largely forgotten. In their deep-water graves they are out of sight and out of mind and they continue to decay, suffering the ravages of time and encroachment by an ever-thickening layer of quagga mussels. To the best of my knowledge a feasibility study begun decades ago to consider options remains incomplete to this day. The city's stewardship is marked by inaction and in my view this is a violation of the public trust. If this doesn't change the wrecks will be lost forever. On this bicentennial occasion I say it's time for action.
A Public Plan
Here's what I think should happen. Hamilton and Scourge should be accessible to SCUBA enthusiasts, protected under the Parks Canada marine park model long in place at Tobermory. First, a consideration of the war grave question. With respect, most ship sinkings are disasters, and most involve fatalities. To ban diving for this reason, warship or otherwise, is to ban diving on just about all shipwrecks in the world. In my diving career I've dived sunken warships from five wars in four countries spanning 300 years of history. None were war graves. Of course all reasonably accessible human remains on Hamilton and Scourge would be recovered and repatriated to the U.S. Navy for burial, likely in Arlington National Cemetery where they would be honoured with other fallen American service men and women.
Public access would require installation of permanent moorings. Underwater archaeology divers would recover all moveable artefacts for conservation and display at suitable venues that already exist in the Hamilton area. Cost of this recovery would be comparatively inexpensive. The wreck sites and the artefact displays would generate revenue for the City of Hamilton.
Licensed dive charter operators would be integral to wreck oversight, helping to police the sites since it would be in their interest. A user pay fee by divers would offset mooring maintenance, conservation work, etc., incurred by the agencies involved.
Such a model is practical and affordable and the wrecks become an even greater educational resource. For this to happen we need civic politicians with a more expansive vision.
Amendments to the Ontario Heritage Act in 2005 establish a no-go 2,500-foot (750m) perimeter around an Ontario Marine Heritage site. This includes the Hamilton and Scourge. Parks Canada's technical assistance and advice to the City of Hamilton has included wreck site condition surveys in 2007, 2008 and 2009 that contribute to the development of  'strategies for action'. In 2010, city officials said they were in a 'condition monitoring' and 'study phase' at the time.
Also, since we dived the wrecks, changes to the Canada Shipping Act now facilitate joint agreements between the federal government and any person or organization to administer or enforce regulations as they apply to a wreck (heritage site) in Canadian waters. This amendment eliminates regulatory conflicts between different levels of government so that, for instance, stewardship of Hamilton and Scourge by the City of Hamilton is not undermined by federal regulation.
In June this year a combination side-scan sonar and magnetometer survey of the wreck sites was conducted (see story page 46). Detecting iron artefacts on the bottom and defining boundaries of debris fields helps archaeologists understand where the vessels capsized in relation to their positions on the bottom.
Currently, the City of Hamilton is studying the cost of recovering artefacts from the wrecks and the Canadian Conservation Institute, which advises on best archaeological practises for managing Canadian Heritage Sites, is conducting a risk assessment analysis.
Hamilton and Scourge are heritage wrecks belonging to the people of Canada and the United States. They are not the property of any level of government. Effective management of the wrecks and recovery of artefacts for the public good will require a realistic strategy based on the facts and implemented in a timely fashion.
It's my opinion that sport divers as a segment of the public have a much greater interest in shipwrecks and their history than most other groups. Let's return Hamilton and Scourge to the light of day so they can be remembered and appreciated, as they should. Allow open and responsible diving of these wrecks now.
Movie in the works
'Shipwrecked on a Great Lake' tells the story of the Hamilton and Scourge from the viewpoint of Canadian-born, turned-American sailor, Ned Myers, a seaman on the Scourge and one of few survivors. He's played in the film by British actor Jack Manser. To make the movie Peter Rowe and his production team recreated the storm that sank the two ships, utilizing a Toronto wave tank and La Revenante, a replica 19th Century schooner in Lake Ontario.
The film's historical content draws from an interview between Ned Myers and American writer James Fenimore Cooper, and an original song 'When an East Wind Blows'. The film also covers the the search and discovery of the ships led by Dr. Daniel Nelson in the 1970s, and the expedition that explored them during the 1980s, 1990 and into the 2000s. It culminates with the exclusive filming of the first ever magnetometer investigation of the two shipwrecks conducted by Parks Canada this past June.
Shipwrecked on a Great Lake is financed by a number of foundations, led by the Ontario Trillium Foundation. It will be shown in numerous public venues in Ontario and New York State next summer, including on a water screen at a lakeside Mississauga park that looks out to the deep site of the shipwrecks.
The MAREX-Group Hamilton and Scourge divers were: Michel 'Frogman' Guerin, Scott Stitt, Ray Stewart*, Ray Thwaites*, Richard Hertz*, Todd Ziegler* and Wayne Kerr*.  Sponsors include: Amphibico, Ocean Management Systems (OMS) courtesy of John Griffiths and Sartek, courtesy of Carl Saieva.  *Some names have been changed to protect the identity of the divers. 
Scott Stitt is a former commercial hard-hat diver with hundreds of hours of mixed gas and saturation dives logged in the offshore oil and gas industry. He's also worked with Texas A&M University and the Institute of Nautical Archaeology (INA) as an underwater field archaeologist. Scott holds a B.Sc. in environmental science and is a 23-year veteran of the Toronto Fire Department, a trimix Instructor and cave diver, who's worked as an underwater videographer and technical dive supervisor for the Undersea Explorers television show. He continues to work as a diving photojournalist.
For more DIVER coverage of the Hamilton & Scourge, click here.
* The opinions and recommendations expressed in this article are solely those of the author. DIVER Magazine recognizes the controversial nature of this account and we invite interested readers to weigh-in on the subject. The City of Hamilton was provided with a copy of the manuscript and invited to comment. City officials responded by email expressing appreciation for the opportunity to comment, noting that what follows is a memoir and that as such, comment or response from the city was unnecessary. They expressed interest in providing some information summarizing the work the city has done to date along with long term plans to preserve the Hamilton and Scourge resources. DIVER will publish this information when it is made available.