Here's your opportunity to check out DIVER's digital editions – for free! Follow the directions below to download three of DIVER's most recent issues. If you have an iPad, iPhone, Mac, PC, or Android device then it'll take just a moment to enjoy all the great content we have to offer.
Open the app, tap 'Editions' at the bottom
Tap 'Log In' at the top right
Enter the details below and you'll receive THREE ISSUES FOR FREE!
Desktop PC or Mac users, or those with Android devices, simply open your web browser, tap a cover below and enter the details when prompted!
Username: diverfreeissues
Password: bestdivemag
The 3 FREE ISSUES are: Volume 39 issue 5, 6 & 7
And afterwards when you've decided to subscribe then you'll discover that for one low subscription rate you'll receive all four DIVER editions. Yup, it's true, you get the print edition in your mailbox eight times a year and access to the iPad, iPhone, Android and online editions as well. And it doesn't cost you a dime more. 
Each edition presents the same great content, which allows you to have DIVER at hand at home, at work or on the go. We're more mobile and more accessible than ever.
The three free issues offered here feature lots of great content including our special Annual Gear Guide with almost 20 pages of cool gear, gadgets and gizmos for the active diver. So, get on with the download and enjoy!
To subscribe or for more information click here.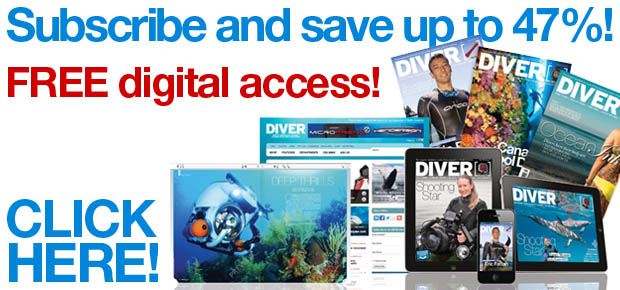 DIVER MAGAZINE. NORTH AMERICA'S LONGEST ESTABLISHED DIVE MAGAZINE. SUBSCRIBE TODAY.