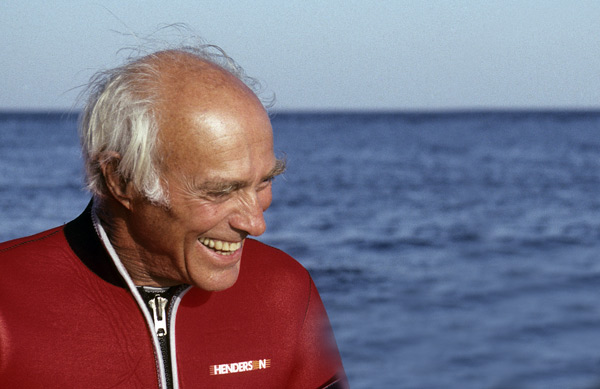 By Stan Waterman
I grow old… I grow old…
I shall wear the bottom of my trousers rolled.
Shall I part my hair behind? Do I dare to eat a peach?
I shall wear white flannel trousers, and walk upon the beach.
I have heard the mermaids singing each to each.
I do not think that they will sing for me.
…We have lingered in the chambers of the sea,
By sea-girls wreathed with seaweed red and brown
Till human voices wake us, and we drown.
T.S. Elliot
 I share none of Elliot's thoughts expressed in his epic poem, The Love Song of J. Alfred Prufrock. However, I must confess to having physically grown old. I have no more hair to part. One eye is gone, and I do mean it's no longer there. I have four titanium bolts in my lower vertebra and two-feet of my colon were removed many years ago. Eager as you may be to hear more, I will desist. But I do agree with one definition of old age I encountered some while back. It read, "Old age seems to be one continuous round trip to the lavatory." As I write this I am 88, I can no longer walk a straight line, due in part to a plentiful lack of balance, but I have not yet subscribed to Pampersâ.
I am an active diver.
So what about the sea and diving for us geezers? If I could shake Poseidon's hand and slap him on the back with heart-felt thanks I would do so many times over. The simple fact is that when you drop into the sea with your aqualung, all gravity is shuffled away. Balance is restored. A flick of your fins and you move through the aquatic world as if on a magic carpet. You may not be able to run a marathon or play vigorous singles tennis any more, but with your wits still about you and the ability to travel, you can continue to explore and enjoy diving.
Some years back I documented a dive trip for a Boston dive group, the Moray Wheels, dedicated to handicapped divers. Both young stars of the show were paralyzed from the waist down, paraplegics and wheelchair-bound. But with help in and out of the water from their group dive buddies they were able to scuba dive effectively and continue to enjoy the greatest adventure of their lives diving in the distant Caribbean around the island of Bonaire.
Seniors, who might be apprehensive about their dexterity aboard live-aboard dive boats, or a daily dive regimen too vigorous for their level of energy, may gain reassurance from my own experiences with the very considerate and experienced crews of the live-aboards I still serve as a tour host. Typically, guests may make as many as five dives a day, including a night dive. I limit myself to two dives a day and forego dives where big currents are present. I suit up on the dive deck. As I sit at the edge of the dive platform or skiff there is always a helping hand with my tank, BC, weights and fins. So I am launched with zero effort. By handing up my fins, weights and tank at the ladder – or being hauled over the side of the skiff like a sack of potatoes – I am retrieved just as effortlessly.
The above care would surely resonate for a 'special' seniors dive tour. Such a tour would schedule just two – possibly three – dives a day if requested. Night dives would not be scheduled, allowing the amenities of cocktails before dinner and wine with dinner. On all my dive tours, I provide after dinner entertainment. For an hour or less I present a world of underwater video that I've produced during the last half century, and I take no offence if snoring drowns out my narrations.
Since I passed 80 and decreased agility and energy have become a fact of my daily life, a thought – a prospect perhaps – has grown in my mind, one that I've shared with other guests well into their senior years. Would a tour expressly for senior divers, custom-designed for their levels of comfortable physical activity, be viable and find a welcome market?  I very much hope so and would delight in sharing stories and life experiences with my diving contemporaries.
Hello out there! What say you?
In 1833 Alfred Lord Tennyson wrote in his poem Ulysses,
"…How dull it is to pause, to make an end,
To rust unburnished, not to shine in use!
As though to breathe were life!"
And in his book, Ulysses Found, Ernle Bradford, a contemporary writer and mariner, followed the course of Ulysses in the Odyssey. He speculated that the great adventurer, not long after he returned home safely, became restless and yearned for adventure. Bradford wrote, "I do not think he was content. One night they slid the black ship down into the sea. They unloosed the mooring rope from the pierced stone. They turned the eyes of the ship to the west and, sitting all in order, they smote the gray sea waters".
I concede this brief essay is self-serving. But there are many veteran divers in their retirement years, like me, with a harvest of rich experience and stories to share.
Though many may have found, as I have, that their energy for vigorous sports is diminished, I have found the sea a gentle mistress and diving a most happy way to continue physical activity. "Activity" is the operative word; it is the key. Stay active.
The poet, A.E. Housman, wrote in Reveille,
"…Up, lad: when the journey's over
There'll be time enough for sleep."
42 Responses to "Thumbs up for seniors diving"