Books, Movies, TV
The best diving movies of all time
November 29, 2012 By DIVER Editorial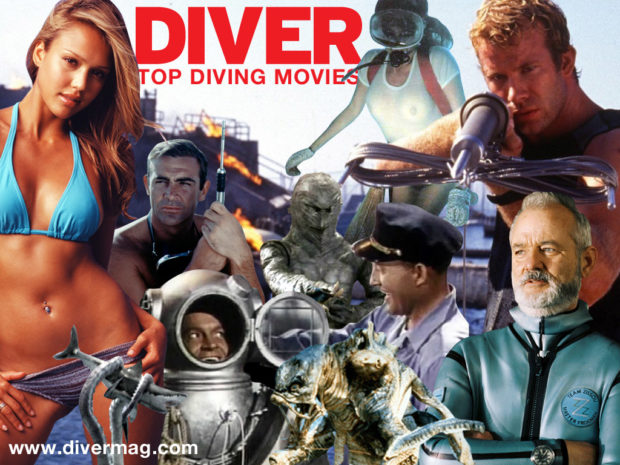 In Hollywood the underwater realm struggles to compete with the glamour of space. But for decades we have seen an, er,  interesting array of diving movies. Below, in no particular order, are DIVER Magazine's top (non documentary) movies for SCUBA divers and ocean lovers…
The Abyss, 1989
Jim Cameron's ocean epic and a solid diver favourite. Liquid breathing, submersible battles, Navy SEALs with HPNS and alien water tentacles. Oh my! What more could a diving movie have to offer? Originally written in two parts, the original ended with Ed Harris making contact with the alien species. The sequel would take over from there, but due to budgetary contraints the second movie was squished onto the end of the first.
The Deep, 1977
Jacqueline Bisset in a bikini. Oh, and some diving. Written by Peter 'Jaws' Benchley, this thriller sees a vacationing couple duke it out with treasure hunting bad guys on a Bermuda wreck. One of the most loved and classic dive movies. Filmed in the British Virgin Islands on the wreck of the Rhone.
Thunderball, 1965
Connery, back as Bond, heads to the Bahamas to recover two nuclear warheads and try his luck with the wet suit clad ladies. Cue huge underwater battles and more one liners than you can shake a martini at.
Lady in Cemenet, 1968
Simple: Frank Sinatra being cool, Raquel Welch being stunning, a lady in cement shoes and scuba diving. They don't make them like they used to…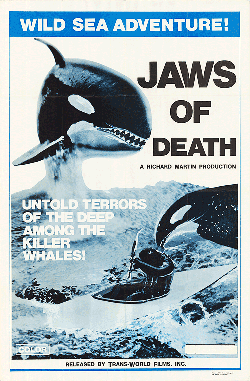 Jaws of Death, 1977
DIVER Magazine's very own Publisher, Phil Nuytten stars in this forgotten classic. Watch Phil wrestle a giant octopus as a group of researchers attempt to swim with killer whales in Alert Bay. No trailer available. Yes, it's that obscure.
The Big Blue, 1988
Director Luc Besson's cult classic, and the most successful French movie of the 80s. Artfully shot in Greece, the 162 minute epic follows the friendship and rivalry of two champion free divers.
Sanctum, 2011
Produced by Jim Cameron, the 3D cave diving thriller was co-written by the late Andrew Wight and is loosely based on a real life experience. Tense, unpleasant and very claustrophobic.
Men of Honour, 2000
The true life story of Carl Brashear's battle against racism to become the first African American diver in the U.S. Navy. A great cast including Robert DeNiro and Cuba Gooding Jr. in this historical, feel good flick.
20,000 Leagues Under the Sea, 1954
Possibly the most memorable story of the seas since Noah built a large boat. Kirk Douglas and James Mason recreate the Jules Verne classic in the 'Mightiest motion picture of them all'.
The Neptune Factor, 1973
Left on the cutting room floor, DIVER Editor Peter Golding wore a fetching yellow wet suit in this 70s flick starring Ernest Borgnine in an undersea lab lost in an earthquake and giant sea creatures battling rescue divers.
Dark Tide, 2012
Halle Berry squeezes into a wetsuit to take a rich businessman diving with great whites, sans cage. Berry's 'shark whisper' character Kate is haunted by the memory of a shark attack and battles her own fears as she sets a course for Shark Alley.
The Dive (Dykket), 1989
This little known Norwegian thriller is as nerve wracking as it gets. Two deep divers on a dive gone wrong are trapped in a diving bell at the bottom of the sea and race against time to find a way to escape to the surface, alive.
Deepstar Six, 1989
"DeepStar Six has just discovered a new and deadly alien menace". A pure 80s testosterone classic. An underwater nuclear base, atmospheric diving suits and a creature from the deep that threatens it all!
Oceans of Fire, 1986
A TV Movie staring David Carradine and Billy Dee Williams can only mean greatness! "6 men with nothing to loose… but their lives" are plucked from prison to become deep sea divers. All manner of cheesy 80s awesomeness will consume you for 92 minutes.
Road to Bali, 1953 Watch the entire movie above for free!
Bing Crosby and Bob Hope star in this classic hardhat diving movie. Two all singing, all dancing men escape marriage by moving to an island where they fall in love with a Princess. As you do. Cue many one liners and lavish song and dance numbers that could only come from that golden era.
Wake of the Red Witch, 1948
"The lustiest love story on the seven seas!" Not a great deal of diving, but John Wayne does rescue someone from a large clam.
The Life Aquatic with Steve Zissou, 2004
The great Bill Murray stars in this cult classic by Wes Anderson. The movie is dedicated to, and has more than a passing resemblance to the life of Jacques-Yves Cousteau. Oceanographer Zissou plans to get revenge on a mythical shark that killed his partner, cue much off beat and dry humour. Modern classic.
Jaws, 1975
You can't talk about water related movies and not mention Jaws. Although the actual scuba content was pretty minimal, this movie forever changed the perception of sharks for many people. One of the greatest horror movies of all time. Several sequels faded from memory but included scenes of scuba divers and large rubber sharks. Not only was the original one of the best ocean movies ever, it is arguably one of the best motion pictures of all time.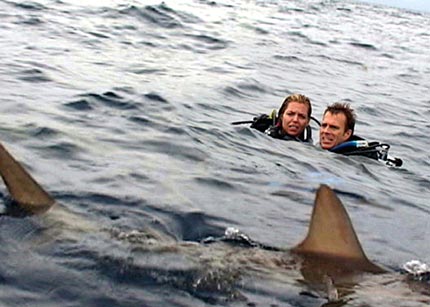 Open Water, 2004
A small independent movie that came out of nowhere to scare the shit out of potential scuba divers the world over. A holidaying couple in the Caribbean get left behind after a boat dive, sharks appear, tension rises, diving holidays take a tumble… Looks like it was filmed by a group of students on dads camera, and definitely not for new divers, but worth checking out. Click HERE for the trailer.
Into The Blue, 2005
A movie that done more to promote diving to a male audience than any number of PADI ad campaigns, why? Jessica Alba that's why. Put her in a small bikini, have lots of close ups of her, er, finning technique and you're onto a winner. Throw in Paul Walker to keep the ladies happy and some lame story about treasure hunters finding a plane wreck full of drugs and you have a movie. Or at the very least you have 90 minutes of Jessica Alba.
Amsterdamned, 1988
A scuba diver hiding under the surface of Amsterdam's canal system embarks on a rampage of gruesome murders. The city's best detective has few clues to work with, but his wife and daughter may be closer to finding the underwater killer than he wishes. Whatever they smoke in Amsterdam clearly works.
Fools Gold, 2008
Deep sea treasure hunter Matthew McConaughey, rekindles his relationship with estranged wife Kate Hudson during a quest to find a Spanish ship full of treasure. Surprisingly charming and funny, with a good supporting cast. Not exactly good diving etiquette, but some exciting scenes and good family entertainment.
Finding Nemo, 2003
If you don't love Finding Nemo, you don't have a heart. Fact. The Pixar animation is solely responsible for Clownfish becoming the most recognised sea creature on the planet. If you haven't seen it, crawl out from under that rock and watch a fathers quest to rescue his son from a dentist's aquarium. Starring hammer heads, a great white, jellyfish, turtles and anglerfish. Perfect family entertainment, and helps your kids improve their fish ID skills!
Terror Beneath the Sea, 1966
This Sonny Chiba starring, 1960's Japanese sci-fi masterpiece may be too much for your human senses to handle. The above trailer will pretty nicely summarise the movie and the incredible story of aquatic, cyborg fish people and a plot to populate underwater cities by the sinister Dr Moore.
Sphere, 1998
Michael Crichton's novel adaptation, starring Samuel L Jackson, Dustin Hoffman and Sharon Stone as a crack team of scientists sent to investigate a 300 year old space shop 1,000 feet underwater. The spaceship turns out to be an American craft presumably from the future, sent back through time after a mission through space gathering up large random objects, one of which is a liquid metal sphere. The book is way better, but Hoffman is always watchable, so worth a bucket of popcorn and a viewing.
The Cave, 2005
Large, flying, bloodthirsty creatures await a group of cave divers trapped a mile underground in the world's largest cave network (filmed in Romania). Modern day B-Movie madness, chock full of stereotypes, half dodgy effects and glorious over acting. Good fun though.
Deep Blue Sea, 1999
Samuel L. Jackson vs genetically modified intelligent sharks. Sold. Die Hard 2 director Renny Harlin makes no excuses for his wonderfully over the top extravaganza.  An isolated research facility becomes a hunting ground for these super sharks as they try to escape to the open ocean. Unexpected deaths, parrots, rapper turned actor LL Cool J, Saffron Burrows in her underwear and some Jaws style copy-cat fish explosions. Big budget, modern B-movie awesomeness!
Leviathan, 1989
Ahhh, a movie of epic eighties-ness. Peter Weller, post RoboCop, is in command of a group of undersea miners that discover a wrecked Russian ship housing a terrifying secret. And by terrifying we mean ridiculous monster. Every eighties cliché is here in abundance. Made two years after The Abyss, with an exceptionally accomplished film crew, Leviathan is little more than a bad, funny flick. After all, who just happens to have a flame thrower and a hedge trimmer on an underwater mining station? Brilliant.
The Frogmen, 1951
The story of "fin footed, goggle eyed, beach blasting heroes!" An bonafide, all time diving classic. Richard Widmark as new Commander John Lawrence, must earn the respect of his new unit; the Navy Underwater Demolition Team, nicknamed "Frogmen".  Giving the year in which this was filmed, and the subsequent crap that followed it (see above) some of the photography and set pieces are fantastic. An actual classic.
Beneath the 12 Mile Reef, 1953 Watch the entire movie above for free!
Robert Wagner and Terry Moore star in one of the first full colour, CinemaScope, anamorphic lens, underwater motion pictures. A father and son team of divers seek new pastures for their sponge business, but clash with a rival clan, especially when Tony Petrakis character falls in love with the rival family's daughter.
Beyond Atlantis, 1973
Leigh Christian stars as an underwater siren, cunningly named Syrene. A peculiar movie about a group of explorers that invade an island and piss of the natives, with some weird sex stuff that happens and people getting shot. The seventies huh?!
Wet Gold, 1994
TV movie staring Brooke Shields in a wetsuit. Shields, her boyfriend and an old drunk man set off to Key West in search a sunken boat with millions in gold bars. Cue scenes of Brooke Shields in wet suit, followed by scenes of Brooke Shields in a wetsuit.
Around the World Undersea, 1966
Lloyd Bridges, post Sea Hunt, captains a small submersible travelling the worlds oceans. In a bid to warn of impending earthquakes and subsequent tidal waves, the crew plant sensors throughout the ocean and bare witness to all the wonders and terrors of the deep.
Underwater! 1955
Two scuba divers searching for sunken treasure off the coast of Cuba discover a 17th century ship. Jane Russell stars alongside Gilbert Roland in this pretty epic, old school classic.
Zombies of Mora Tau, 1957 Watch the entire movie above for free!
Black and white tale of hardhat divers and underwater zombies. Yes, underwater zombies. Words defy the brilliance of that concept… c'mon Hollywood, this is dying to be re-made!
Kraken: Tentacles of the Deep, 2006
Filmed just down the road from DIVER HQ in Britannia beach (one of my personal favourite diving spots), Kraken: Tentacles of the Deep is a cheap budget, 2million dollar sci-fi tour-de-force. Special effects straight from your bath tub, a script straight from the toilet and direction that makes you wonder if the Director was simply taking a nap during the entire shoot. Brilliant b-movie garbage. Love it.
Honorable mentions and random diving scenes:
The Rock: Sean Connery and Nic Cage infiltrate Alcatraz by way of underwater propulsion vehicles.
DEEP: An animated movie and video game coming in 2014, trailer can be found here.
Navy SEALs: A 90's classic. Charlie Sheen as a Navy SEAL, enough said. Watch the trailer.
After the Sunset: Pierce Brosnan plays a master thief trying to retire, but obviously has one last job to pull… trailer.
The Italian Job (2003 remake): A gang of robbers pull of a heist in Venice, requiring underwater shenanigans. Trailer.
True Lies: Arnold scuba dives into a bad guy's party before removing a drysuit, unveiling a perfect tuxedo. Great movie.
Lara Croft Tomb Raider: The Cradle of Life: Angelina Jolie in a skin suit holding onto a shark.
Easy Come, Easy Go: 1967. Elvis. Diving. That is all. Intro
The Aquarians: 70's TV movie staring Leslie Nielsen and Ricardo Montalban. Trailer.
Piranha 2: The Spawning: James Cameron's first feature movie. A compilation of dive scenes can be found here.
Into the Blue 2: A Jessica Alba absent sequel to the first bikini epic. An even worse story about treasure, or something, masked by beautiful people.
Speed 2: Cruise Control: Our hero tries to slow down a cruise ship by wrapping rope around its propeller. Simply awful. Trailer.
Big Miracle: Drew Barrymore in heart warming tale about whales. Sorry, you lost me at "Drew Barrymore". Contains scuba bits.
Journey 2: The Mysterious Island: Dwayne 'The Rock' Johnson and annoying kid dive down to retrieve Captain Nemo's sub. Using bags of air.
Endless Descent: 1989 movie about investigating a submarine disappearance. Title also references the careers of everyone involved.
Sharktopus: Half shark, half octopus, all crap. Trailer.
Cruise into Terror: Face from the A-Team stars in this TV movie about cruise vacationers that discover a sarcophagus in an underwater cave… Watch the entire film here, for free!
We know there are many more, especially pre-1960, so post any recommendations in the comments section below.
39 Responses to "The best diving movies of all time"