DIVER Magazine contributor Jill Heinerth is an authority on sidemount diving and she's also a professional filmmaker, so an instructive video on this technique of rigging gas cylinders a different way, was a certainty.
Heinerth and fellow sidemounter Jeff Loflin recently released their 64-minute introductory DVD on sidemount diving and as a perfect accompaniment, and portable reference, Jill has co-authored a well-illustrated 148-page book titled Side Mount Profiles, with another colleague and fellow cave diver, Brian Kakuk.
If you've completed a PADI course in recent years, you'll recall the pastel coloured Miami Vice style wetsuits that were stylish when the instructional videos were shot and a certification went hand in hand with a fashionable mustache. Well, PADI might want to take a pointer or two from Heinerth's videos. Sidemount Diving is a good introductory DVD, not a Don Johnson wetsuit in sight. What we get, is simple and effective. Technical Instructor Trainer, Jeff Loflin, takes us through the origins of sidemount and discusses optional configurations of the assembly. With a sidemount rig in hand, he looks directly into the camera lens and in plain language explains what you need to know, step by step. This instruction is followed by previews of sidemount drills conducted in a pool review session. The approach is simple and effective; they make it look easy, and very appealing.
It's a no frills production and just what was needed, though I hasten to add that the nuts and bolts instruction is inter-cut with some of Jill's beautiful cave footage, enough to get any budding sidemount diver packing up and hitting the road for Florida.
This video serves as a good introduction for any diver interested in sidemount whether he/she is about to undergo training, or even for those who may have completed a course. But it's not a substitute or replacement for certified training. It's a great accompaniment and we recommend it on this basis.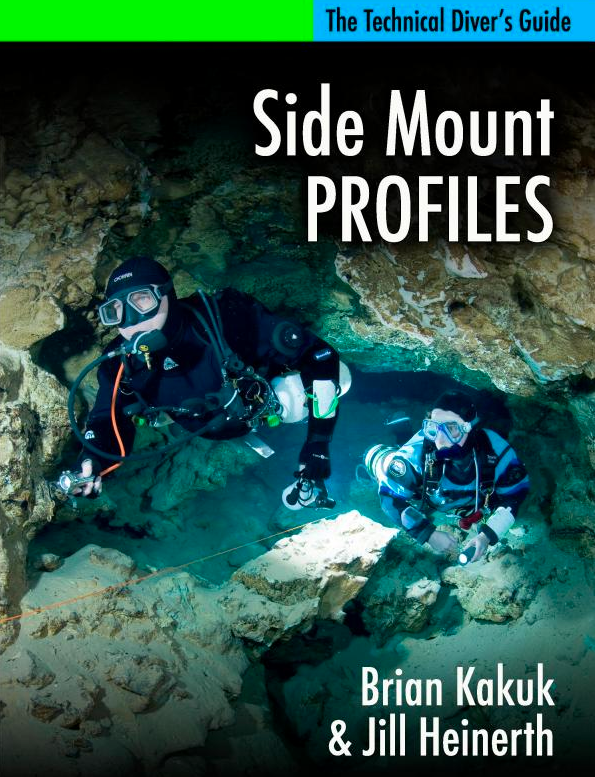 The same can be said for the Side Mount Profiles book. It's well written and easy to understand. Content is presented in logical and sequential manner with text liberally illustrated by drawings and photographs. Layout takes you from page to page, section to section. This guide offers valuable information from professional, experienced divers. It's a worthwhile addition to any diver's library.
It gets into gear styles, types of harness and configurations, and also looks into sidemount applications for open water, cave and wreck diving. Text and illustrations work well together to inform and entertain.
The strength of this book, I think, is that the authors are pioneers of contemporary sidemount diving and you sense their passion. You get the feeling that the information is coming straight out of the water and onto the page. There's a vibe in this you don't necessarily get reading through the more formal structure of a certification manual.
The volume is also chock full of interesting tips and guidelines for gas management, harness modification, risk assessment and other topics, such as a consideration of the differences between sidemount for open water and sidemount for cave diving.
Another attractive feature of this guide is the interview section where top sidemount divers and manufacturers answer questions about their kits, offering some cool tips and invaluable first hand knowledge, kind of a one stop shopping section.
There's a ton of great content in this book. Lots to read and absorb. It's a bed time read and it'll be useful in your kit bag too.
If you are considering sidemount for cave, wreck or open water diving, this DVD and book offer worthwhile insights and a great introduction. They will add to the cost of a sidemount course though, arguably, you can't put a price on such specialized knowledge for underwater exploration.  We recommend these to you.
The Side Mount Profile book can be purchased from here.
The video is available in either DVD, download, or digital rental.
More information on Jill Heinerth can be found here.