Destinations
Adventures In Iceberg Alley
November 6, 2014 By DIVER Editorial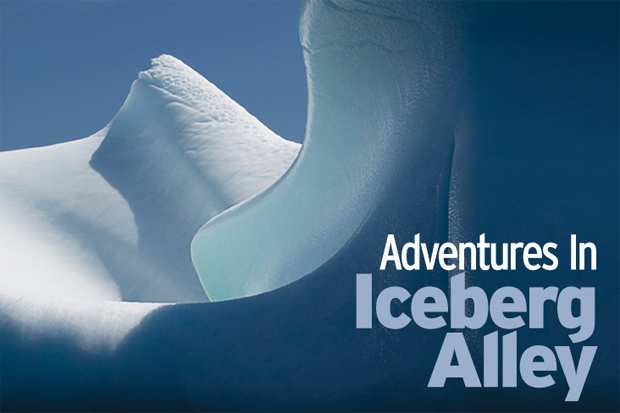 Text by Polina Reznikov
A thunderous crack shatters the dive, sending a shock wave through the very core of me. Instinctively, I glance at my buddy, Darryl. We'd been instructed what to do and immediately dive down, fining hard. In deeper water we level out, pushing away from the immense structure. Another visual check and I see we're both making headway. We know our dive is over now. Protocol demands we surface. Turning, I check again for my buddy. But in a fleeting moment, he's vanished. Simply disappeared. Ascending, I rotate, looking up, down, all around, but he's nowhere to be seen. I break surface and see our inflatable speeding toward me. I turn, rapidly scanning but all I see is the iceberg towering in the distance, the water between filled with chunks of ice that have splintered from its ever-changing form. Darryl is nowhere in sight.
I was in the North Atlantic off Newfoundland – Canada's eastern-most extremity. The locals say it's the land of 'four seasons in one day' and in North America it's the first landfall of the rising sun. Pronounced 'Nufin-Lánd', this former British colony was a holdout, joining the Canadian confederation as the country's tenth province as recently as 1949, after much debate and two referendums. Today, Newfoundland-Labrador is home to about half a million people, mostly of British & Irish heritage. During my visit I stayed in St. John's, the capital, a picturesque city amid a rocky landscape dotted with fishing villages, countless ocean inlets and towering cliffs.
The diving here is diverse. I mean, you don't return home from too many destinations with iceberg dives in your logbook. And for a lot of divers, especially those who weather subzero winter temperatures, planning a vacation to dive in 39°F (4°C) water isn't exactly dealmaker material. But I couldn't wait. My first night at Ocean Quest Adventures I was still staring out the bedroom window at 4 a.m. imagining my iceberg rendezvous.
I didn't have to wait long. Ocean Quest owner Rick Stanley had been tracking the icebergs and weather and so on day two, I arose, inhaled my breakfast hop-skipped out to the truck, RHIB in tow…ready to go. For me, this experience couldn't come soon enough.
Iceberg Capital of the World
'Iceberg Alley' runs all the way down the Labrador coast to Newfoundland's southern shore. It's the best accessible iceberg theatre in the world and these lumbering giants put on a truly memorable performance. Here you have a ringside seat on a parade of 10,000-year old ice sculptures as they migrate ever so slowly down the coast from Baffin Bay, which separates Greenland from the Canadian Territory of Nunavut. Between 400 and 800 of them make this one-way journey every year. They drift majestically, sometimes one by one or in clusters, obscuring the horizon with their precipitous, frosty forms. A true spectacle of nature, they evoke images of enchanted castles, turrets reaching the sky. Where else in the world can you lie back on a grassy cliff top and watch cathedrals of ice float by?
Influenced by their size, shape, currents, waves, and wind, icebergs travel at about 0.4mph (0.7km/h). Bobbing about, they tumble, scrape, and break, gradually melting and deteriorating as they progress southwards. This natural shape shifting occurs as 'bergy bits' and 'growlers' calve off into the sea. These chunks of ice – and some are as big as a house – can be hazardous, but more critically this fracturing causes an iceberg to roll around until it finds a new centre of gravity. Then, for a time, it becomes stable again.
During this process two things can happen; and if you're out on the water you don't want to be too close when either occurs. Breaking ice can really churn up the surrounding sea creating a disturbance easily capable of capsizing a boat. And as ice breaks off, the 'berg can tilt, causing underwater 'spurs' to suddenly break the surface with the potential of catapulting a boat into the air, slamming it into the sea, and submerging it as the iceberg resettles. Understand that this can happen in an instant. No warning, no nothing!
The icebergs around St. John's weigh in at about 100,000 to 200,000 tons, and are the size of a 15-storey building. They can be extremely destructive, occasionally grinding into the ocean floor, crushing everything in their path. Seamen navigating Iceberg Alley have always given a wide berth to these magnificent but unpredictable behemoths. Icebergs are treacherous, especially for the ill prepared – RMS Titanic is the ever-lasting testament to that! Almost a century later her story lives on. And it calls attention to the submerged mass of an iceberg, which can be anywhere from about 50 to 99 per cent of its overall size. The variation is largely due to the amount of air that is trapped in the ice, thus affecting its buoyancy. An average iceberg will be about 80 to 90 percent beneath the surface.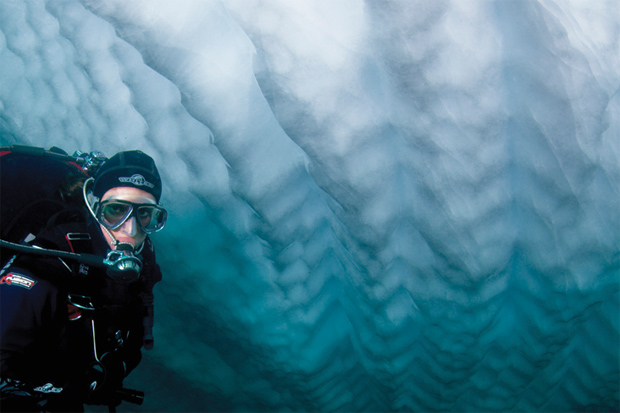 Cerulean Creature
It was mid June and the weather that day was gorgeous; azure skies and calm waters. The ideal time for an iceberg experience around St. John's is springtime through early summer. We'd been told there were five icebergs in the area and a sightseeing introduction was on the schedule. Before jumping aboard the RHIB we zipped into toasty flotation suits. A 15-minute ride and we were on the open ocean. Spotting an iceberg in the distance, I started grinning and couldn't stop. As we got closer I became overwhelmed. It was a spectacular scene of exquisite crevassed ice; a luminous, cerulean creature with a scaly back and serrated edges, sculpted by long exposure to the elements. It loomed over us. At the waterline, the ice gleamed aquamarine against the glistening white that rose vertically to the sun. We marveled at this unearthly edifice, at its extraordinary beauty. We seemed so insignificant next to this natural wonder. It was humbling.
We gave the iceberg several turns in the RHIB, at a respectful distance. Then we headed off to the next 'berg just a few minutes away. In all, we located and observed five icebergs in a seven-mile (11km) radius. Photographs may capture their ethereal beauty but getting up-close in person is the only way to experience the majesty of icebergs.
And the good news was that we'd be returning in the next few days, when the conditions were right, to explore the underbelly of one of these creatures…
Ocean Quest: Rick and Debbie Stanley have been running charters in the St. John's area for 11 years. Ocean Quest operates a luxury 4-star lodge, with indoor pool, sauna, meeting and social facilities with state-of-the-art presentation and entertainment equipment; a full service dive shop; a fully equipped 38-foot  (11.5m) boat, a 23-foot (7m) rigid-hulled inflatable boat (RHIB) and a tour bus.
For more information contact Ocean Quest Adventure Resort:
www.oceanquestadventures.com
Email: info@oceanquestadventures.com
Phone: Toll Free 866-623-2664 or 709-834-7234
St. John's Tourism: www.canadasfareast.com
Airlines serving St. John's (YYT) airport include Air Canada, Lufthansa and Continental
Polina Reznikov is an avid scuba diver and underwater photographer based in New York. She is Vice President of the NYC Sea Gypsies dive club and Events Director for Oceanblue Divers. She has experienced a wide range of diving environments in many parts of the world. For more on her work go to:  www.polinareznikov.com.