Opinion
Buddy Malfunction
January 13, 2014 By DIVER Editorial
Text by Lilla Clare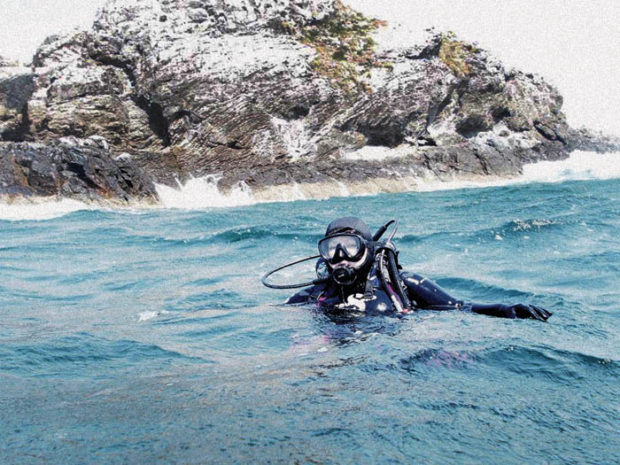 It started like most dive days, with clear skies, calm seas and vigorous activity hauling equipment onto the dive boat. It was a typical two-dive day charter catering to a transient group unfamiliar with the local dive site topography. What followed was a common enough scene across the sport diving planet. The dive guide partnered everyone into dive buddy pairs before laying out the overall plan for the guided groups. And as divers we understood that the plan assumes each individual is trained, has some logged experience and, importantly, is fully aware of his or her duty-of-care as a buddy within this system.
Later, speaking to my local dive shop owner and operator Mike McKinnon, I asked if there was an international standard for dive operators when making these random on-board buddy selections. "No," he replied. "It's pretty much up to the individual operator and is usually based on the number of logged dives, certification and date of last dive. We tend to group the inexperienced together and it's why we have dive guides."
I asked the same question of dive guide Katie Glasheen, an instructor on Queensland's Sunshine Coast. She has over 20 years experience and 6,000 dives under her belt. "The circumstances vary, but I also look at certification levels and experience," she said. "Pairing someone who is inexperienced with someone more experienced, makes good sense," but she noted, "this can hamper the dive for the more experienced person."
With four out of five people in my group holding professional quality cameras, it was clear that I was tagging along with an experienced group. I was thrilled. I enjoy slow going bottom time. Nothing ruins a good dive for me more than an inflexible dive guide who heckles and pushes you along at break-neck speed. But my buddy was one of the photographers and I imagined he'd be focused on picture taking. Things were shaping up.
I thought it wise to mention to the dive guide that I had 12 dives logged and that I would be using a weight integrated BCD for the first time, indicating I'd likely need some guidance on the weighting. The dive guide assured me she would be close by at all times.
I re-checked my air, regulators and gauges, inflated and deflated my BCD. Check. It felt snug and it was a dream not having to struggle with a weight belt. In the water, I inflated and deflated the BCD again just to make sure it was working properly. For that second check I exhausted the air from the dump valve on the shoulder. Check. Fully deflated, we headed down the mooring line to the top of a flat rock ledge at about 40 feet (12m).
The conditions were perfect. No current. Visibility was about 50 feet (15m). Beautiful. My buddy's strobe was already doing disco-quick-time, lighting up some great images of Eastern Blue Gropers and schooling Trevally. There were a number of Wobbegongs and turtles about too, which was more than enough to make a photographer's lens boggle… and it did. I thought I'd have to grow fins on my body to get my buddy's attention at that point.
But the dive was proving a bit of a roller-coaster ride for me. I was inflating and deflating, shifting the weight, rolling a little, inflating again, feeling too buoyant, deflating…  Then, yes, it seemed I'd figured it out and I could see my 'buddy' about 20 feet (6m) ahead of everyone, his camera squarely aimed at a Wobbegong shark. I couldn't recall that he'd looked up even once since we got to the bottom, which was too bad for me because just about then everything went sideways. It was just 10 minutes into the dive, at 60 feet (18m) when for reasons unknown I began to turn upside down and ascend.
My immediate response was to reach behind and pull on the dump valve cord at the bottom of the BCD, but nothing happened.  I tugged harder while struggling to right myself but was getting nowhere with either effort. The valve mechanism was jammed shut and my ascent rate was accelerating as the trapped air expanded. I watched our dive guide look up at me, arms flailing, but she didn't swim to my aid. The last thing I remember seeing as I hit warp speed was my dive buddy's flashing strobe.
On the surface I was able to right myself but I was exhausted, uncoordinated and unable to remember to fully inflate my BCD. I was a bit disoriented though vaguely aware that I'd surfaced too quickly and could be in serious trouble.
Inexperienced and alone, I was scared and becoming more frightened as I drifted closer to the rocks and the pounding breakers.  I waved to the boat but they couldn't see me from their mooring at the diver rendezvous point. In Australia it's not compulsory in some states for divers to carry safety sausages. I do now, wherever I am! Remembering the golden rule I waited a few minutes expecting my buddy or dive guide to arrive, but they didn't.
By then I was panicking, and half submerged. I began swallowing large mouthfuls of water.
I began to pray. I'm guessing non-believers would have, too. It was my partner's voice that replied, telling me to relax, to just relax, which gave me hope, even courage. I quickly decided he was right and that my chances with the rocks were preferable to drowning. So I maneuvered on my back, tried to relax and hoped the boat would see me before I hit the shore.
Inside of 20 minutes I was shivering, disoriented and semi conscious. My fingers were numb, my co-ordination and senses were dulled and my head was spinning. I do remember strong hands grabbing me and hauling me up onto the boat and my legs being too weak to hold me. The crew was slow and clumsy administering oxygen – it was the first time for the two of them – and there was some disagreement on procedure. Finally, I inhaled deeply. My head wouldn't clear though and my fingers continued to tingle. Gazing about everything was a blur and I had no idea if my buddy was on board or still in the water. Someone took my hand, ensured me all was okay and that a radio call had been made to shore. Before long a waiting ambulance sped me to the hospital with symptoms of mild decompression sickness.
Four hours later I was declared okay, with no residual injury, and except for feeling extremely tired for days afterward I was back on my feet. The only challenge I faced when the hospital discharged me was riding across town with nothing on but a hospital gown and my wetsuit in hand.
I was lucky but the incident raised many questions in my mind about the dive buddy system and how seriously, or not, it is taken by some divers who don't see diving for the team sport it is. My dive buddy from that unpleasant day was long gone by the time I returned to the dive shop.
The dive guide who didn't assist me said her decision had been to surface the group early and notify the boat. Uneasy with this response, I asked seasoned PADI dive instructor Ben McKenna, also from Queensland's Sunshine Coast, whether it would be acceptable for a guide to leave an experienced group to aid me in my predicament? "Yes, most definitely," he said. "Instructors take safety very seriously and we watch all our inexperienced divers very closely, especially if they're in trouble… it's why we're there!" But decisions made are individual, each situation different and dive operator discretion is a factor too.
The owner and manager of the dive shop resisted accountability. It all came down to the malfunctioning BCD, a post-mortem on which revealed that the bottom dump valve release had indeed jammed shut. This made me feel better about my diving skills, and the apology and the refund from the company was appreciated, but I am left with my concern for a failed buddy system.
Are we responsible when casually agreeing to dive with strangers? According to the PADI Diver Manual (1984 Edition) and the Scuba Diving Handbook 2007, every dive buddy is required to 'Keep track of the other buddy staying together for the entire dive – maintaining a separation that can be closed up within only a couple of seconds, and if separation does occur, searching to re-establish contact with the buddy for one minute, and, if that fails, safely returning to the surface to re-establish contact in this way.'
If some experienced divers have become complacent with this rule, what is the best way to handle the situation? What is the obligation of each person involved? Solo diving is an option, maybe a sound one for the experienced diver. Whatever is to be done must happen before the dive. Full disclosure is essential.
Should training agencies place more focus on the buddy system in basic courses? Maybe create a specialty course? Would this reinforce importance and combat buddy complacency? Should dive boat crews be more diligent pairing divers, taking into account the objectives that each diver/customer has for the dive ahead?
The questions remain unanswered. Perhaps there is no simple solution except adherence to the buddy system, while understanding that the flip side – looking out only for number one – is an accident waiting to happen.
3 Responses to "Buddy Malfunction"