Underwater Video
Find Purpose and Stay Current
March 28, 2022 By DIVER Editorial
NOTE: This article was written at the height of the global lockdown – but still includes some great advice for videographers.
By Jill Heinerth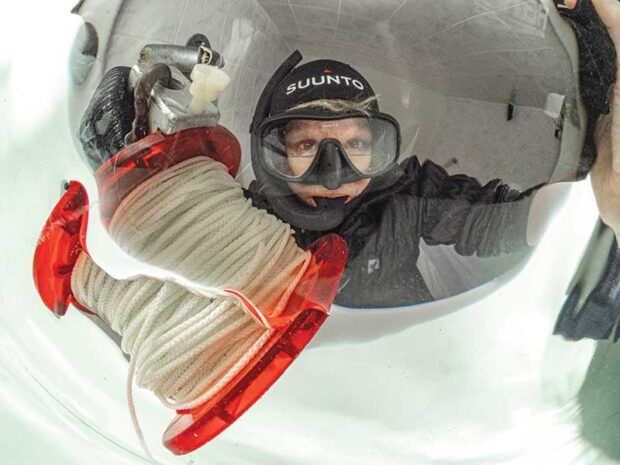 Our world is a far different place from just a few months ago. The global pandemic has changed life for most of us. Some divers are entirely locked down, and others find it tough to get support for diving services. It is an excellent time to slow down and take care of things that have may have been ignored. With home-repairs finished and the 'to do' list checked, consider improving your skills as a videographer. Here
are twelve ways to stay active as an underwater filmmaker when the world is shut down.
Organize Your Video Assets
Give yourself a mental boost by watching footage from your favourite dive trip. When you do, take the time to re-label file names and organize your video assets with keywords. It is so much easier to edit when you have descriptive file names. When you plunge into the footage you shot in Holbox, Mexico, you will be able to find that perfect sequence of a whale shark grazing the edge of your camera dome.
Increase Your Storage Capacity
I stimulated the economy and increased my storage capacity with my COVID relief funds. A new 20TB G-Force RAID drive gives me more room to manage files. You can never have enough well-organized storage, so take the time to map out and systemize your video files. When your material is well-labeled and archived on a suitable drive, the next editing project will be much smoother.
Learn About Better Filmmaking
There are many free and inexpensive offerings online that can teach you about storytelling and filmmaking. This one: https://www.classcentral.com/course/explore-filmmaking-3001, put together by the internationally acclaimed National Film and Television School in the UK, offers six weeks of programming on writing, directing, editing and cinematography. The lessons are universal, whether you are diving or not. If you want to improve your skills or learn how award-winning films are made, this excellent program will be of interest.
Join a Community
Now is the time to get social at a distance. We all crave connections with other divers, so sign in to an online community like WetPixel or watch video and photo tips on Backscatter. Follow talks by pros on the ADEX Pixel Expo or watch online presentations by still photographers. Every videographer needs to understand the fundamentals of underwater imaging, whether we're talking about shooting stills or videos.
Make a New Video
When I sit down to edit a video, I can quickly lose a day in the process. Editing takes me away into the beautiful memories of a trip or expedition. There is always a new angle to edit. Practice your storytelling craft by creating short videos for YouTube, Facebook, or other platforms. Many editors use Adobe Premiere, but if the monthly subscription is eating into your savings, use an app like FinalCutProX that does not come with a monthly bill. Many camera systems come equipped with simple free editing solutions and apps, so don't let your wallet stop you from creating a new story to share with the world.
Improve Your Colour Correction
If you are tired of looking at milky video with a blue cast, you might need to improve your colour correction and grading abilities. Colour correction includes fixing overall colour issues and makes footage appear as natural as possible. Colour grading is the technical process used by an editor to create a 'look' that adds atmosphere or emotion. A chilly blue tint might make polar footage feel even colder. An eerie dark filter with extra sharpening might help a sequence look more surreal. There is always a way to flavour your film with a new look.
Dive or Swim Somewhere New
With social distancing and a challenging business environment, there are not many charters and diving opportunities available in some regions. However, there are countless places to dive and explore. If you watch the social media feeds by professional divers, they are diving anywhere they can: watching guppies in local streams, playing with the dog in the swimming pool, or setting up kids' toys in the condo bathtub. There is always a way to practice your craft and work beyond your customary experiences. Find a creative way to play in the water. It will be good for your soul.
Practice Diving Skills
How is your hovering? Can you do a helicopter turn without touching the bottom? Jump into any water body or pool to work on improving your dive skills. Carrying a camera can be tricky. Improve your camera system's trim and balance and keep your scuba skills fresh at the same time.
Try Macro
As you explore local diving, you might find yourself longing for the clear water of the tropics. We all have access to water, but not necessarily excellent visibility. In low visibility, you can work on macro video projects. Whether you want to catch a closeup of a freshwater sponge or get close to a zebra mussel, many tiny things deserve a closer look. Macro video is not easy. You may need to use a tripod and a modified lighting setup. Macro video is time-consuming and requires patience to capture exciting animal behaviour. The good news is that you can work on your macro techniques, even in the worst visibility. Every lake, stream or waterway has a story to tell.
Collaborate with a Scientist
There are scientists all over the world that need support with documentation. Become a specialist and share your efforts. I have recently been trying to capture the unique behaviour of a freshwater mussel for a local scientist. COVID budget cuts have canceled his fieldwork, but I can retrieve footage that enables his continued efforts.
Share Your Film
Dive clubs around the world are looking for speakers to inspire their group. Most clubs have figured out how to conduct their meetings on ZOOM and other online platforms. Join a meeting to increase your diving knowledge or offer a presentation of your work. Get a decent USB microphone and share your screen. Practice your presentation and have a friend watch your video on their laptop to check if your bandwidth is sufficient for broadcasting a video feed.
Until we can dive together again, I'll be watching for you online.