Citizen Science
Going Local with Citizen Science
May 11, 2022 By DIVER Editorial
Words By Heather Creech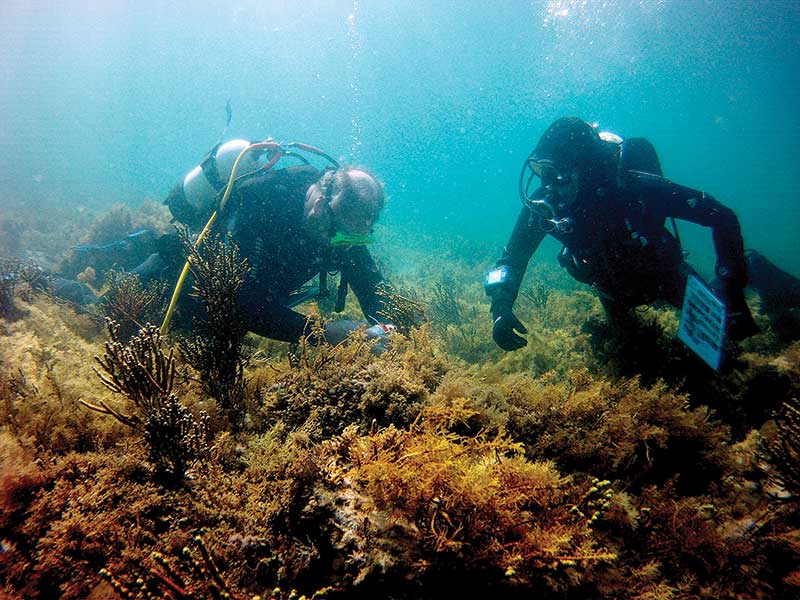 As with just about every other aspect of our lives, COVID-19 has had an impact on marine public education and citizen science projects.  
At the time of writing, large institutions like the Monterey Bay Aquarium and Ocean Wise (the Vancouver Aquarium) remain closed, while other centres like the Shedd Aquarium in Chicago and the Georgia Aquarium in Atlanta have reopened but with restrictions on attendance and programming. NGOs running citizen science programs have also been affected, from the California Ocean Science Trust on the west coast to the headquarters of the Reef Environmental Education Foundation (REEF) in Florida. Many have had to transition their staff to remote-only work environments, in some cases with only minor disruptions to programs but in others with major monitoring expeditions cancelled or put on hold for the foreseeable future. 
On Australia's Great Barrier Reef, the first major census of reef life has gone ahead using tourist boats, fishers, and recreational yachts, but with reduced numbers of citizen science snorkellers and divers. Dive tourism has fallen off drastically with the closure of Australia's international border to overseas travellers. Still, over 30 vessels are participating this year, with dozens of local participants in the water taking pictures every 33 feet (10m) and uploading those to the 'net for identification. 
And that's the key during the pandemic: go local with citizen science. Local divers in most locations around the world are getting back into the water. There is a wonderful opportunity here to consider starting your own programs—adopting a reef or a kelp forest and monitoring what is happening in your own back yard. Or you can help out an NGO or research group by volunteering to take up some of the monitoring work: my dive buddies and I have done just that here in South Australia by taking over the fish and invertebrate counts and bottom composition surveys on a local reef for an NGO that can no longer cover the costs for the field work. 
So what can you do to get up to speed? The organization Ocean Sanctuaries hosts an e-learning platform that will introduce you to basic concepts and procedures for starting a monitoring program. Their introductory course, Citizen Scientist Certification, Level 01 is designed "to teach people without a background in science how to participate in scientific investigation and, eventually, design and conduct your own investigations". A more detailed program designed specifically for the marine environment is the Marine Citizen Science Certificate Course, offered by Ocean Sanctuaries and REEF (Reef Environmental Education Foundation). Keep in mind as well the pandemic guidelines prepared by DAN and how they might apply to group size and equipment maintenance for your monitoring project (see www.diversalertnetwork.org/files/PreppingForReturn.pdf).  
If you don't want to start your own program with your dive buddies, you can still share your own observations through e-Oceans (www.eoceans.co), a major new observation tracker that will help you log what you see, and then join a team to share your data. The mobile app is available from Google Play and the App Store. 
e-Oceans has launched a special initiative, Our Ocean in COVID-19 (www.eoceans.co/project-covid19) to record what is happening in coastal communities, along coastlines, and in the oceans during the pandemic. According to the organizers, "Tourism, fishing, recreational uses, have all changed dramatically. It is expected this event will have widespread and long-term impacts on humans and nature. We aim to track these patterns along coastlines and across the ocean around the world in real-time." e-Oceans is calling on everyone around the world to begin capturing in photos the current state of beaches, coastal activities, inter-tidal, and sub-tidal environments over the next two years. Their scientists will map and analyze the data, looking to understand how COVID-19 is impacting the social, economic, and ecological condition of the ocean.
COVID-19 is making us all more aware of the importance of science and research in our lives. Whether you take up the e-Ocean challenge to document your coastal world during the pandemic or you and buddies get together to track the health of your favourite dive sites, you can contribute to science and to a better understanding of the underwater world we love so much. 
Heather Creech is a citizen scientist with ReefWatch, dividing her time between Victoria, BC, and Adelaide, South Australia.