Travel
"Have camera, will travel "- Anilao, Philippines
January 28, 2020 By DIVER Editorial
Photos and text by Janice Crook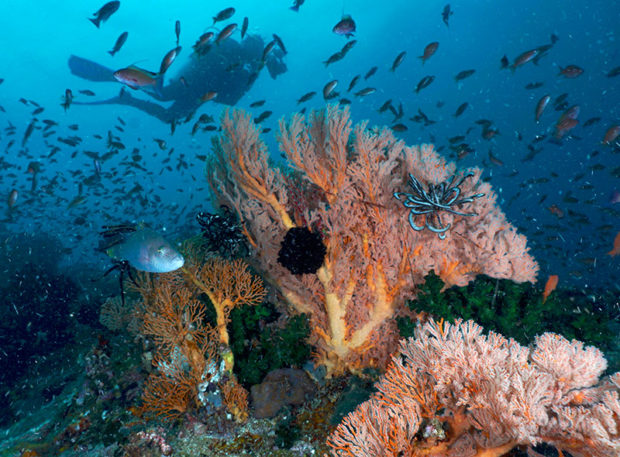 I had to cajole my dive buddy and spouse, John, into coming with me on this trip.  He was philosophically opposed to losing his dive buddy to a new camera obsession and going back to a place that we have already been.  This is actually the only dive location this far that we have returned to since 2006, and we even stayed at the same resort.
Like many of you, I have been diving a long time (first certified in 1982), and as we travel the globe with our scuba gear, I have an escalating sense of urgency to see some of the underwater wonders before they go.  So, I share the desire to not repeat a trip once we have been.  Anilao is an exception.
Diane Reid, a Pacific Northwest diver friend of ours had gifted me her 20 year old Aquatica housing and the D70 camera that went with it about ten years ago.  I called the behemoth "Bertha".  I was restricted to one 40 mm lens with her and she had many little quirks.  The advantage of this single lens set up was that I never had lens angst.  I had no choice.  I came across Stewart Sy (SLS Photography) in the process of keeping Bertha functional.  Two years ago, Bertha started gasping on many occasions and Stewart and I were running out of ideas to keep her going, so Stewart helped me into a newer Aquatica housing and a Sony 6300.  I called her Annie (named after a local friend). It comes with a 16-50 mm zoom lens and I added a dome port so now I had as close as I was going to get to universality with a single lens.  John and I are cold water divers and working with Annie's various buttons and toggles in dry suit gloves I found challenging.  My first travel with Annie was the Socorros-warm water, no strobes, mantas, mantas and a pod of false killer whales caught on video!  Whoah!  Idiot proof right?  Off to the Galapagos next.  I managed to flood her on the first dive, before we got up to Darwin and Wolf.  Lesson learned about O-rings-must use the correct lube!  And put on your reading glasses to inspect the O-ring when you close the housing!   Apparently one of my cat's sent me on that trip with a memento!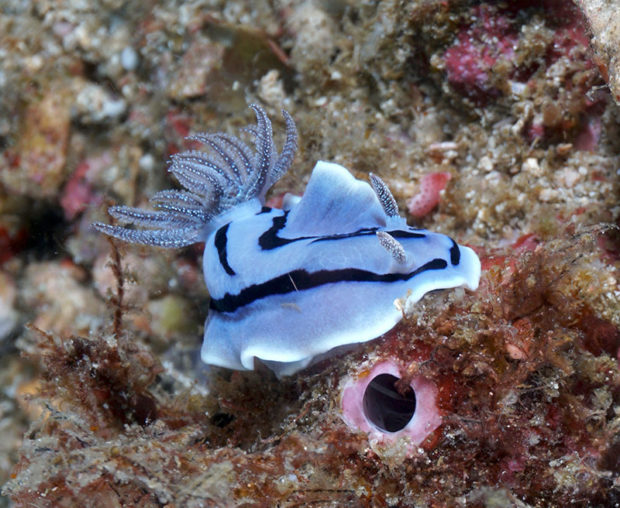 When Stewart told me about his annual trip to Anilao every spring for two weeks of diving and photography, I was game. Diving without gloves and having support for technical issues and the actual camera. Oh and someone else cooks for two weeks!
Vancouver to Manilla is super easy.  You can be underwater in less than 24 hours. John brought his camera set up (Sony RX 100 II and Sea and Sea Strobes) and started in the water with it right away. By day 3 his images were impressive. The osceillated (blue ring) octopus walking under the Anilao pier is his shot. I took a few days to feel comfortable with Annie, and let myself recover from the jet lag a little before I took Annie underwater, I learned my lesson in Galapagos. Don't rush into the water with the camera. Of course on our first dive we saw a blue ring in the first 15 minutes. Turns out we were among the lucky ones in that we saw a number over our two weeks there.
Aquatica sent a representative. Eli was both a very enthusiastic diver and an all around nice guy, he was also game to fiddle with the gear on surface intervals. I learned a lot about how Aquatica housings was manufactured and how to work with their components. Sony also had a representative there and Stewart offered as much or as little guidance as you wanted. I spent some productive hours with Stewart in the Manilla airport learning about editing software.
Why go with a group like this?
Stewart was born and raised close to where we were staying. He has a personal relationship with the owners and staff of the resort and has been leading groups there for 20 years. He speaks the language and as his guest it feels a little like being included in a very big family. One that gets along!
Anilao has a world class reputation for muck diving. It also has pinnacles, walls and the fish are coming back since the local economy has decided that the marine world is worth more to them alive.  The schools of redtooth triggerfish always made me smile. And who ever gets tired of frogfish? The soft corals and sponges were enough to keep the wide angle guys happy.  I was seeing new species of nudibranchs on every dive.  The outer sites like Sombrero Island and Beatrice could be tricky with current, but the biodiversity was worth the trip.  Muck diving was close to the resort and also diverse.  Dusk diving with mandarins at one site, and many critters at the Anilao pier.  My favourite site was Mainit Corner.  It has it all.  Nudibranchs galore, frogfish (warty and smooth), ribbon eels, morays, turtles, soft corals on the outer pinnacle.
All the dives were from the local boat called a bangka.  We had a maximum of 4 diver guests on the bangka plus the DiveMaster.  There is also a boat captain and a helper aboard.  The routine was pretty easy to adapt to: Wake up, breakfast, go out for 2 dives, come in for lunch and the 1-2 more dives in the afternoon or night depending on your wants.  With two full weeks of diving to do and some of them 90 minutes long, John and I generally did the three dives per day.  This allowed a leisurely pace and even some time to rest and review photos or enjoy the topside holiday. Turns out it was just what John and I needed.  The bonding between me and Annie was a bonus.  We came home and five days later we were back in dry suits at God's Pocket Resort.  I noticed a big jump is my photos.  Me and Annie have become solid.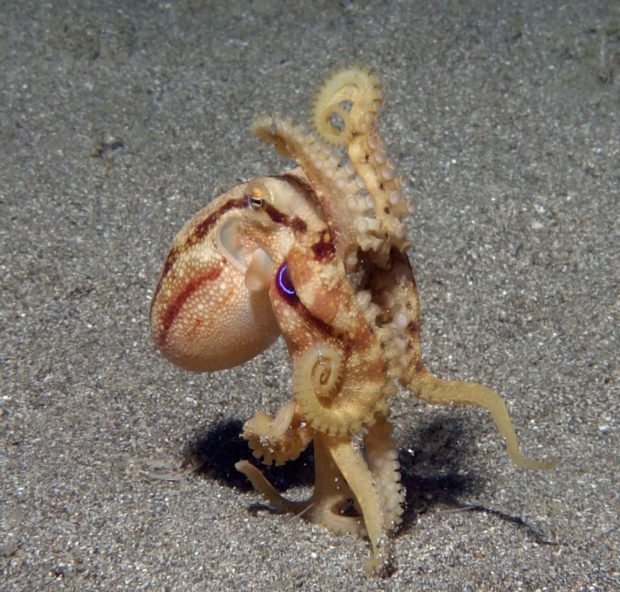 A note on Ethics
When we travel Internationally, we now take our day packs with water bladders in them.  In this way, we can avoid using single use plastic bottles of water.  The topside garbage is pretty overwhelming in the Philippines, so any way we can reduce helps.  We asked the resort to pack us fruit for snacks (mangoes please!), trying to reduce the single plastic wrapped cookies and crackers in common use. Underwater the garbage was less than you would expect from the topside volume.  John and I both sport zippered pockets on our BCD's and they work well to pick up the plastics underwater (mostly plastic bags).  We also adhere to a "no touch, no take" policy in local waters so we try to take that with us when we travel.  That means discouraging Dive Masters from setting up shots for you if it means manipulating the animals.  For example a blue ring octopus only flares his/her rings when it's agitated.  And frogfish will remain in position predictably if unmolested.  If the Dive guide "re-positions" the frogfish will swim away and find a new place to stay. So please, show your dive guide that you don't want them to touch by reaching out to touch them (the Dive guide) and gesturing "No" when you are diving.  Many of these dive sites are dived hard (I figure with 4 dives per day and up to 20 boats at each site- that's 146,000 divers a year). Please be a gentle ambassador with our underwater creatures.
Would I go again?
Absolutely! I suspect that I will eventually join the ranks of multiple lens users and will then have to decide what lens to use on each dive.  Lens angst.  What better way to get used to new set ups than to go warm water diving?
Good to Know
Getting there: Philippine Airlines goes direct from Vancouver to Manilla (MNL) overnight.  Eva airlines (via Taipei).  Although an extra stop, you canand book in Premium Economy which is more comfortable on the long flight and allows more baggage and the check in in Manilla allows a bypass of the Economy line. It is wise to arrive and depart on a Sunday to avoid the horrific Manilla traffic.  Anilao is a 3 hour drive south from the Manilla airport which costs about $100 Canadian.
When to go: October to June.  Monsoons occur in July and August, diving is still accessible year round.  SLS photography -www.stewartsy.com-workshop is in the Spring (March/April)
Stay at: Solana Resort (www.divesolana.com).  The beachfront room is perfect for 2.
Hyperbaric chamber:  Batangas Hyperbaric and wound center.  Twenty minute drive away.
Water temperature: 27.5 C (81 F)
Visibility: 30-100 feet
Currency: One Cdn dollar is about 40 Philippine Peso's.  USD (Cash) goes a long way for dive guides and house cleaning staff.  Credit cards widely accepted.
Exposure protection: I always wear a good 7mm wetsuit, but many of the men were comfortable in 5 mm.
Top Tip: I wore a long sleeve top and a sarong at all times between dives.  The sun is very sneaky there and our unexposed winter Canadian flesh could burn easily.