Interviews
Interview: Maxwel Hohn
December 4, 2020 By DIVER Editorial
Nature Cinematographer & Photographer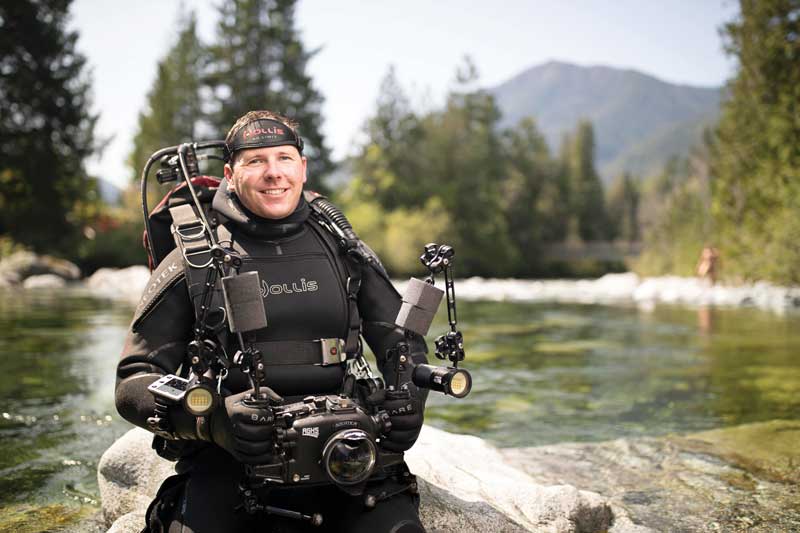 How long have you been diving?
I started freediving in 1996 and got certified as a scuba diver in 2004. At 18, in 2005, I was certified as a PADI Open Water Scuba Instructor.
What made you want to become a diver?
I was very fortunate to have parents who supported my decision to travel at a young age. When I was 17 I left home to backpack in Honduras. I ended up travelling to the Bay Islands where I took my open water course. My instructor was a Kiwi named Orlando who seemed to have life all figured out! Living on a tropical island, teaching scuba diving…what could be better? He not only inspired me to become a diver but also to become an instructor. The next 8 years I spent travelling and working all over the world as a scuba instructor.
What role did commercial diving play?
I hit a point in my recreational diving career where I wanted to learn new skills and commercial diving was the answer. It enabled me to make a good living but also continue my passion to work as a diver. 
When did you get bitten by the photo bug?
In the early stages of my career as a recreational instructor I started shooting with a GoPro. Before Facebook was popular I used to email my friends and family back home with photos from my diving and travelling adventures. Slowly my hobby progressed into a career with help of sharing my work on social media. It helped me make great connections, which in turn allowed me to pursue my dream as an underwater videographer. I now license footage to BBC, Discovery and other television networks.
What does diving mean to you?
Diving opens our world to 360 degree environment. On land we are limited to where we can walk or climb, but underwater we have the ability to fly.
What role does social media play in diving?
It is a powerful tool and can help build brands, people, and businesses into a success. It's a tool for connecting people. Part of my work is helping brands make an impact online by creating relative content that engages with their audience.
What are the challenges of product shoots?
Bubbles, backscatter, and marine life! Manufactures want to see their products used in beautiful clear water immersed with marine life. There are so many challenges when it comes to this, but I love it! It's crucial to have a diving model who is comfortable in the water with good buoyancy control and doesn't mind being blinded occasionally with big strobes or high powered lights.
Who is your go-to dive buddy?
During a recent trip to French Polynesia I proposed to my now-fiancée Roseanne Kealtey! The ring was with me during several dives and the box it was in started to deteriorate. We were at 95 feet (30m) with sharks circling us, I got Roseanne's attention by signalling that I wanted the guide to take a picture of us with the sharks. I handed the guide my camera and signaled Roseanne underwater if she would "be my dive buddy". She was a bit confused at first and started to swim away, thinking I was giving her directions to go to another spot! I stopped her and signaled again. This time revealing the box and opening it to present the ring. Luckily I didn't lose it, although I did nearly loose my misses, as she burst into a gasping excitement underwater!
What is your favourite dive site?
During the summer I really enjoy fresh water diving in the lakes and river canyons of Vancouver Island (right). I'm drawn to these locations for the unique photography they present with tadpoles, lily pads, and schools of salmon. During the winter months diving with the stellar sea lions of Hornby Island is another favourite.
Congrats on winning this years Monterey Shootout, what was your approach?
The greatest challenge of the competition are the unknown factors like weather and water clarity. You only get 32 hours to shoot and produce your work. It's very difficult to plan, especially if you are making a video. I like to spend as much time in the water during the first day to be able to piece together a video in the evening. During the second day I focus on photography and pick scenic and hidden positions in the kelp forests and wait for the wildlife to come to me.
Where would you like to dive but haven't?
Antartica is on the top of my list. One day I'd love to get in the water and film penguins and leopard seals. 
Craziest thing you've seen underwater?
I was working underwater on a survey and had a pod of Orcas swim by! A large bull came close and I'll never forget the eye contact he made with me. 
Favourite dive snack?
Protein bars and oatmeal. I often spend a lot of time in cold water, so hearty, warm meals are my go-tos. 
Favourite diving movie?
It may sound cheesy, but I really enjoyed Into The Blue. Whats better than finding treasure underwater? The movie inspired me to purchase my own underwater metal detector and go hunt for my own treasure chest of gold.
Proudest diving moment or achievement?
Getting offered a position as a Ambassador for the Huish Outdoors Team. As an ambassador for Huish Outdoors I get to test new products for BARE, Hollis, Atomic Aquatics, Oceanic, Stahlsac, Suunto, and Zeagle. Being part of the team has connected me with so many like-minded divers. It's been a dream!
What's next for you?
2021 onwards is going to be busy for me! I've got rebreather training, an expedition to Newfoundland, a trip to Socorro Island, a shoot in Costa Rica, and possibly work on a new underwater TV series.