Getting SeaOrbiter off the drawing board and into the aquatic realm she was conceived to explore would move humankind a step closer to colonizing the oceans
By DIVER Staff
The future of inner space exploration is on a course set by outer space science fiction. SeaOrbiter is nothing if not the Starship Enterprise and not just for her futuristic design. Her mission, trite though it may sound, is to boldly go… This visionary ship will not blast off from Planet Earth in search of star systems light years away. Its exploits in the vast unknown of the world ocean will be equally fantastical though, adding as they will to the hard won knowledge amassed over centuries by the nautical explorers, marine scientists and technologists who have led the way. SeaOrbiter is about human adventure on our planet – the Mothership – spearheaded by an international multidisciplinary team eager to better understand the liquid life force of a water world that eminent astronomer Carl Sagan called the 'pale blue dot', for its barely detectable yet distinctive appearance in a photograph taken by Voyager 1 six billion kilometres away.
This ship's name is revealing. She's an 'orbiter', not a lander. From conception in the mind of celebrated French architect Jacques Rougerie, SeaOrbiter was imagined as a wanderer in a liquid wilderness, literally a drifter in the flow of ocean currents, self-sustaining, at one with her surroundings. In this way she is a unique oceanographic vessel and, says operations consultant Bill Todd, diving is the "heart and soul" of her mission. Todd has devoted a quarter century to outer space flight training and heads up NASA's Extreme Environment Mission Operations (NEEMO), the training program that exploits the weightless undersea environment as analogue for space missions to off-world sites such as Near Earth Asteroids (NEAs), the Moon and Mars.
Money Challenges
SeaOrbiter's logo incorporates inner and outer space themes because the two are inextricably linked. Her missions would almost certainly include astronaut training, and perhaps none too soon. Aquarius Reef Base, the world's only operational undersea research station, operated by the U.S. National Oceanic and Atmospheric Administration (NOAA) in the Florida Keys, and which is central to NEEMO program operations, may soon be out of business. Its future, fate perhaps, illuminates the challenge faced by ocean exploration on the global stage: the never-ending need for money.
"Aquarius funding for the near term is precarious," Todd told DIVER. With the last NEEMO mission recently completed, he says, it may be the habitat's door will be locked for six months to a year while they figure out what to do in the face of funding cuts. He said there are a "couple of entities" working to find a way to keep Aquarius operational. Related to this is a move by Divers Alert Network (DAN) to act as a fiscal sponsor for the Aquarius Foundation with all donations through their webpage (http://www.diversalertnetwork.org/aquarius) going to help maintain Aquarius programs. Future funding for Aquarius, Todd said, would most likely be a combination of public and private money that would facilitate NOAA's ongoing marine science work, private missions, and may even entertain a tourism element in the equation.
Finding funds is always a struggle. "It's nearly impossible to raise private money for science, education and exploration," Todd said. As this relates to SeaOrbiter, which is a business based in France, he says, potential investors understand that such a ship is possible but at the end of the day, "they're still skeptical. Nobody wants to buy the first one. Everyone wants to see it first."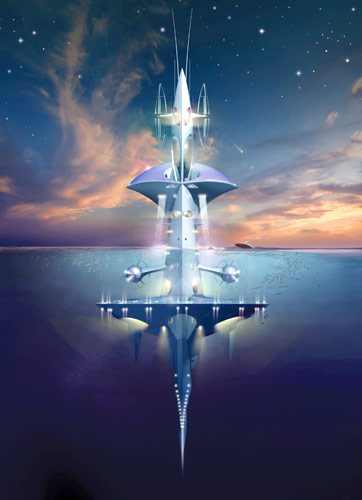 $50 Million a Copy
That said, more than half the money – estimated at "$50 million a copy" – needed to build the first SeaOrbiter (of several, it's hoped) is in place and the remainder is "in negotiation," Todd said. Asked if he was at liberty to say who was willing to bankroll this futuristic ocean exploration vessel, he said, "it's not my call to say who but they're all big names, household names" in the world of exploration.
Todd was confident in saying, "We need to wrap funding by the end of 2012 and begin construction in January 2013." Company information presents a construction timeline from first quarter 2013 to second quarter 2014, followed by launch and sea trials in the Mediterranean and, assuming all goes according to plan, a two-year Gulf Stream drift mission to commence early in 2015. One gets the sense that SeaOrbiter is an idea whose time has come, one that's worth backing and with the momentum to become a reality.
SeaOrbiter is the culmination of over 30 years research dedicated to bionic marine architecture and exploration of the undersea world, its designer Jacques Rougerie said. Conceived to further the great adventure of human exploration, into the 21st century, it is a means by which humans can explore Earth's last frontier in a unique manner.
Thinking behind the SeaOrbiter concept is to achieve continuous observation of the underwater world, replacing erratic human intrusion of marine ecosystems with a "perfect symbiosis" that allows proactive monitoring versus passive observation, the company explains. They say the vessel helps eliminate the complexities of oceanic penetration by providing a portal for permanent access.
Semi-Sumbersible Drifter
To be constructed of recycled aluminum, the 500-ton ship is designed to drift. Its 190-foot (58m) height straddles the planet's two worlds with 88.5 feet (27m) above the surface and 102 feet (31m) underwater. Four levels are above and five below the water line, with one lower deck pressurized for divers in saturation.
The vessel is designed for a complement of 18 people: four visiting scientists or others depending on the mission, along with a regular crew of 14, including dive personnel, and at a given time up to six can be living in saturation. "There've been 63 habitats in the history of the world, but nothing like this because it's mobile," Todd said. "The concept of a moving saturation chamber presents the opportunity to do a lot of different science."
The SeaOrbiter vision is to further the history of the great explorations of the world, real and imagined, especially of the marine world, led by such adventurers as Jules Verne, Jacques-Yves Cousteau, William Beebe, Auguste and Jacques Piccard, and the list goes on. It also seeks to foster a new man-and-the-sea relationship based on the precepts of sustainable development.
The goal is to live and work for extended periods beneath the sea, to learn, to enrich human understanding and to further educate. Todd says where the advancement of ocean science and technology is concerned SeaOrbiter is a "rock solid platform" from which to achieve myriad objectives.
Business Benefits
Given his background in space flight training it's not surprising that Todd sees SeaOrbiter used to best effect deployed on what he terms "highly choreographed" missions adhering to precise timelines. These would differ one to the next. Each with it's own theme and each, perhaps, examining the sea world in different geographical climates and ocean zones.
He says a vessel that can offer the unique attributes of SeaOrbiter, performing efficiently on short term expeditions with clearly defined objectives is a much easier sell to corporations looking for a measurable return on investment versus the nebulous payback of a prominently displayed logo linking a company to a given initiative. "Many different companies have expressed interest in what SeaOrbiter offers," Todd says. Pharmacology, energy, communications and robotics are just a few of the many areas of corporate interest that SeaOrbiter can service on its oceanic missions.
Tantalizing Tourism
Of course, pure science that examines marine ecosystems, minerals, food from the oceans, climate studies, etc., can be served from the SeaOrbiter platform. And at a time in history when government funding of exploration is in decline and private investment is being made with profit in mind, tourism is yet another aspect of SeaOrbiter operations likely to manifest. As with sub orbital flights for a price from Virgin Galactic, or Titantic tours aboard Russia's Mir submersibles, so too would the SeaOrbiter experience be on offer to folks with deep pockets.
"We'd offer this with a science objective in mind," Todd said. "Paying clients would be trained to participate and gain experience during a mission." It just so happens that SeaOrbiter is designed to carry a lot of very cool undersea accessories, among them a two-person DeepWorker submersible built by DIVER's parent company, Nuytco Research. With this in mind, Todd said a paying customer might, for example, have the opportunity as an add-on kind of thing to qualify as a sub pilot during their mission. And then there's the diving. Possibilities for SeaOrbiter tourists seem tantalizing.
The Diving Life
Working aboard this unique oceanic platform will be a diver's dream come true. This team of people would comprise diving medical officers, safety divers and skilled dive technicians. "For months they'd be living under the sea," Todd said. "Every day they'd wake, go to the moon pool, and work in the ocean for hours as the vessel drifts across tens of kilometres of wide open sea." Conventional open circuit SCUBA, rebreathers and surface supplied modes would be in store to facilitate the many and varied diver excursions from SeaOrbiter. As well, ROVs, AUVs and submersibles would be deployed to achieve mission objectives. "The experience would be everything a diver could ask for."
SeaOrbiter is a thing of beauty. That she is designed to withstand and function effectively in the harsh ocean environment is something else again. Arguably, she represents a new era of human-in-the-sea. "There's never been anything like the SeaOrbiter," Todd says, "She'll write a whole new chapter in ocean exploration."
2 Responses to "SeaOrbiter Water World Drift Mission"