Travel
The Gift in the Journey
May 1, 2020 By DIVER Editorial
The memoir of an eco-traveler, by Cindy Leacox.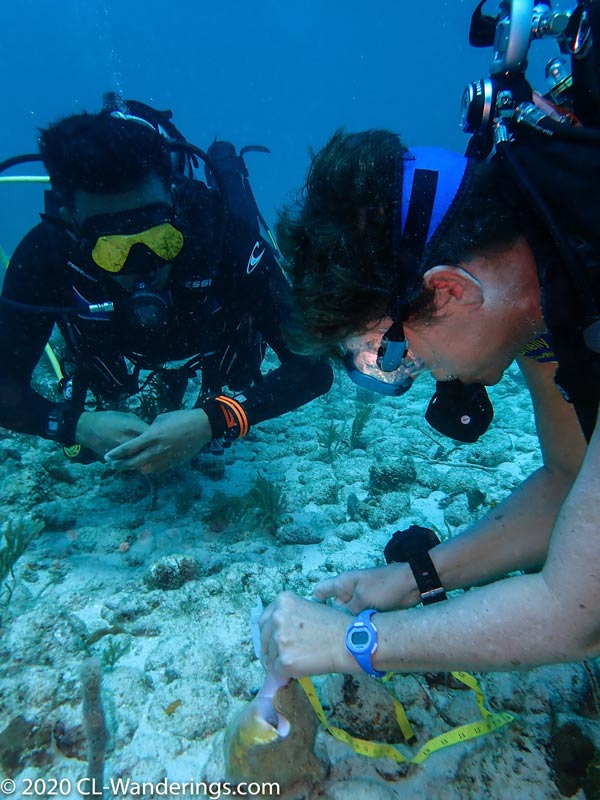 In this article I share the many gifts that naturally come with scuba diving as well as the gifts of giving back regarding volunteering time to projects that enrich the oceans and those of us who live on land like ReefCI.
Just the Beginning
Our journey began from our homes across the world which culminated into a joyful experience to the Placencia Peninsula of Belize.  Merlin Walberg, founder and owner of DiverMojo, plans and delivers conservation scuba trips that enlighten souls, provides eco-learning opportunities and shares eco-actions in a tangible way that can be brought back home and shared with others. Often the eco-actions are adopted by locals, spreading the conservation bug globally.  Our group consisted of a dozen individuals, couples and family members that quickly melded into a cohesive community of people with common goals of enjoying diving, learning more about our underwater ecosystems as well as contributing to protecting and improving the Belize Barrier Reef Reserve System (BBRRS) with Reef Conservation International (ReefCI).
Ah, Southern Belize
We arrived in Southern Belize, greeted by sunshine and smiles during the Placencia Sidewalk Arts & Music Festival, we discovered treasures at the festival and local shops as well as getting a flavor of the beauty of various natural attractions in the area including the beach.
I was treated to a tour of Cockscomb Basin Wildlife Sanctuary led by Florencio Shal.  Shal is a local guide and former park ranger who comes from a traditional Mayan family with knowledge of and ability to explain the uses of the indigenous plants. The forest provides all that is needed to enjoy a healthy, joyful life even using army ants for stitches.
During the gentle hike through the sanctuary we saw Red Brocket Deer, Tapir, Kinkajou, butterflies, countless birds and beautiful flora.  After the exploration of the basin, we enjoyed a traditional Mayan lunch.  Some of our group followed lunch with tubing down the Monkey River while others enjoyed more hiking or a quiet nap engulfed in the sanctuary's natural sounds.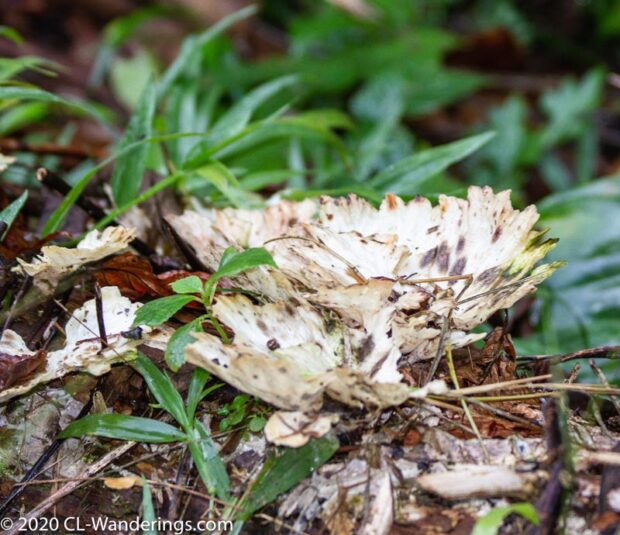 The ReefCI Adventure
The focal point of the trip began Monday morning when the ReefCI boats picked us up at Placencia. We endured a splashing hour and a half choppy boat ride to begin our expedition of collaborating with ReefCI to improve a portion of the BBRRS. ReefCI has operations in the US and Belize.  In Belize, the operations are centered around the quaint 1½ acre island of Tom Owens Caye on the southern end of BBRRS.  The BBRRS became a UNESCO World Heritage Site in 1996 and includes seven connected marine protected areas.  The BBRRS is part of the Mesoamerican Barrier Reef which extends north, up the east coast of the Americas.
Excitement was palpable in our group of like-minded individuals as we readied to jump into learning while diving, eating and relaxing.  ReefCI and DiverMojo did an amazing job of ensuring that each person was able to spend his or her time in a way that facilitated enjoyment.  All activities were optional; there were many options to learn new skills and think about how our interconnectedness impacts the smallest to the largest organism, including humans.
ReefCI offers several types volunteer opportunities.  While on the island we met volunteers who spent a month or more with ReefCI.  During our time with ReefCI we learned about the destructive power of the lionfish, an invasive species in the Caribbean and Atlantic. To help conserve coral and the reef, we responsibly removed 217 lionfish on our dives in 5 days.  We also learned about and performed fish identification, queen conch surveying and much more during our 5-days of being volunteer citizen scientists. 
The chef and kitchen staff are magic makers, serving delicious nourishing meals with a vast variety of flavors that sauntered from the tiny kitchen.  Among the fabulous main course options we enjoyed were lionfish ceviche and baked lionfish.  They creatively accommodated vegan, vegetarian and gluten-free options which were all yummy!
The ReefCI team includes a cast of committed characters including Anthony Saner, holding down the fort in the US headquarters, Frank Hachmann, leading the Tom Owens Caye operations in Belize and Willie Zalidivar Caal, ReefCI marine biologist. Keeping everything afloat on the island takes additional crew like boat captains, dive guides and others. The operations we witnessed ran smoothly with sparse resources; a testament that money raised for ReefCI largely went to the research and reef work. The main building on the tiny islet of Tom Owens Caye is rustic with simple rooms that provide the essentials sans hot water and A/C.  The second-floor rooms include a wonderful balcony space with doors that invites the sea breeze into the rooms.
ReefCI is in the process of acquiring Coral Restoration licensing from the Belizean government which will expand their ability to help the reef and its inhabitants, helping all of us enjoy this naturally beautiful marine habitat.  Most importantly it will help the reef grow and recover from pollutants and climate change. Frank told C.L. Wanderings "Change is possible through daily individual actions".  Frank went on to tell me about his desire to inspire change "[ReefCI] provides life-changing experiences while educating people on conservation and global interconnectedness."
Lionfish are beautiful.  Are they really that bad?
The fast reproducing lionfish are beautiful to look at in their native environment in Indonesia and Asia with natural predators to control their population.  This is not the case along the East Coast of the Americas where they are an invasive species threatening our reef systems. For additional information about why lionfish are a major challenge as an invasive species check out this blog.
Sharing space with and learning from the ReefCI crew was a profound personal experience expanding my knowledge and relationship with nature. We learned, laughed and dove into helping ReefCI improve the reef system.  For more information about ReefCI, read this blog.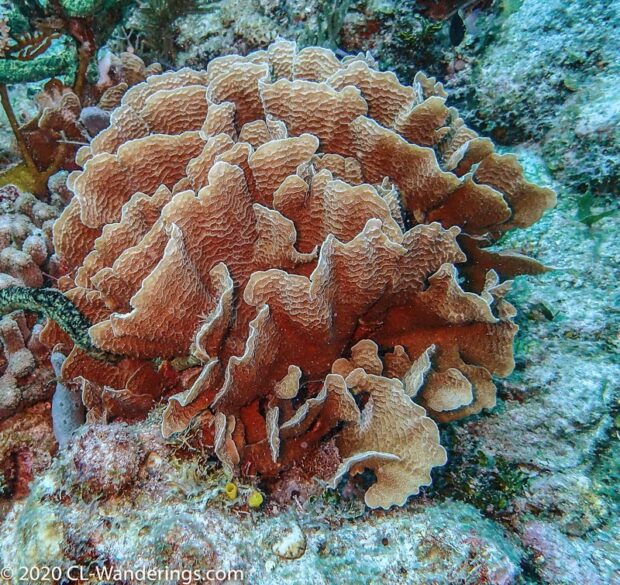 Scuba Diving – Southern Belize
The diving in Belize is always wonderful.  On this trip I got to dive the Southern tip of the BBRRS.  We heard and saw a toad fish, juvenile fish of many varieties, squid, cuttlefish, nurse sharks, coral, sponges, crabs, lobster and sadly many areas of noticeable coral bleaching.
Heading to the jungle
We were on to our next destination on the mainland; the Cotton Tree Lodge in San Felipe.  Cotton Tree Lodge is a uniquely beautiful find in a remote area of Belize worth the jarring roads that lead you to the humble entrance.  The owners and staff greeted us in the spectacular grand room built in traditional Mayan style that serves as dining and gathering areas with tables , comfy chairs, charming wood canoe couches as well as games to play. Delicious meals were crafted largely from the on-property organic gardens with additions from locally grown and procured items. I started my stay with one of the best deep tissue massages of my life while listening to the music of the jungle sounds, including distant howler monkeys.  Others enjoyed the rope swing into the river or other water adventures.  During our stay we explored the area attractions as well as listening to the symphony of the forest during yoga.
What a gift! 
Traveling with DiverMojo is straightforward and delightful.  Merlin Walberg of DiverMojo plans and delivers trips that enlighten souls, provides opportunities to learn and shares eco-actions in a tangible way that can be brought home and shared with others.  On this trip, we contributed to the health of the Belize Barrier Reef Reserve System through ReefCI, did beach clean-up on another island, experienced Southern Belize, learned loads, enjoyed scuba diving and laughed a lot!
I hope this inspires you to include eco-actions in your travels and daily life.  Until next time.
Additional Information to be discovered at:
Check out

CL-Wanderings.com

blogs,articles, images and online shop for creative art, eco-friendly products and eco-action information. The full "The Gift in the Journey" article by Cindy Leacox is available at this

link

.
For additional information about Reef Conservation International, check out their web site (

ReefCI

).
For information about custom and planned conservation scuba travel contact DiverMojo

Merlin@DiverMojo.com

or

DiverMojo.com

.
13 Responses to "The Gift in the Journey"