Conservation
The Truth About Sunscreens and Coral Reefs
February 6, 2012 By DIVER Editorial
By Jean-Michel Cousteau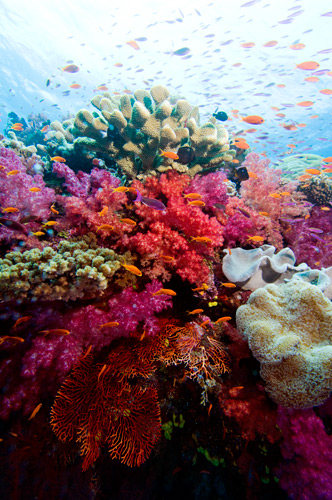 It's often called 'The Law of Unintended Consequences'. The simple explanation for this law is when we do something we believe is good or helpful but there is a counter, unexpected reaction that is not always so good.
That is exactly the case with human sunscreens and the increasingly degraded coral reefs in our oceans. No one can contest that sunscreens are a vital means of protecting our skin from sunburn and skin cancers. We are more aware than ever about the dangerous effects of UVA and UVB rays, and the bronzed bodies some wanted are increasingly a thing of the past.
For divers, fishermen, boaters and those who recreate on our oceans and lakes, this is particularly important because of the reflected and intense direct sunlight to which they are exposed.
When you buy sunscreen, look at the ingredients. The main components of most sunscreens are zinc oxide and titanium dioxide—ingredients that will never biodegrade and have the potential to harm corals and sea life. Some also contain mineral oil (petroleum) which has a low solubility rate in water, is slow to biodegrade and is known to be harmful or fatal to some aquatic life and birds.
You are probably asking yourself, "How can the thin layer of sunscreen I put on my body do significant damage to coral reefs and sea life?" In this case, dilution is not the solution. An estimated 4,000 to 6,000 metric tons of sunscreen washes off swimmers' bodies annually with the potential to cause damage to fragile ecosystems.
My team and I use sunscreen and thus have wondered what are the options for people who want to minimize their impact on the ocean.  We have discovered that there are companies working to create sunscreen and skin care products that will have minimal impact on aquatic life.  One of these companies is Reef Safe, based in Ormand Beach, Florida, has stated that their products do give people all the SPF benefits of regular sunscreen but are non-toxic to marine and sea life and also will not kill or contaminate bait used by fishermen.  In discussions with Reef Safe my question was, "What about the effects of these products on corals?"  From those discussions Reef Safe is now conducting tests, overseen by an independent lab, to determine what impact, if any, these products have on coral health.
Today we are bombarded with claims from a growing array of companies that their products are safe. Terms like "biodegradable," "natural" or "eco-friendly" are being used on more and more products but are these claims true?  Its difficult to know where truth ends and green wash begins.
In the case of products that will end up in the ocean these issues are critical. The 2011 World Resources Institute report on reefs at risk shows that reefs seriously threatened have doubled to 60 percent since they did that same study in 1998. They conclude that by 2030, 90 percent of reefs will be threatened. For divers and anyone who loves the ocean, these are staggering figures.
I would not suggest that sunscreen products are the primary reason our reefs are collapsing. We know that climate change, ocean acidification, overfishing and destructive fishing, coastal development and watershed-based pollution are the biggest culprits. But, like so many issues surrounding the degradation of ecosystems, everything is connected. Everything we put into or take out of our environment adds to a cumulative impact we are having on our planet.
As consumers of so many products, it's up to us to make reasonable choices from the seafood we eat to the fertilizers we put in our gardens to the appropriate disposal of plastics, and even to the sunscreen we put on ourselves and our children. You have often heard me say, "Protect the ocean and you protect yourself." When it comes to buying truly biodegradable sunscreens, it's "Protect yourself and you can also protect the ocean."
31 Responses to "The Truth About Sunscreens and Coral Reefs"