The Cayman Islands had a good Christmas last year with arrival of the USS Kittiwake, a wreck to be enjoyed by everyone.
Text by Stephen Weir
For the dive industry Santa Claus rode into Grand Cayman on Christmas Day, not in a sleigh but on board a barely floating 251-foot (76.5m) long WWII U.S. warship under tow by ocean going tug.
The USS Kittiwake was scuttled a few days later, live on the Internet. The event marked culmination of seven years of planning to get the retired Submarine Rescue vessel (ASR-13) to the island and underwater as a new attraction for vacationing divers and the resident scuba crowd. The vessel was sunk just north of the famous Seven Mile Beach and came to rest on a sandy bottom sitting upright and almost immediately open for business. And it didn't take long before divers and snorkelers were exploring the new artificial reef.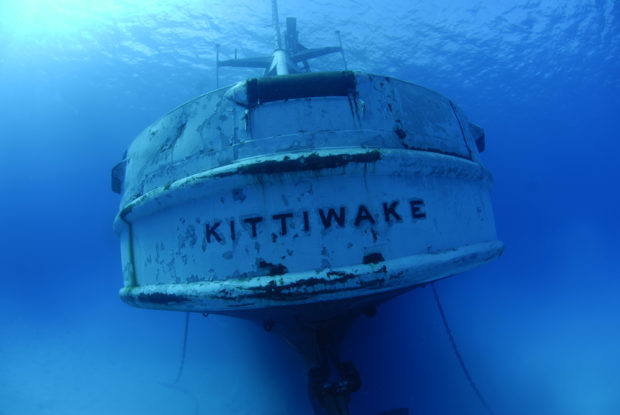 Indeed, the ship was scuttled to help relieve pressure on the natural reefs there; Grand Cayman is one of the world's most popular island dive destinations. In the brief period she has been a dive attraction the retired military ship, which was donated by the U.S. Navy, has been a big hit with everyone from the seriously certified to the occasional snorkeler.
"I dived the wreck a month after her sinking," said Suzy Marfleet, diver concierge with the Reef – a Seven Mile Beach dive operation. "And I've had a very positive response from the divers I've escorted on her". Marfleet said many divers were interested to see Kittiwake now, with no coral growth, and they look forward to seeing the change over the years. The shallow depth of less than 60 feet (18m) makes it fun to dive, and most operators are allow an hour dive time to explore the hulk, she said.
The Cayman Islands helped kick off worldwide interest in diving warm water artificial reefs in 1998 sinking a Russian missile frigate off Cayman Brac, with DIVER Magazine columnist Jean-Michel Cousteau on deck as she went down. At that time there weren't all that many diveable warships in the world. Since then everything from an aircraft carrier to destroyers have been sunk to attract scuba tourists. Now there are over 100 scuttled for diving ships off southern Florida alone!
What makes the Kittiwake different is that she is in shallow water – the deepest point is 57 feet (19m). Tourists can explore the ship on scuba or simply snorkel the upper levels.
"There are 5 decks on the 47foot (14m) tall Kittiwake. Externally, the crow's nest, mast and large stern a-frame have been cut down and remounted to make her height suitable for Cayman waters," wrote Canadian diving expert Nancy Easterbrook. Her company, Divetech, has been an integral part of the acquisition, towing of the ship from North Carolina and her eventual sinking.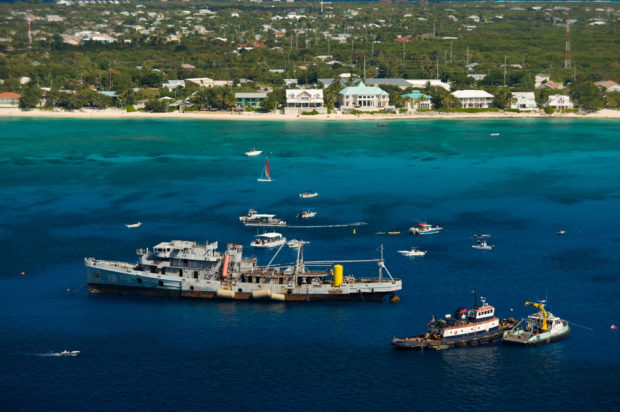 "Night dives on the Kittiwake are allowed," she says, but are guided/supervised regardless of diver qualifications." Dive shops must be licensed to take snorkelers and divers to the new site.
Can snorkelers and divers enjoy the wreck at the same time? So far operators aren't in a hurry to find out. Upscale water sports operator Red Sail schedules separate snorkel and dive trips to the wreck ensuring the twain don't meet.
"If you want a fun and interesting dive with lots of bottom time, it's great," Marfleet said. "My favourite area is the shower room, with mirrors still in place. Have you ever looked at yourself underwater?" she asked. "In another area there is also a working lathe, that you can still turn  – obviously in time this will rust and seize up but for now it is a fun toy to play with."
Although the ship was built in 1945 she's high profile on the Internet with her own official website at www.kittiwakecayman.com and videos being released online pretty much every week.
The World's Latest Artificial Reef
The former USS Kittiwake ASR 13 – Chanticleer Class Submarine Rescue Ship ASR
Built by: Savannah Machinery and Foundry Co of Savannah, Georgia, USA
Keel Laid: 5 January 1945
Launched: 10 July 1945
Commissioned: 16 July 1945
Decommissioned: 30 September 1994
Displacement: 2290 tons
Dimensions: Length 251 feet – Beam 42 feet – Draft 15 feet
Machinery: Diesel Electric Propulsion – 1 Shaft – 3000 BHP for 15 Kts
Complement: 85 Officers and Sailors
One Response to "There's a New Wreck in Town!"