By Jill Heinerth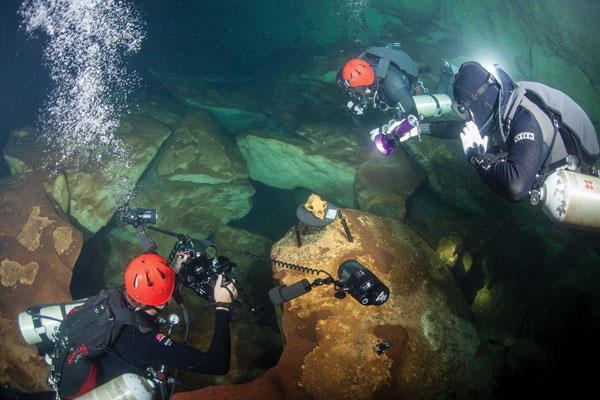 The crackling sound in an underwater bone conduction earpiece might sound like this: "Uncover One. Uncover Two. Cover One. Uncover Three. Cover Two. Uncover Four. All Fade Out." These are lighting cues barked into a full face mask (FFM) by an underwater camera operator filming a lengthy stretch of a cave for a Hollywood movie feature. Four underwater grips swim effortlessly through the overhead environment without stirring up so much as a puff of silt. They stay out of the frame while dancing lights as the cinematographer directs from behind the mask. Carrying large lights and lids borrowed from curbside garbage cans, they take turns revealing and concealing great swaths of illumination that magically seem to come from the on-camera talent that swims through the cave. Shadows from massive stalagmites slowly strobe through the shot convincingly and then completely disappear as the divers fade off into a black neutral frame. The result is unforgettable, and the viewers feel like they have been cave diving. 
We can all recall shots that are so compelling that we want to post to our friends on Facebook. Some underwater video simply seems visceral. The cinematographer usually gets all the accolades, but it is a team effort that makes these moments possible. On the obverse, you might have tried to shoot a deep wreck when your dive partner can't seem to stop blazing their light straight into the dome port of your camera. There is a wide chasm between amateur and professional, solo shooting, and teamwork.
Making video a mission
If you want to shoot the best video possible, in the safest way, then turn your shooting into a team-oriented mission. Camera operators are too often known for swimming away from the group without a care in the world. Not only is safety compromised, but they won't get the best footage out on their own. A diver/model seen in a shot offers a sense of scale and motivation. The model also provides a safety net for the shooter, while providing a new dimension with purposeful lighting techniques.
Your Grip is key
When I talk about a grip, I'm not talking about your hands on the camera. I am referring to your extra hands in the water, called Underwater Grips. In professional North American filmmaking, the person called the Key Grip reports directly to the Director of Photography (DP), who is the person operating the underwater camera. The Key Grip orders, prepares, and transports lighting equipment to a shoot. They test all the fixtures and talk with other Underwater Grips about needs for a particular dive. The Key Grip is frequently charged with overall safety supervision as well, knowing that the DP is going to be busy focusing on the creative aspects of a job. Underwater, the Key Grip is often positioned right beside the DP, like a wingman. They may offer light on the edges of the foreground or may supervise or relay communications to the rest of the team with practiced light signals or audio through an FFM. Other Underwater Grips might be off camera or may serve as the models, who carefully move their lights around as planned for a shot.
The team approach is the best way to dive with an underwater shooter. Can you offer support by charging, assembling and testing lights? Can you be a more active participant in safety by being more engaged in watching the creatively-distracted camera-operator? As the dive buddy/Key Grip, can you focus on the DP and stay out of their field of view?
Listening in
Underwater audio communications offer significant advantages for getting what you want from a shoot. They add expense and complexity but can increase efficiency and safety. With the DP or Key Grip on an FFM, Underwater Grips can listen to clear directions. Through-water wireless voice communication is made possible with an FFM equipped with a robust, water-resistant microphone that is operated with a "push-to-talk" button, in "VOX" mode, which refers to voice-activated broadcasting, or with continuous broadcast, which includes the sound of bubbling exhaust. The diver wearing the FFM carries a rechargeable battery pack to power the audio package. The voice signal transmits via an underwater transducer that carries the message to nearby divers. The signal reflects off obstructions and the bottom to reach an Underwater Grip wearing a bone-conduction device such as a BuddyPhone in her hood or against her ear, capturing the ultrasonic signal, which is amplified and converted to sound. As long as the earpiece is submerged and touching the Underwater Grip's head, she can hear the DP speak with relative clarity.
Radio speak
Underwater voice communication protocol works just like broadcasting on radio. If more than one diver transmits via an FFM, then each party needs to wait their turn to speak. The speaker has to be conscious of the brief delay for connection as well as the noise created by their breath sounds. Repeating a command helps everyone hear the message over their noisy exhaust.
No budget, no problem
You might never have the opportunity to shoot with a professional film crew, but you can borrow important strategies from them. Divide up pre-dive prep among team members. Dedicate one individual to oversee safety. Then make a lighting plan that you can execute through whatever communication means you have available. By working as a team, you'll surface with better footage from a cohesive unit that is dedicated to success. Just remember that when you get recognition for your award winning film, the kudos belong to everyone on the team!