Words by Heather Creech
A rich mix of marine life diversity, stunning colour and killer capuccinos make the South Australia a diver's dream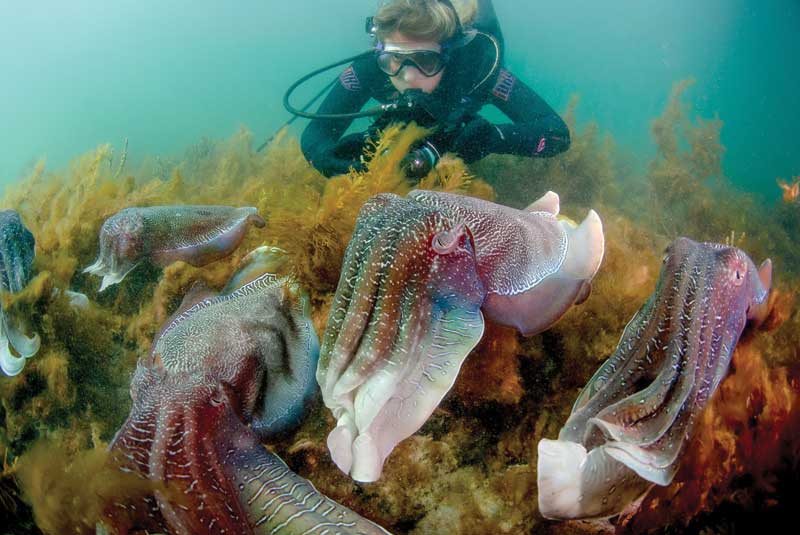 Serene and regal, Adelaide stands near the edge of the Southern Ocean, bordered by miles of pristine sand beaches on one side and some of the best vineyards in Australia on the other—an off-the-beaten track, absolute gem of a city. Adelaide is the capital of South Australia, known as the state of wine and roses, music and arts festivals, desert outback and ocean fishing. What is less well known about Adelaide, and South Australia generally, is its splendid, accessible, and wildly under-rated diving. 
I moved here from Canada six years ago and decided to take up diving again. But I wasn't sure what to expect. Adelaide is situated on the Gulf of St. Vincent, which is sheltered by the Fleurieu and Yorke Peninsulas, but the ocean that rolls into the Gulf comes straight up from Antarctica. I was a tropical diver 25 years ago when I worked in the Pacific Islands. How could the cool waters and rocky reefs off Adelaide possibly compare to the coral reefs of the South Pacific? 
When I arrived in Adelaide I booked a personal tour through one of the dive shops just to have some one-on-one help getting back into the water. My guide turned out to be a program officer with ReefWatch South Australia, and one of the most knowledgeable people around about local marine life. We went to a nearby beach at Hallet Cove for a shore dive out to a shallow reef system. With that first breath underwater I was a convert to temperate reef diving. The fish life absolutely shimmered—bullseyes and old wives, moonlighters and silver drummers, magpie perch and hundreds of tiny yellow-headed hula dancers—all in just 20 to 25 feet (6 to 8m) of clear, bright water. I saw my first ornate cowfish, as weird and colourful as anything I have ever seen in the tropics. Sea stars and anemone, rocky outcrops and sea grass, scallops and nudibranchs—the site had it all, even a lone cuttlefish. We wrapped up the dive with the best cappuccino ever at a little beachside café no more than 300 feet (100m) from our dive site, with a stunning view out over cliffs and ocean. 
I have learned since then that there are two types of diving here: the bucket list experience—those marine life encounters that you can only have in South Australia and that are worth travelling halfway around the world for—and diving that enriches a longer vacation that involves exploring all that this State has to offer.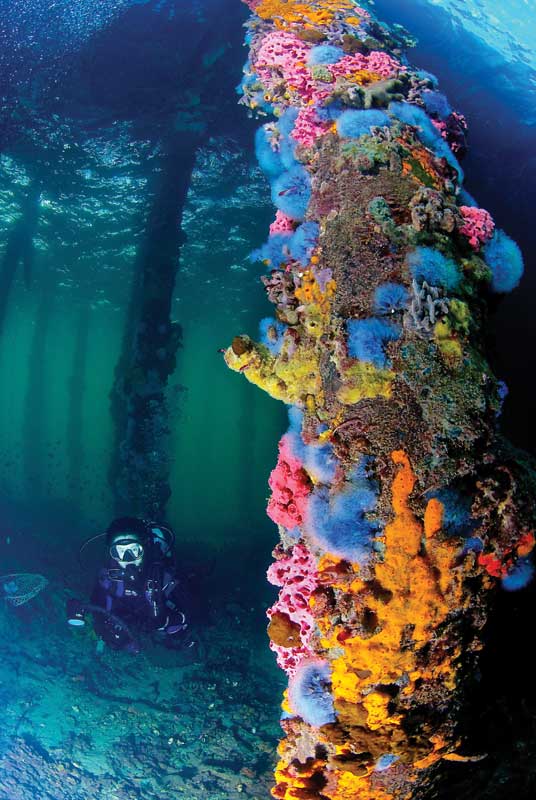 The Bucket List
Some of the most unusual events in the underwater world take place just off the coast of South Australia. But timing is everything, so if you want to see something specific, you need to pick your travel dates carefully. 
Search for the iconic Leafy Sea Dragon: these slow-moving masters of camouflage, cousins of the seahorse, are found only along the southern coast of Australia and are most prevalent around the jetties, reefs, and sea grass beds near Victor Harbour, Rapid Bay, and Edithburgh—all within a couple of hours' drive from Adelaide. From November to January, with luck, you might see a mating dance. But you will be more likely to spot Sea Dragons from January to March, when the males are incubating the eggs. It's a good idea to book a Leafy Sea Dragon tour with one of the local shops: Leafies can be hard to see at first, and dive shops follow strict guidelines when exploring their territory.
See the splendour in the bay: the Australian giant cuttlefish aggregation. Made famous by David Attenborough's Blue Planet II, over one hundred thousand giant cuttlefish come together to mate in one bay off South Australia's Eyre Peninsula, by the town of Whyalla. Now a protected marine conservation zone, it is the only known location for this highly colourful and dramatic event. Once the ocean temperature starts dropping below 62ºF (17ºC), the cuttlefish begin to migrate into the bay, with females signaling their interest and males competing for their attention. The event can run from mid-May to the end of July, but the most reliable timing is late June/early July. Spectators can dive with the cuttlefish, but many simply don snorkeling gear to hover for hours watching the kaleidoscope of changing colours and mating tactics. When the migration begins, the NGO Experiencing Marine Sanctuaries will announce "Cuttlefest" dates on its website. 
Be charmed by the gentlest of sharks: the Port Jackson shark aggregation. Beloved by locals, who consider them the puppy dogs of the shark world, they come together in November in large groups to mate in sheltered waters and bury their egg cases—a large, corkscrew shaped shell that is screwed down into the reef. The sharks disperse shortly afterwards, although you may occasionally spot one throughout the year. The aggregation takes place just south of Adelaide, near Aldinga and Port Noarlunga. Check in advance for the dates of the Nakudla shark fest in Port Noarlunga, organized by Experiencing Marine Sanctuaries. 
Observe the most iconic: the Great White shark. Public viewing of these massive ocean predators from cages was pioneered in South Australia by local legend Rodney Fox, himself a survivor of shark attack. Day trip experiences can be organized from Port Lincoln on the Eyre Peninsula. Although available year round, spots can fill up quickly so book well in advance. There are currently three operators to choose from, one of which has just launched a new liveaboard vessel.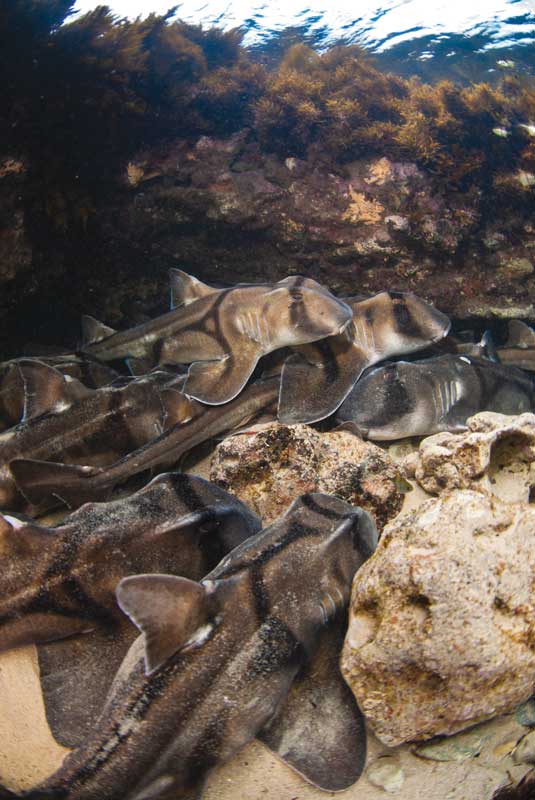 Take the Slow Boat
While any one of these events will make a trip to South Australia worthwhile, you may want to plan for several weeks exploring all that the state has to offer, with excellent diving (and the occasional cappuccino) added to your travels. 
Adelaide makes an easy starting point and offers a vibrant city centre with music, cafes, shopping, and the famous cricket oval.  Aboriginal culture and heritage can be explored through the many art galleries and museums. In February and March, Adelaide is electric: it's festival season, with a massive world music event (WOMAdelaide), the internationally recognized Adelaide Festival of Arts, and the Fringe. But Adelaide's modern edge is softened by its historic charm as a big country town—and it's one of the few cities in the world where you can still find a local riding a horse to the pub.
Diving around Adelaide is as easy as it gets: the most active site is a short drive down the coast to the reef at Port Noarlunga. A walk along the jetty and down the stairs will bring you to schools of banded sweep, leatherjacks, anemones, and always a cowfish. It's a great spot for snorkelers, too. Boat trips to explore the reefs just off Adelaide can be booked through several of the dive shops: this is where you will find the photogenic Blue devils, Leatherjackets (including the elusive Pygmy leatherjacket), Gunard perch, Blue swimmer crabs, schools of juvenile snapper, morwongs, flatheads, and occasionally a wobbegong.  
Fleurieu Peninsula
Heading south out of Adelaide, drive through the rolling hills, vineyards, and olive groves of McLaren Vale and the Fleurieu Peninsula. Stop at the cellar doors of internationally acclaimed wineries, and take a bushwalk through conservation areas for extraordinary bird watching.
Diving gets even better down the coast: the popular jetty at Rapid Bay provides great photo opportunities with the large schools of fish and the occasional ray swimming through the pylons. You can find blue ring octopuses hiding in abandoned shells and old bottles. The nearby Second Valley shore dive off the point reveals a rich habitat for pike, wrasses, Blue devils, the occasional Eagle ray, volutes, and a treasure trove of the tiny, weird, and wonderful: Weedfish, Prowfish, and Goblinfish. For those wanting an excellent wreck dive in this area, book a boat tour to the HMAS Hobart with one of the Adelaide dive shops. Or you can do an easy shore dive on the 1888 wreck of the Star of Greece right off the beach at Port Willunga. 
On the other side of the Peninsula you will come to the popular seaside town of Victor Harbour. If conditions are right, a dive on Oliver's Reef or the Bluff can be rewarding, with abundant marine life thriving in the currents.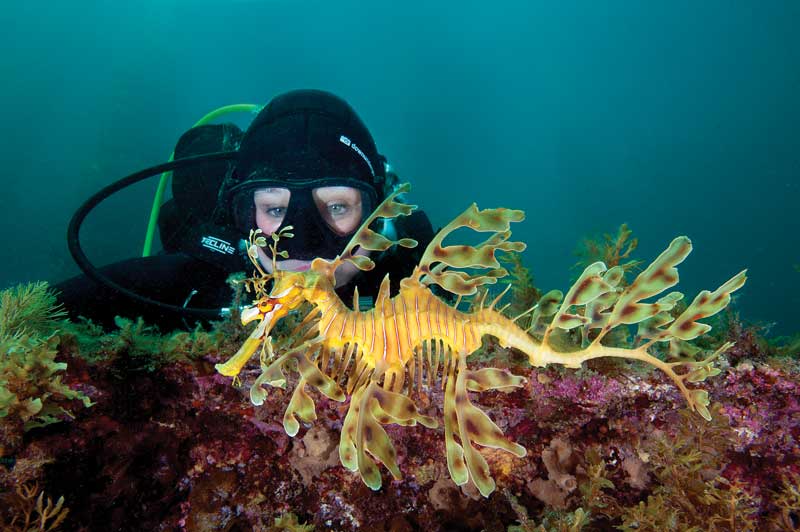 Kangaroo Island
Off the tip of the Fleurieu lies Kangaroo Island (locals just call it KI). You can fly or catch a tour bus from Adelaide or bring a car across on the ferry that departs from Cape Jervis. A great favourite of locals, KI is a treasure trove of wildlife including the Kangaroo Island kangaroo, Bearded dragons, plenty of koalas and a large Australian sea lion colony. There are beautiful walks (including the recently opened 5-day coastal wildness trail), gourmet produce, a vibrant artisan community, and much more. One of my buddies believes the best diving in all of South Australia is here—the main dive operator in Kingscote (KI Marine Adventures) will take you to nearly pristine temperate reef locations for blue groper and gorgonian coral.
Caves of the Limestone Coast
Back from KI, and continuing east along the coast from Victor Harbour, head towards the historic coastal towns of the Limestone Coast: Kingston and Robe, and the inland city of Mt. Gambier with its extinct volcanoes. This is cave diving territory. Freshwater filtered through limestone creates crystal clear conditions with unparalleled visibility. The most accessible locations are the world-famous Kilsby sinkhole, Ewens Ponds and Piccaninnie Ponds—great for open water divers, freedivers, and snorkelers (bookings and permits required). Cave diving certification is a must for other locations.  Explore your options with Reef2Ridge Mount Gambier, the dive shops in Adelaide, or contact the Cave Divers Association of Australia for more details.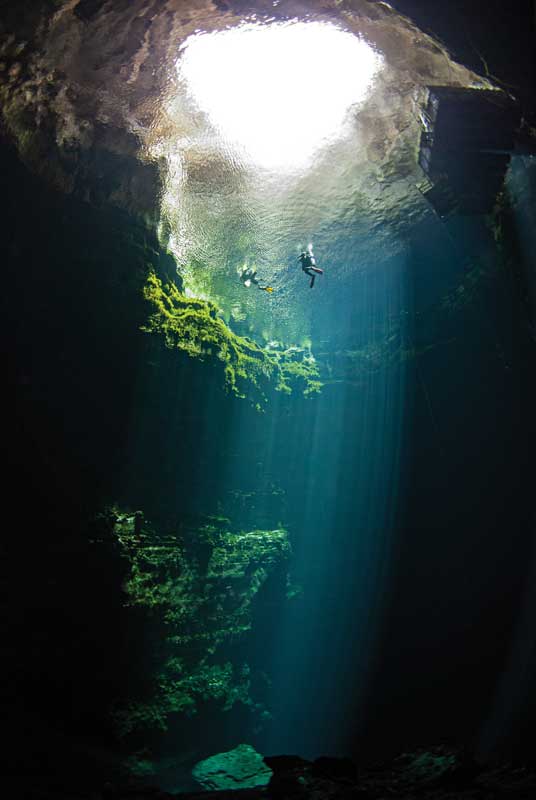 Yorke Peninsula
In the other direction, north and west of Adelaide, head to the Yorke Peninsula to dive the many jetties, including Ardrossan, Edithburgh, Port Hughes, and Wallaroo. There are great night dives here, along with colourful and vibrant marine life. This is shipwreck territory, with over 85 wrecks from the 1800s and 1900s scattered along the coast of the peninsula. Some are in clear, shallow waters; others will require technical diving. Wrecks are protected through the federal Underwater Cultural Heritage Act, so be sure to consult with Adelaide dive shops about access.
While you are here, set aside your dive gear and venture north to South Australia's outback: Flinders Ranges is four to five hours' drive from the Yorke Peninsula (six hours from Adelaide) and will give you a wonderful experience of the red heart of Australia—ancient rock formations and hidden watering holes, kangaroos and emus, aboriginal heritage and culture, with unending sky and desert. You won't be disappointed.
Most divers coming to Australia for the first time head to the bright lights of Sydney and Melbourne and the brilliant colours of the Great Barrier Reef. And no question, it's all terrific. But if you stick to this well-travelled path, you will miss out on some of the most unusual, spectacular, and accessible sights you can find—in the state of South Australia. 
Getting there: Fly from North America via Auckland, New Zealand, with a quick international transfer to a direct flight to Adelaide, or via Sydney or Melbourne with connections to domestic flights to Adelaide. 
When to go/exposure protection: Diving is year round; water temperatures will be colder in winter (June to August) but with clear visibility.  A 7mm wetsuit will work most months but in the winter many divers add a hood or switch to a semi-dry suit.  For summer snorkeling (December to February), a shortie is fine, except for the freshwater sites, which are very cold. Permits require a full-length wetsuit. 
Stay at: In addition to hotels and bed and breakfasts, check out the caravan parks. You will find these up and down the coast, in some of the most stellar ocean front locations, all with cabins at very reasonable rates. 
Dive with: In Adelaide: Adelaide Scuba, Dive Shack, Divers Delight, Diving Adelaide and Underwater Sports. In Mt. Gambier: Reef2Ridge. All serve a large and friendly diving community, provide instruction (PADI or SSI), gear sales, repairs and rentals, and air and nitrox fills. Several offer boat trips; all offer shore dives and excursions to the Yorke Peninsula. Check with the shops on whether tanks can be filled in more remote locations. Dive services are also available on Kangaroo Island and Port Lincoln. 
Marine life conservation: The State government and NGOs are active in protecting South Australia's marine ecosystems. The State has put in place a network of marine sanctuaries along the coast, monitored in partnership with Reef Life Survey. 
Topside Tip: Look for the local bakeries in small towns for the best meat pies and cappuccinos going. Pubs have great counter meals—try King George whiting, flathead, and snapper in season. Vegetarian and vegan options are readily available.
More info: For more information on diving South Australia, go to the Scuba Divers Federation of South Australia's website www.sdfsa.net