Underwater Photography
2021 Ocean Art Underwater Photo Competition Announced
September 16, 2021 By DIVER Editorial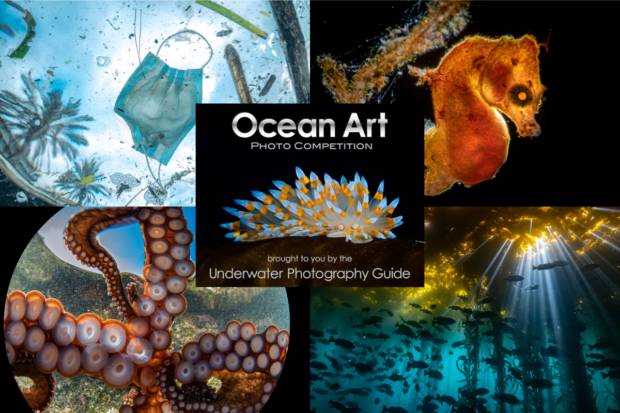 The Underwater Photography Guide have announced that the prestigious Ocean Art Underwater Photo Competition 2021 will be accepting images from now through November 30, 2021!
Ocean Art is one of the most prestigious underwater photo competitions in the world. A long list of prizes valued at over $30,000 also makes it one of the best endowed, attracting amateur to pro photographers across the globe. Thirteen categories ensure all photo disciplines and cameras compete fairly, while the 50+ winning images create a portfolio of the best underwater photos of the year.
Ocean Art prizes are provided by some of the world's top scuba diving resorts, liveaboard dive yachts, and underwater photo gear manufacturers. Grand prizes include a liveaboard dive cruise on the M.Y. Oceanic in Komodo, Flores, Alor, or the Banda Sea; a liveaboard dive cruise on the
S.M.Y. Ondina in Raja Ampat, North Banda Sea, Triton Bay, Halmahera, or Cenderawasih Bay; choice of 7 or 8 nights for two aboard the Coralia in Raja Ampat or Komodo; a 14 night dive package at the new White Sands Beach Resort in Lembeh with Eco Divers; and a variety of gift certificates from Bluewater Photo and Bluewater Travel. Premium travel prizes are provided by El Galleon/Asia Divers (Philippines) and Siladen Resort & Spa (Indonesia). Premium gear prizes are provided by Sea & Sea, Ikelite, SeaLife, and Think Tank.
This year they also have a new category! Ocean Art have decided to add a 13th category that showcases a photographer's ability to accentuate light and shadows – Black & White. Ocean Art 2021 consists of 13 categories total, with the top categories including Wide Angle, Macro, Marine Life Behavior and 3 corresponding compact camera categories, giving underwater photographers of all levels a chance to win a great prize. Unique categories include Marine Life Portrait, Cold/Temperate Water, Blackwater, Underwater Conservation, and Nudibranchs. The Underwater Art category encourages creativity in post-processing.
Winners from each category will be able to rank the prizes they would like to receive, making it more likely that each winner will receive a prize they desire.
Judges include world-renowned underwater photographers Tony Wu, Marty Snyderman and Scott Gietler. Marty Snyderman is an Emmy winner with work appearing in top publications like National Geographic. Tony Wu is a renowned underwater photographer and author of Silent Symphony. Scott Gietler is the owner of Bluewater Photo, Bluewater Travel, and the Underwater Photography Guide.
Photos must be submitted before the deadline of 23:59PM PST on November 30, 2021.
Information can be found on the Ocean Art Photo Competition page at http://www.uwphotographyguide.com/ocean-art
The Underwater Photography Guide is the #1 visited resource worldwide for underwater photographers and scuba divers to learn and improve their underwater photography. It publishes highly-regarded tutorials, technique tips, in-depth gear reviews, underwater photo news, and organizes educational photography workshops around the world.