Canada
A chilly reception
June 23, 2021 By DIVER Editorial
Words and Photo By Russell Clark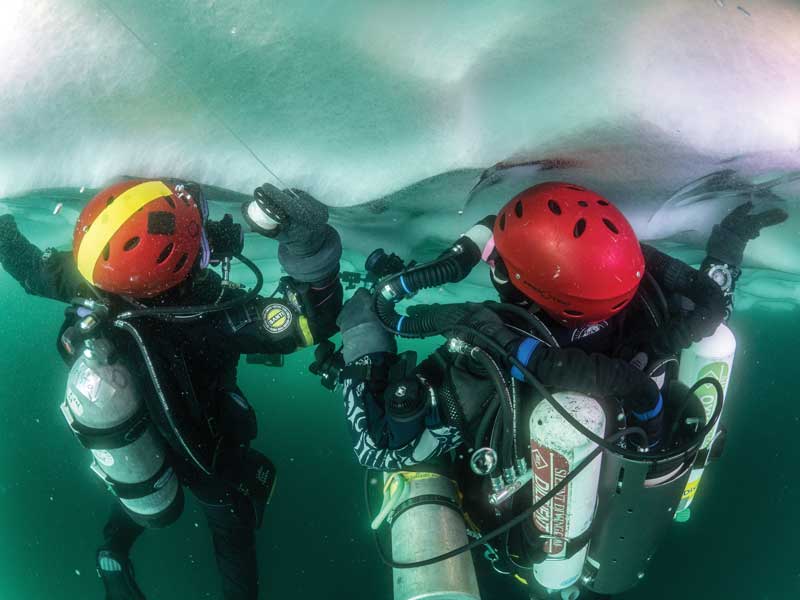 My summer vacation this year was taken in Newfoundland, diving in water ranging from 2°C to a whopping 4.5°C (35-40°F). You can keep your 3mm wetsuits, your factor 100 sunblock and your post-dive Bellini's. I'll take an iceberg any day.
10,000 years in the making, these glacial works of art break off from larger parts of western Greenland before slowly making way their way down 'Iceberg Alley' to the coast of St John's, Newfoundland. 
Icebergs attract lots of visitors during the summer months, as well as a bustling industry. Iceberg harvesting is important business on the east coast, becoming bottled water, vodka, gin, and of course, the mandatory post-dive iceberg beer. 
Ocean Quest Adventures are the only people experienced, trusted, and maybe just crazy enough taking divers to experience the 90% of an iceberg you can't see above the waves. But this isn't a dive for everyone. There are strict prerequisites, a thorough briefing, and a high expectancy for following the rules: iceberg diving can be very dangerous. 
Underwater the icebergs take on an appearance that reminds me of a giant, strangely-shaped golf ball―pitted and carved from the ocean, but smooth to the touch. It's not as cold as you'd think either, the melted freshwater being a couple of degrees warmer than some of wreck dives we experienced in the same area.
Icebergs are very vocal. They groan, crack, and thump, each noise revving up your heart beat by a few BPM's. There's quite a risk with iceberg diving, but the pay off is worth it. Whites, blues, and greens glisten as the sunlight pierces the water and illuminates the semi-translucent ice. It is a mesmerizing sight, and one that is quite different from more common overhead ice dives found in other areas of the Great White North.
While it's not advised, some people can't help but give the iceberg a hug. Maybe it's a Canadian thing, a greeting to our Greenland visitor as it passes through town. Whatever your Newfoundland experience, it's a very cool way to spend your summer vacation. 
Photo taken with a Panasonic GH5 in Aquatica AGH5 housing, 10,000 lumen lights, 8mm lens, ISO 400, f/7.1, 1/125 sec.
For more visit: www.oceanquestadventures.com