SCUBA's very own transformer, the innovative Aeris Jetpack, will change the game for dive travelers navigating airports, airlines, beaches, boats and even the water and the dive itself!
Last year's DEMA show had its share of new products and services. But in that Las Vegas convention centre the size of a small town the innovations stood out and one that we liked immediately was the Aeris Jetpack.
Scuba vacationers will likely agree that the most unsettling part of a dive trip is the trip itself. The nerve wracking airport experience of check in with more bags than anyone else, and the inevitable excess baggage costs that could pay for an extra day at your destination, or a lot of beer.
Aeris aims to lighten this blow with one simple solution appropriately named the Jetpack. The product 'sell' copy says, "This is not a bag… it's actually much more – it's your BCD, it's your luggage and it's your day sack all in one".
Like Mary Poppins' magical carry all, the bag holds a seemingly endless amount of gear. The photo tells the story. Amazing, and don't forget this is your BCD, too. The Jetpack comfortably holds your fins, regs, mask, gloves, hood and even a lightweight wetsuit. Pack it well, zip it up and the Jetpack still has room for a few other items – the indispensible DIVER mag, for instance. Best of all, it's a legit carry-on that will fit overhead compartments.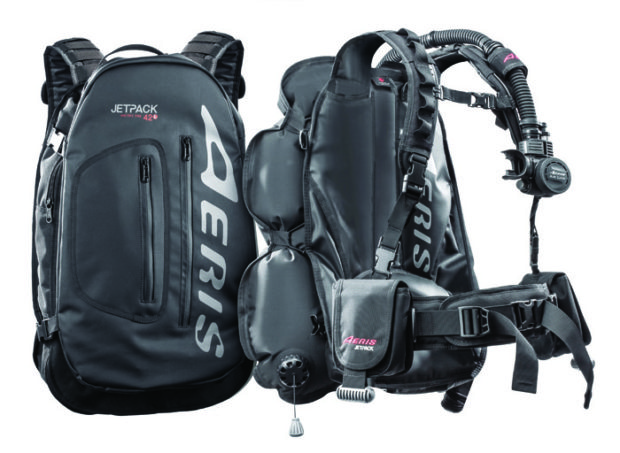 The Jetpack has a capacity of 42 cubic litres, sizable enough to carry gear and clothes enough for a few days. For most of us anyway!
A semi-dry compartment clips on and off, making an excellent day bag for boat trips or shore excursions. Unclip this and the remaining portion becomes your BC. Unzip the sides, re-clip the shoulder straps, rig in the weight pockets, and within a few minutes you have a fully featured BCD ready to dive, and your day pack by your side.
As for the BCD, it's as good as you could hope for: one size fits all, adjustable straps, cordura/quick dry nylon construction with a padded back for comfort, 30 pounds of lift and quick release weight pockets.
With extra bag fees about $50 per and this cost often hitting $100 per diver, the Jetpack is the solution to a real and often expensive problem. Re-imagining and redesigning the BCD as a rugged backpack and reliable buoyancy compensator is smart, innovative and, arguably, revolutionary. The Jetpack is sure to become indispensible and here's a closing note to warm your heart. You're going to love it, the airlines won't. Boo hoo.
The Aeris Jetpack begins shipping at the end of June at $649.95

For more information visit: http://www.diveaeris.com/jetpack/
Like on Facebook: www.facebook.com/diveaeris
One Response to "Innovation? It's in the bag"