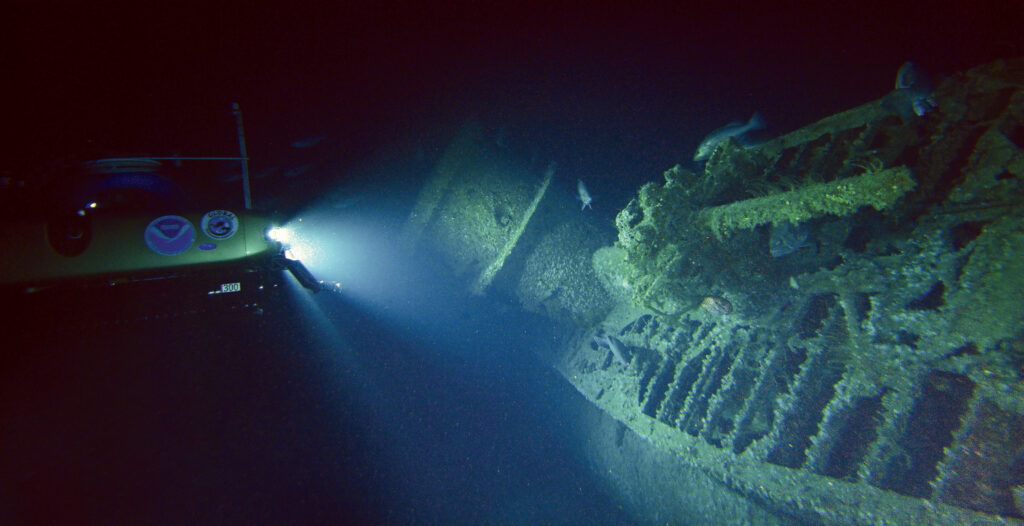 New mapping technology and a small manned submersible allow a team of scientists to 3D map a moment in history
Text by Joseph Frey
On July 15, 1942 Kapitänleutnant Hans-Dieter Heinicke, commander of German submarine U-576, would make a decision that would seal his fate and that of his 44 crew members and four Allied sailors off North Carolina's Outer Banks – and, in the process, leave an amazing underwater archaeological record of a Second World War convoy battlefield. This past August, racing against tropical storms and hurricanes, marine archaeologists from the National Oceanic and Atmospheric Administration (NOAA) and the Bureau of Ocean Energy Management (BOEM) were part of a group of scientists and engineers who were the first to lay eyes on U-576 and its target, the merchant ship, Bluefields, since they sank within minutes of each other during that July naval battle 74 years ago.
I've been invited to participate on this expedition by Dr. James Delgado, NOAA's Director of Maritime Heritage. Extremely excited, I'm looking forward to diving on U-576 in one of the expedition's two Triton 1000-2 submersibles. We're 35 miles (56 kilometres) to the east of Cape Hatteras with U-576 and the Bluefields just over 700 feet (213m) beneath the expedition's support ship, the R/V Baseline Explorer.
War casualties
The Battle of the Atlantic Expedition (named by Joe Hoyt, the Senior Maritime Archaeologist for NOAA's Monitor National Marine Sanctuary and the expedition's senior scientist) story really begins in 1941 when U-576, a Type VIIC Unterseeboot (in English, submarine or U-boat) is launched under the command of Lieutenant-Commander Heinicke. Initially based in Kirkenes, Norway, U-576 conducts two war patrols without contact with merchant shipping, off the Soviet Union and British Isles. Relocated to Saint-Nazaire, France, things change for U-576 when, in January 1942, Heinicke and his crew are sent to attack shipping along the Canadian and US coasts. Within weeks U-576 sinks its first freighter, the Empire Spring, off Sable Island, Nova Scotia. Returning to North America for its fourth patrol during April 1942, U-576 sinks two more freighters, the Pipestone County and the Taborfell.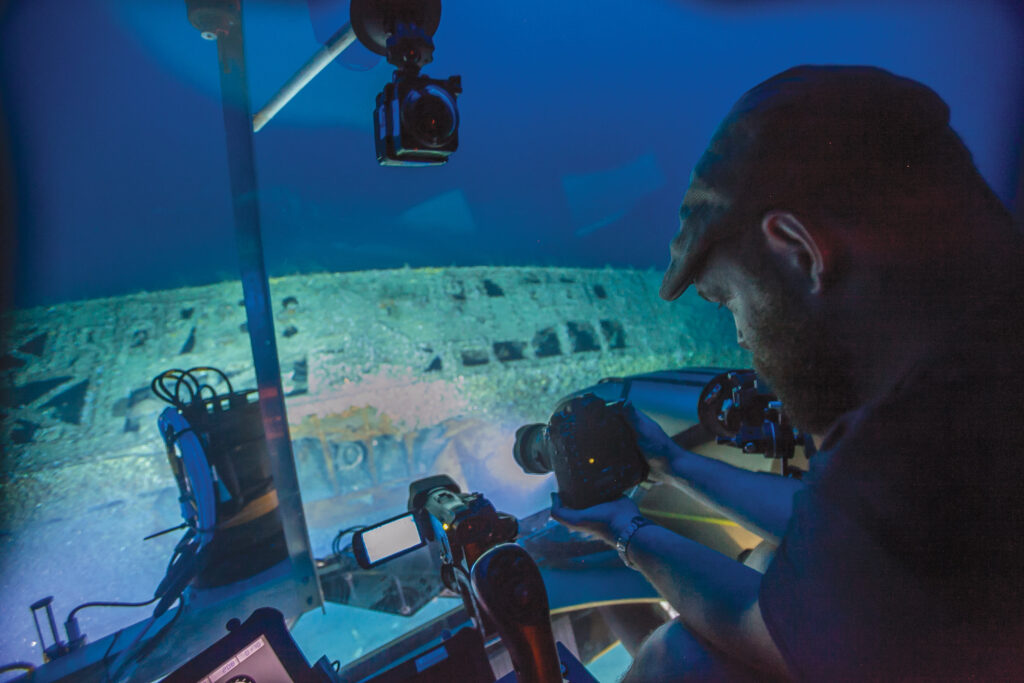 It's U-576's fifth war patrol, during July 1942 along America's east coast, that marks the beginning of the end for Heinicke and his crew.  Repairing engine problems and a damaged ballast tank 100 miles (160 km) out at sea, Heinicke returns U-576 to the Outer Banks and actively hunts Convoy KS-520 with its 19 armed merchant ships and five US Navy and US Coast Guard escorts off Cape Hatteras. Why U-576 on its own, without other U-boats in support, would attack a well-defended convoy is open to speculation, but firing four torpedoes U-576 sinks the Bluefields and damages two other freighters.  Surfacing, possibly inadvertently, U-576 finds itself in the middle of the convoy where within minutes it is sunk by a combination of deck gunfire from the freighter Unicoi and depth charges dropped by two US Navy Kingfisher aircraft.  Sinking to their watery graves, Bluefields and U-576 settle on the bottom within 735 feet (224m)) of each other.
"The U-576 and Bluefields sites are unique in their proximity to each other, representing a convoy battle. Historically (with the advent of armed escorted conveys) they are emblematic of the decline of U-boat activity off the US east coast," says Hoyt. "The Battle of the Atlantic project is motivated by recognition that these resources are unique and under-represented in popular history. They collectively represent a monument to the American Theatre of World War II.
"We are not at a point yet where recreational divers can reasonably do much in 700 plus feet (200+m) of water, but that depth range is getting broader every year. When we began managing USS Monitor in 1975, a dive to 240 feet (73m) was extreme, almost unheard of, particularly in the recreational community. Now, a dive to 240 feet (73m) is considered fairly pedestrian. I imagine there will be a time in the not too distant future when divers can safely and routinely operate at much greater depths than is currently commonplace."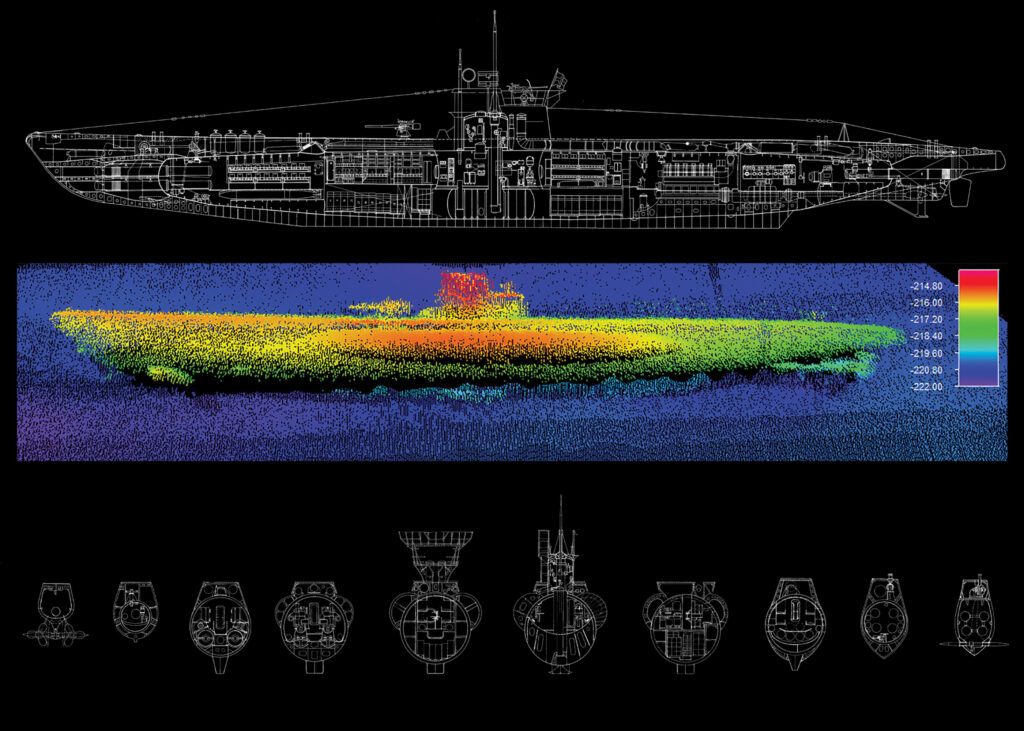 The human element
With this in mind, there is a move to place U-576 (an official German war grave) and the Bluefields under the protection of the Monitor National Marine Sanctuary through a process involving public consultations with the fishing and recreational diving communities and others.
NOAA's search for U-576 and the Bluefields began eight years ago and started to bare results during 2013, when a target suspected to be Bluefields was spotted using side scan sonar. Both Bluefields and the surrounding area that contained U-576 were imaged in a follow-up survey using both ship-based and AUV multibeam technology in 2014. Now, two years later, it will be the first time in 74 years that human eyes were going to view these two casualties of the Second World War.
We're going to be using two two-person Triton submersibles to view U-576 and the Bluefields as well as to collect scientific data. While much of the data collected could be collected from alternative platforms such as AUVs and ROVs, submersibles give archaeologists a true first hand understanding of the site that Hoyt feels is more difficult to achieve without putting people on the bottom. "A major element of our work is geared towards preservation, which requires public engagement," says Hoyt. "Getting people to join in for the journey is critical to get them to care about the work. Having a human element is indispensable for that." 
Mounted on the Triton submersibles are ULS-500 spread beam laser scanners from Canadian company 2G Robotics that are combined with a positioning solution from Britain's Sonardyne, while the cameras are housed in depth-rated housings made by another Canadian firm, SubC Imaging. Sonardyne's advanced acoustic-inertial navigation technology combined with 2G Robotics' ULS-500 laser profiling sensors (different from LIDAR) allow highly time efficient 3D mapping, to millimetres or centimetres, levels of accuracy and resolution in any water depth. This technology is brand new and the resulting mapping capability previously inconceivable. NOAA, in conjunction with 2G Robotics realized that Laser-acoustic-inertial mobile mapping would be applicable to underwater archeology. This is believed to be the world's first application from small manned submersibles.
Mikael Larsen, based in Denmark, is Sonardyne's principal engineer for the firm's acoustic inertial systems. A PhD, with 20 years experience in high accuracy underwater navigation, Larsen took part in one of the first dives to U-576 in order to optimise the operation of acoustic-inertial and laser systems for the mapping of the two wrecks.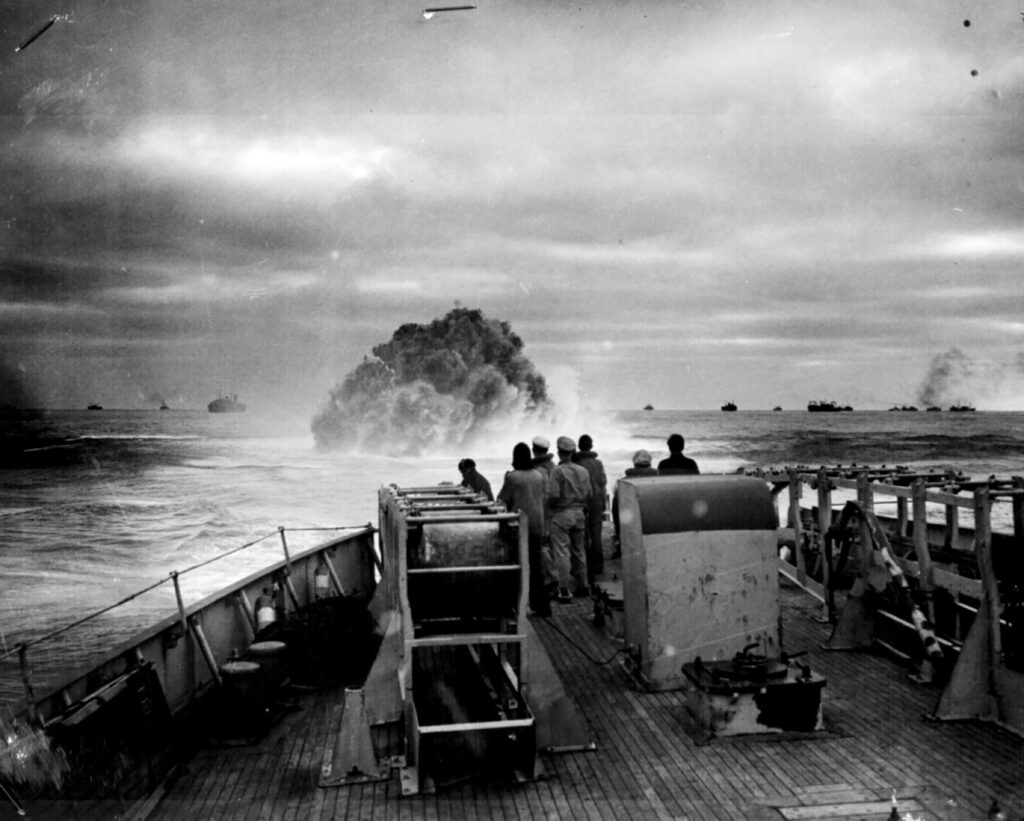 Diving on the U-576 was a completely overwhelming experience for Larsen when, out of the darkness, the U-boat appeared. The history of the scene, as explained by NOAA marine archeologists, and the stories told by a visiting WWII US navy veteran went through his mind and for a few minutes he lost concentration on the job at hand. Seeing the fine and perfectly preserved details of the U-boat first hand is somehow very different for him and a lot more powerful than observation through the video cameras of an ROV. The U-boat appeared undamaged, apart from 74 years of marine growth, and is now home to a large variety of aquatic life. The personal high point of the dive for Larsen was towards the end when the pilot halted the submarine on the sandy sea-floor just next to the U-boat conning tower. "We switched off all lights and instrumentation and sat in total silence and darkness, apart from the weak blue ambient light penetrating 225 metres (730 ft) from the surface. As if by magic, the entire hull from bow to stern slowly stood out as our eyes adjusted to the darkness," remarks Larsen while deep in thought. "The extreme tranquility of the environment was in almost eerie contrast to the intended purpose of the U-boat and the mental picture of the violent and chaotic battle that took place at the surface years before but it somehow appeared perfectly fitting and respectful considering the site is now the final resting place of so many US and German sailors who sacrificed their lives. Even the numerous groupers patrolling the U-576 and Bluefields appeared to show their respect by slow and majestic movement."
Photogrammetric model
It's the morning of August 28 and William Hoffman, a BOEM maritime archaeologist, is getting ready for the day's second submersible dive. I'm scheduled to dive that afternoon and the weather forecast is good.
Hoffman has been a certified scuba diver since 1999 and became a divemaster in 2013. He currently serves as the Atlantic Regional Diving Officer for BOEM's Scientific Diving Program. While I've had previous experience diving in the Royal Canadian Navy's former SDL-1 submersible, this is Hoffman's first submersible dive and it's a great opportunity for him to experience firsthand the application of manned submersibles equipped with laser scanning payloads and other equipment for the use of documenting archaeological sites.
During Hoffman's dive with submersible pilot Randy Holt, they investigate U-576 and take detailed and overlapping photographs that will be post-processed to create a photogrammetric model of the site. The photogrammetry complements the laser scanning conducted at the site and together they allow for 3D visualization and modeling of U-576 to an incredibly high level of accuracy and detail.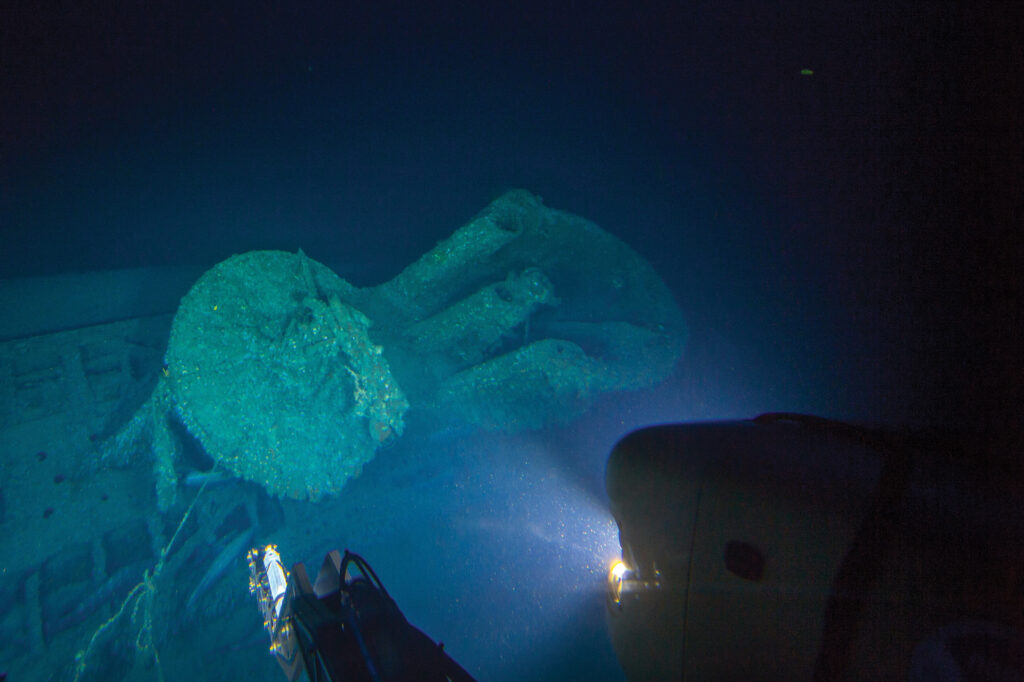 They descend to the seafloor and slowly begin to transit to the site, guided by distance and range calculations from R/V Baseline Explorer's Surface Officer Shane Ziegler. On the descent, Hoffman is pre-occupied with making sure the camera and lighting systems are operational and configured properly. It isn't until they reach the seafloor and Holt cuts the power to the camera strobes and sub lights to conserve electric power that Hoffman has a moment to take it all in. It's quiet and strangely peaceful and he is amazed by the amount of ambient light that still penetrates to the 730 foot (225m) depth they are sitting at. About 30 feet (9.5 m) away from U-576 they can make out the shape of the hull looming out of the darkness. The seafloor is partially scoured around the site and the bow and stern of the hull are partially suspended above the seafloor, appearing to be almost floating, ghost-like.
"We did observe an area of damage to the outer hull fairing on the starboard side of the U-576, but it is not yet clear whether that damage occurred during the sinking or is post-depositional.  It may be more recent damage, based on the low level of marine growth on the exposed areas, when compared to the rest of the hull. During photogrammetry we were also able to observe the keel and ballast tanks up close and we could see no obvious damage," says Hoffman. "Overall, the hull appears to be exceptionally intact. The watertight hatch in the conning tower is visible and is clearly closed and sealed, and there are no visible clues to indicate that the crew made an attempt, or was able, to escape. Now that the fieldwork is completed, the work of post-processing the data, completing the laser scanning model, and stitching together the photogrammetric model is taking place. There will be many hours spent pouring over the data to see what else can be learned."
Excitement builds as I watch Hoffman's submersible being hauled out of the Atlantic Ocean and onto the stern of Baseline Explorer but before Hoffman can even set foot onto the ship's deck we're given instructions that all personnel not needed to sail the Baseline Explorer must depart on two smaller, faster vessels to Ocracoke Island as Tropical Depression Eight is rapidly forming to the south of us. Tropical Storm Hermine becomes Hurricane Hermine and moves north to the Outer Banks. As it turns out, August 28 marks the last day of the expedition at sea. Fortunately, the quality of data returned from the survey site by 2G Robotics spread beam laser triangulation system exceeds expectations; combined with the optimized navigation data from Sonardyne they will generate 3D maps that will be included in the process to have U-576 and Bluefields included in the Monitor National Marine Sanctuary as a memorial to the American Theatre of the Second World War.