Off the shores of Florida's Key Largo, buried beneath almost two centuries of coral reef formations, lay remnants of the dark side of 1820s piracy and the illegal transport of slaves from Africa to Cuba
Text By Joseph Frey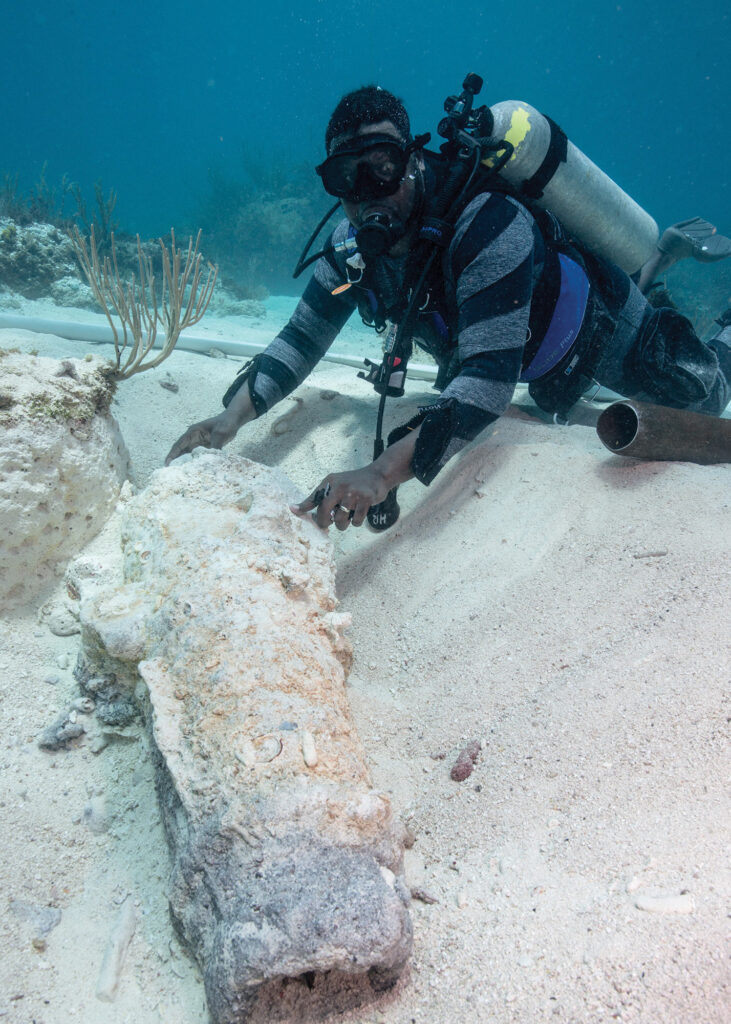 Early on a hot July morning we head out into the Straits of Florida to search for the wreck site of the notorious Spanish pirate ship and slaver Guerrero, as well as the reef on which Guerrero's pursuer, the Royal Navy's HMS Nimble, grounded. Our expedition is part of a global search for wrecks associated with the Middle Passage of the Trans-Atlantic slave trade; to date very few wrecks have been located.
The slave trade, in which an estimated up to 12.5 million West Africans were brutally abducted, had been an acceptable practice in Western society for hundreds of years. But by the early 19th century attitudes were shifting. Great Britain and the United States both abolished the Trans-Atlantic slave trade in 1807, with Spain following in 1820. However, "The internal slave trade within the US continued legally and exponentially increased. Moreover, the clandestine trade across the Atlantic and between the Americas and the Caribbean continued with ferocity until the last nations [Cuba and Brazil] abolished slavery in the late 19th century," says Paul Gardullo, Museum Curator Director, Center for the Study of Global Slavery, National Museum of African American History and Culture at the Smithsonian Institution.
The chase
Our story begins on December 19, 1827, when HMS Nimble intercepts the Guerrero in the western Bahamas and begins pursuit. The chase ends during the early evening hours, after a brief exchange of naval gunfire between the two ships. Distracted by the exchange of cannon fire, the crews of the vessels don't notice that they have sailed into shallow, coral reef-filled waters and both ships go aground in the vicinity of Carysfort Reef off Key Largo.   
Carrying 561 Africans destined to the slave markets of Cuba, the Guerrero hits the reef hard, bilging its hull and toppling its masts. As Guerrero quickly sinks, 41 Africans tragically die, either crushed by falling masts or drowned in the ship's cargo hold. Nimble is lightly grounded on a neighbouring reef and after two attempts to free itself from the reef, during which ballast, shot, and eventually a carronade are jettisoned, it is eventually pulled off the reef by the American wrecking schooner Surprize on December 20th.
Seizing an opportunity to escape, Guerrero's crew highjack the American wrecking vessels Florida and Thorn and sail to Cuba with 399 Africans who are sold into slavery. Nimble transports 121 Africans rescued by Keys wreckers to Key West, of which only 91 survive a quasi-slavery ordeal and a second ill-fated transatlantic journey before arriving in Liberia two and a half years later.
The expedition
Very few slave wrecks have ever been located, which makes the slaver Guerrero one of the most important known, but undiscovered, wrecks in American waters today. Based on the respective research of Gail Swanson, author of The Slave Ship Guerrero, and Corey Malcom, Director of Archaeology at the Mel Fisher Maritime Heritage Society in Key West, along with marine surveys carried out during the early 2000s under Cory's leadership, the evidence places the Guerrero wrecking and HMS Nimble stranding events north of Carysfort reef, along the boundary line between what is now Biscayne National Park (BISC) and the Florida Keys National Marine Sanctuary (FKNMS).
This marine archaeology expedition will be quite different from what I've reported on over the past several years in Lake Ontario with USS Hamilton and USS Scourge, in the Canadian Arctic with HMS Erebus, and off North Carolina's Outer Banks on German submarine U-576. When found, these vessels were intact, by themselves, and easily identifiable. On this section of the Florida reef, in the immediate vicinity of where Guerrero sank and Nimble grounded, Corey has identified 75 wrecks. None of the wrecks remain intact, having endured some combination of wreckers, natural forces, or more recently, treasure hunters.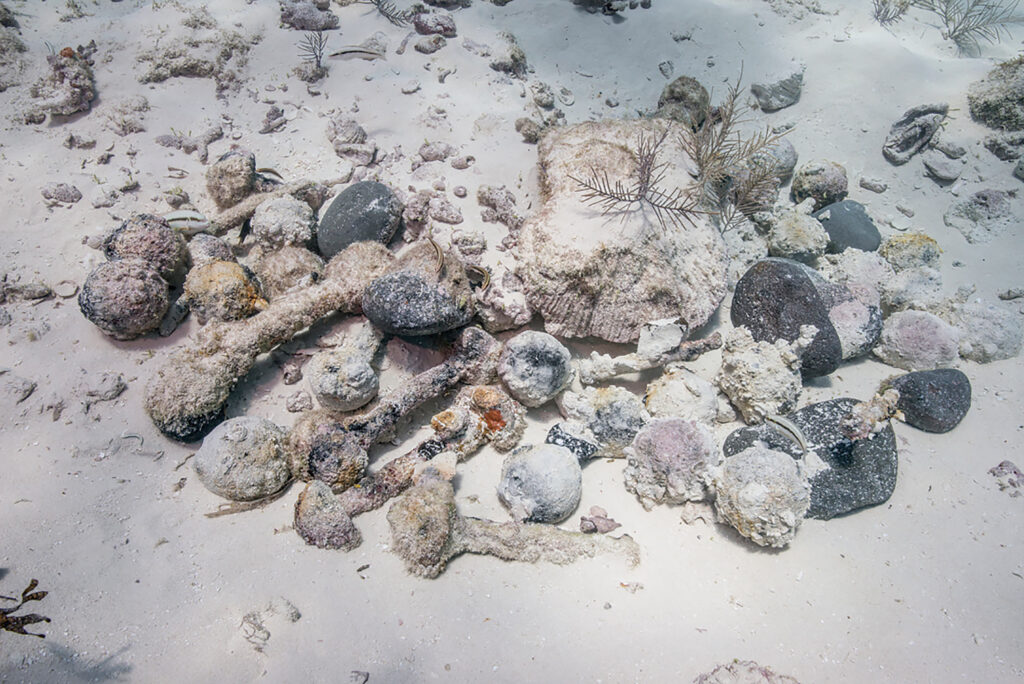 Leading the search for the Guerrero and Nimble sites in the FKNMS are marine archaeologists from the National Oceanic and Atmospheric Administration (NOAA) based out of Key Largo. NOAA's principle investigator on this project is Matthew Lawrence, with whom I've worked previously on the U-576 expedition. In this expedition, which has been named the Turtle Reef Project, NOAA's marine archeologists will undertake high-resolution magnetic surveys followed by diver-conducted anomaly investigations for Guerrero and Nimble-related materials at specific locations in the general vicinity of Turtle Reef, off the eastern side of Key Largo, in the waters of John Pennekamp Coral Reef State Park. Assisting the NOAA team will be trained volunteers from Diving With a Purpose (DWP) and graduate students under marine archaeologist Dr. Fritz Hanselmann from the University of Miami (UM).
I'll be diving in Biscayne National Park (BISC) with marine archaeologists from the National Park Service (NPS) and we will be joined by divers from DWP and UM. Like the NOAA expedition, the NPS team is going to conduct similar magnetic surveys and anomaly investigations for Guerrero and Nimble along BISC's southern boundary that borders onto the FKNMS in close proximity to Turtle Reef where Corey had identified tentative sites.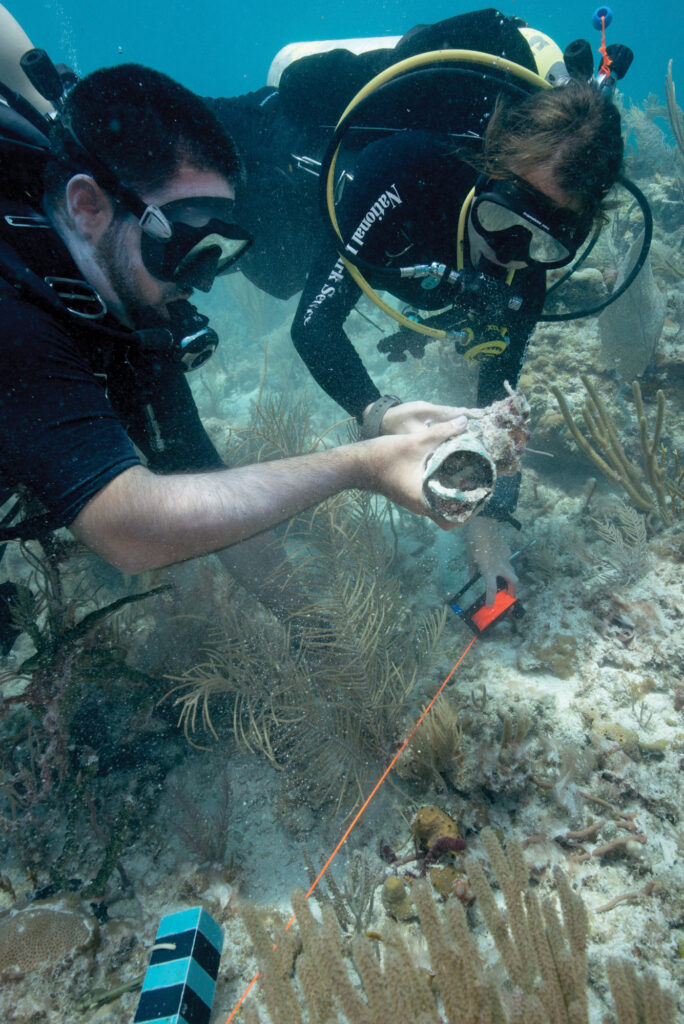 Anomaly jumping
As we gather our gear on the BISC dock just to the east of Homestead, Florida, I meet up for the first time with some of my expedition crewmates. Chuck Lawson, a former NPS marine archaeologist at BISC, is the expedition's project leader. Also coming out with us are Angela Jones and Shirikiana Gerima, both active members of DWP. Their initial activities with the organization evolved around coral restoration but they have now taken a keen interest in underwater archaeology. "I enjoy coral reef restoration. I've learned and continue to learn a great deal from this work. However, underwater archaeology is what I enjoy doing the most – probably because it has such possibility for developing a broader set of skills," remarks Shirikiana as we speed out on our first day of 'anomaly jumping' – conducting diver reconnaissance on modern debris – in areas identified as BISC–7 and BISC-3.
As it turns out, there's no shortage of anomalies detected by the magnetometers. Anything with iron in it will be recorded as an anomaly, as the magnetometer cannot discern modern metal garbage from historic shipwreck materials. I can see that there is a lot more trash out here than archaeological sites. A lot of time is going to be spent anomaly jumping before a historic site is found. Of the 1,183 individual anomalies detected, around 400 are checked out over the course of the expedition.
On shallower sites we snorkel to the anomalies, while in deeper waters we use tanks. After observing the anomaly we return to the surface and report. Our observations are linked to the anomaly's identification number, which is recorded and will be entered into a data base that will locate and characterize the remains of historic shipwrecks in BISC.
Towing magnetometers and anomaly jumping can become tedious, but this is vital to Phase I survey work, which identifies archaeological resources on the landscape. This includes finding sites and determining their spatial extent. Fortunately we're given the opportunity to engage in Phase II evaluation activities. These involve "selected excavations designed to gather enough information to identify the temporal components of a site and determine its integrity and historical significance," says Chuck as we head out to the area where BISC-10 and BISC-125 are located to carry out Phase II activities.
Diving into the warm waters at BISC-10 where I don't have to wear a wetsuit is a wonderful change from back home in Canada, where even during July it can be dry suit season. We dive in two person teams, taking metal detectors with us as we engage in systematic metal detecting and the flagging of hits. Afterwards the flagged hits are mapped via a simple trilateration – triangulation off of a measured baseline using pull tapes. This is followed by either a hand excavation or localized dredging to uncover, identify, and photograph artifacts. A small sample of potentially diagnostic artifacts are also recovered and sent to conservation. It takes about three days to work each site with three dive buddy teams.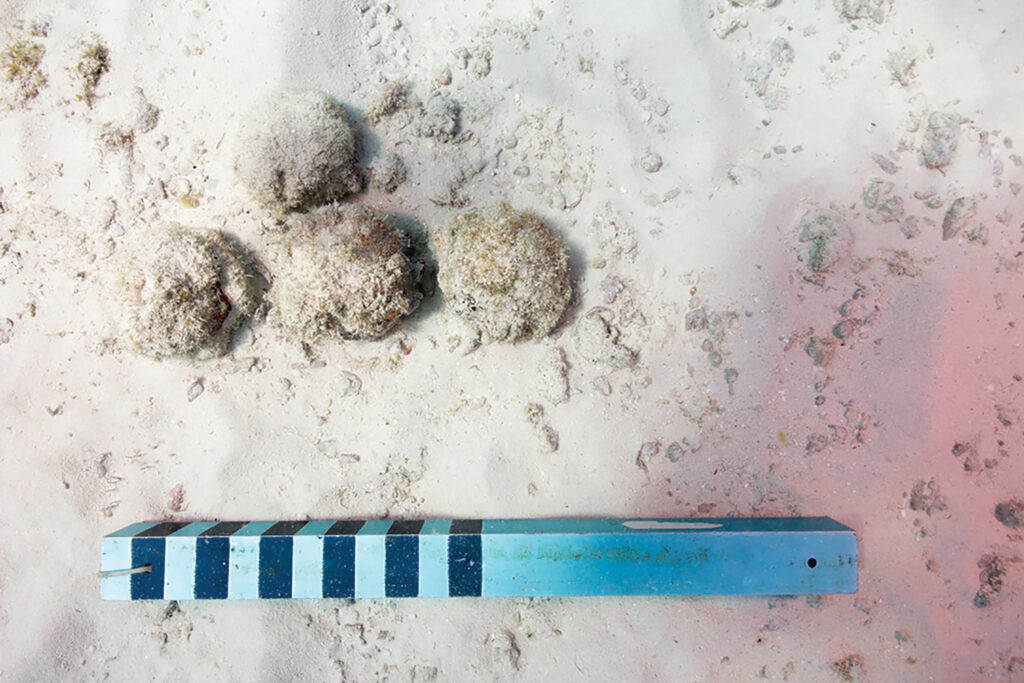 Physical evidence
At BISC-10 the excitement builds as a cache of cannon balls and bar shot is uncovered. Could this be the site of Nimble's grounding as her crew jettisoned shot to lighten her load in order to pull the ship off the reef beside us? Stone ballast is also found and the reef shows evidence that a ship ran aground here but managed to get free, as Nimble did. Everything that we uncover indicates this is a stranding site and not a wreck site; it lacks non-portable materials, such as a ship's fittings, that would have been components of the integral parts of the structure.
This site matches the archival accounts of what happened on that December day in 1827, yet some of the physical evidence casts doubt that it is the site of Nimble's grounding. The stone ballast is unsettling, as a British warship would have used iron ballast; and the ordinance, after later cleaning, shows no Royal Navy markings.
The neighbouring reef, BISC-125, generates a great deal of excitement as a potential Guerrero wreck site. This site proves to be much more substantial than originally expected. "There are many remains of rigging and fasteners that formed the main structure of the vessel, indicating a complete wreck site. This ship sunk and stayed on this spot. It had a copper-sheathed hull, as did Guerrero, and it also carried a variety of ordnance sizes, and all of the temporal indicators suggest that it wrecked sometime after 1805, probably not much later than 1850," states Chuck. "Of particular excitement was the identification of an 18-pounder carronade. We did not find any smoking gun that this site was Guerrero, but all of the materials we did find point to a wreck from the same time period and at least similar construction."
Evidence against a Guerrero identification is the presence of a wooden tampion in the bore of the carronade. Tampions close the bore of a loaded gun so the water and dirt stay out when it is not in use. If Guerrero was in battle when sunk, we would expect to see the tampion out, as the gun would most likely have been operating. But most importantly there are no accouterments of slaving, such as shackles, found at BISC-125. 
There is good evidence both for and against identification of either Guerrero or Nimble, particularly at BISC-125, that warrants a closer look at these specific sites. "I have not given up on them yet and there will be more historic research carried out, as well as hopefully more archaeology," comments Chuck.
The ongoing search and research are as important as the wrecks themselves. Little will be left of wreck of Guerrero or evidence of the stranding of Nimble, whether or not they are ever found. What's important is that the search for them has inspired public and volunteer organizations, such as DWP, to remember and share a lost piece of history, one that's from a dark period of the American story. This search does its part to bring that history back to life and restore a connection to ancestors and a lost (stolen) history for many African Americans.