Words and Photography by Nicolas Winkler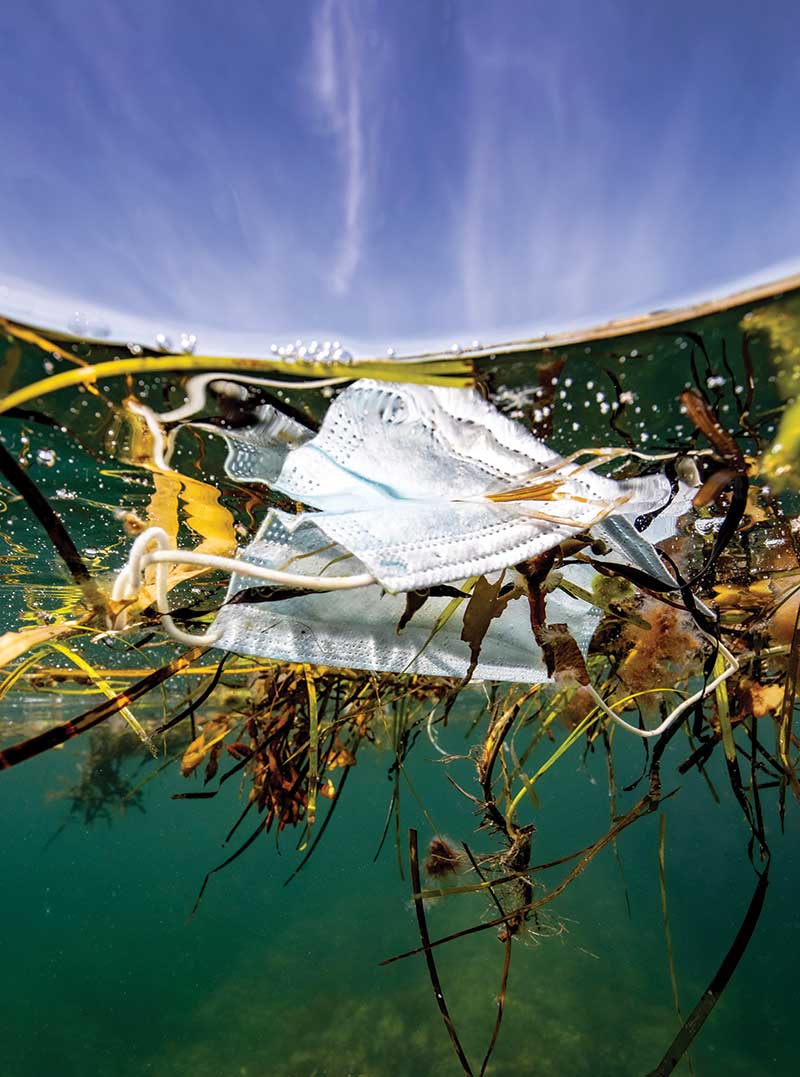 As summer approached the East Coast, the waters began to warm. With it, the critters and kelp that had retreated for the winter reappeared, while I made more frequent visits to the coast for dives, escaping the world above to witness the changing of the seasonal guard in the ocean.
When it comes to escaping—literally and metaphorically—the ocean offers refuge, but not always. So, I suppose it should have come as no real surprise that I would eventually witness firsthand the impact of the global pandemic on our ocean.
It was towards the end of a wonderful morning of freediving, exploring kelp-covered drop-offs in search of seals and sharks, that I spotted the surgical facemask floating among the seaweed. The scene was almost instantly framed in my mind before I even positioned my camera to compose the shot—as was its meaning.
The impact of the pandemic will have escaped no one by now. It has permeated through every single facet of all our lives, multiple times over. The defining image of this era: the disposable blue/white surgical facemask made of thin layers of non-woven polypropylene fabric, shielding us from this insidious, microscopic virus. 
Adding to the existing plastic plague on our ocean that is all too familiar to us as divers, now follows a deluge of personal protective equipment finding its way to the sea. 
An OceansAsia report estimated that in 2020 some 1.56 billion (yes, billion, that's no typo) facemasks would end up in our ocean. While by July of 2021, Canada alone had received over 427 million surgical masks as part of a procurement effort to secure 2.7 billion pieces of personal protective equipment overall. How much of that will we safely divert away from the ocean to our waste disposal systems, I wonder?
Few would argue that the herculean efforts to stave off a global pandemic are not worthy. However, just as it has unmasked social inequities, mass consumerism, and our dependence on a complex interconnected global supply chain, I would be painfully reminded that day, once again, that what we do above matters below. 
The facemask is elegantly simple in design and effective for its intended purpose. Similarly simple and elegant a solution is disposing your personal protective equipment appropriately, ensuring it doesn't become a hazard
to marine life or a feature of your next dive. 
ISO 250 f8.0 1/250s 16mm. Canon 1DXIII in Nauticam housing with ambient light.