Kids Diving
Travel in A Constantly Changing Environment
September 20, 2022 By DIVER Editorial
By Margo Peyton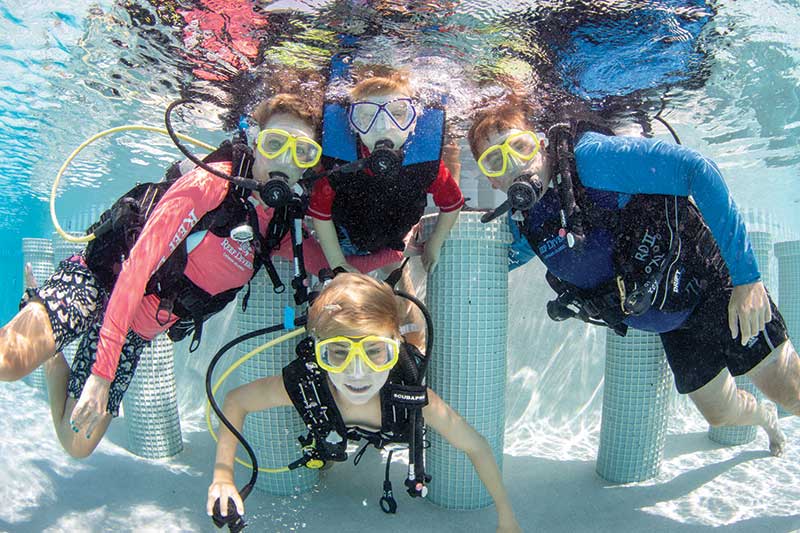 Despite constantly changing rules and restrictions, I have been travelling pretty much non-stop through the last year. I've successfully taken groups to St. Lucia, Bonaire, Roatan, Belize, the Galapagos, and the Turks & Caicos. If you are calm, adventurous, willing to go with the flow, and smart about the possibility of something going wrong (or many things not going as planned) then this travel climate is for you. But here are a few good tips I've learned along the way. 
Wear your mask! Be willing to wear it in all public places and cover your nose and mouth. Don't be one of those people who sits with a beverage in front of you for the duration of your flight so you can have your mask off pretending to drink. This stresses out other passengers and the crew.  
Make sure to have a PCR test. It is true that many places no longer require them; however, it's the safest best test, and when rules and restrictions change, it's always between whether an antigen test is required or a PCR. Going in and out of foreign countries is no joke and I've had many clients show up at the airport with antigen tests when restrictions have changed to PCR and who were turned away by the airline.
Be prepared for inconsistency. Just because a country states the day before you're flying that no COVID test is required, doesn't mean that won't change. For instance, I flew to Belize on Sunday and no test was required, and then on Monday, it was changed to COVID test required. The airline representatives do not always get the memo when restrictions have been removed (like on my way to Roatan, no COVID test was required, but American Airlines was still not letting anyone board without it). Check all the mandates the day before you fly. Many countries have health forms or apps and those must be filled out prior to arrival for a smooth, easy transition. For instance, American Airlines now has a Verifly App. It requires all forms, tests, and photos of travellers to be loaded. It's very extensive and takes some time to fill out; however, if you show up at an American Airlines ticket counter with your Verifly app approval, you walk right through everything and there's no waiting in long check-in lines.
Global Entry/NEXUS. Not all nationalities are eligible for Global Entry, but if you are, do not travel without it if you can avoid it. It's the difference of two and a half hours to go through customs and immigration or 15min. Not kidding. My family and I walk past 500 or 600 passengers in a single line that looks like the entrance to Disney World during spring break. There is no one in the Global Entry line and we walk right through. While Canadians are not eligible for Global Entry, they may apply for NEXUS, with all the benefits of Global Entry, including using its kiosks. There are kiosks in most major US airports and many Canadian ones.
Make sure your passports are valid for six months or more from the end of your trip and renew in plenty of time. For instance, in the USA, passports processing is now backed up for three months or more. So keep track of those expirations for your entire family. Kids especially have to go in person to get passport renewals.
Pack enough of your medications, contacts or other prescriptions you need for an additional 14 days. Just in case you or a member of your family tests positive you will need to quarantine for up to 14 days.
Luggage can sometimes be slightly delayed or lost for a few days. Make sure you have your luggage tags clearly marked with your cell phone number and current address. This will ensure it finds you. Make sure that you pack in your carry-on what you absolutely need to be comfortable and enjoy your vacation for a few days.
Make sure to take photos of the important things. Your tickets, luggage tags, passport, COVID tests, boarding passes, health forms, and waivers, etc. before you leave home. This becomes very helpful when something is lost or not available.
Remember to confirm with your resort or operator that you can get a COVID test and result to return 24-48 hrs prior to your flight home. Also, ask for the costs and what form of payment is accepted. Many countries require cash and a PCR test can cost up to $300 in St. Lucia, $275 in Belize, $125 in Bonaire, and the antigen tests run between $40 and $100.  Some places will accept VISA or MasterCard or cash. I personally have not found any that take Amex.
Last but not least, be happy, be patient, be considerate of others, and know that everyone is doing their best to do their job. They are working long hours through tough times to serve you and help you get to your destination. Pack snacks for long days and be prepared that many of the airlines still do not have full flight services and food on board. So be prepared and ready. Once you get to your final destination, enjoy the peace, the tranquility, and the underwater world. It's so worth it even though it's a bit more work. Just following the smart tips above can make your travel so much easier. 
Margo Peyton is the founder of Kids Sea Camp and Family Dive Adventures, with over 6,000 certified kids and zero dive accidents! For more info: www.familydivers.com