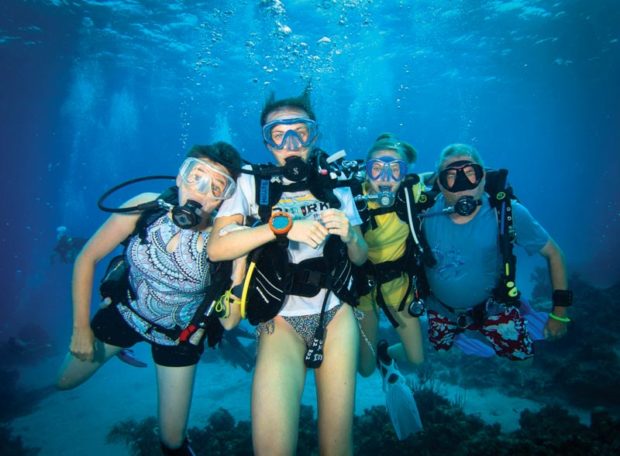 By Margo Peyton
Thinking about planning a family dive trip? I've been planning dive travel professionally for the best part of 30 years and I am intimately acquainted with the detail and effort involved in making it everything you want it to be.
My clients are like extended family. The group trips I plan and put together are done with the same level of service that I would plan for my own parents and grandparents, and the level of safety and fun I want for my own children. Here's a few tips for yours:
Consider your destination. Explore the options. Early! I start over a year in advance.

 

I'm looking for a resort with a diver operator on the property to limit transportation issues and to get the trust factor that comes when the resort owns the dive operations, because they work flawlessly together. I don't use big box companies. I have found them to be too commercial, impersonal and, most importantly if I'm dealing with a large company, I can't work with the owner of the resort or the owner of the dive shop. With a big reservations company, often the agents have never even seen the resort, don't know the rooms or the boats, and can't answer questions to the level of detail I need.
When you work directly with smaller local resorts, you are dealing directly with the owner or the local manager just underneath the owner. This is important. I can ask for a resort plan and the layout of every room, allowing me to pick my rooms. I know who in the group has bad knees and needs to be on the first floor, or who's with her teenage son and wants to make sure they have two connecting rooms. You don't get this from a big box company.
Where the resort owns the dive operation, they have a stake in the smooth running of your family's diving experience. Check ahead to make sure they have the gear you'll need for the whole family. I don't want to risk that the resorts have dive gear for little feet, faces, and bodies that are not their norm. Masks can leak and cause stress not only to kids, but also to diving moms; many women have smaller faces that rental masks do not fit. If the dive centre doesn't have it, at least you'll know what you'll have to bring with you. And that's not a bad thing: I've noted that kids take pride and have confidence in themselves with the gear they know is their own.
And speaking of kids, little kids love to talk. They don't understand how to hold a thought in their head to ask you 20 minutes later when they are on the surface. So I give kids wet notes so they can ask questions, tell you what's going on, and communicate to you about something they see.
Consider a family-oriented dive resort. They will be used to the logistics of families; for example, gathering the kids earlier and get them doing their daily activities first, so parents can get their dive gear together and not have to worry about the kids. Kids off, parents off; all having fun while lunch is being prepared. Sun block, snacks, bathroom and changes of clothes being coordinated, special needs managed.
If you are booking a trip for your family to become open water divers, when you complete the course, will the operator plop you on a dive boat full of certified divers with no DM or Instructor to lead you for the remainder of the week? When a family books a full week with a resort and a scuba certification course and then the remainder of the four days of that week to dive with a dive operation, in my opinion it's important to provide them the same dive instructor or their own dive master to dive with them for the remainder of the week, helping them now, outside of a course, master diving with others and on a boat. It may be the first time newly certified kids are diving with their parents. In many cases, parents who have been diving for years are not up-to-date on skills, signs, or signals and are not well prepared to be in charge of their newly-diving children underwater. In the situation when you have an adult and a child becoming certified together, it is against everything I believe to allow the two to go off diving alone, yet it's done all the time. Confirm that newly certified divers will have a dedicated DM for the rest of the trip after certification. If you are heading to a foreign destination, it pays to do a bit of research on the country's laws and practices. Part of my trip prep is calling immigration and tourism boards and asking if it's OK for all families to enter.

   

Not all countries have the same laws as yours. Single moms, single Dads, families that bring friends of their kids who are not their own, moms and moms, dads and dads, and grandparents who travel with their grandkids: not all legal guardianship forms are universal or accepted in all countries. Not all countries accept alternative families or even allow grandparents to travel with grandkids and no parent present. With human trafficking at the highest it has been ever, many countries such as the Philippines and Indonesia are very difficult to enter without their own documentation. Did you know you can go to prison for bringing a bottle of wine into the Maldives? Because I like wine and like to bring a bottle of our private reserve every now and again, I made sure to look that up.

 

Do your homework.
What will happen if there's a problem? Before you rush off to Expedia and hotels.com and kiosks at the airport, consider what will happen when the cheap tickets you purchased won't let you change your flight for the bad weather or the emergency, or when your flights are cancelled and you want a human to talk to that understands how important this vacation is to your family. Why not use an old school dive travel consultant to book your trip in the first place? When you just paid $17,000 for that Palau trip and your child gets so sick they can't travel and you didn't take trip insurance, a travel agent like yours truly will make sure you can come back within twelve months to enjoy your trip. Despite the waivers and policies that all say non-refundable, I make a call to my good friend Marc Bauman, the owner of Sam's Tours – or Karolin, Paul, Marc, or Jason, the owners and the managers – and tell them the situation and they say no problem Margo, let's fix this together. I support dive shops, travel agents, and my resort partners around the world and they support me; and we, together as a team, support our clients. It's hard to beat the personal relationships that someone in the business has made over a lifetime.
The main goal of a family dive trip is to keep kids safe, families safe, and provide everyone experiences and memories to last a life time. This takes care, love, and attention to detail. A family dive trip can be a joyous experience and a carefree adventure. Through intelligent dive travel, kids can learn to love diving and the ocean, and to bond with each other as well as the families around the globe they come to know.
For more, visit Kids Sea Camp.