Destinations
Guardian of the Reef Making Himself at Home at Northwest Point
May 20, 2014 By DIVER Editorial
More than 750 divers have visited Cayman's newest dive attraction since sculpture was sunkon April 12
Adela Gonzales White, Cayman Bottom Times
Since his celebrated sinking on April 12, more that 750 divers, both visitors and locals, have visited Cayman's newest dive attraction, the Guardian of the Reef.  The bronze sculpture sits on a sandy flat in 60 feet of water just offshore from the Divetechdive shop at Lighthouse Point on Grand Cayman's Northwest Point, and watches over the reef of this popular dive site.
"Swimming out from shore to see him, it is as if he is greeting you when you arrive in his realm − welcoming you and sort of saying 'look at the wonders of my realm'," says Everett Turner, a part-time Lighthouse Point resident and long-time Divetech customer, who was present for the sinking celebrations.Local underwater cinematographer Frans De Backer recalls his first dive at the site. "As soon as you discover the Guardian in the deep beside the mini-wall at Lighthouse Point, a feeling of mystery overwhelms you. The mystery continues as you approach the 13-­foot bronze statue, half Seahorse, half Mythological Warrior and it's becoming even stronger as you start diving closely around this morphed creature and look him in the eyes. Sculptor Simon Morris created the eyes in a way that wherever you are, the statue is looking at you and keeping an eye on you, like a true Guardian should."
Divetech owners Jay and Nancy Easterbrook purchased the sculpture as part of the company's 20th anniversary, and they say this is the Guardian's primary purpose – to inspire ocean conservation. The popularity of the new dive star is good news for the environment because one dollar from every dive made at the site will be used for ocean conservation education in the local schools. The Easterbrooks are hoping to raise $20,000 the first year, and the money will help support Divetech's West Bay Eco Warriors after-school swim/dive programme run by Emma Nicholsby, and potentially buy classroom material from Annie Crawley, also known as "Ocean Annie" who has created several conservation programs for kids.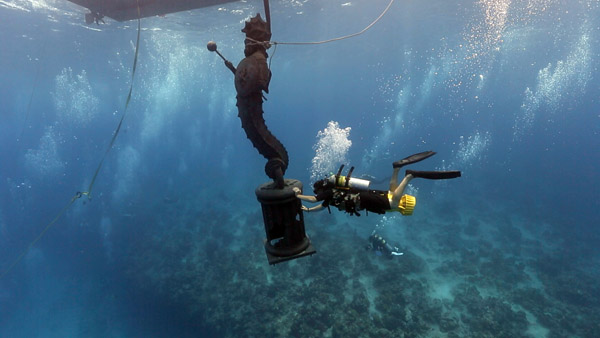 "The Guardian is symbolic for the task that we humans have neglected for decades: we have to take care of our reefs and our oceans. Therefore, I think it's a great idea that a portion of the dive fee is going to conservation education," remarks Frans De Backer."The Guardian of the Reef is a uniquely wonderful and appropriate figure, aptly named for his purpose of promoting awareness of our fragile oceans," agrees Everett Turner. "To me, he represents a powerful creature who at the same time is also fragile just like the oceans. They are a very powerful force filled with life forms yet those life forms are fragile and we are in danger of losing them if we don't take action." Divetech began offering dive services on Grand Cayman in 1994 and has always been a champion for Cayman's underwater world. Nancy and Jay Easterbrook say the Guardian of the Reef and this conservation program allows them to give back to the community.
"It's been 20 wonderful years, wonderful ocean, wonderful people and we wanted to give back to the community. Seeing him out there now with divers enjoying and being inspired by him, it's more than we expected, more than we could have hoped for" commented Jay Easterbrook.
As the Guardian of the Reef makes himself at home on the reef, his neighbors, the sea creatures that live there, are also getting to know him. Several days after he was placed on the site, divers found a sea horse not too far from the sculpture. Everett Turner, who as an underwater photographer scours the reef there, looks forward to seeing what creatures and fish he attracts."He is resting not too far from some of our favorite areas for finding dwarf frog fish, pipe horses and a multitude of other macro creatures," he says. "I am hoping he might attract some schools of grunts and jacks and some of the other reef fish that are found just around the corner from him."Just getting to know the new kid on the block is fun for Divetech customers, as well as staff members.
"It is awesome to drop down and be face to face with the Guardian of the Reef!" says Emma Nicholsby, who frequently free dives the site with friends.
On a night dive Kara Owens
was impressed. "It's almost eerie coming along this huge lone statue in the pitch of night, Goosebumps!"
"The Guardian is the perfect addition to one of Grand Cayman's best reefs, yet when you see him you get the sense he's been there a long time, and will be there a long time, watching over the reef," says Nina Baxa.
For more information visit www.divetech.com