Text and Photography by Scott Johnson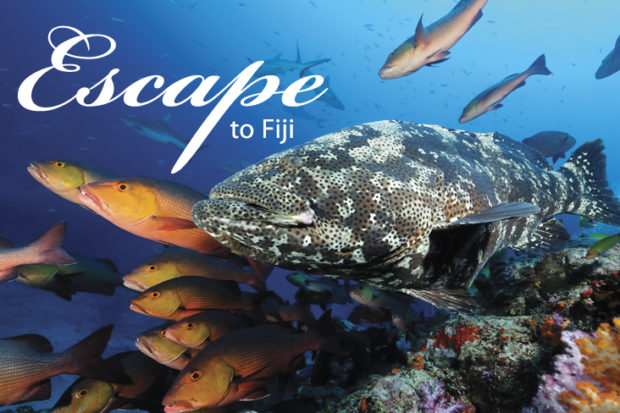 Sometimes our imaginations – our very souls – cry out for more.  We need to escape routine, to discover a place so unpredictable it makes the magical world of Harry Potter seem dull by comparison.
That's how I found myself struggling against the strong tidal current running through Nagali Pass. I had finally managed to reach the natural rock wall that serves as a backdrop for the Fiji Aggressor II's shark dive. As the surging water threatened to deliver my camera gear – ocean express – to an unsuspecting recipient in a far off sea I resisted the best I could with a fin firmly wedged under the biggest rock in sight.
Grey Reef Sharks, Red Snapper and Bigeye Barracuda were swarming ever closer as divers situated themselves. I was tracking this chaotic action through my viewfinder when, abruptly, everything went black. Instinctively, I looked up to find myself mano a mano with a 250 pound (115kg) Malabar Grouper, his eyes locked on mine.
Now, my objective on this dive was to photograph sharks. I tried – unsuccessfully – to see past the massive fish.  My comic maneuvers to stretch around the beast proved futile. His posture was steadfast; a relocation plan was not under consideration. It was a standoff. I couldn't photograph over this Sumo wrestler lookalike nor could I reposition myself without being swept down the channel.
Of the several aphorisms that came to mind, 'if you can't beat 'em, join 'em' seemed a good fit. So began my examination of this curious admirer. The Malabar has dark polka dots all over its body, big fleshy lips and bright, inquisitive eyes.  I couldn't help but smile as the seemingly gregarious fish struck his regal pose for me. Sharks? Hey, you've seen one you've seen 'em all.
Oceania
The Republic of Fiji encompasses about 515,000 square miles (1.3 million square kilometers) of the South Pacific Ocean and some 320 islands, of which only 111 are inhabited.  The two largest – Viti Levu and Vanua Levu – account for 86 per cent of the country's land area of 7,000 square miles (18,270 square kilometers) and 94 per cent of a 945,000 population.
Fijians are among the friendliest, most congenial people on the planet. Affable natives, exquisite natural beauty, white sandy beaches, unique animal encounters and pristine reefs beckon those wanting to rejuvenate their sense of wonder.
Lauren, my wife and assistant, had spent a week aboard the Fiji Aggressor II exploring dive sites between the two main islands.   A dusk dive at Namena Island's 'Kansas' dive site left us thinking of Halloween.  Our lights washed over a veritable field of Magnificent Anemones that, partially closed, resemble bright orange pumpkins.  The scurrying Pink Anemonefish seemed on the wrong end of a trick-or-treat as their anemone hosts evicted them from the premises.
At Gau Island's Noku Wall, a Reef Octopus perched atop a coral head and continuously rubbed its body with one or more tentacles, much like a bird uses its beak to preen.  The colour and texture of its skin changed with each caress.  This odd display continued for 20 minutes and then abruptly ended and the octopus unassumingly retreated into the reef.
An extended surface interval passed quickly during a visit to the Nawaikama Village.  The highlight of the excursion was a Kava Ceremony.  This traditional exchange features a variety of native dances and the opportunity to taste yagona, a kava root concoction that looks way too much like dirty dish water for my taste. Take my advice, you definitely do not want to be at the end of the yaqona chug line.  A bilo, which is half a coconut shell, is dipped into the hand-rinsed mixture and served to each person according to his or her status.  The Chief of the village drinks first and the unconsumed portion is returned to the main mix.  From there it's a steady cycle of scoop and return until all have had their fill.  I am pretty sure the last drinkers receive more backwash than actual kava.
The Aggressor's homeport is the Raffles Tradewinds Hotel marina in Suva, on Viti Levu.  Fascination awaits us even here.  Both at the beginning and end of our charter, Lauren and I sit transfixed as Banded Sea Kraits, also called Banded Sea Snakes by the locals, crawl out of the water and on top of the rock wall that defines the hotel property.  We hoped to learn more about them at Toberua Island in the days ahead.
LaLa And The Kraits
A short taxi ride took us to Nakelo Landing for the boat crossing to renowned Toberua Island Resort.  LaLa, our guide for the day, was waiting to take us to Mubualau, a small, uninhabited island rumored to be a refuge for Banded Sea Kraits.  Once we reached Mubualau, LaLa cautioned us to look up and down before each step.
A semi-wet, beach landing preceded our trek into the heart of the island.  Flying Fox Fruit Bats and Red Footed Boobies watched us from the treetops.  When we made too much noise or got too close to a booby's nest, they boobies reacted by raising their tails and dropping excrement bombs in our general direction.  Adorable, fuzzy, white booby chicks, which looked bigger than their parents and even their nests, showed little fear or concern.
Eventually, I began to notice circular shapes everywhere – on the rocks, on tree stumps, and on the ground. The rumors were true.  We'd found the kraits and they were further from the water's edge than I thought likely or even possible.
Banded Sea Kraits are members of the only genus of amphibious, oviparous sea snakes.  They leave the ocean for a variety of reasons: to drink fresh water, escape predators, digest food, lay eggs, slough skin and mate.  Though the krait's venom is ten times more toxic than a rattlesnake's, it's gentle demeanor and small fangs significantly reduce the risk of life-threatening bites for divers.
Heaven On Earth
Though two nights of pampering at Toberua were simply not enough, we next travelled to Savusavu, on Vanua Levu, to observe Fiji's only resident pods of Spinner Dolphins.  These acrobatic marine mammals live in Natewa Bay, the most expansive deep-water bay in the Asia-Pacific realm.  Collin McKenny, owner of Lomalagi, greeted us at the airstrip, put our bags in an SUV and told us to hold on.  Cratered, unpaved sections of road lined with 'Reduce Speed' signs had us bouncing and chuckling all the way to the romantic hideaway called Heaven – Lomalagi is the Fijian word for heaven – a picturesque resort nestled in the hills above Natewa.
Lomalagi is also a working coconut and copra plantation.  The six, secluded villas are surrounded by towering, rust coloured palms and other fruit trees.  As the sun melted into the horizon, large Flying Fox Fruit Bats began crossing the bay from the opposite shore in search of fruit and nectar.  Our balcony put us eye level with many of these majestic creatures, one of which landed in a nearby tree, climbed among its branches and eagerly chewed on a succulent green papaya.
The following morning we headed out onto Natewa in search of the resident Spinner Dolphins.  Within two hours, we'd found both pods near each another.  But every time we slipped in the water, attempting a slow approach, the dolphins moved away. On deck, we contented ourselves watching them perform their namesake spins in our wake as we repeatedly made figure eights in the bay.
Shark Lagoon
From Heaven, aka Lomalagi, we flew back to Suva for our final destination in Fiji, the Lagoon Resort at Pacific Harbour.  Like so many other places in these idyllic islands, this hotel has a colorful, almost story like, history. Originally constructed with Arab money as a casino and bordello, its controversial entertainment was subsequently outlawed by a successive government, leaving the Arabs between the proverbial rock and hard place. The current owners, Jim and Heather Sherlock, now offer shark dives, zip line thrills across the jungle canopy, skydiving, golf and kayaking.
The Lagoon Resort is also home to Beqa Adventure Divers (BAD), which is famous for controlled shark feeds and soft coral dives in Beqa Lagoon's Shark Reef Marine Reserve.  Andrew Cumming, BAD's Dive Operations Manager, emphasizes training for his staff and guests.  He says, "our goal is to consistently offer the best shark dive in the world by protecting the sharks and reef, training our staff, educating our guests and investing in the future."
Our initial day of diving in the BAD Shark Program suggested the operation is, at the very least, meeting its goal.  We swam with Blacktip, Bull, Grey Reef, Reef Whitetip, Silvertip and Tawny Nurse sharks.  In particular, the muscular, powerful and seemingly fearless bulls had me frequently shaking my head in awe.
Lauren and I have photographed a variety of sharks in oceans around the world.  BAD's shark encounter is clearly unique and offers the best combination of species, energy and overall value in an organized setting.
Additionally, the soft corals on the wrecks and reef sites in Beqa Lagoon were among the healthiest of our trip.  The sheer abundance, size and variety of the species we saw, from corals to eels and fish, were impressive.
The combination of BAD diving and dining with the Sherlocks made the perfect ending for our Fijian holiday.  We're already planning a return…soon!  How long has it been since you escaped the daily grind to find your own invigorating adventure?  Fiji is waiting for you.  The next move is yours.