This Philippines World Heritage Site in the remote reaches of the Sulu Sea is a wonder of marine biodiversity, where monsoons limit diving to just four months each year. Plan ahead!
Text and Photography by David Fleetham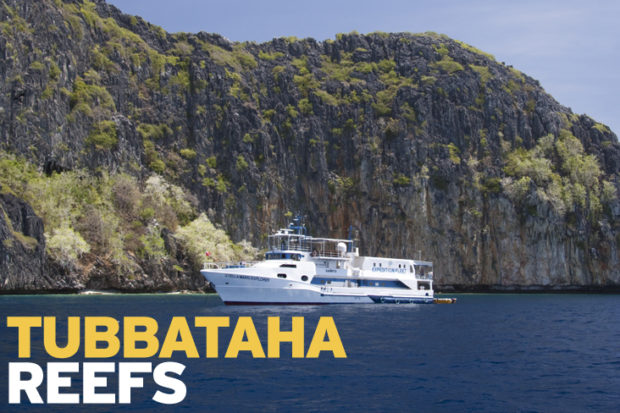 I've travelled the world to photograph sea life for over 30 years, but this was my first trip to the Philippines.  I'd come close before.  The island of Sipidan in Malaysia is but a stone's throw from the southern Philippines, so I had a sense of what to expect and what I hoped to find.  But dive trips on live-aboards, I've learned, can be as whimsical as the weather so I try to keep my hopes in check. In retrospect, the week I spent on the Stella Maris Explorer surpassed all my expectations… and then some.
Our destination was Tubbataha Reefs in the middle of the Sulu Sea where two atolls that barely break the surface are separated by a five-mile (8km) wide channel. Geographic isolation has saved these reefs from the over fishing that has taken a toll in other regions.  As powered fishing vessels became more common, the government declared the area a National Park with protected status. In 1993 it became a World Heritage Site as a "unique example of an atoll reef with a very high density of marine species…as a pristine coral reef with a spectacular 328-foot (100m) perpendicular wall, extensive lagoons and two coral islands…and as a nesting site for birds and marine turtles." The UNESCO designation was the first of its kind for a natural region in the country and just this year it was renamed Tubbataha Reefs Natural Park.
The park's 128 square miles (33,152ha) are patrolled and protected by the Coast Guard, Navy, World Wildlife Fund and the Tubbataha Foundation.  Weather also helps to safeguard the marine life here.  Tubbataha is exposed to southwest monsoons July to October and those from the northeast November to March. Live-aboard dive boats frequent the area only during the fair weather window from late February to about mid June.
The north and south reefs, as they're known, are similar. A few of the sites have memorable geographic features, but the variety and abundance of marine life is shared by most of them. Some shallow areas are a reminder of the past when dynamite fishing took its toll on coral. The good news is that time and protection have allowed the coral to fuse together into a substrate that, like a phoenix from the ashes, is rising to form new reef.
Two 'wrecks' – the Malayan and the Delsan – are more a collection of rusting steel ribs and hull plates sitting atop the reef. They've been so broken down by the sea that now they're more useful 'landmarks' than actual wreck dives.
Interestingly, one of our ship engineers, Alberto, was crewing on the Delsan in 1981 when it struck the south reef at night.  Everyone made it ashore. Some even salvaged a few provisions. Over the next several days a growing number of seagoing 'entrepreneurs' showed up to liberate valuables from the stricken vessel, including the fuel and oil in her tanks. They provided sufficient food and water for the marooned sailors' survival but did not alert anyone to the rescue. After two months the Delsan had been stripped clean and only then was it hinted to the local authorities that, just perhaps, there might be a few people in trouble out on South Tubbataha.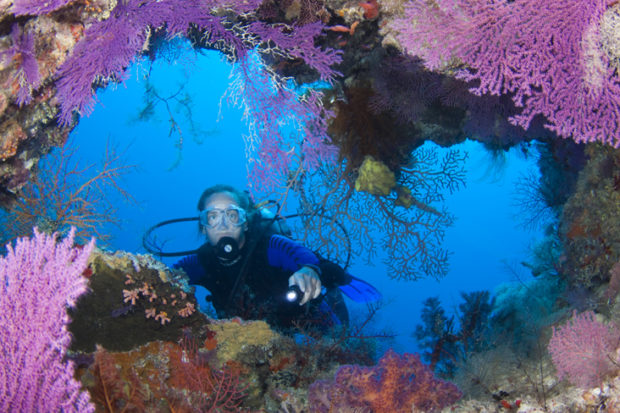 Spin Cycle
Our first dive in the park was on the northwest corner of the North Reef at the Washing Machine.  Current here was typical of reef corners jutting into the deep ocean – where water depth exceeds 3,000 feet (915m). The place is well named. And, it didn't disappoint. Immediately, I found myself at 50 feet (15m), traveling rapidly along a wall covered with large gorgonian fans, soft coral and tube sponges. Distractions behind me included large schools of pelagic fish, a truly splendid assortment that included grey reef and whitetip reef sharks.  Wayne, our cruise director, was on this dive and even had a silky shark come in for a close look at his group.  Canyons cut into the wall face provided a respite from the moving water and a chance to pull the trigger on my camera. There was plenty to shoot, from curious groupers, to schools of anthias, to lobsters in cracks and crevices, and then there was the invertebrate life!
We finished that first day further south near the ranger station, which was a temporary tent structure fixed on a raised platform inside the atoll.  Though the current here was less, the marine life remained plentiful.  Every other time I looked up from the reef into open water a huge solitary dogtooth tuna would be swimming up current.  A healthy assortment of colours and species of anemones and their clownfish were scattered about the bottom. Also plentiful in number and colour variation were the black spotted pufferfish, Arothron nigropunctatus.  These comical reef dwellers range from blue to yellow to brown to grey and then any combination of the these colors, as well as patterns of black spots.  It seemed no two were alike, a delightful change from the butterflyfish and angelfish that are identical cutouts.
Wet Dreams
Moorings are installed at all Tubbataha dive sites.  From the massive concrete blocks that sit on sand or rubble patches, lines rise to buoys just below the surface, evidence of the government's commitment to protect the reefs. These mooring lines were also where my night dives began and came to an end. There's a part of me that longs for a live-aboard trip during which we dive all night and sleep all day.  I'm thinking it might cure me of that 'I-can't-get-enough' feeling on night dives when all my life support systems are flashing messages in red, white and blue that say, 'head for the boat, get to your safety stop…you moron!
Now I'm cruising the same reef I dived two hours earlier, and it's even more alive than before.  Every polyp is open to make the most of the nocturnal smorgasbord of plankton. The night offers dramatic contrasts. Huge lobsters strut about, no longer the shy creatures of day. Skittish in light, parrotfish now snooze away in mucus cocoons, oblivious to my modeling light and strobes. Night photography takes more preparation and sometimes two hands aren't enough, but the hassles and the frustration are worth it because nighttime is when a photographer's dreams come true. It's as though marine critters are vampires, cowering from the sun, brazenly out for blood after dark…and not infrequently these night hunters are bumping in to your camera. It's a busy time. What a difference a couple of hours can make.
Amos Rock…'n Roll
The majority of passengers on my trip were from a dive club in Spain.  For the most part their English was as good as my Spanish, so our communications were awkward…topside anyway. Underwater we spoke the same language and quickly coalesced into a finely honed dive team.  Photographers are generally a slow moving lot and I am even worse than most, so on most dives we'd begin together and then, in a short time, I'd find myself alone, working on a particular shot as the group drifted down the reef.
Such was the case at Amos Rock on our second day.  I'd been working with a particularly willing grouper and when I was done, well, actually when the grouper could put up with me no longer, I looked around and saw no one. So, in an effort to stay in the same vicinity as the group I dropped over the wall and let the gentle current narrow the gap between us. As I drifted, several whitetip reef sharks passed me going in the same direction. Ahead I could make out divers huddled close to a large crack in the wall and fining about them were a lot of whitetip reef sharks, couple dozen anyway. Suddenly, the sharks exploded into a frenzy, which not infrequently suggests food is involved. They zoomed around and appeared to be attacking the wall. Then, just as abruptly they scattered in different directions. I couldn't fathom what was happening, and despite all of their enthusiastic communications and my attempt at comprehension, we were at odds.
Back on the boat I was able to see just what I'd missed by viewing one diver's video footage. Turns out a large moray eel had bitten off more than he could chew. It's struggling prey and blood in the water was a call to dinner for every whitetip within a mile. Several of them were jamming their heads into the crevice, at the centre of the action. The 'explosion' I'd witnessed from a distance was of three sharks escaping the rocky den all at once with the hapless eel, now in two pieces and about to be dinner, not the diner.  Yes, you read correctly.  The eel, not its meal, was the victim. The predator had become the prey. The video depicted the shark with the biggest piece of eel gulping it down like some gigantic sausage longer than my arm.  Observing sharks feed naturally on prey is rare. This was spectacular – a highlight of the trip – and as good an experience as you might enjoy on the Discovery Channel or a BBC wildlife special.  It was, as they say, icing on the cake.
Dive and Dine
Our exploration of the Tubbataha reefs in the far reaches of the Sulu Sea was all too short. The diving in this region of the Philippines will not disappoint for those who make the effort to travel to the exotic Indo Pacific of the Philippines.
Our voyage was aboard the Stella Maris Explorer, 102-feet (31m) in length with 10 cabins accommodating up to 22 guests. The standard of my cabin was comfortable with private bathroom and air conditioning. Hot and cold showers are available, the lounge is equipped with plenty of electronics and there's also a sundeck/bar area and Jacuzzi. The food was excellent, the crew of 14 attentive and the dive guides ready to accommodate my every need.
Our days began with 'first breakfast' and an early morning dive, followed by 'second breakfast'.  All the meals were buffet style and the food plentiful.  After the second dive and a bit of off gassing we were served lunch, which included a different soup each day, simply not to be missed. The afternoon dive was followed by tea and a light snack and then a fourth dive… before the night dive. The days were full and went by all too quickly. I didn't lose any weight despite not missing a single dive. In the blur of dive and dine, I soon learned the condition of my hair was the best indicator of what to do next:  if it was wet, it was time to eat and if it was dry, it was time to dive.
We ended our week in the town of Puerto Princesa on the island of Palawan.  From the airport here it's a short hop on a local Philippine Airlines domestic flight back to Manila and then a connecting flight home. But I flew to four other land based locations in this incredibly diverse country.  And that's another story.
If You Go
The Philippine Department of Tourism can provide you with plenty of information.
Go to:  http://www.experiencephilippines.ph  Or call toll free: 1.888.974.9888 Many references are available on Philippines travel. The Lonely Planet series of travel guides publishes a comprehensive Philippines diving and snorkeling guide. See www.lonleyplanet.com
Also, check out www.tubbatahareef.org
For more information on the Expedition Fleet of live-aboard dive vessels, go to: http://www.expeditionfleet.com
About the Philippines
Climate: Dry season November to May and rainy season June to October result from the 'amihan' or northeast monsoon and 'hagabat' or southwest monsoon, respectively.
Temperatures average 70ºF (22ºC), with the hottest months March to May up to 95ºF
(34º C). Coolest time is December to February. Typhoons typically occur between July and October, with long periods of relatively calm and balmy weather between storm systems. Sea conditions are best between late February and early June, throughout the Philippine archipelago. Most regions have dive sites that are accessible year round.
Language: English is the most widely spoken and understood language, especially in commerce and politics. That said, more than 120 languages are officially recognized.  Philipino is the national language.
Getting There: Most visitors arrive by air at Manila's Ninoy Aquino International Airport, served by most international airlines. A valid passport and return or onward air tickets are necessary for entry. For stays of 21 days or less, visas are unnecessary for most visitors. A departure tax is levied so keep a few hundred pesos handy. Immediate transfers to a final destination can be made if you don't wish to spend time in Manila, which is a city of eight million. The Philippines is eight hours ahead of Greenwich mean time. During standard time noon in Manila is 8 p.m. on the west coast of North America.
Money: The Philippine peso or 'piso' is the official currency. Other currency can be exchanged almost everywhere, cash typically earning a higher rate of return than traveler's cheques, but be wary of moneychangers, many of whom operate semi-legally. Use banks or accredited exchange facilities. Major credit cards are widely accepted.
Electricity: Power supplied on the national grid is supposed to be 220v/50hz but fluctuations between 190v and 250v are not uncommon and can effect sensitive equipment. Two pin electrical outlets are standard throughout the country. Adapters and converters are required. Officially, the metric system is used but some dive operators continue to work with the imperial system – feet and psi are alive and well!
Diving: The water's warm but a 3mm wetsuit is advisable for diving. A lycra dive skin is an option. Rental gear is available at most major dive centres, and most live aboard dive boats offer rentals as well. A C-card and possibly a logbook is required to rent scuba gear.