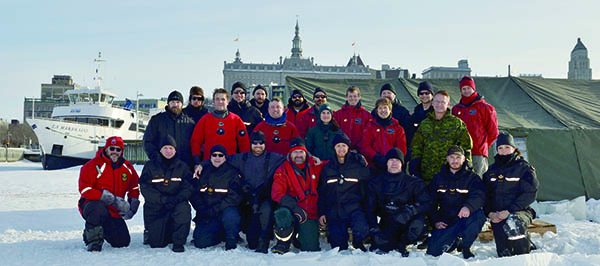 Divers are set to revisit the sunken Franklin ship HMS Erebus in the arctic over the next week or so in an ambitious joint operation that will pair up Parks Canada Underwater Archaeology Service and Royal Canadian Navy Fleet Diving Unit (Atlantic and Pacific) divers in the first under ice survey of the wreck since it was discovered last September.
The inter-agency expedition will put 34 personnel on the 'ground' at the remote arctic wreck site that's covered by seven feet (2m) of ice at this time of year. Team leaders say winter ice diving offers the benefits of working from a more stable platform, the ability to deploy surface-supplied divers who can stay down longer, improved underwater visibility, and more efficient site access landing ski-equipped aircraft close by the work site.
It was just seven months ago that the Parks Canada Underwater Archaeology team, as part of a multi-disciplinary search fleet, located Sir John Franklin's flagship, HMS Erebus, in 36 feet (11m) of water off Hat Island in the Queen Maud Gulf. This summer the search will continue for HMS Terror, which sailed with Erebus on Franklin's ill-fated 1845 expedition to find and navigate the Northwest Passage from east to west.
In charge of the joint diving contingent is Lieutenant Commander Stephan Julien, Commanding Officer of the Fleet Diving Unit (Atlantic), which has been operating in that region of the arctic for several years. Preparation for the expedition involved training for both the civilian and military dive teams. Lt. Cmdr. Julien said all divers would use navy diving equipment and follow navy procedures as well as safety rules and regulations.
Underwater Archaeology Chief, Marc André Bernier, said his team had undergone dive training at Seneca College, followed by exercises with their navy diving colleagues in Halifax and also in Quebec City where under ice dives were made in readiness for the April operation. 
The plan is to dive archaeologist and navy divers in pairs and so preparation has also involved introductory underwater archaeology training for the Fleet Diving Unit team. "There will be multiple tasks to perform as we deploy various types of equipment," Bernier said. "We've all undergone a lot of training in diving and archaeology so that we can work effectively side by side," he said.
The HMS Erebus wreck comprises three different sites: the hull, its interior and the perimeter. The archaeology divers documented the hull in some detail during their seven dives last September when the wreck was discovered. As a first step this month the dive team plans to remove more kelp so they can get a better overall view of the shipwreck.
Bernier said they would conduct a lot of photographic and video work and set up reference points for mapping. Outside the wreck a test excavation will be performed to better understand the challenges of a large-scale excavation at a later time. Inside the wreck they'll be using laser technology from 2G Robotics that would give them a three dimensional view of the interior of the hull and its size. He said the dive teams would not be penetrating the interior much because they already know where the laser equipment will be inserted and in other openings they plan to probe using small cameras on poles.
The hard helmet divers will be linked to their topside supervisors by way of umbilicals that supply breathing gas and communications. With an unlimited air supply and drysuit thermal wear to combat the cold, the dive buddy pairs can log many hours on the wreck collecting valuable data on the historic wreck.
The team will include a Parks Canada conservator trained to preserve any artifacts recovered, though Bernier says further recording to better understand the overall wreck site is the focus of this expedition. "It's a challenging site, rather like investigating a crime scene, and it's our job to record and really understand everything we see."
A priority of the mission is to share the Franklin story with the world. "It's a global heritage and we want to engage the public," Bernier said. "We plan to send updates and photos while we're working on site so Canadians and people around the world can follow our progress."