Books, Movies, TV
Book Review: Deep Leadership by Dr. Joe MacInnis
November 11, 2012 By DIVER Editorial
Review by  Phil Nuytten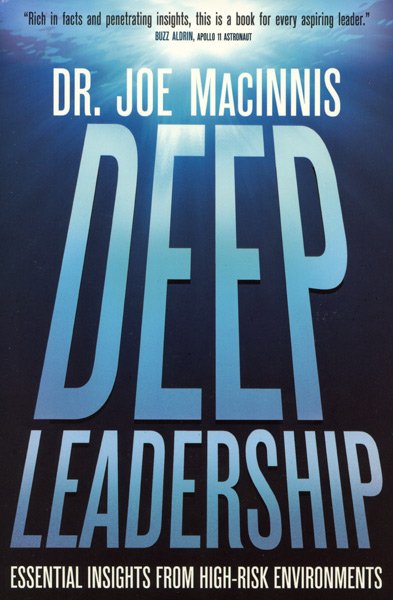 The first order of business is to get the 'full disclosure' component of this book review out of the way. This comprises the downside of the product being reviewed and, also, the downside of the reviewer (something you don't usually hear much about….)
So, 'Deep Leadership' is not a weighty tome. It's quite the opposite. Author MacInnis has done an admirable job of blowing off the meringue and getting down to the pie. Why is that a downside? Well, at 240 pages, the cost per page is higher than your average potboiler (although the value per page is considerably higher!)
I am not an objective reviewer. MacInnis and I go back more years that either of us likes to think about. My view of him is that he is a stalwart shipmate, a sharer of incredible successes and dark disasters. Above all else, he is a trusted friend, tried and true. The fact that he also happens to be a terrific writer is gravy on it!
'Deep Leadership' was not meant to be a quick skimmer. How much you'll get out of it will depend entirely on how much attention you pay to the material. There is a lot of serious, factual information and philosophy well worth pondering.
Some background: 'Zoomer' is the rather frivolous name of a highly-regarded Canadian magazine that arose out of an annual event called 'Idea City'. It's an eclectic gathering of artists, adventurers, authors, doctors, designers, entertainers, filmmakers, inventors, magicians, musicians and technologists. Fifty of the Planet's brightest minds converge in Toronto each June to speak to a highly engaged audience. Only 600 are privileged to attend. (To learn more – and from whence the forgoing was lifted bodily – go to www.ideacity.com .)
In October of this year, 'Zoomer' Magazine published its annual 45 over 45, those who in the last year have made a difference in their chosen field and passions while improving our lives and advancing our country. 'Zoomer' elected Joe MacInnis as one of the anointed and bio'd him thus:
"He describes himself as an 'accidental leader' in new book 'Deep Leadership' – Essential Insights from High Risk Environments', but he has lived his life with purpose. He has worked with the U.S. Navy, the Canadian Government, the Russian Academy of Sciences, NASA, and with James Cameron on is Titanic dives and record-breaking solo dive to the Earth's deepest point. [See DIVER Vol. 37, No.4] MacInnis has led or participated in more than 50 major undersea expeditions and logged more time in and under arctic waters than any other scientist."
At this point, some of our loyal readers may be thinking, "WTH" or even "WTF"! Is this a book review or a loving laudation of Dr. Joe? Let's get to the book! To which I would answer: Dr. Joe MacInnis IS the book! Take a quick peek back at the Idea City list: adventurer, author, doctor, entertainer, filmmaker. Joe MacInnis is all these and then some. And speaking as one who was with him on many of those expeditions, I can honestly add 'magician', particularly when it came time to find funding!
OK, OK, the book: 'Deep Leadership' is a 'Who's Who' of leaders, many of whom are ocean-related celebrities whom MacInnis has interviewed or with whom he has been in the trenches, side by side – or both. As a physician, he has long been interested in observing leaders in high-stress situations or environments. How do the successful ones cope and what effect does it have on them, mentally and physically?
In the pages of 'Deep Leadership', you will find luminaries like: Ed Link, Jon Lindbergh, Robert Stenuit, John Glenn, Scott Carpenter, Walter Cronkite, Anatoly Sagalevich, Julie Payette, Kathy Sullivan, George Bond, Jacques Cousteau, Pierre Trudeau, Michael Pittfield, Dave Williams, Paul-Henri Nargeolet, Emory Kristof, James Cameron, Jean-Michel Cousteau, Buzz Aldrin, Luis Marden, Heinnz Schreiner, Steve Blasco, Al Giddings, Stephen Low, Romeo Dallaire, and a number of others (including the not-so-luminous yours truly).
In this particular book, the parts pretty much tell the story. They are 1) a personal journey, 2) essential traits of leadership, 3) navigating towards leadership. Each of these parts has a number of sub-headings, some 22 in all. Each is a chapter in itself with titles like, 'mental resilience', 'strategic imagination', 'resolute courage', 'cool competence' and so on for another 18 chapters.
What evolves is very much a handbook that draws from specific examples of individual style, initiative, and courage. Because so much of 'Deep Leadership' is ocean-oriented, I believe that DIVER readers will find some real insights here. Some conclusions are worth a ponder.
I enjoyed the Salty Doc's latest, but that's a bit of a foregone, since I know a lot of the people from whom he has drawn his material. I guess that makes me biased, but in a good way, I hope. Check it out. I think you'll like it.
Dr. Joe MacInnis, Deep Leadership
Alfred A Knopf Canada, 2012
ISBN 978-0-307-36110-3