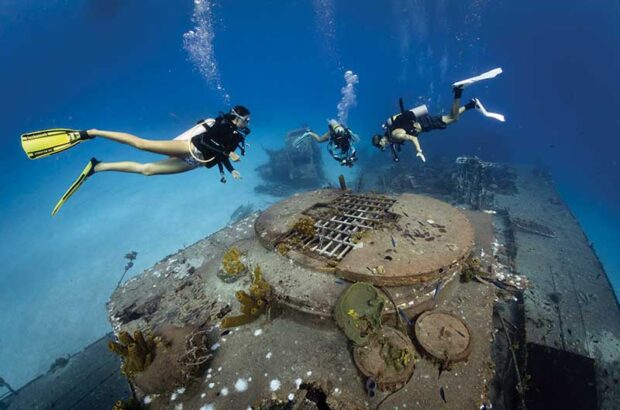 By Margo Peyton
Continuing diver education builds confidence, instills good habits and creates better, more responsible divers.  Taking a course as a family can be a fun way to spend time together, bond, and improve skills in the process! Here are a few suggestions for courses that are fun to learn together as a family and that build skills to make you and your kids better divers. 
Buoyancy
PADI's Peak Performance Buoyancy takes the skills you learned in your Open Water course and refines and enhances them in a fun way. This course helps divers trim gear, learn weight placement options as well as manage better air consumption.  When I teach it, I like to create an underwater obstacle course, with swim throughs, zero gravity tasks, and even have families create underwater formations like the ones performed by sky divers.
I like to task the kids with moving objects from one place to another without disturbing the bottom. I get them to move through swim-throughs, such as Hula Hoops, without touching the hoops. I have them take photos with cameras that have different sizes or weights and do so without harming corals or marine life. I also spend time discussing buoyancy in different currents, such as down currents or upwellings.
Navigation
The Navigation course is also big on my list. It helps new divers to learn how to confidently find their way back to their dive boat or shore. It's important for kids to learn to pay attention and to feel confident in knowing how to navigate their dives. This course teaches divers navigation using time, knowing when to turn around by knowing how far they have gone, and, being trained to use natural navigation, they will learn in what direction to continue. Better navigation skills contribute to a stress-free, enjoyable dive. I am always really inspired when I watch kids guiding their parent to see a seahorse they found on a certain coral head the day before, or when a parent asks their child where the boat is while underwater and the child points perfectly to the boat mooring, confidently knowing where it is.
Rescue Diver
Did you know that the Rescue Diver course is offered to kids age 12+?  It's a fantastic course not for only kids, but also adults. This course reinforces things learned in the Open Water course and provides tools and techniques for feeling more responsible and comfortable as a diver. It includes learning more signals and signs, as well as repetitive rescue techniques that can and will prevent accidents and save lives. This course teaches divers how to respond to accidents as well as assess them, and how to keep themselves safe at all times. I experienced first-hand the rewards of a young student taking this course. I was in the water on a family dive, when I observed a 12-year-old, Melea Comay, diving with her family.  She was approached by another parent, who was photographing his kids on their family dive. The dad had not paid proper attention to his own air and ran low on. He signaled to Melea, the closest diver to him. She calmly handed him her octopus, took him to the surface at a slow pace, and upon reaching the surface safely, she manually inflated his BC and told him he was OK. She had not been afraid and, due to her training, knew exactly what to do without hesitation. 
Parents ask me, is twelve too young to learn rescue?  No, it's not. The PADI Jr. rescue diver course is for kids age 12+ and I personally feel most kids at the age of twelve that are Jr. Advanced trained and excited about learning more should take this course, as should their parents.
Other options
Kids that have reached ten and eleven can also take courses like Underwater Naturalist, learning all about soft and hard corals, marine life, and symbiotic relationships. They can take Digital Photo and start cataloging their encounters, experiences, and memories with the underwater world. They can take Fish ID and learn about and identify the fishes they are seeing on a dive. They can attain their Jr. Adventure diver rating with PADI at ages ten and eleven years old and have a maximum depth of 40ft (12m).
Kids must be age 12+ in order to do more advanced adventure dives like a Night Dive, Nitrox Dive, or Sea Scooter dive. Those are three fun adventure dives that can be included in gaining their Jr. Advanced Open Water, which also includes a deep dive to 70ft (21m) and a Navigation Dive. Both Jr Advanced open water and Jr. Rescue are needed along with five specialties to gain a Master Diver or Jr. Master Diver Rating. Once kids turn 15, their Jr. ratings automatically turn to adult rating and a new card can be ordered. 
Not only are these courses fun to learn together as a family, but they can help create impressive bios for college applications. My daughter Jen added her scuba certifications to her college applications and had multiple acceptance letters, including a $35,000 per year scholarship for four years from her college of choice. 
Continuing diver education builds confidence, instills good habits and creates better more responsible divers. Diving is a great sport for families to bond and create memories that will last a lifetime. 
Margo  Peyton is the founder of Kids Sea Camp and Family Dive Adventures, recipient of the DEMA Reaching Out Award, Woman Divers Hall of Famer, and the PADI Award of Excellence in training and education, with over 6,000 certified kids and zero dive accidents!  For more: www.familydivers.com