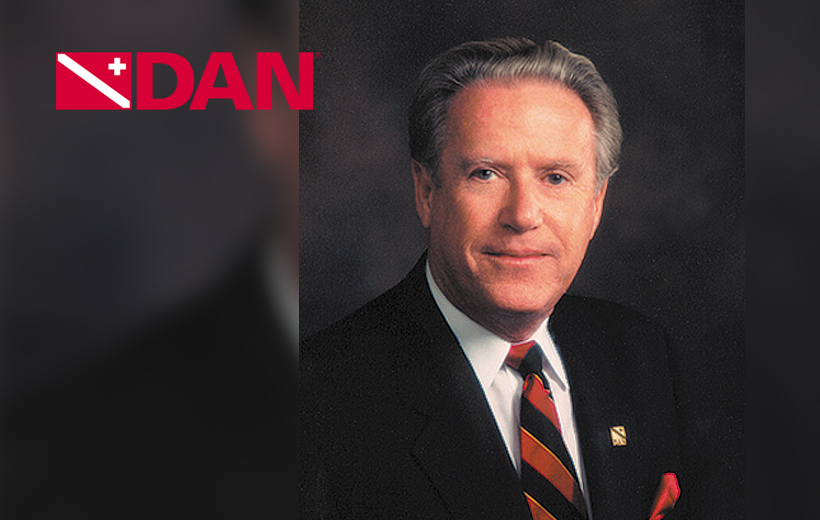 August 11, 2022 – Peter Bennett, PhD, DSc, passed away on Tuesday in the company of his wife, Margaret, and son, Chris. Bennett was a passionate researcher and entrepreneur who founded Divers Alert Network in 1980 and led the organization for 23 years. 
Born in Portsmouth, England, on June 12, 1931, Bennett studied chemistry and biology at the University of London, graduating with a Bachelor of Science degree in 1951. After university he worked at the Royal Navy Physiological Laboratory and in 1964 earned his doctorate in physiology and biochemistry from the University of Southampton.
Bennett loved diving medicine and physiology and was a charter member of the Undersea Medical Society at its founding in 1967. He was later its president (1975-1976), the editor of its journal (1976-1979), and its executive director (beginning in 2007). 
In 1972 Bennett moved to the United States, where he was first named deputy director and later director of the F.G. Hall Laboratory hyperbaric chamber facility at Duke University Medical Center in Durham, North Carolina. In 1980, Bennett submitted a proposal to the National Oceanic and Atmospheric Association (NOAA) and the National Institute of Occupational Safety and Health (NIOSH) for a grant to fund an emergency hotline for injured divers. Thus Bennett and his colleagues at Duke undertook responsibility for the hotline that would eventually grow and become Divers Alert Network.
During his 23-year tenure at the helm of DAN, Bennett oversaw introduction of the organization's membership program, dive accident insurance program, research department, continuing medical education program, training department, and more.
An emeritus professor of anesthesiology at Duke University, Bennett published more than 100 journal publications, 31 book chapters, and several books, including Physiology and Medicine of Diving, a definitive work in the field. He also published numerous reports, workshop proceedings, and abstracts. Among his areas of interest were trimix, deep stops, and high-pressure nervous syndrome.
Over the years Bennett received many awards, including the 1980 NOGI Award for Sciences by the Underwater Society of America. He also received recognition from DEMA, SSI, the Underwater Society of America, the National Academy of Scuba Educators, NAUI, the British Historical Diving Society, the Russian Academy of Sciences, and many others.
"In founding DAN, Dr. Bennett accomplished something truly remarkable," said DAN president and CEO Bill Ziefle. "It is because of his vision and action that divers all over the world now have the support of an organization that stands ready to assist in the event of an emergency. Dr. Bennet's inquisitive mind and drive to achieve were gifts to divers everywhere." 
"Peter Bennett dedicated his life to the advancement of diving," said DAN medical director Jim Chimiak, MD. "Few equal his combined accomplishments as a researcher, organizer, and leader in diving medicine. He will remain a profound influence on everyone working in this increasingly important area of human endeavor. He displayed an infectious, pioneering spirit that rallied expert, worldwide collaborations that routinely accomplished the impossible. He was a great mentor and friend who will be truly missed." 
About DAN: The world's most recognized and respected dive safety organization, Divers Alert Network (DAN), has remained committed to the health and well-being of divers for more than 40 years. The organization's research, medical services, and global-response programs create an extensive network that supports divers with vital services such as injury prevention, educational programs, and lifesaving evacuations. Every year, hundreds of thousands of divers around the world look to DAN as their dive safety organization. Join the DAN community or learn more at DAN.org.