Freediver, Marine Educator, Imperfect Conservationist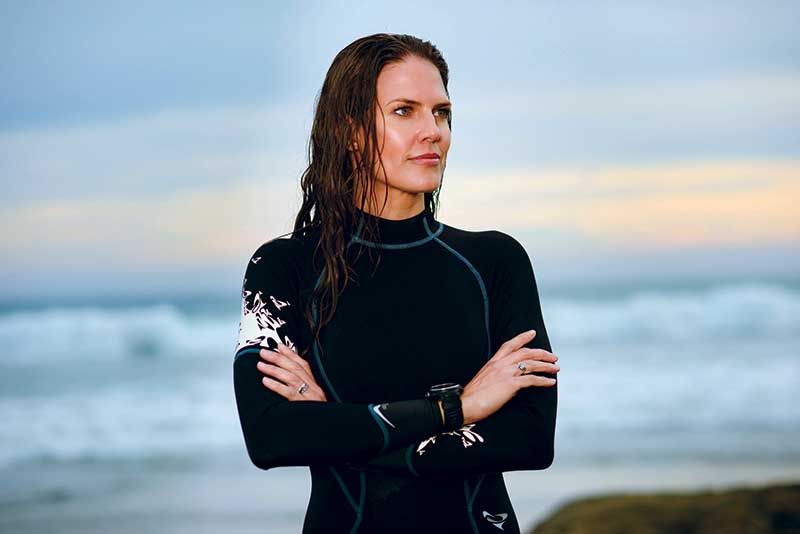 How long have you been diving?
34 years now for freediving…and I for scuba almost exactly 26 years! 
What made you want to become a diver?
I moved from Minnesota to the Florida Keys when I was 11 years old. The ocean was a whole new world for me. I spent all of my free time exploring the mangrove forests, creatures in the flats, and out snorkelling around. It just never got old—and it's pretty much the same still today when I'm back at her side.
How did diving change your life?
Growing up in the keys and having all that access to the ocean and diving set the foundation for my path. It also gave me this front row seat (as we all have as divers!) to witness the changes taking place underwater from our human impacts. Being a voice for the ocean and working in conservation was a natural progression for me coming from that background, along with my love of nature and wild places in general.
What does diving mean to you?
Diving is the tool for getting underwater, and that for me is the place I can recharge and refuel. It is the only place, really, where I can fully cut out the noise of the world around, quiet my inner voice—and just tap back in, connect with myself and the place I love most on the planet. This type of internal retreat is important, I think, and something we can all stray away from in the busy shuffle of life. When we make the time to spend out in nature and underwater, we form a deep, visceral connection to the place—it becomes part of us, part of our story. The gift…privilege of getting underwater by diving is irreplaceable. It is humbling, awe inspiring, and being down there reminds me that I am part of something so much bigger than myself.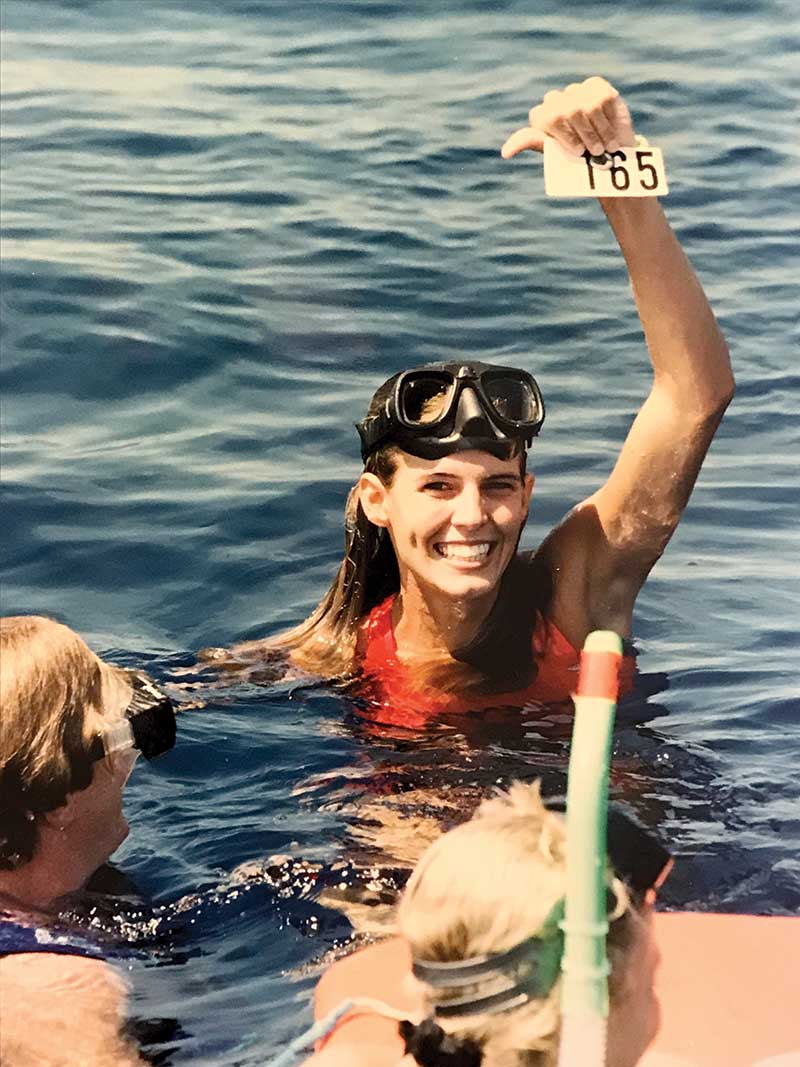 In 1996 you established the first US freediving record for both men and women, in the constant weight category. What impact did this have on your life?
Freediving and establishing that record early on had huge impact on my life and career. I was 18 when I started training and 19 when I establish the record. I did just one more competitive record dive after that, just a little less than a year later with a dive to 165 feet (50m). In freediving, I found something I loved to do and was good at, at a young age. That really changed everything for me, as leading up to this point—just a few years before as a young teenager—I was getting into quite a bit of trouble and not on a good path. 
After those two record dives I decided to turn my focus to implementing freediving into my work full time. With the media coverage of my record dives and freediving at the time considered an 'extreme sport' and 'daredevil stunt', a lot of unique water-work opportunities began to surface. I had been modeling successfully for a few years in Miami Beach by this time. The combination of my underwater abilities and experience working in front of the camera made me the go-to 'diver girl' and gave me a corner on the market with underwater modeling and commercial work. Before long I was adding stunt diving to my resume, for television and Hollywood films like Pirates of the Caribbean and Into the Blue. 
All the pieces of this journey are threaded together with my watery roots in freediving and it was definitely the catalyst to where I am now, working in conservation outreach and marine education. 
In that way I can say that diving has had the biggest impact possible, being at the core of my world. 
"My favourite dive site is always my home reef, back home in the Keys. It is like going back to the childhood home you grew up in, years later. Things have changed a lot, but it still holds a lot of good memories and nostalgia. I am rather sentimental that way. Aside from that, it's the crystal blue deep and sharky waters of the Bahamas. There's so very many places I'd like to expore still! But the Galapagos and Solomon Islands are top of the list."
What is the 'Imperfect Conservationist'?
The Imperfect Conservationist is an original web series of short videos offering bite-sized conservation actions that you can build right into your lifestyle. I created The Imperfect Conservationist to bring you a solid dose of what I like to call 'conservation empowerment' —an understanding of how and what you can do to make a positive impact on the world around you, right now!
I have simple criteria for the changes I implement in my life… any change must be at least two (ideally all three) of the following: easy, affordable, and impactful.
Living more sustainably does not mean you have to do it all, or do it perfectly—and ultimately, the changes that make the biggest impact are the ones that we will actually do!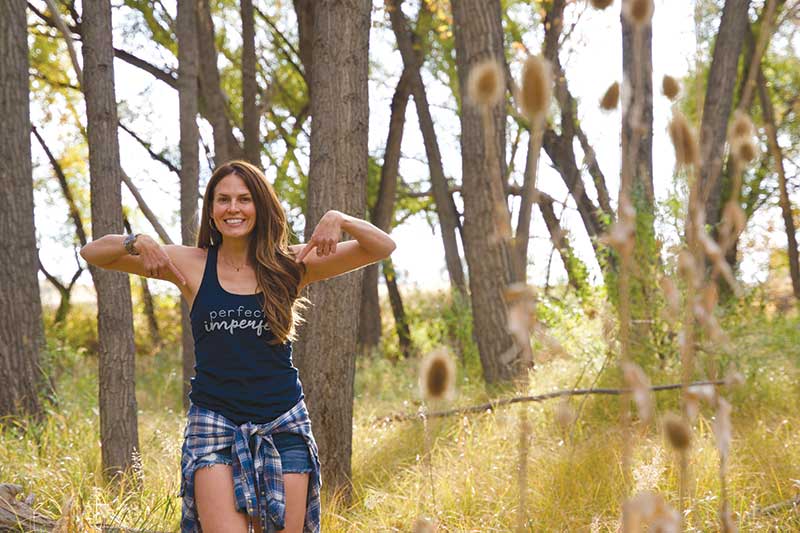 You also hold a degree in Ecology and Evolutionary Biology and Anthropology…
Yes! I do. I graduated in 2011 from CU Boulder, Colorado. I love education and being in the university environment. I will likely go back again at some point… who knows! 
Into The Blue has become a favourite  movie of divers all over the world. What was the experience like for you?
Working on ITB goes down as one of the most stellar times in my life. I was 26 years old, and for almost 4 months I was living next door to the dive boats at Stuart Cove's in Nassau, Bahamas, could see only open ocean out my window, and was working underwater freediving every day, with sharks. That is my happy place, for sure!  
As a film I love the view this film gives into the underwater world. ITB is an incredibly well-filmed movie from the underwater perspective. Not a surprise, considering we had Holywood's best behind the camera! My long-time friend Peter Zuccarini was the Underwater Director of Photography on ITB and filmed the majority of the underwater scenes. We also had the wonderfully talented Bob Talbot in for some of the filming, too. Bob's also a long-time friend of mine and I have worked with both him and Pete on water projects over the years. One film that I am super proud to be part of is called Reflections, A Florida Keys Experience. It was made for the National Marine Sanctuary and still plays every half hour in the theater at the Eco Discovery Center in Key West. The Discovery Center is a super cool must-see place if you visit the Keys. Check out the movie there and then, (local's tip) head over to the beach at Fort Zach and stretch your hammock between a couple of the Australian pines there. 
Can you recommend any good podcasts?!
Indeed! 'DeeperBlue' Podcast is simply fab! I love having a role as co-host on the show and really enjoy the audio component for a change. There is so much room to play and flex, and to be creative in post production. A few others that I also truly love are: 'How to Save a Planet' and 'Science Vs.', 'Every Little Thing', and then, of course, a longtime fav with my fellow science nerd, Ira Flatow, host of 'Science Friday' on NPR. 
How important is diversity in your skillset for you professionally and personally?
I think diversity is always a positive, in skillset and otherwise. For me this eclectic mix in my career path wasn't necessarily by design, seizing the opportunities as they came as a result of my freediving, hard work, my instinct to explore. I have a propensity to dive in head-first on things I'm passionate and energized about. While this approach is not fail-proof and can come with plenty of knock downs along with the successes, it does naturally build resilience and perseverance, and so overall it's served me well both personally and professionally. 
Who is your go-to dive buddy?
Ohhhhh! This is a great question! Hands down it is my boy, Cash. He is 8.5 years old now and we've been exploring and freediving together for nearly all of his years so far. Like many ocean-going kids, he could snorkel before he could swim. We have a lot of places on our must-dive list and many more adventures to come! As a mom and a diver, there is nothing else like it for me. Absolutely the best!
Most memorable marine life encounter?
This would be from my diving in the swamp in the late '90s and encountering my first American Alligator. We went on to dive in there for about two years, but there is nothing like seeing those guys underwater. Like a real life dragon right in front of you—yet perfectly camouflaged. The swamp is a really unique and beautiful place—lots of dark waters and mystery. I love it there! 
Craziest thing you've seen underwater?
On a training freedive one time in the blue water off the Keys, I stopped on the line about 100 feet (30m) down and just hovered there for a little. One of the safety divers was down there filming, too. He was pointing the camera my way, but behind him and the camera was a big transparent thing…creature? Maybe about 3-4' (1-1.25m) long, kind of cone shaped on one end…jelly like. I hovered there for a bit longer trying to get my eyes to make out what it was… stayed a tad too long for my comfort level and started back to the surface… in my swift departure I neglected to point it out to the diver with the camera! Ha! I guess I figured there is no way he could miss that…it was right behind him! Anyway, he did not see it and to this day I wonder what it was – some sort of squid? Some other blob creature?… or maybe just some trick my mind was playing on me down there!
What's you favourite dive snack?
Ever since I was a kid, I would top off my tank with a hearty breakfast of chocolate chip pancakes before heading out for a big day on the water—a delicious tradition.
What's your proudest diving achievement?
I'll tell you the best compliment I have ever received, which also became my proudest diving moment. When my son was six years old we went to St. Lucia for the coral spawn. He was such a little fish anyway, but we were in and underwater around the clock on this trip. While all the scuba divers were down, my son and I would freedive and just snorkel around. The second dive of the first day we were in this really calm location with some amazing bottom to explore. We were taking turns going up and down when I was down I'd cruise the bottom and he'd track me the distance on the surface. We got back on the boat as the tank divers were surfacing and the captain said, "I have never seen anything like you and your son diving like that. Never. It is really amazing…and he's so young!" This captain has been on the water his whole life and I took that to heart—a fully proud freediving mama bear.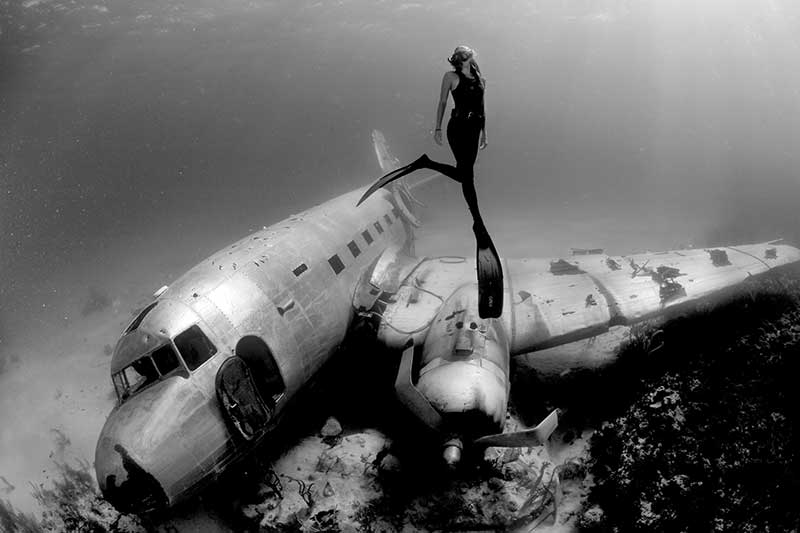 "Of course the Big Blue is one of my favourite movies, The Deep is a very cool old-school dive movie, and of course back to that amazing underwater footage Into the Blue!"
How does it feel to be inducted into the WDHOF and the Explorers Club?
It feels awesome! And an absolute honour to be part of both organizations. I feel very grateful for the recognition of my achievements, and am proud of my discipline and the hard work that I've done. Of course, since no one goes-it alone, I am also eternally thankful for the help and support of my (very patient) family, friends, and mentors. 
With the Women Divers Hall Of Fame, I was pretty young (22) when it first began and was inducted that inaugural year in 2000. It was many years later, though, when I had graduated from college and was focusing more on conservation and non-profit collaboration that I started to get more involved with my Sea Sisters and volunteering with the organization. I am super proud to be part of this amazing group of lady divers, and especially of the more than $70K in educational and training grants and scholarships we awards each year!  
A couple of years ago I was invited to speak at The Explorers Club headquarters in Manhattan. Then in early 2020 I was accepted as a Fellow. I'm looking forward to things fully opening back up and getting more involved in person.
What's next for you?
A lot coming up—and so ready for it after the past year and a half!  I am currently developing more with The Imperfect Conservationist, including educational material and programing for kids! I have some fun youth speaking events and definitely more freediving and expeditions. Fins crossed that all starts going in the right direction in putting this pandemic behind us. Either way, I'll be getting back to the water before long! 
Follow Mehgan on Instagram: @mehganheaneygrier
Learn more about her career at: www.mehganheaneygrier.com