Wrecks, walls, and worms all feature prominently in British Columbia's high octane, highly adventurous Discovery Passage
Words and Photography by Russell Clark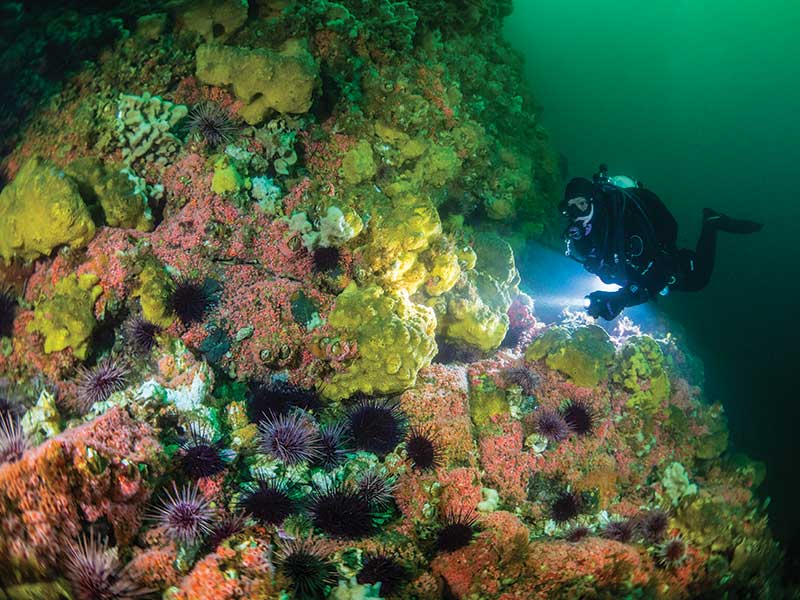 As Editor of DIVER magazine, one of the first questions I get asked by people is "where's your favourite place to dive?" I think the question is a little unfair, like choosing a favourite movie or song, different dive sites and locations suit different moods and adventures. The country is easy to pin down though—Canada. As much as I enjoy diving in warm waters, wearing T-shirt and shorts, nothing compares to surfacing from a dive and seeing snow-capped mountains framed by a blue sky and emerald waters.
For many the draw of the north is simply too cold, and that's a shame. I always tell these folks that it's all about exposure protection. You wouldn't go skiing in your underwear, you'd wrap up warm. Cold water diving is the same, wear a cosy undergarment and drysuit and you're in for a treat. I no longer spend time trying to convince them though—I feel the cold acts as a deterrent for the less adventurous, and it helps keep these spectacular dive sites a little more exclusive. 
In our Summer 2020 issue I gushed about Canada's east coast, the Bell Island wrecks and Newfoundland, this time I shall profess my love a little closer to home—British Columbia, home of DIVER magazine. 
Discovery Passage is a small stretch of water located on the north of Vancouver Island. It is high current, high nutrient, and highly addictive. It is my local dive spot, with a great community of dedicated local divers, a couple of great dive operators, and some of the most fun diving I've ever done. 
The Passage is a narrow stretch of water between Vancouver Island and the Discovery Islands of British Columbia, a chain of 6,000 islands that shelter the British Columbia coastline between Washington and Alaska. The passage is 14 miles (25km) long and approximately 1.2 miles (2km) wide, narrowing to only 820 yards (750m) at Seymour Narrows. 
The eastern shore of Discovery Passage is formed by Quadra Island, a fun little island known for its hippies, hikers, and humpbacks, then stretches down at the southern end to the city of Campbell River, where it connects with the northern arm of the Salish Sea.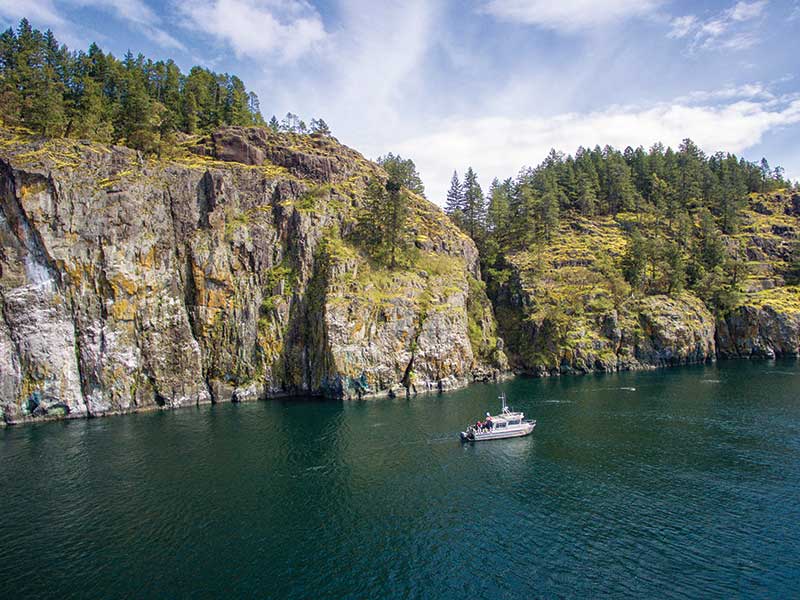 A little history
Coastal First Nations have known about the excellent salmon runs on the Campbell River for centuries. Local archaeological digs have revealed extensive use of the area as a village and fishing site for millennia. The salmon runs are Campbell River's biggest draw, and at the right time of year, can be the best snorkelling experience you'll ever have.
Europeans first reached this region in 1792, with both the Spanish and English sending ships to explore the area. Captains Vancouver and Galiano worked together to chart the islands and the rapid-ravished section of the coast. Whirlpools exist here and are an impressive reminder that you're merely a guest in these waters, not the boss. Discovery Passage was in fact named after Captain George Vancouver's ship, the HMS Discovery, in 1847.
Discovery Passage has some of the highest tidal exchanges in the world with 15 foot (4.5m) swings producing some of the highest currents globally. Combined with nutrient rich waters fed by mountain streams and rivers, you have a Canadian recipe for vividly decorated walls, reefs, and wrecks. 
Because the Passage is so narrow every dive site is no more than a 20 minute ride away, with boats leaving from Campbell River. Having dived a fair amount of British Columbia over the years, I'm confident in saying there's at least half a dozen sites here that can be considered 'signature BC dive experiences'. 
Worth noting too that Jacques Cousteau once said the Vancouver Island area has "the best temperate water diving in the world, and second only to the Red Sea". Lavish praise indeed.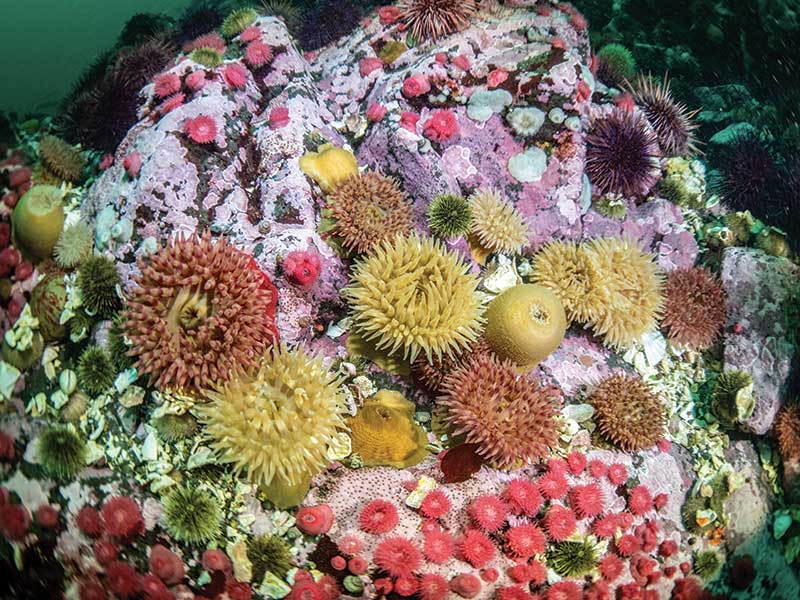 Humpback soup
Vancouver Island is also home to Port Hardy and God's Pocket, an area considered to be the absolute best in Canada. And while it is just that, it's too easy to dismiss areas like Discovery Passage. It's far more accessible and the dive sites can be of similar quality. There's an incredible amount on display here, paired with a fun little city, freshwater adventures, wildlife encounters, and rich cultural history. 
There's a couple of operators in town to show you the sites: Oceanfix and Big Animal Encounters. Both are highly knowledgeable. Oceanfix offers regular dives all year and a full service dive store, while Big Animal Encounters offers a range of additional wildlife viewing options such as whale watching—which can turn a great dive trip into a truly memorable lifetime vacation. 
Discovery Passage is home to tons of humpback whales, orcas, sea lions, seals, and squadrons of bald eagles. It's a global-leading wildlife hub. If you're bringing the family, or non-diving members, Campbell River is a fun place to hang out topside, with a lot of options for them to enjoy while you're out blowing bubbles.
A knowledgeable skipper is essential here, these waters are not to be trifled with. Slack tide is a must for a lot of the dives, and local experience is more valuable than just an ability to read a tide table. Backeddies are essential for some sites, creating current-less pockets of bliss from which to explore and observe the underwater scenery. 
Some dives will be drift dives, but don't worry, no one is throwing you in the 13 knot (24kph / 15mph) water! Nor do we use reef hooks here: simply jump in, cruise past the deep walls and boulder fields, and get picked up a the other end. The drift dives are actually surprisingly easier than some I have experienced in warmer waters such as Japan, the Solomon Islands, or Mexico.
What about that temperature? Well it's a moderate 45°F (7-8°C), not too bad, and though some do wear two-piece 7mm wetsuits, a drysuit and decent undergarment is a more sane option. The water has a distinct emerald green hue, indicative of the Pacific Northwest, and because of the high tidal exchanges, visibility is normally pretty good all year round, with the fast currents whisking away any particulate as quickly as it arrives. That being, said winter viz can be stunning, sometimes offering 100 feet (30m) of crystal clear water. 
A phrase I like to throw around to non-divers is: "Those mountains don't stop where the ocean starts, they keep going down." Most of the dives here consists of large vertical walls, sometimes with boulder fields at the bottom, a result of previous rock slides, and now an effective marine habitat and hiding place for, amongst others, the giant pacific octopus, a show stealer on any dive.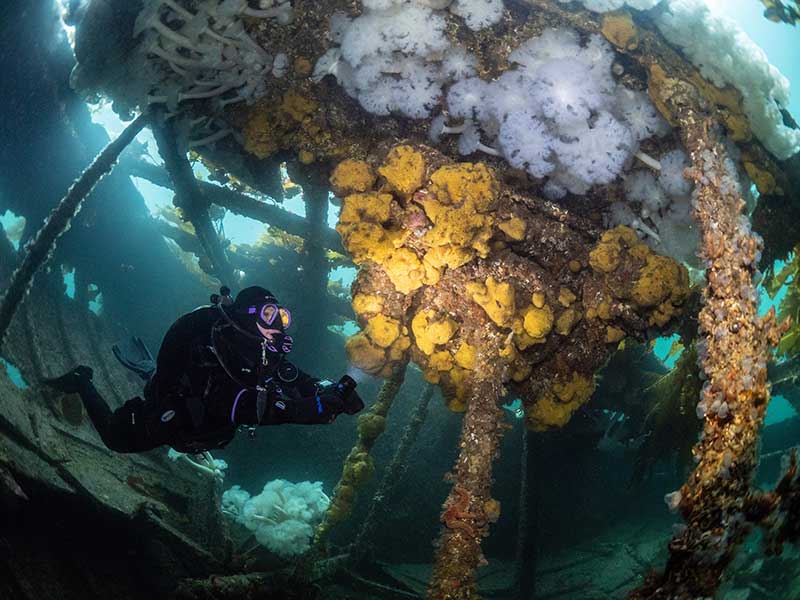 Wreck n' reefs
There are also a few of submerged structures in Discovery Passage; two artificial reefs, and one dock – Argonaut Wharf (pretty much the only easily accessible shore dive here, and a fun night dive). 
The May Island Ferry wreckage was a former car and passenger vessel that used to operate around West Vancouver until it was decommissioned in the early 40's. It served the local Quadra Island ferry route before sinking, being raised, and sinking again. It has now been laying in 50ft (15m) of water for the past few decades and is a fantastic little dive. At around 180 feet (54m) long, the double-ended ferry (but with only one prop now) is great for photographers, divers looking to seek shelter from the current, and divers wanting to explore inside the ribs of a shallow water wreck in relative safety. During the summer the ferry is covered in kelp and is sometimes explored by equally inquisitive harbour seals. By winter a lot of the kelp dies off, increasing light penetration and making for a spectacular shallow wreck dive, exposing clusters of yellow sulphur sponges inside the ships bones.  
If it takes a bigger ship to inflate your BCD, the former HMCS Columbia is for you. The destroyer- class vessel was sunk by the Artificial Reef Society of British Columbia in 1996, comes in at 366 feet (111m) long, and ranges from 120 feet (36m) at the bow, to 60 feet at the tower (18m). There's normally a bit of current here, so you'll burn a few calories, but that's important when you'll be consuming lots of surface interval hot chocolate. 
The real draw of Discovery Passage though are the 'natural' dive sites. Steep Island is one of my personal favourites and one of the few places in BC where tube worms flourish, decorating a large part of the submerged cliff from 60 feet down to around 100 feet (18-30m). To be more specific, they are northern feather duster worms: 2" (5cm) diameters tube worms, consisting of a long light grey tube around 30" (76cm), into which the purple feather duster-like plumes, called radioles, retract. The tube worms provide effective cover for a range of marine life, with Puget Sound king crabs and ling cod often seen resting within, or on the worms.
For me, the tube worms offer a feeling of being somewhere otherworldly. A dive on the Steep Island tube worms feels like a deep dive in the middle of the ocean, as if you were visiting the Mid Atlantic Ridge. Do you remember the initial forest scene in Avatar? Where Jake Sully is running through, touching plants that then abruptly retract? They were inspired by tube worms, so this is my Pandora dive.
Seymour Narrows can be a fun ride. It was described by Captain George Vancouver as "one of the vilest stretches of water in the world" with currents regularly kicking up to 15 knots. Woo hoo—let's dive it! After the first ten minutes of being pushed up, down, left and right, the tide becomes slack and the current settles down. We were treated to a vibrant cacophony of colour, with almost every square inch of rock covered in a variety of anemones, red Irish lords, sculpins, cup coral, and a zillion pink strawberry anemones emblematic of this site. There's also a rowdy collective of swimming scallops that welcome your arrival like a crowd at a Formula One race, swimming and cheering
as you drift by.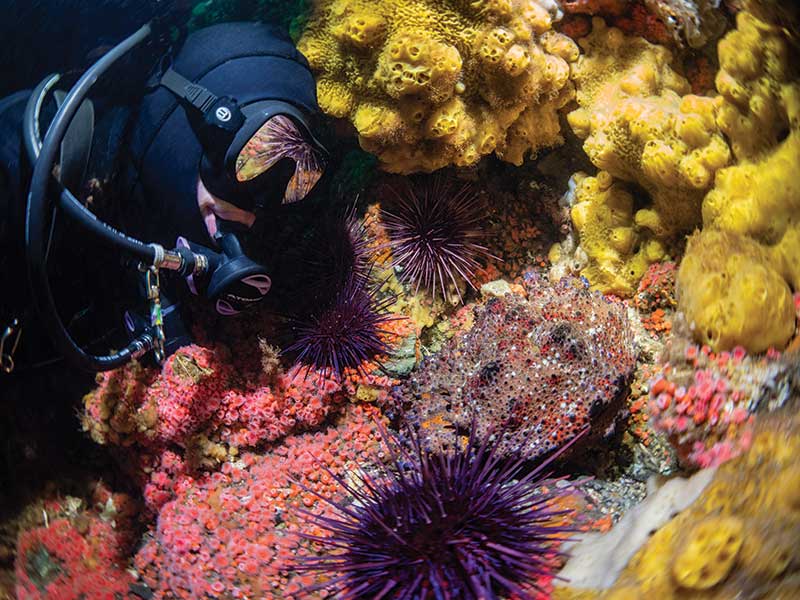 Send nudi's
Copper Cliffs was, until recently, one of my lesser-favoured sites, not because it's bad—far from it—but because the others just seemed to out-do it. My opinion, however, changed a couple of weeks back when my buddy Krystal Janicki (seen in most of the images here) and I had a spectacular dive hanging out with huge Puget Sound king crabs, discovering over-hangs bathed in white plumose anemones, and watching giant nudibranchs.
Which leads nicely to nudibranchs—the Topp's Trading Cards of the dive world. They're like subaquatic Pokemon for adults. Most liveaboards and tropical resorts are full of divers desperate to observe a specific nudibranch they can then tick off their list. What most of these warm water nudibranch lovers don't realize is that the biggest, most beautiful and impressive nudibranchs live here in BC waters. I've seen nudi's the size of a dinner plate. Orange peel nudibranchs, sea-clown nudibranchs, sea lemon, opalescent, long-mouthed aeolids, spotted dorid, red dendronotus nudi's, and a ton of others that barely scratch the surface for nudibranch spotting. In flatter, sandier parts of the Passage you can even witness these sluggish badasses hunting, literally pouncing on tube anemones before devouring them. Surely a worthy sighting for your little scrapbook of nudis?
Other sites start to blur into one another. April Point Wall, The Rock, Grouse Island, and Row and Be Damned are all spectacular assaults on the senses. Bright yellow sulphur sponge is a key characteristic of this area, with the addition of contrasting white plumose anemones, cute little strawberry anemones, cup coral, finger sponge, green and purple urchins, sculpins, decorated war bonnets, rockfish, giant pacific octopus, fried egg jellyfish, wolf eels, kelp greenling, and ling cod all doing their best to make sure you exit the water with your jaw trailing behind you. Sometimes it's tough to find a square inch of rock that is not covered in marine life. Though we're not sure why you'd want to.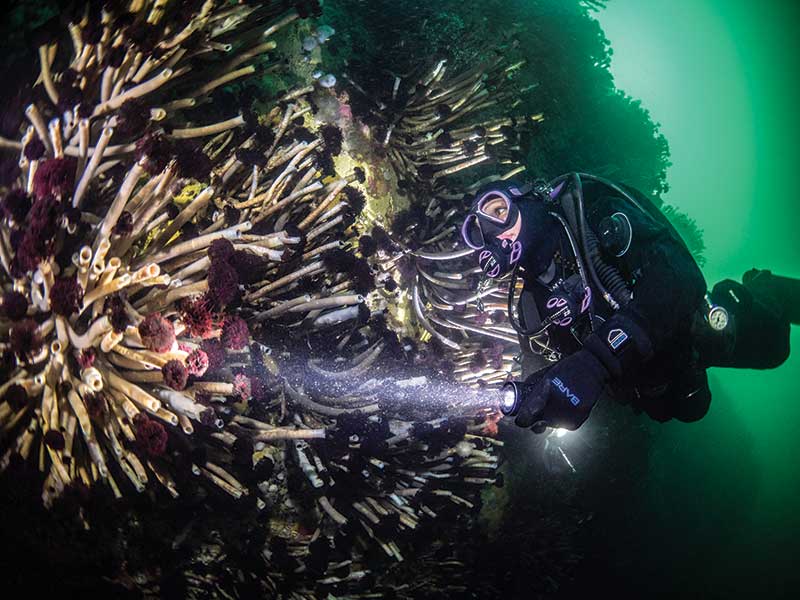 Be adventurous

The drift dives here are a fun way to observe this world; it's like a drive-through safari, with colours merging into one another like the brush strokes of impressionist painting. Lulls in current give you a chance to explore specific areas more thoroughly, with each passing minute of observation revealing layers upon layers of macro marine life and camouflaged critters. 
What has always mesmerized me about Discovery Passage is that any patch of rock you stop at provides enough interest to make for a rewarding dive. The waters are healthy here, despite being a stone's throw away from so much marine traffic and urban development. If only Captain George Vancouver knew what he was sailing over when he first travelled through the whirlpools and rapids of Seymour Narrows.
Returning to the boat for post-dive chatter is always fun. Everyone is bubbling with energy, having experienced a completely different dive with their own marine life sightings. Someone was bound to see the world's largest species of octopus—the GPO, someone was bound to see a grumpy-looking wolf eel, and someone may have even been visited by a friendly steller sea lion. It's always different, always fun, and always and an adventure. 
The diving in Discovery Passage may not be everyone's cup of tea, but it really should be. It has so much to offer. It's easily accessible, diverse, and as impressive as anywhere else I have ever dived. Sure, it's more work than a tropical dive trip, it's colder than Mexico, and it can be tiring—but oh boy, it is most definitely worth discovering.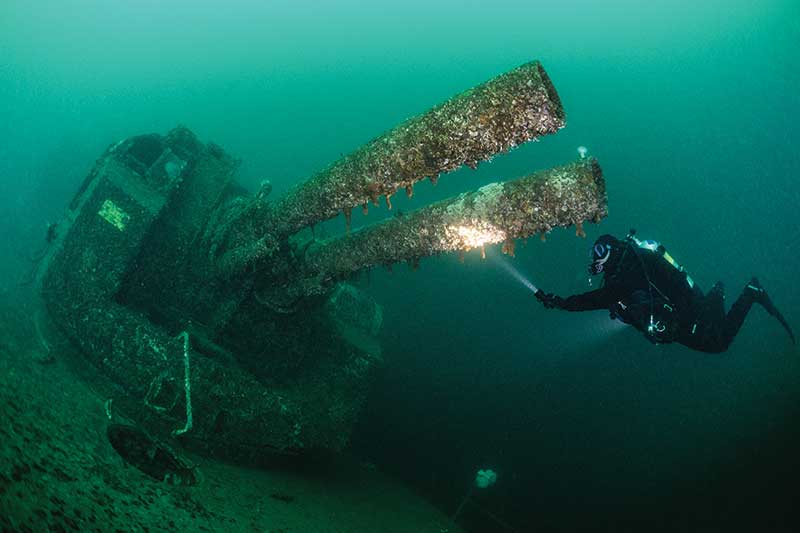 Good to know:
Getting there: Campbell River Airport (YBL), Comox Airport (YQQ), or drive from Vancouver (YVR).
When to go: Diving is year round. Fall and winter offer best visibility but increased winds. Summer is the busiest, with a little lower visibility but lots of land-based opportuneties and wildlife experiences.
Nearest hyperbaric chamber location: Vancouver General Hospital, mainland Vancouver.
Water temp / exposure protection: Average 45° (7-8°C), drysuit and thermals recommended.
Getting around: Car rental is ideal.
Don't miss: Whale watching, grizzly bear tours, swimming with salmon, First Nations galleries, amazing hikes, and skiiing on Mount Washington.
Top tip: Always carry an SMB, dive nitrox if certified.
 www.oceanfix.ca (charter operator and dive store)
 www.biganimalencounters.com (charters and wildlife)