Destinations
Dubai Underwater Theme Park
September 26, 2014 By DIVER Editorial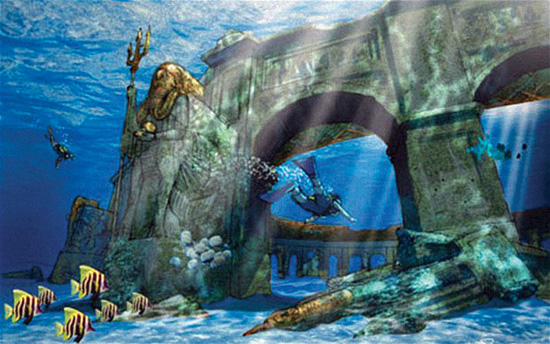 A city of grand scale attractions, Dubai is now planning an Atlantis-like sunken city theme park for SCUBA divers and snorkelers in the shallows off its World Islands development. Los Angeles-based Reef Worlds is behind the design for two sites now on the drawing board under the working title 'Pearl of Dubai'.
Media information says the attraction will be modeled after the mythical lost city of Atlantis and will also take inspiration from the Hollywood films Pirates of the Caribbean and Avatar. Plans call for the five-acre park to be the largest sustainable underwater tourism site, accessible to swimmers and divers of all ages and experience levels who will be able to view the site from the surface and underwater. Planners hope the attraction will cater to everyone so that kids can snorkel, adults can SCUBA dive and a semi-submersible sub would be a further option for viewing.
Developers hope the project will attract international tourist divers and, importantly, marine life to its World Islands development, an artificial archipelago of 300 islands that was begun in 2003 and later put on hold when the 2008 financial crisis hit. Only two of the islands are developed so far.
Dubai and the region are not on the world SCUBA diving map. The Pearl of Dubai underwater theme park hopes to change that, offering a sustainable attraction that creates new marine habitat and brings in new tourism revenue. No official opening date has been announced yet.
Among other ambitious tourism projects built or planned for this United Arab Emirates city are the Mall of the World, the planet's largest shopping mall, and the Burj Khalifa, the world's tallest building. The Dubai Eye, the world's biggest Ferris wheel is planned as part of a major new tourist complex, as is the Dubai water discus hotel, an underwater hotel complete with dive centre.
One Response to "Dubai Underwater Theme Park"