Destinations
Travel
The rainbow at the end of the pandemic
July 26, 2022 By DIVER Editorial
"Back to normal" means different things to different people. For Brandon Cole, a return to equilibrium means travel, diving, and encounters with wildlife big and small. After his slowest year in the last 30 for watery adventures, he is now more than ready to release the kraken in an epic way. Here are Brandon's top picks to wash away those post-COVID blues with an ambitious bucket list of far-flung trips to fill the coming years
Words and Photography by Brandon Cole
Bahamas
Operator: Jim Abernethy's Scuba Adventures, Shear Water liveaboard
Time to go: year-round, though hammerheads only in winter
Don't miss: sharks, sharks, and sharks!
Website: www.scuba-adventures.com
Younger divers may not realize there was a time when reliable encounters with tiger sharks in clear, shallow water didn't exist. That was before a sand bank codenamed Tiger Beach, north of Grand Bahamas Island, was discovered. Don't come here expecting to lounge at the water's edge, working on your tan, refreshing beverage in hand. Instead, steel yourself for a super close (i.e., see the whites of their eyes' nictitating membranes) adrenaline-infused experience with apex predators. This 'beach' is 15 to 40 feet (5 to 15 meters) deep, and swarming with sharks—lemons, reefs, nurses, bulls, and of course tigers. Quality time spent in the presence of these beauties is exactly what the doctor ordered to combat dive deprivation suffered during the time of COVID-19. No more virtual Zoom meetings with sharks on Discovery Channel and YouTube. Reality in full HD awaits at Tiger Beach.
My upcoming Bahamas trip will also include a bonus side trek to Bimini to visit its Hammerhead Highway site. The undeniably impressive great hammerhead shark had always been an elusive subject for underwater photographers, that is until Bimini blipped onto the radar. During winter months this is the world's best place to see Sphyrna mokarran in all its spiky-finned, alien-headed glory.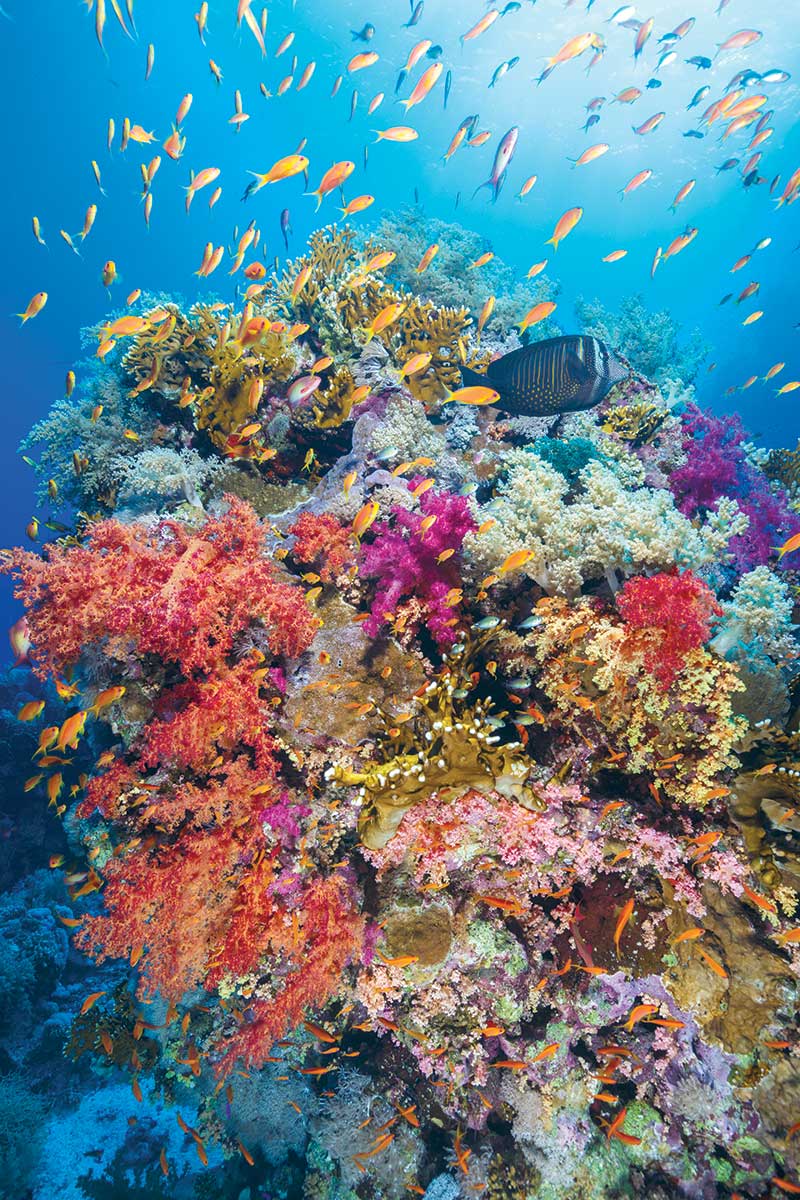 Dominican Republic
Operator: Aggressor Adventures, Turks & Caicos Aggressor II liveaboard
Time to go: January through April
Don't miss: mother and calf interactions
Website: www.aggressor.com
Charismatic marine mammals are naturally part of my aquatherapy program. Of the few locales on Planet Ocean renowned for snorkelling with humpback whales, the Dominican Republic's Silver Bank is the closest for North Americans. Swimming alongside a mellow 40-foot (12m) mother humpback and her energetic 13-foot (4m) calf is a life-changing experience. A whale watching excursion off Cape Cod when I was eight years old had certainly helped plot my life's course. Even though that distant but indelible memory only had me pointing at leviathans from the boat's deck and repeatedly yelling, "Thar she blows!" my DNA was irrevocably altered. 
Decades later I floated in the sea with the cetaceans for hours on end, speechless, full of awe and appreciation. During a week-long liveaboard cruise on Turks & Caicos Aggressor II to the Silver Bank, the main calving and breeding grounds for the North Atlantic humpback population during their wintertime siesta, I watched the whales go about their daily lives. Mothers nursed newborns. An adult male 'escort' positioned himself protectively between the female he hoped to mate with and an encroaching fellow suitor/competitor. A precious, rambunctious baby comically practiced barrel-rolling and breaching techniques, its floppy flippers and twitchy tail flukes apparently not quite yet under elegant control. Another calf, curious and mischievous, boldly surged right up to us before veering away in a cloud of exhaled bubbles. Soon, I will be breathless in their midst again.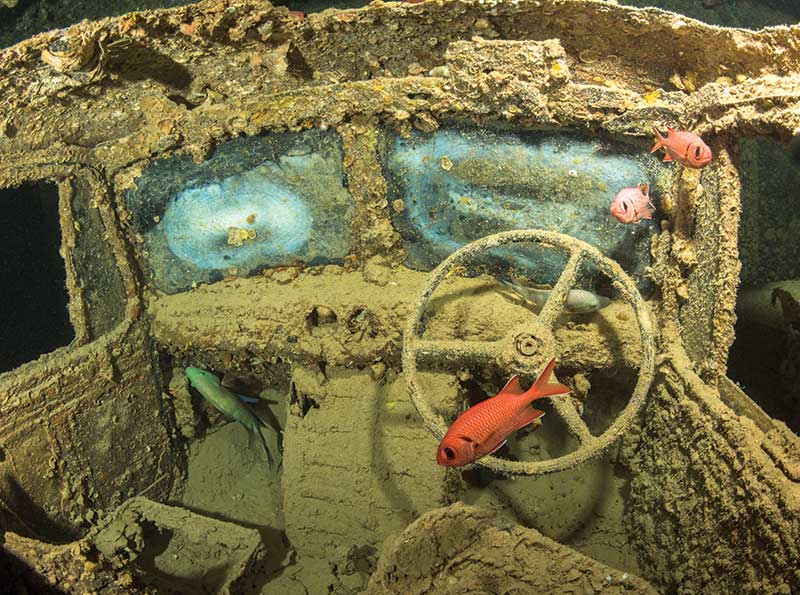 Egypt
Operator: Emperor Divers
Time to go: July through November
Don't miss: The Brothers, and the Thistlegorm shipwreck
Website: www.emperordivers.com
Many in the global dive tribe have been locked down and landlocked and now keenly look forward to a dramatic change of scenery. Personally, I feel the need to go far, far away and immerse myself not only in healing waters, but also a very different landscape, a culture overflowing with refreshingly new sights and sounds, foods, people, and history. The first big international escape my wife and I have planned is Egypt. No half measures for us. We're set to launch into the very cradle of civilization itself. In addition to spelunking in ancient tombs, bartering in Cairo's chaotic bazaars, and supping on shawarma and falafel, we cannot wait to feel the warm embrace of the desert-ringed Red Sea. 
What will we find? If the gods shine brightly on us, coral gardens afire with soft corals and frenetic with shimmering schools of sea goldies glowing molten orange. Green turtles, polka dotted stingrays, spinner dolphins, and maybe even a dugong. On offshore seamounts like The Brothers and Elphinstone, my webbed fingers will be crossed for an oceanic whitetip shark and its pilotfish escort. Then there are the many shipwrecks entombed in the Red Sea, including Salem
Express, Numidia, Giannis D, and legendary Thistlegorm. And that's just in the first ten days. All told, we've planned nearly three weeks to dive like maniacs from both liveaboard and land-based resorts. Maybe we'll even try a shore dive via camel.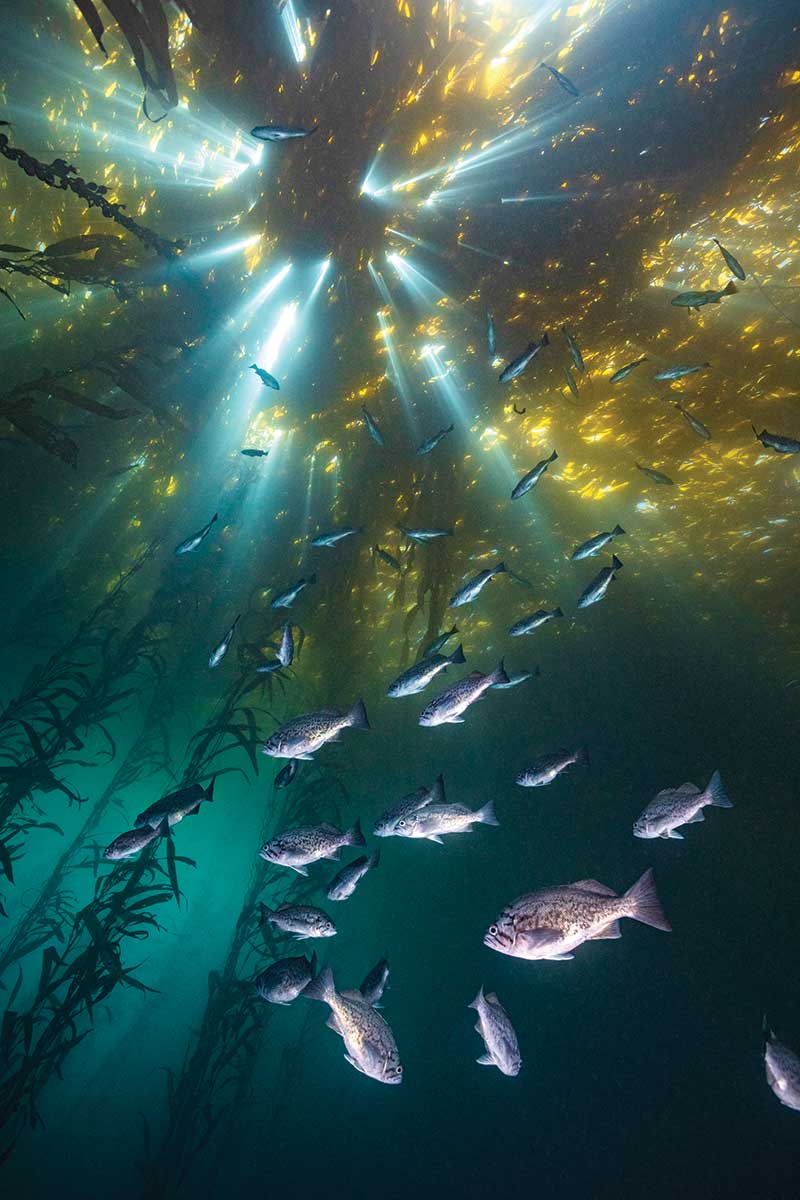 California
Operator: Monterey Blue Diving
Time to go: fall, or winter between storms
Don't miss: the pinnacles outside Point Lobos State Reserve
Website: facebook@MontereyBlueDiving
I have not only been daydreaming about the tropics. Closer to home and markedly cooler in clime, California beckons mightily. I've always gravitated to the Monterey Peninsula, logging hundreds of dives there over the years. Perhaps I'll make the 1000 mile (1600km) journey in my truck, so I can take a mountain of gear and turn this into a camp and dive adventure. Or perhaps I'll fly down, grab a rental car, and stay in an Airbnb. Either way, I know it will be great fun. 
In Monterey Bay I'll definitely hit the Breakwater for seal lions. Hundreds of sea nettle jellyfish are sometimes found at this popular shore access site as well. Tanker Reef and the pilings under Wharf 2 are always treasure troves for macro photography, with nudis, fringeheads, juvenile rockfish, and various crustaceans in abundance. In Carmel Bay, I will seek sanctuary in the cathedral-like kelp forest off Monastery Beach. The pinnacle of this trip will likely be Point Lobos State Reserve. Joining a small group charter on Monterey Blue Diving's inflatable boat is an excellent way to see the most beautiful underwater real estate in the park and beyond. Sheer granite pinnacles thrusting up from the deep outside Bluefish Cove are covered in strawberry anemones and purple, pink, and orange hydrocoral. Multiple species of photogenic rockfish are also in residence. When the swell is down, I always make a special request to cross Carmel Bay to the sublime Ocean Pinnacles. Invert-carpeted plunging walls, dramatic box canyons, and the towering tangle of giant kelp buoy this storied site's ranking to among the very best on the entire Peninsula.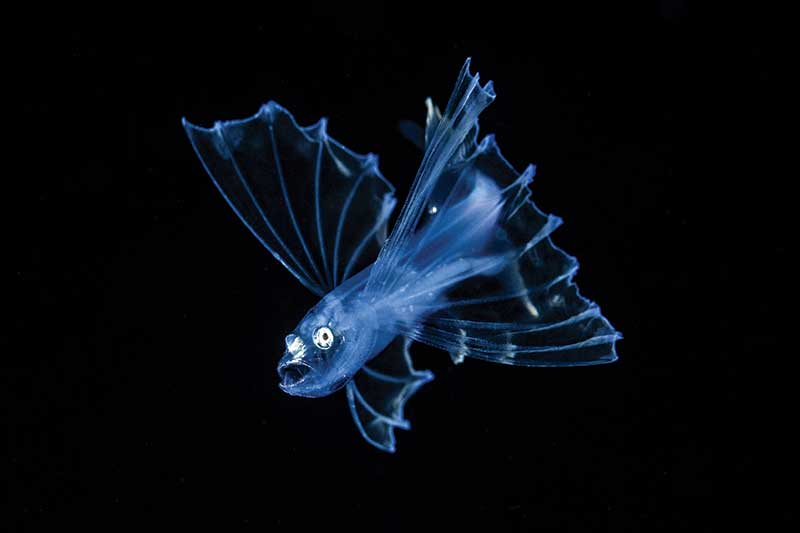 Florida
Operator: Walker's Dive Charters
Time to go: year-round
Don't miss: goliath grouper aggregation in August and September, and blackwater diving year-round
Website: www.walkersdivecharters.com
Florida has a lot going for it. From Jupiter's shark diving, to cave crawling in 'Cave Country'—home to Ginnie Springs and other sunken labyrinths—to shipwrecks in the Keys, drift diving, and snorkelling with manatees, there's truly something for everyone. Some of my first 'tropical' diving was in the Sunshine State in the 1980s, and now 10,000 dives later I'm still visiting regularly.
I've vowed to repeat my last trip, a two-week stint in late summer 2019 PP (pre pandemic reckoning) targeting the goliath grouper spawning aggregation off West Palm Beach and Jupiter. In between tropical storms I enjoyed amazing dives on the Zion and MG-111 wrecks with 50 or 60 huge fish, 4 to 6 feet (1.2 to 1.8m) long and a few times my weight. At night, I did specialty 'blackwater' trips, heading miles offshore to search for miniscule fish and invertebrates adrift in the planktonic soup. Gliding in the Gulf Stream over a bottom 750 feet (229m) below me, I was gobsmacked by the tiny creatures on display—a pelagic seahorse, jellies, larval shrimp, squids, and fantastically weird larval fish including eels, tripodfish, a snaketooth swallower, and an Alfonsino. For something completely different I toured a 'coral tree nursery' with the Coral Restoration Foundation in Key Largo and helped them transplant staghorn corals to a nearby reef being restored. When the weather wasn't cooperating, I shore dived Blue Heron Bridge to photograph blennies, batfish, arrow crabs, and an octopus playing hide and seek in a bottle.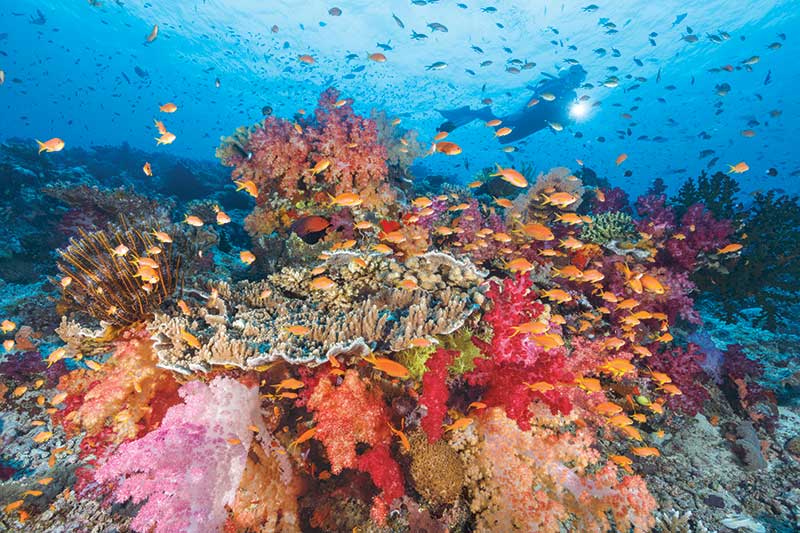 Fiji
Operator: NAI'A
Time to go: year-round, though my preference is October and November
Don't miss: soft corals extraordinaire, and land visit to Somosomo village
Website: www.naia.com.fj
Rainbowed soft corals and clouds of jewel-like anthias are a signature of this classic South Pacific destination. The fireworks explosion of life on Fiji's lovely current-swept reefs celebrates our imminent return to a zen state beneath the waves. We yearn to seriously load up on nitrogen during an extended 10-day liveaboard cruise in the spectacular Bligh Waters and Namena Marine Reserve east of the main island of Viti Levu.
In addition to the retina-searing coral colours, we're sure to be re-wowed by shoals of barracuda and jacks, giant sea fans, blue ribbon eels, banded sea snakes, and the mesmerizing patterns of cabbage corals. Further elevating this holiday way above the norm are the Fijian people themselves. Accepting their warm welcome to partake in a kava drinking ceremony, join them in song and dance, or even just to sit under a palm tree and share stories, is guaranteed to create remarkable memories.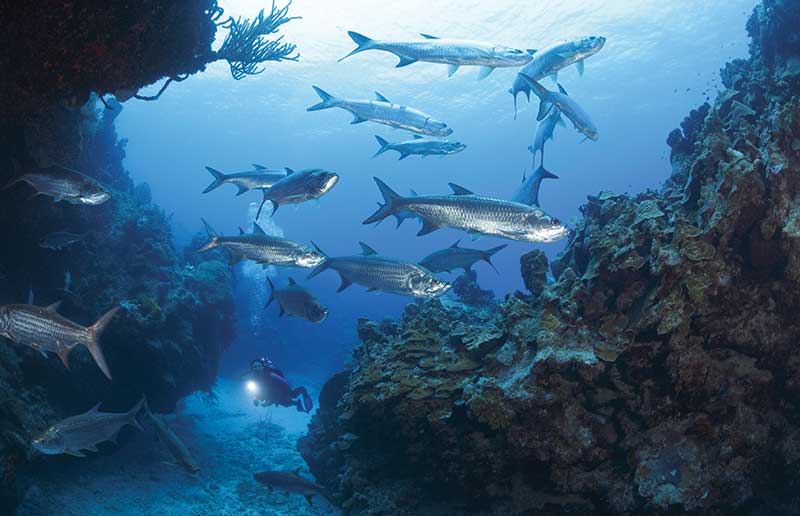 Cayman Islands
Operator: Aggressor Adventures, Cayman Aggressor IV liveaboard
Time to go: year-round
Don't miss: Stingray Sandbar, Bloody Bay Wall, and the silversides in summer
Website: www.aggressor.com
An easy tropical escape for North Americans that is available year-round, Cayman showcases sheer walls, shipwrecks, stingrays, and so much more. Touring all three islands (Grand Cayman, Little Cayman, and Cayman Brac) via liveaboard delivers ultimate convenience and comfort. During a week-long voyage you'll log nearly 30 dives in the western Caribbean Sea. Water temperatures average 80°F (27°C) and visibility 100 feet (30m). Dive right in; the water's mighty fine.
Bloody Bay Wall is sure to please. Newbies toodle about in the fishy shallows, techies challenge themselves in the abyss, and photographers lose themselves crafting compelling wide-angle setups featuring gorgeous rope and tube sponges. Other Cayman faves include the Keith Tibbetts and Kittiwake wrecks, photo-friendly Nassau groupers and hawksbill sea turtles, and the many shadowy caves, grottoes, and swimthrus. During summer, some are choked full of silversides and their hungry tarpon predators. And Cayman wouldn't be Cayman without its uber famous stingrays.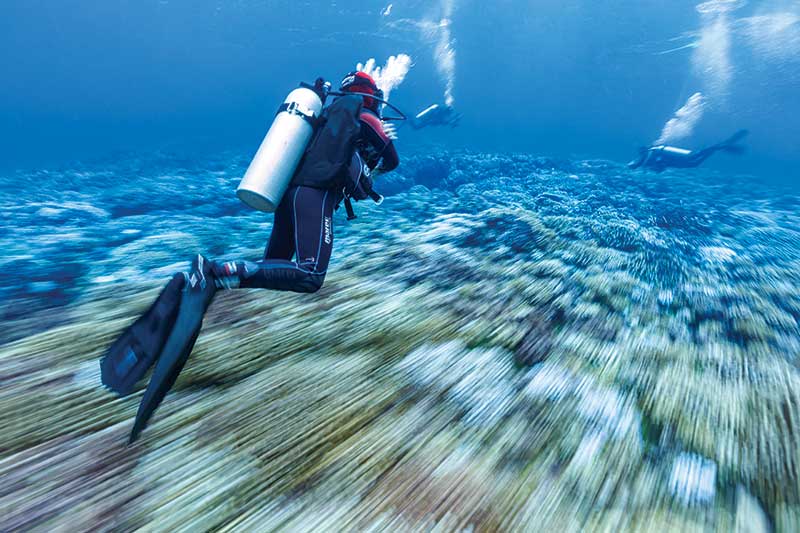 Socorro Islands
Operator: Nautilus Dive Adventures
Time to go: November through June; conditions and marine life sightings vary
Don't miss: Pelagic surprises in the blue
Website: www.nautilusliveaboards.com
Even without a reg in your mouth, Las Islas Revillagigedos is a mouthful. 'The Socorro Islands' and 'Mexico's Galapagos' both suffice nicely as nicknames for this bucket list-worthy, big animal mecca 250 miles (400km) southwest Baja's tip. You'll need a liveaboard out of Cabo San Lucas, Mexico to get there. There are no resorts, no cities, but yes, mucho marine life in this protected biosphere reserve.
I'm drawn to these remote islands like a pack of silky sharks to a tasty baitball. Which I've seen out here in the big blue off Roca Partida in May and June. Yellowfin tuna, a silvery wall of hundreds of muscular bonito, and cute whitetip reef sharks stacked atop each other also call me back. As do the bottlenose dolphins that tamed my wife's heart at Punta Tosca, sidling up next to her and demanding she make contact. Surreal. Socorro's wild and crazy dolphins once nearly gave me a heart attack when they decided to escort a whale shark I was following. Yes, the whale sharks I've seen in late November, and on Christmas Day (!) and in late spring surely warrant a return expedition. Then there are the hammerheads at El Canyon. And the humpback whales in February and March. So many Mr. Big marine life magnets out here. The strongest of all in the magnetic personality department are, IMO, the mantas. It's impossible to resist that primal need to glide in the slipstream of the friendly oceanic manta rays at the Boiler. On one absolutely unforgettable dive we had seven mantas circling us, swooping and looping gracefully like hang glider- sized butterflies.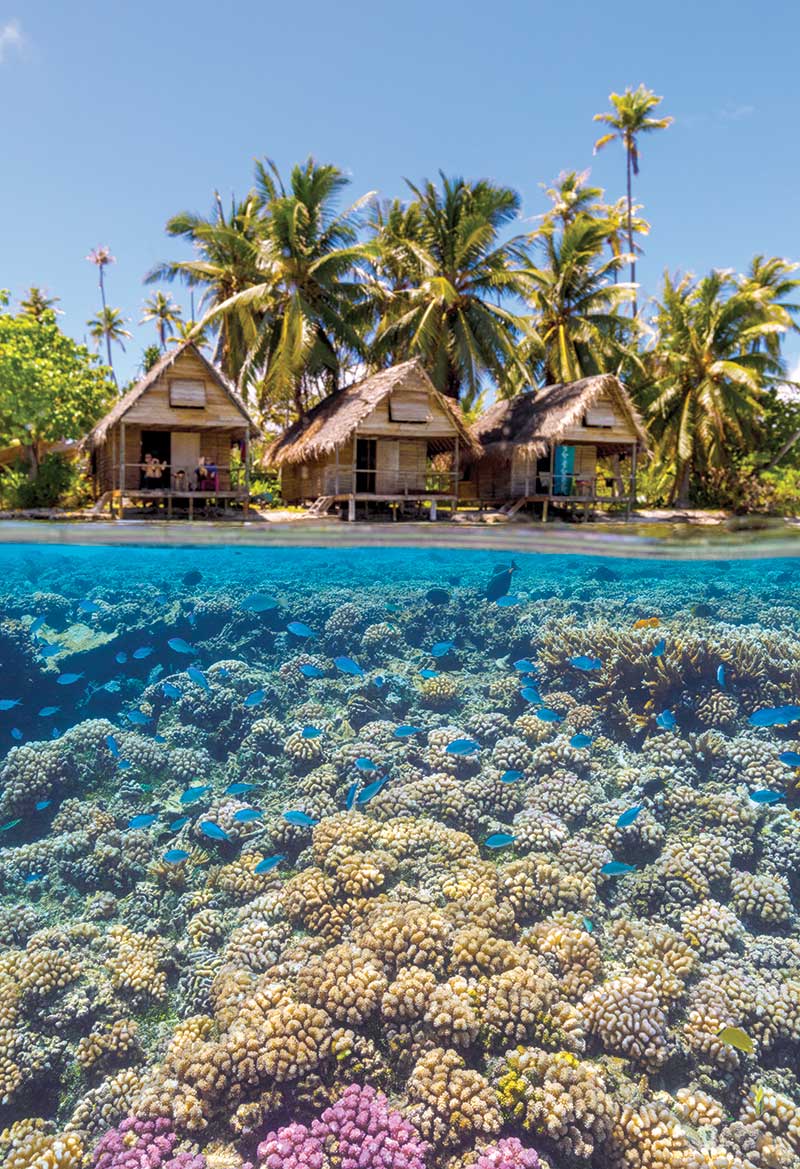 French Polynesia
Operator: Top Dive
Time to go: year-round
Don't miss: Fakarava's South Pass
Website: www.topdive.com
Where would I choose to be marooned if the world ever turns upside down again vis-à-vis 2020? Possibly the idyllic archipelagos known as French Polynesia, a.k.a. Tahiti and her islands. Which island specifically is harder to answer. For romance, it would be Bora Bora. For drone photography, I'd go with Moorea. Its postcard-perfect profile, with jagged mountain peaks and verdant slopes sliding into the aquamarine sea, certainly makes for a stunning aerial image. Moorea's scuba scene is excellent too, plus it has killer snorkelling for stingrays and blacktip sharks. 
For hardcore diving, Tahiti and Rangiroa might be contenders, but in the end, it would have to be Fakarava. Hundreds of gray reef sharks are regularly seen in Fakarava's southern pass. Breathtaking. Strong currents race through this cut (and the atoll's northern pass too), so diving with an experienced operator is essential. Snappers and bannerfish stream over a pristine field of cauliflower coral just inside on the eastern flank, where Maori wrasse and blacktips roam. There's a little pension here, and though accommodations are spartan, I could easily see myself whiling away the years in such a place, content in the blissful company of the fishes, while the outside world gone mad raced us by. At least this time my gills wouldn't dry out during lockdown.