CEO and diver Wayne Brown had a blank slate when he designed the Cayman Aggressor V, so what goes into making a luxury liveaboard?
Words by Wayne Brown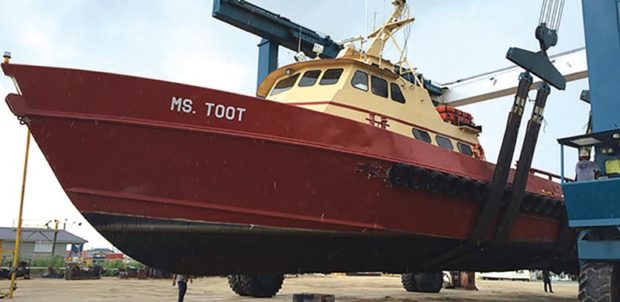 When I started thinking about designing and building our next generation liveaboard, I wanted to start with a clean slate. This build would be more than just trying to improve existing layouts.
I had years of notes that I had made since my purchase of the Aggressor Fleet in 2007. Whenever I was onboard or a guest made a suggestion, I jotted down these thoughts and ideas. So when I was ready to undertake the new Cayman Aggressor, I didn't miss anything that I wanted to include.
The wish list
I have a background in building restaurants and houses, but this was my first liveaboard. I relied on my past experience to ensure spaces were well laid out and functional, with an emphasis on flow. I wanted to maximize the space both inside and out. I focused on what the vessel was to be: a great diving and living platform. This meant it didn't need to conform to standard yacht exterior lines, which look good but might not meet the practical needs of divers.
My top must-haves were a spacious interior lounge, restaurant seating with everyone at two large tables for socializing during meals, and both covered and uncovered comfortable outdoor seating for everyone. With more and more divers using GoPros and point and shoot cameras, I designed the dive deck with two camera tables to ensure everyone had adequate space to for their cameras and all the accessories that go with them. Natural light was also high on my list, so designing the restaurant with floor to ceiling windows was a challenge I was willing to undertake.
Working with my design engineer, I worked and reworked the design of the spaces over many months until I was completely satisfied with every inch. I then brought in an interior designer to help ensure the colours, fabrics, and usability of those spaces were inviting and durable for the amount of time we are at sea between dry docks. I didn't impose a deadline for the design/build so I was under no pressure to cut corners.
Then it was on to spreadsheets…lots of them! I divided each part of the new build into lists that would divide the materials needed such as the bathroom fixtures, sheets, duvets and pillows, flooring, lighting, exterior furniture, machinery, etc, etc, etc.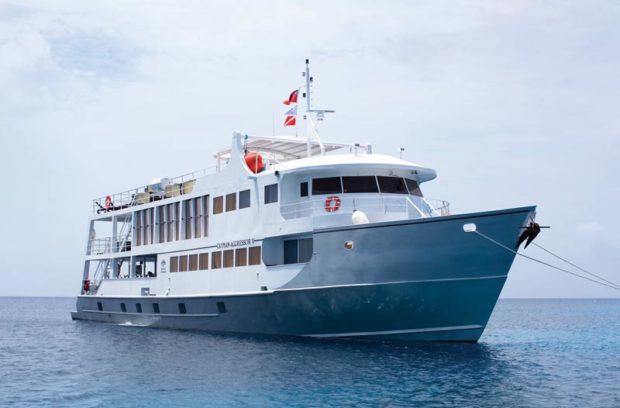 Once you start listing every part that is necessary to build an entire liveaboard, it seems almost impossible that this many items could eventually come together! In the spreadsheets I included links to each part website where it would be purchased so we could keep a record of final delivery and be able to follow up if issues arose, as they always do.
I bought several bulk shipping containers to store all items once they arrived. Each items was checked for damage and then cataloged before being stored. I can't tell you how many times we had items that were checked 'received' but took us several trips through the containers to actually put our hand on it when we were ready for install. One of our frequent guests owns two Ace Hardware stores and was invaluable in helping us source and acquire the majority of our bathroom fixtures, drawer hardware, lighting, and various nuts and bolts. When most people build a house, they just pick out colours and materials and the contractor does all the rest. Building a new liveaboard, we had to make choices on every item and then source it and arrange for delivery. Overwhelming, if you don't break it all down into smaller tasks.
We even had a spreadsheet of items that were going to be necessary for the final phase but wanted to wait to make sure they did not get dated or deteriorate during the two-year planning and build process. Having soft goods such as sheets, pillows, rugs, and pictures sitting in a hot container would not have ended well.
We even had to think far enough ahead to plan out the creation of boutique items with the new logo on them to allow time for purchase, embellishment, and delivery before the first charter.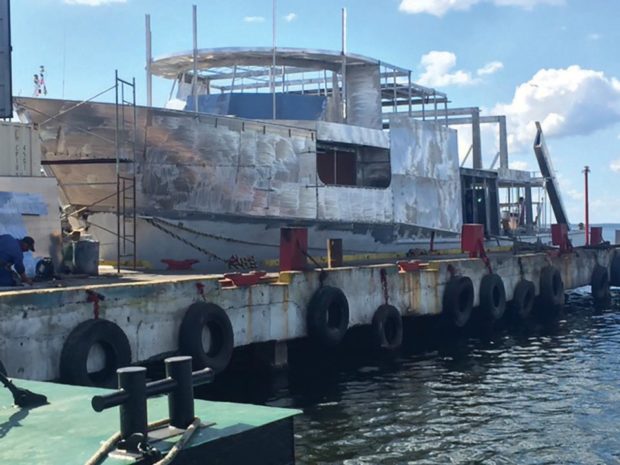 Build stage
As the construction began, we made multiple trips to Panama to check on the progress and, more importantly, make final decisions on designs that we knew we were going to have to live with forever. I did make the difficult call to make major changes to previously finished decks and framing, which set us back several months, but I knew that was worth it.
I also knew that even when construction was completed, weeks of sea trials, engine and generator tuning, and systems checks would be necessary before she would be ready for her first charter. Once delivered, there was the momentous task of stocking the galley and doing a final thorough cleaning of construction dust and debris. Then it was on to local inspections, certifications, fire drills, and permits.
When the day finally arrived that we would switch from the Cayman Aggressor IV to charters with the Cayman Aggressor V, it was all hands-on deck! My staff was amazing, ending one charter on Saturday morning on the Cayman Aggressor IV and being ready for the next one the new yacht at 5pm the same day!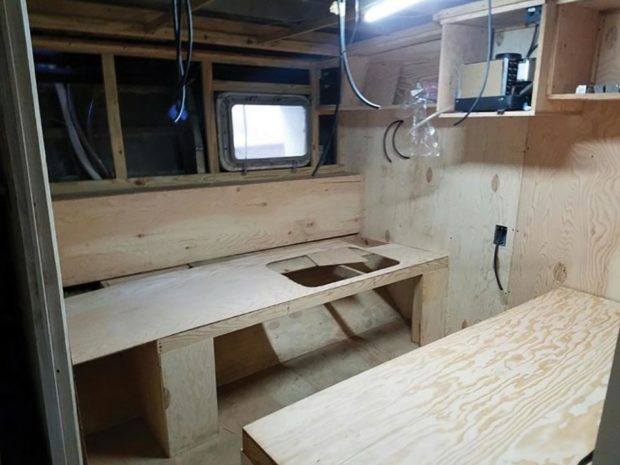 Always gnawing at the back of my brain was what was going to go wrong on those first couple of charters when you are full of guests and staff and every system is being used to its maximum capability. I know from experience that it is not 'if' but 'what' is going to need attention. I worried how would that impact our guest service for the charter.
Thankfully we did not have anything major to address. Afternoons we found that the restaurant, with its floor to ceiling windows, would get a little warm, despite the additional air conditioning we had added to that area when it was designed because we knew it might be an issue. We tackled that without affecting the great views by tinting the windows, a relatively easy fix. Other than a few mechanical tweaks, we had no more issues than the usual maintenance items that come up most charters.
We still have a short punch list of items like trim, caulking, and adding some hooks and hangers in a few staterooms, but I am extremely happy with how the Cayman Aggressor V came together. The entire design and layout was done with our guests in mind and I could not be more proud to show her off for years to come!
For more on Aggressor click here.