Books, Movies, TV
Enzo Maiorca – Pioneer Free Diver
August 8, 2014 By DIVER Editorial
Text by Ivo Scepanovic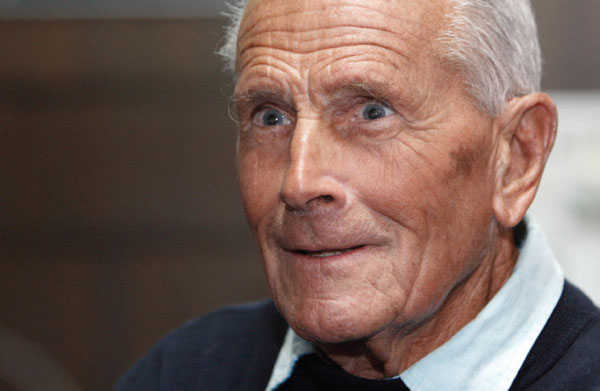 Now in his eighties, legendary Italian free diver Enzo Maiorca is still getting wet, though he's no longer actively involved in breath-hold diving and long ago gave up spearfishing.
"Apnea is behind me now, but I do SCUBA dive. It wouldn't be responsible to keep on free diving at my age," he said, adding that while he enjoys being underwater it is now just for pleasure.
In early days he was a spear fisherman but an experience in 1967 prompted him to give it up.
"I'd speared a grouper but couldn't pull it from its hole. I tried my best but the fish was simply fighting to survive. Something clicked in me and that was it, I never speared another fish because I felt like a terrorist. I said to myself, 'Hey, you're a sea terrorist, stop it, stop killing', and I did."
Along with friend and competitive rival, Jacques Mayol, Maiorca was inspiration for movie director Luc Besson's 1988 cult classic The Big Blue, a widely popular theatrical film that cast both men into the spotlight for their pioneering achievements in the sport of free diving. Mayol died in 2001 at age 74.
Interviewed at age 76, Maiorca was asked about the film in which he was portrayed by French movie star Jean Reno. ''I liked the movie," he said, "But I wasn't happy with the way the director chose to portray me." The spry, tanned Maiorca, who comes from Sicily, said, "According to Besson I was an uneducated Mafioso. Excuse me, but I'm not that kind of a person."
Through the 1960s and 1970s Maiorca set records and broke them, and in the process turned prevailing medical wisdom on its head.
"When I first started thinking about setting free diving records, the medical experts kept saying that a man could not stay alive diving deeper than 165 feet (50m) because his lungs would not make it. Doctors were creating barriers for us and I admit that at the time it worried me."
But there was contradictory information, he said, relating a story from the time he was born. The anchor of an Italian navy ship, the Regina Margherita, was stuck at a depth of 200 feet (60m) and all efforts to dislodge it failed until a local sponge diver called Argistratis was successful. "A pair of doctors witnessed this and reported what they saw but were dismissed by their medical colleagues because it contradicted what was commonly believed to be true."    
"I was breaking records step by step. I obeyed the doctors and didn't dive deeper than 160 feet (49.5m)," he said with a smile. "And as I progressed I was learning more and coming to realize that the doctors were building walls based on beliefs that were wrong. Even Aristotle claimed a man could dive no deeper than 30 feet (9m)," he said.
Maiorca went on to dive beyond 330 (101m). Today, top free divers are going beyond 650 feet.
''I follow what free divers are doing now. They dive much deeper than I did, but they have medicine on their side, he said, noting that since the 1980s medical understanding of free diving limitations has helped free divers go deeper. "But I strongly believe that we divers are helping in their research, too," he said.