Interviews
EXCLUSIVE INTERVIEW: Descending TV Show Duo
October 1, 2014 By DIVER Editorial
Behind the Scenes we talk to the diving duo behind TV's Descending
TO WIN A DVD OR BLU-RAY DESCENDING BOX SET – CLICK HERE!!!
DIVER: For those unfamiliar with Descending, tell us a little about the show.
DESCENDING: At its simplest, Descending is an underwater travel documentary. The destinations and specific locations are underwater or focus on the underwater world. The series follows two friends with limited diving experience as they explore the 70 percent of our planet that's aquatic, and it shows them growing and learning as divers along the way.
The show airs nationally in Canada on the Outdoor Life Network (OLN), in Europe, the U.K. and Oceania on Travel Channel and will soon start to air in the U.S. on Esquire TV. Details, clips and copies of the show on both DVD and Blu-ray can be found at: www.descendingtv.com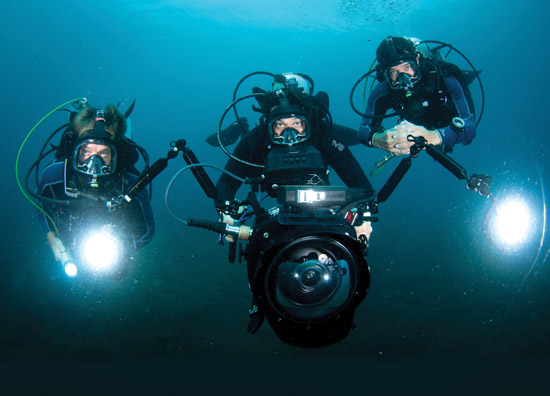 Unlike a lot of TV documentaries, Descending hinges on a friendship between you guys, the two hosts (Ellis Emmett and Scott Wilson). Were you also dive buddies? Was the main connection the very fact that your friendship was about the common love of SCUBA diving?                 
The connection between Emmett and me goes back quite a few years. I met him while working on another travel show in Cambodia. He's a great guy with fascinating travel stories and a true passion for adventure. After travelling together to a number of locations around the world, I found myself in his homeland of New Zealand for his wedding. During my time there, I helped him get ready for a shore dive near his house and became fascinated with diving.
I remember watching him gear up on the shore, and as an outsider it seemed so complicated, as if he was going into space. It would be another six years before I'd finally summon the courage to try it myself. Emmett's been diving a lot longer than me and while he's logged many more dives, they were mostly limited to just one type of Kiwi diving. So going into most of our Descending episodes we were both newbies.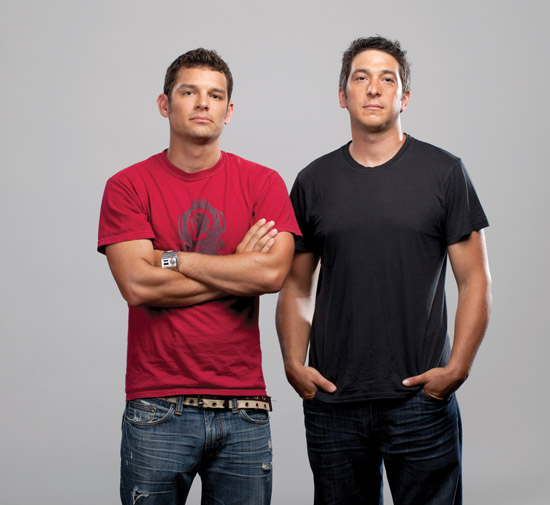 Descending is known for its stunning cinematography. Did the show win any awards in Canada or internationally? Where did you find Andre Dupuis and how did he go about capturing the amazing visuals? 
Andre was the cinematographer and director. I've been friends and business partners with him since 2000. We've worked on just about everything together including the travel series Departures. Descending garnered four Canadian Screen Award (formerly the Geminis) nominations, including Best Science/Nature Documentary Program, Best Sound in an Information Documentary Series, Best Photography in a Documentary Series and Best Picture Editing in a Documentary Series. Andre was a talented cinematographer first, and became a diver in 2009.
Goal of the show was to bring diving into the average person's life. Andre and I had no idea just how incredible the underwater world was until we had the chance to dive when we were in Brazil in 2008. We were both blown away and came home pumped to get certified and train up. All we could think was, "People have to see what's down there." That experience planted the seed for the show premise of two average 'Joes' traveling the world to explore underwater.
Many of the underwater shows and documentaries we watched involved big name people like James Cameron and Robert Ballard, but nothing we saw was saying that diving is an incredible way to see the world, even for those new to the sport.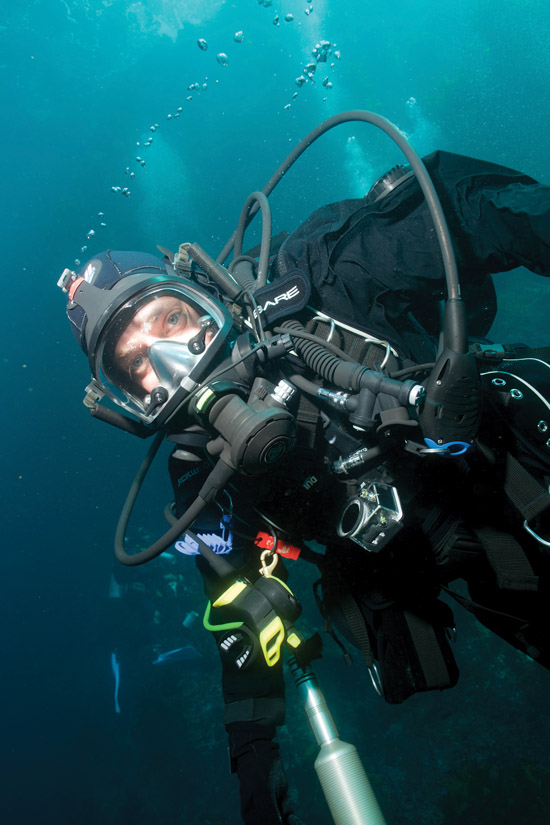 After shooting 13 episodes around the world, any favourite locales, any cool discoveries?
I loved our cold water dive locations in Canada, and Iceland too, but I think one of my favorite episodes was on the Solomon Islands. I'd been planning for this shoot all year because WWII history has fascinated me for as long as I can remember. We had the privilege of being the first to document the wreck of a Catalina, which had been at the bottom of a popular harbor there for 70 years and was discovered only when a local diver decided to explore an area where fisherman said their nets were repeatedly snagged.
What challenges did you have filming the show? What challenges did you face as humans in a hostile environment? How about equipment difficulties or logistics issues… getting into and out of places in different parts of the world?
As new divers we experienced a lot of the usual things you go through building skills and experience. You make some silly mistakes and learn by them. We felt it was important to show that even when you follow a plan and always dive within your limits, things can go wrong. We also wanted to show that it's how you handle the problem, what you learn from it that counts. Coming from a temperate water environment, Ellis had his struggles with cold water. We all struggled with the half-ton of gear needed to get into and out of remote locations around the world. The cost of flying this gear around was staggering but we also knew that it was important to film in 4k resolution for best results so we paid the price shooting for the best.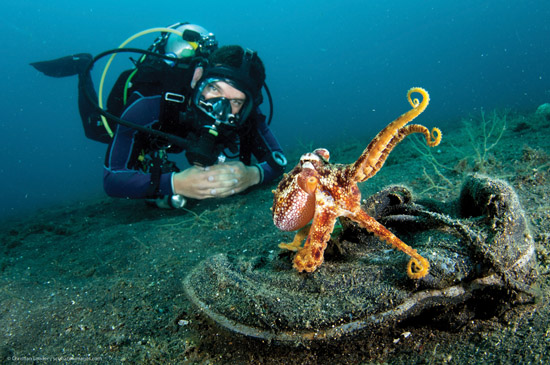 What was your general impression of the health of our oceans?
The more time we spent in the water the more apparent it became there are problems. You don't have to be an ocean scientist to see this. For instance, one of the first things we saw on our 1,000-foot Caribbean dive in a Nuytco sub was a beer bottle. We were in a place no human had been before but our garbage had arrived in advance. In Indonesia's Lembeh Strait we saw some of the most remarkable creatures that we didn't know existed, and they were living in discarded pop cans and motor oil containers. Just about everywhere we went local operators would say, "If you think its amazing down there now, you should've seen it 15 years ago."
We're not experts but it seems clear that being 'out of sight and out of mind' is a big part of the problem. So this comes back to the importance of more people seeing what's under the water. When you see first hand what we have to lose, what's at stake, you tend to want to take action.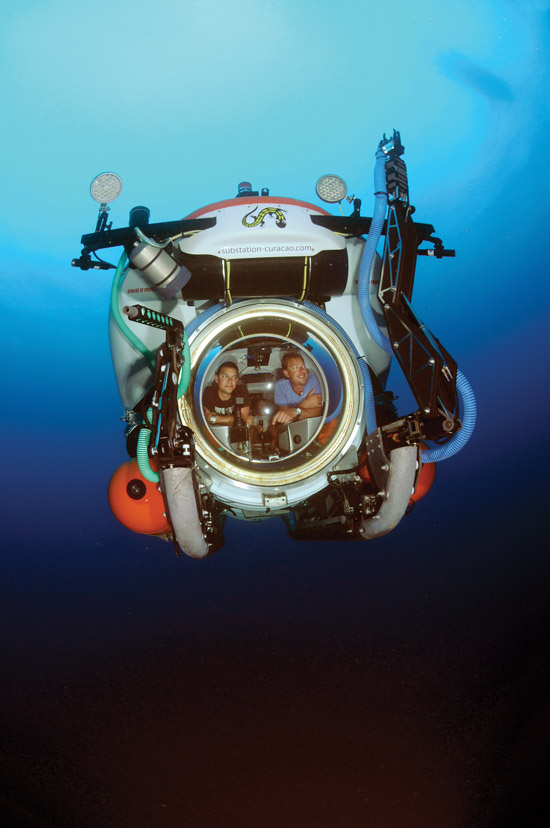 What's the most important thing you learned while filming the series?
Underwater, everything changes. You can go back to a dive sight day after day and its completely different. Conditions change, currents, temperature, visibility, etc. The sea life may be different. Even wrecks can look different; they're degrading all the time. We're lucky to see things while we can, so get out there! No dive is ever the same twice. Many times a dive gets turned on its head by the surprise appearance of a pod of dolphins, seals playing in your bubbles, curious octopus…who knows what. The oceans are full of surprises. That's what keeps us coming back. From the filmmaking perspective it's not a matter of if something goes wrong, but when.
Did you use any special or unusual dive gear?
We used Dräger Panorama full face masks that allowed us to use OTS communications devices, for safety but also to communicate with the audience while diving. The 'in-the-moment' sound bite has more impact than voice over narration taped after the fact. It also served to bring our viewers along with us on the dives.
What kind of video equipment were you using and just how much did you shoot by the end?
We used two RED cameras, each a 4k digital cinema camera in customized Gates housings. Each episode filled up 12 TB of hard drive space. It worked out to about 4 TB of RAW footage shot and backed up twice per program .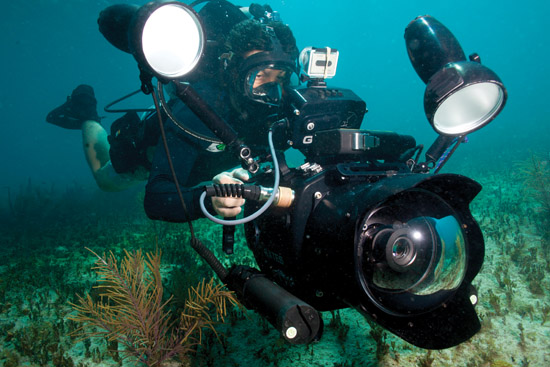 Any equipment loss or failure over the length of the shoot?
We actually had an on-going list in the production office of things lost overboard or destroyed during the filming. We lost a matte box off our topside camera. It dropped into waters inhabited by Great white sharks, which we watched cruise by so no one was too keen to retrieve it. A Go Pro and Canon 5D MKii were destroyed during a plane crash in Indonesia. It's all in the show! For a detailed list go to: www.Descendingtv.com/fun-stuff/lost-and-broken-stuff/
How accessible to every day divers are the places you visited?
Some places we went were fairly remote and expensive to reach but all of the sites are accessible to divers if they really want to get to them. We were the first to dive quite a few of the locations, which was central to the theme of finding a way if you're motivated! We completed nearly 300 dives for the first season and even some places like Sudan, which sounded scary from news reports, offered a sensational experience thanks to finding the right dive operator.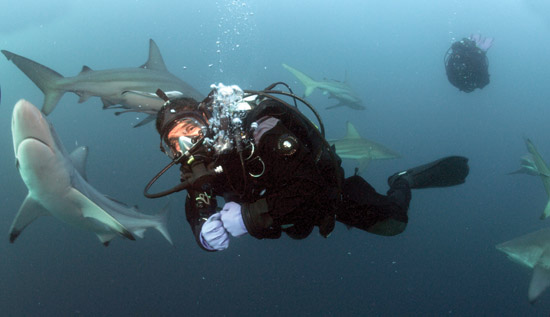 So what's next? Are ocean documentaries appealing and affordable in the eyes of the television decision makers?
With the first season wrapped after about 18 months of production, the team needed a break.  There are still many great dives out there that we want to make and share with viewers and we're ready to get back in the water. By travel television standards, Descending can be a costly program to make, so this kind of series needs a home that's excited to present something stunning to watch, that's not easily replicated, and that delivers a message of importance to everyone on the planet.
Divers know how fascinating and exciting the underwater world really is so our challenge is always to present a story through visuals and dialogue that the non-diving viewer can relate to, and we believe that Descending achieved this goal. Filmmakers today, with help from eye-popping advances in imaging technology, can show off seascapes of wrecks and reefs and animals in dazzling hi-def resolution and clarity unlike anthing before. This becomes much more than entertainment. It's crucial information that helps viewers link our survival with the water world. If we can help advance this understanding in a fun way, then we're succeeding. And we think Descending does just that, and going forward we hope to capture an even broader audience.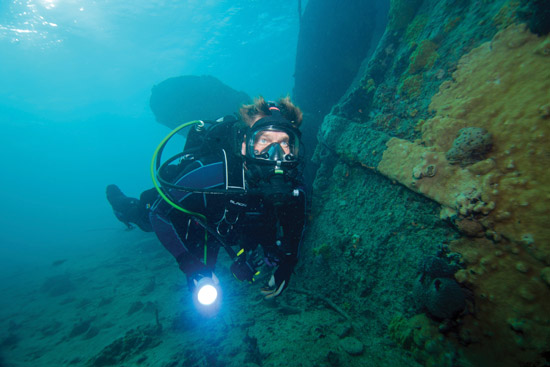 Now that you've dived much of the world, what observations can you make about the diving industry?
I think it differs depending on where you are in the world. Here in North America, it seems like a lot of people get certified so they can dive on a tropical vacation and perhaps not nearly so many experience the wonders of their local cold water dive sites. That usually means long periods in between dives when gear gets old, skills get rusty and, before you know it, diving becomes something you 'used to do'. And in general, diving remains untried by most people. I think sometimes active divers may intimidate those who don't dive and this can stop them from taking the plunge.
Our show certainly made a conscious effort to include everyone, focusing on examples of two newly certified divers growing and learning about the underwater world with each new dive. We wanted to show that this is not a sport reserved only for the risk-taking personality. We wanted viewers to understand that if you have the passion you can go after it. We wanted to give people a sense of what it's like to dive in warm and cold waters, in the oceans and fresh water, and to encounter shipwrecks and whales and octopus and all the other surprises that are hidden beneath the surface.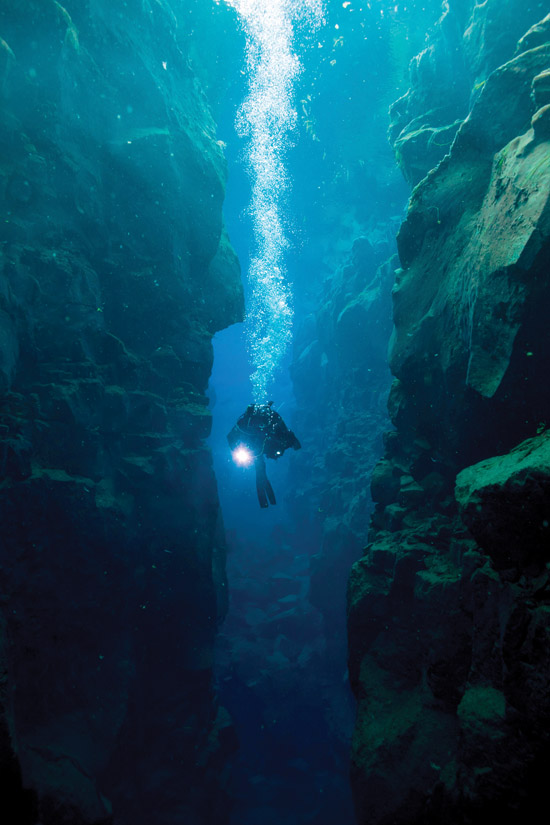 Do you think that will make SCUBA diving cool to new generations?
A lot of modern TV and video relies on short, shocking video clips that work to occupy the ever-shortening attention span of the viewing audience. I think that presenting exotic places and environments in a way that they are approachable, will hold the attention longer and inspire at the same time.
It seems so much reality TV success is about watching people whose lives are harder or worse than our own. But how about watching people doing amazing things, and at the end being inspired to get out there and do the same.  We've had a number of viewers watch Descending and write to us to say they are divers or have taken up diving. The more people we can get in the water for fun and to appreciate the environment's importance, the better it will be all round.
The Descending DVD and Blu-ray are now available for sale at www.departuresstore.com
TO WIN A DVD OR BLU-RAU DESCENDING BOX SET – CLICK HERE!!!
3 Responses to "EXCLUSIVE INTERVIEW: Descending TV Show Duo"