Interviews
DIVER Interview: Melodie M. Trevino
October 11, 2021 By DIVER Editorial
Technical & Cave Diver, Speaker, Entrepreneur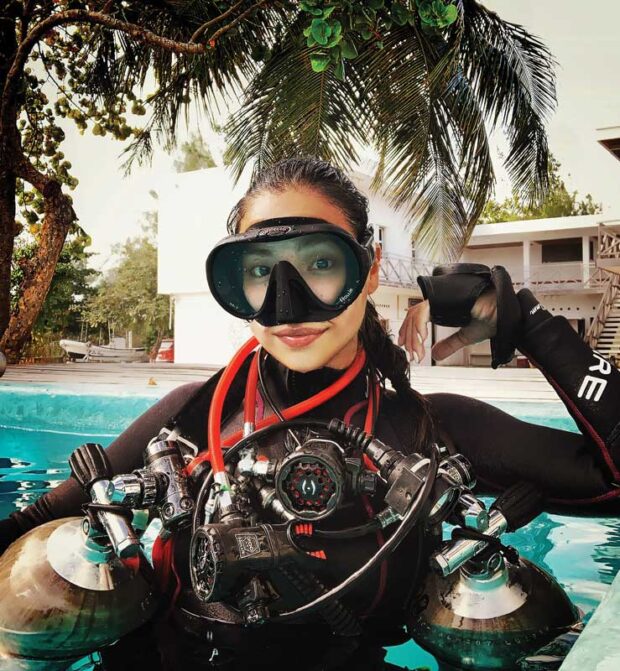 How long have you been diving? 
My first scuba experience was as a teenager. Although I have always been on the water, it wasn't until my early twenties that I started my journey in the underwater world. 
You were an Olympic diver, right? 
I was part of the Mexican National Team, first as a gymnast when I was very young and then as a diver. Olympic Diving is when athletes use a 3 or 10 metre diving boards to generate bounce so that they can perform acrobatic maneuvers in the air. I used to train for 9 hours a day, and lived at the Olympic Mexican Committee´s facility as an intern. I basically grew up there from childhood to my teen years and had the opportunity to represent Mexico in countless international competitions, and lived the life as a high performance athlete, definitely a school life hard to forget!
What made you want to become a diver? 
I remember the day I was diving in that beautiful pristine reef in Xcalak, Mexico. I was at the edge of a drop off and just spent a couple of minutes floating there looking and wondering –what's there? That moment I knew this was meant for me.
Most memorable marine life encounter? 
This is a tricky question because I can be amazed by a little rainbow blenny, and I can fall in love with the elegance and beauty of a great white shark, like the ones in Isla Guadalupe, Mexico. Most recently I had an amazing encounter with the American crocodiles that inhabit the atoll at Banco Chinchorro Biosphere Reserve, which is believed to have the largest congregation of their kind in the world. 
How did diving change your life? 
Scuba diving gave me a whole new perspective of life, one I want to treasure and continuously feed with experiences and nurture by spreading the word on conservation. Like the butterfly effect, I'm a believer that you only need one experience to change your mind and to start caring about the ocean.  
What does diving mean to you? 
Diving is my life, it has opened my eyes to what really matters: our big blue world. It gave me the chance to apply some dive rules in my day-to-day life, like self awareness and situational awareness. It keeps my mind and body challenged, it keeps me close to nature, and gives me the keys to discover countless dive spots around the world. 
And now you're a PADI AmbassaDiver? 
Yes, I was invited and elected as a PADI AmbassaDiver this year, it is an honour to be part of such an amazing organization, with over 27 million divers around the world. For me that means 27 million conscious and passionate people putting an effort into conservation and spreading the word on preservation. PADI AmbassaDivers are committed to elevating diving in their communities and across the planet, so it is an amazing opportunity to have support from PADI. 
Social media is clearly important to you… 
I found in social media the opportunity to be vocal about diving and help my followers create their own new perspectives on caring and preservation, both as a divers and human beings. 
You run several ecotourism businesses? 
Yes, XTC Dive Center in Xcalak Marine Park, Yucatan Dive Trek, and Maya Blue Dive Center that is focused in cenote diving and cave diving. Before I moved to the Riviera Maya and worked my way into the scuba world, I used to work in very strict corporate jobs. I invested a lot in education and worked many hours a day for many years. I thought that was life, but at some point it started to feel empty. It wasn't until I met this new world that I truly found purpose. I put what I learnt at business school into a more conscious approach into sustainable ecotourism operations. 
How does modelling it fit it in to your life? 
I honestly don't consider myself a model, although sometimes I do participate in some cool projects. In general, I find it satisfying to be part of any form of art and human self expression. 
Favourite dive snack? 
Depends on the hour! Zucchini fries and/or guacamole and chips! 
What draws you to tech and cave diving? 
I'm the type of person that likes to push limits; tech diving and cave diving keep my mind and my body challenged. The idea of exploring places no one has ever been before, while exploring my inner self is pretty unique. With XTC Dive Center we are planning some really cool deep sea dives towards the end of the year, and also around the same time a cave exploration project with some amazing personalities, so make sure you follow me on social media!
Who is your go-to dive buddy? 
Javier Salas! He is a Technical Trimix Instructor Trainer, PADI Course Director, technical cave explorer and CCR diver, and also my business partner. We've had so many amazing adventures and many more to come. 
What is your favourite dive site? 
For technical diving, I really like Xcalak Mexico, some very deep walls with pristine reefs are just five minutes from the pier and blending station. La Poza is also quite unique. Imagine a big bowl of friendly giant tarpons—truly, a spectacle from heaven. For cave diving here in the Riviera Maya, I would say Minotauro, and Nohoch Nah Chich or Naharon Cave. All of them are so different but so impressive at the same time. 
Where would you like to dive but haven't? 
Antarctica & Patagonia! 
The craziest thing you've seen underwater? 
The formations at the caves, like Heaven's Gate at Nohoc Nah Chic system, the biggest lion fish I've ever seen in my life at 370 feet (112m), a manatee playing with a dive buddy and a surface marker buoy for a couple of minutes, a 12-foot-long (4m) American crocodile…just to mention a few. They were all crazy for sure! 
What's next for you?
More diving and keeping my skills sharp. Also some exploration projects and deep sea dives here in Mexico. I will have to wait a while to make plans for travel, but I can't wait to plan some ice diving! I'm definitely looking forward to the reactivation of tourism after the pandemic.
Advice for divers?
Find someone that inspires you and use them as a guide. Practice, practice, practice! Also, spread the word on what you have seen in the underwater world, you never know who else will fall in love with your passion and stories, and then enrol in their own amazing journey!