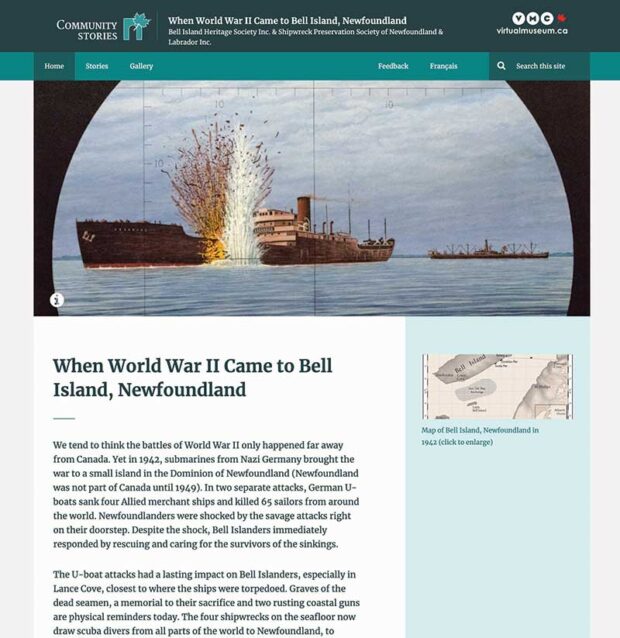 The Shipwreck Preservation Society of Newfoundland and Labrador wanted to make the Bell Island wartime story more available to people by producing an online museum exhibit. The Shipwreck Society partnered with the Bell Island Heritage Society and worked for two years gathering archival documents and photographs from Canada, the United Kingdom, France, and Germany. 
Folklorists interviewed Bell Islanders to collect family stories of the rescue and care of the surviving sailors from the torpedoed ships. Researchers found documents that showed the number of sailors killed in the attacks was actually 65. Those sailors came from Newfoundland, Canada, England, France, and French colonies in Africa and Asia.
Underwater archaeologists with the Shipwreck Society generated 3D multibeam sonar imagery of the four shipwrecks, while underwater filmmakers Jill Heinerth and Seaproof.tv generously shared their video 'Exploring Bell Island' and underwater photographs of divers exploring the four shipwrecks. 
Memorial ceremonies to the lost seamen, artifacts from the shipwrecks, and commemorative artwork of the sinkings were photographed for the exhibit. The exhibit closes with the names of the Merchant Navy sailors and Royal Navy gunners lost in the sinkings. 
Neil Burgess of the Shipwreck Preservation Society says, "These horrendous U-boat attacks happened on the doorstep of Bell Island and Newfoundland. The brave response of Bell Island residents saved the lives of dozens of sailors, who were floundering in the cold North Atlantic after their ships were torpedoed and sunk. This story is an important part of our wartime heritage and deserves to be more widely known by Newfoundlanders and Canadians."
The virutal museum is available in both English and French: www.virtualmuseum.ca/bell-island-second-world-war