This Issue
Fall 2019
October 15, 2019 By DIVER Editorial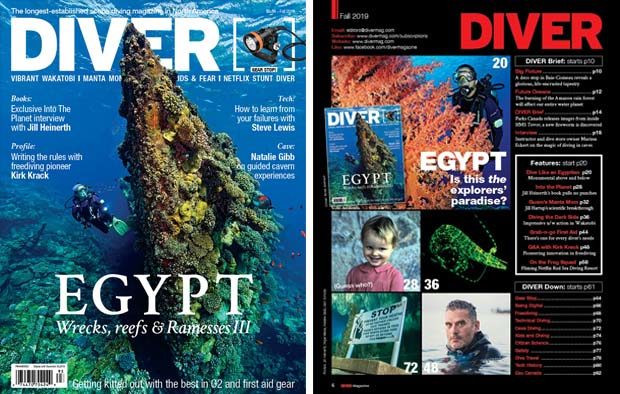 Features this issue:
Monumental Egypt

 – 

Scott Johnson dives the Red Sea and sails the Nile
Into the Planet – 

 

An exclusive interview with Jill Heinerth about her new book
Manta Mom! – 

 

One diver's lifelong passion and scientific breakthrough
Diving the Dark Side – 

 

A new side to the incredible Wakatobi resort
O2 and First Aid Kits – DAN breakdown the gear we should all own
Q&A with Kirk Krack – 

 The pioneer freediver and innovator you need to know about 

Netflix and dive

 

– 

 

Filing Netflix Red Sea Diving Resort
Columns this issue:
Interview with cave diver Marissa Eckert
Being Digital with Michel Gilbert & Danielle Alary
Freediving with Kirk Krack
Technical Diving with Steve Lewis
Cave Diving with Natalie Gibb
Citizen Science with Heather Creech
Kids and Diving with Margo Peyton
Safety by Divers Alert Network
Dive Travel by Fly & Sea
Tech Diving History with Michael Menduno
Future Oceans with Jean-Michel Cousteau
Eau Canada
Dive News
Dive Facts with The Diving Almanac
You can read the issue online right now!
Or you can subscribe and get it delivered to your door!