This Issue
Fall 2018
October 31, 2018 By DIVER Editorial
Winter 2018. For some, winter is a divers best friend – fantastic winter visibility, vacations to warmer waters, and of course shiny toys from Santa.  It is also the time for another great issue of your favourite quarterly magazine. This issue we have an EXCLUSIVE 10 page interview with Erik Brown – one member of the team that helped rescue 13 Thai boys from a flooded cave last year. A unique insight into a unique situation.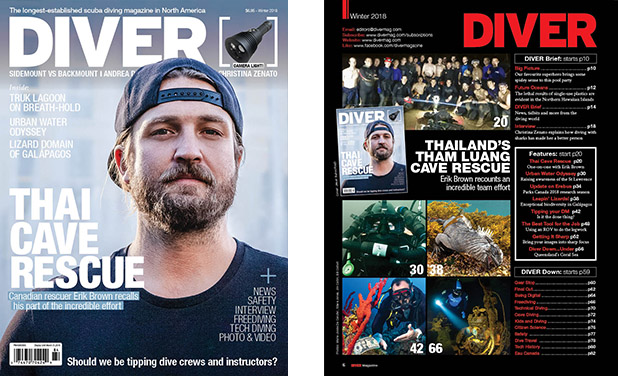 Features this issue:
Thai Cave Rescue – One-on-one with Erik Brown
Urban Water Odyssey  – Raising awareness of the St Lawrence
Update on Erebus – Parks Canada 2018 research season
Leapin' Lizards  – Exceptional biodiversity in Galápagos
Tipping your DM – Is it the done thing?
The Best Tool for the Job – Using an ROV to do the legwork
Getting It Sharp – Bring your images into sharp focus
Diver Down…Under –  Queensland's Coral Sea
Columns this issue:
Interview – with Cristina Zenato
Being Digital
Final Cut with Jill Heinerth
Freediving
Technical Diving
Cave Diving
Citizen Science
Kids and Diving
Safety by Divers Alert Network
Dive Travel
Tech Diving History
Future Oceans with Jean-Michel Cousteau
Eau Canada
Dive News
Dive Facts with The Diving Almanac
You can read the issue online right now!
Or you can subscribe and get it delivered to your door!