Text by Russell Clark
Panasonic and Aquatica bring professional underwater video tools to the masses with the GH5, GH5S and AGH5 housing. Get ready to be more creative!
Every few years a camera comes along that helps to evolve photography and video. The GoPro, the Sony RX100, the Canon 5DMKII, and now the Panasonic GH5 and GH5S. 
Panasonic's Lumix GH series begain in 2009, with each model receiving more praise than the last, especially from filmmakers. In 2012 Director Francis Ford Coppola (The Godfather) rated the GH2 above the RED Epic, and Arri Alexa cinema cameras in a blind test. The GH4, released in 2014, further propelled the manufacturer to the top of the class, establishing itself as the
camera for filmmakers on a budget.  
Panasonic seems to have done something other manufacturers have struggled with: listening. They started implementing changes to help evolve their products in alignment with the wishes of their users. It paid off with the release of the GH5 in March 2017.
So why the wait with this article? It took a little while for manufacturers to produce housings; not all of them get advanced models to work from (see next article). Secondly, an important firmware update in late 2017 made big improvements to the GH5, unlocking improved video quality and autofocus features. Finally, a couple of weeks ago Panasonic released the GH5S – the slightly bigger sister. In all, there's never been a better time to talk about the GH5, and GH5S.
Video over stills
The GH5 is largely thought of as a video camera first and foremost. It is a Micro Four Thirds camera, and very capable of taking fantastic still images, but at its heart, it was made for filmmakers. The GH5S took it one step further, scaling back the stills specifications further and increasing the specs and usability for video purposes, further focusing it to a filmmaking crowd. 
Amongst the long list of features underwater videographers are most excited about: 4K video at 60fps, 1080p video at 180 fps, and Internal 10 bit 4K 4:2:2 recording 24/30 fps at 400mbps. If you're as geeky about this stuff as I am, that's some pretty exciting numbers. In fact, aside from the GH5 and GH5S, the next kind of camera to offer similar options will cost upwards of $8000. Bang for buck, this may be the best video camera on the market before you have to sell the house and buy a RED.
That all amounts to impressive stuff. But how does it translate in the underwater realm? If you can record video at a higher quality, you can colour correct more effectively when it comes to editing, you can crop in to your video, and you can slow things down.
Imagine this: you're underwater filming a nice reef, you're using a fairly wide angle lens, but spot a nice moray eel poking his head out, you film it in 4K at 60fps, but accidently too dark. When you come to edit your master piece, you can work on a 1080 sequence, giving you the option to zoom in up to 200% – that moray can now be framed better, not only that, you can slow it down 50%, which will help smooth out any shakiness, and with extra colour depth, you can lighten your image and push the colour more, with less quality loss. The specs that look great on paper, now have a real important part to play in underwater video, and become an effective storytelling tool.
GH5 vs GH5S
The 'S' doesn't have an official meaning, but it's widely believed to mean "sensitive", with its main selling point being much improved low light performance over the GH5, sporting dual native ISO at 400 and 2500. There are some other perks too, 1080 video at a very cool 240fps, V-Log installed as standard, multi aspect ratios, and a few more options when shooting Cinema 4K. 
The GH5S is not a replacement for the GH5. It's just different. It's a little more focussed for filmmaking. It has a different sensor than the GH5 with fewer pixels, but they're effectively larger, making it much more sensitive to light – appealing to underwater photographers working in darker waters.  
The different sensor means that the GH5S looses its IBIS, or In Body Image Stabilization. This is where you really need to weigh up your options before buying. For some, IBIS is more valuable than low light performance, for others, its the opposite. In my opinion IBIS, as amazing as it is, comes second to being able to shoot your images or video with more clarity. 
Both cameras have similarities such as dual SD cards. You can either record seemliness from one to the other, or you can record a carbon copy, and as any good diver knows, redundancy is key! 
Panasonic also has a pretty good mobile app. You can use it to not only wireless access photos and video you shot through Wi-Fi (no need to take the camera out of the housing for a quick social media update), but you can also control your camera from the app.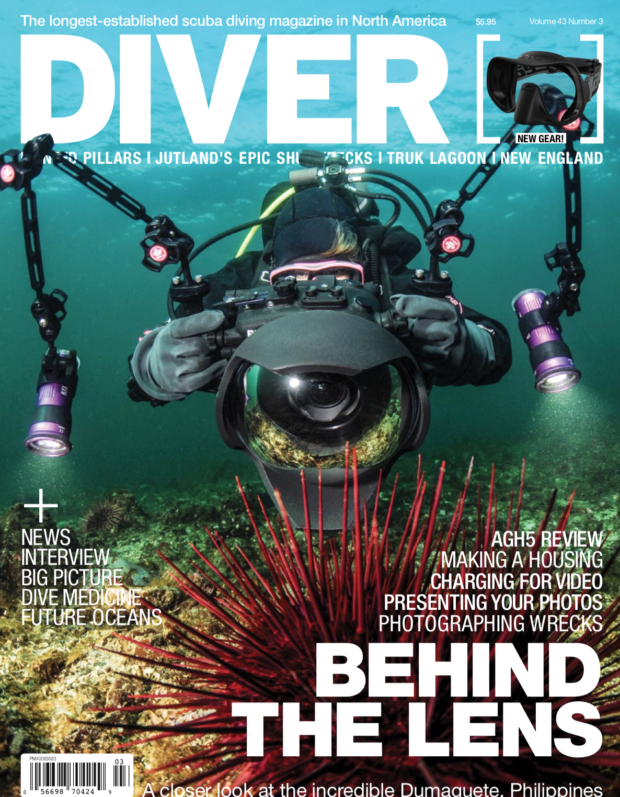 Both cameras will shoot and internally render time-lapse videos, a fun tool to play around with underwater. Both cameras also benefit form Panasonic's excellent and intuitive menu system, something they have received much praise for. 
The best part of either camera, though, is their ability to be customized. You can designate up to 20 function buttons! You can create up to five custom dial settings, a custom menu, custom white balance, picture styles, audio options… and save all of these as a custom profile. Having additional profiles on the same camera means you can switch between specific settings for underwater or topside, macro or wide, you and your spouse!
Each camera is weather sealed, more good news for those of us who bounce around on boats getting splashed by salt water or operating in very cold temperatures. It's a workhorse that can stand up to the rigours of expedition diving. 
Both cameras offer not only histograms and exposure meters, but also zebra patterns, waveforms, and vector scopes – powerful pro videos tools that are usually reserved for much, much more expensive cameras. All helping you craft that perfect shot.
The GH5
Each camera individually has some features the other doesn't. The GH5 has IBIS, where the sensor inside the body of the camera physically moves along 5-axis. It helps to remove camera shake and smooth out footage. Paired with a Panasonic lens that also has its own in built stabilization, you end up with an incredible dual image stabilization system. Dual IBIS will become a macro shooters best buddy.   
The GH5S
The GH5S lacks IBIS, but instead has dual native ISO. Every camera has an optimum ISO, a setting that produces the least amount of noise and image degradation. For a lot of cameras this is around 200 or 400 ISO. The more you go outside of that, the more noise that gets introduced to the image. The GH5S has two native, or optimum ISO's, 400 and 2500. This results in much cleaner images, even at a high ISO. In fact, in most online tests and comparisons the GH5S has out perform even the Sony A7SII up to ISO 12800. Previously un-heard of.  
Another differentiating factor of the GH5S is that it shoots multiple aspect ratios. Because the sensor is slightly bigger than the area covered by the lens, it is possible to change the aspect ratio (4:3, 16:9 etc.) while maintaining the same diagonal angle of view. A great feature those shooting to very specific requirements.
The GH5S also comes with V-Log installed (available for the GH5 at an additional cost). V-Log is a flat colour profile specifically made for capturing a wider dynamic range intended for post production colour correction.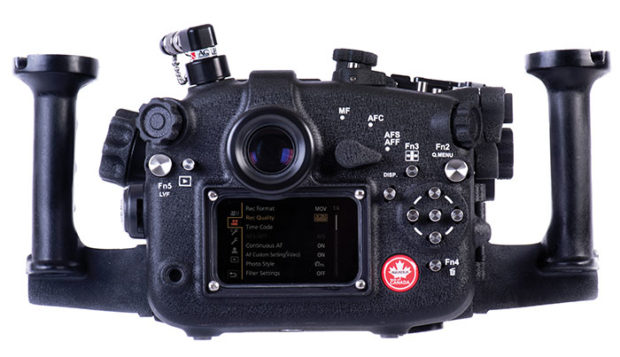 The housing
Despite being two slightly different models, both the GH5 and GH5S work in the same housing, the AGH5 by Aquatica Digital. 
Keeping the mechanics compact and ergonomic is no small feat for a micro four thirds camera, but the AGH5 housing is extremely usable underwater. The white balance and ISO levers bring ease of use right to your thumb, along with back button focus, main function buttons, and record. Whether you're in the tropics, sans gloves, or wearing thick dry gloves in the Arctic, the controls are very easy to use. 
The AGH5 housing also has a hinged back and a rotary locking switch, both welcome additions that make it even easier to use. The low profile of the housing means that you can fit the whole shebang (camera, housing, and ports) into your carry on luggage. Now that's something to soak in – a 4K broadcast quality underwater system that fits in your carry on. This is why we thought it was worthy of its own feature in DIVER. 
The hand grips are are always excellent on Aquatica housings, somehow just the right distance away no matter what exposure protection you're wearing on your pinkies. 
There's a total of three spare entry points up for grabs on the housing. We'd highly recommend a vacuum monitoring system, and the forthcoming Aquatica monitor (we'll let you know on our Gear Stop page when that happens.)  
At 5.4lbs/2.45kg (minus camera) the housing is remarkably light weight. It is also depth rated to 300 feet (90m) as standard, but if you want to go deeper, a 430 feet (130m) upgrade is available at no extra cost. 
One thing I love about the AGH5 is that it's field serviceable. If something gets damaged during travel, or even worse, you flood it, all the mechanical components can be adjusted and serviced by you.
Aquatica also offers a wide range of ports and zoom gears, so if you shoot macro or wide, they have
you covered. 
Best of all, this thing is built to last. I've had an Aquatica 5DMKII housing for ten years, and it operates as well as it did the day I bought it. Tough as nails. 
Stills
The GH5 and GH5S are a filmmakers dream, but they also shoot stills. The GH5 has a 20.3MP sensor, and a very handy 6K photo mode that can be especially useful. Switch into 6K photo mode and you can record up to 30 frames per second, after the shot, chose a frame to export at a 18MP resolution. A great way to capture any fast moment, such as the strike of anemone eating nudibranch. RAW images can also be processed in camera, and using the Wi-Fi enabled smart phone app, be shared with the world before the dive boat is back in the dock.
The GH5S probably isn't the best choice for stills. The sensor is smaller at 10.28 mega pixels, so the resolution for stills won't be good enough for a lot of professional shooters. However, the GH5S can shoot 14bit RAW still images, so it is more than capable of great photos, as a secondary function. 
Optical strobe firing via flash trigger is included with the housing; choose from an OPT, Nikonos, or Ikelite style bulkhead as standard options. We'd also recommend one of Aquatica's viewfinders, both GH5 and GH5S have a 3.6 million pixel viewfinder that produces a fantastic image with live view options. 
Practicality
The GH5 and GH5S have no known history of overheating, a common issue with some Sony cameras. The battery life is also pretty good, and above a lot of its competitors. One Panasonic GH5 and GH5S battery will last approx 2 one-hour dives, in cold water, LCD back screen on, and being used for video almost constantly. 
Having dual memory cards is also handy. Recording 4K at 60fps takes up a lot of room, so being able to record seamlessly from card 1 to card 2 is a great feature for those who can't just slip in a new card. 
Depending on the lens you shoot with, you may have to remove the port, extension rings, and lens before being able to change batteries, as with the Olympus 7-14mm lens. Check with Aquatica before purchasing your lens. The Olympus is a great piece of glass, but given the extra ISO capabilities of the GH5S, you may want to go with the Panasonic wide angle zoom lens, and have the option of being able to change batteries and cards easier.
The GH5 has an interesting feature called Ex Tele. It basically acts like a zoom by using a cropped part of the sensor. In 4K mode you can turn on Ex Tele and achieve a 1.4x crop, but switching to 1080 resolution and selecting the Ex Tele function, you achieve a substantial crop of 2.7x. This can efficiently turn a 7mm micro four thirds lens, into a 19mm lens. It won't replace a lens with a longer focal length, but if you're on a dive capturing sharks with a wide angle lens, and your buddy spots a mantis shrimp, you can at least switch to 1080, enable Ex Tele and swim away with something half decent and a little closer. The downside is that using a crop of the sensor can result in more noise. 
VFR (Variable Frame Rate) records at higher frame rates, then renders it in camera at 24 or 30fps – slow motion. The GH5 can shoot up to 180 frames per second, whilst he GH5S can go up to a whopping 240fps. There is a trade off here though. Firstly, you can only shoot this fast in 1080, which means a small deterioration in quality. Secondly, the higher the frame rate, the higher the shutter, so 240fps will result in a shutter speed of 480/second. Therefore this kind of high speed video is only going to work in certain, well-lit circumstances. There's always room for flexibility of course, you could reduce that shutter and accept a less smooth motion, or you can up the ISO and accept noise. If you can strike a fine balance you can end up with some staggeringly nice video. There's nothing like seeing a stellar sea lion swim eight times slower than real time – you see individual muscles move, a powerful story telling tool.
Auto white balance is pretty sophisticated, and, for many people's needs, will suffice. However, for those needing to white balance manually there are a couple of options. If one of the presets doesn't fit your needs you can easily set a manual white balance using a slate or grey card, storing up to four custom white balance settings. You can also set up to four custom Kelvin values. This is incredibly useful underwater – the photographer can set up one for 15 feet depth, one for 30, 60, 100, for example. Between the eight custom settings and the presets, all easily accessible, white balance is effortless. 
Low light performance
The GH5 came under a bit of attack upon release as the low light capabilities were still a little underwhelming. This is largely due to the sensor size – the smaller the sensor the less light it takes in. Panasonic fixed the issue with the GH5S, almost doubling the low light performance over the GH5. But what does this mean underwater though? 
We tested the low light performance on a deep wall in British Columbia. At 100 feet (30m)on a fairly sunny day there is ample ambient light, but not enough to capture nice video. We put both cameras through their paces, filming a diver on the wall at different ISO's, later analyzing them at 100% to compare noise. 
We found the GH5S records really good video up to an ISO of 2500, whereas the GH5 starts to deteriorate around ISO 1250 or 1600. Not as big a difference as I would have expected, but the GH5S does hold it together a lot better once you start go north of that 2500. In the right scenario you could shoot at an ISO of 10,000 on the GH5S, and with some noise cancelling software, get some impressive results, the same could not be said for the GH5. 
Shooting this deep with ambient light is an unlikely scenario, and if you're in the tropics you'll likely have more ambient light to play with and can work at a lower ISO. 
Neat Video is also a worthy addition to one's post production arsenal. A $75 plug in for Premiere, Final Cut and After Effects, it can work wonders in reducing noise.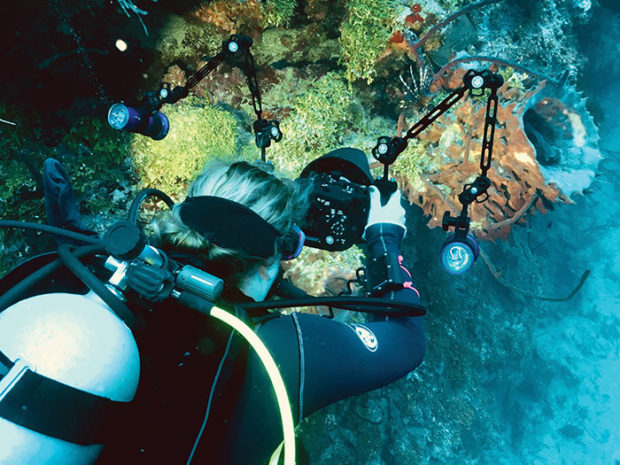 Which should I buy?
This really depends on your uses. If you're going to be shooting at depth, in dark water with ambient light and little video lights, than the GH5S will likely be better suited. If you're into macro shooting, than the GH5 with IBIS would be for you. If you're looking for the better all-rounder I would recommend the GH5. The extra expense of the GH5S and differences in specs really make it better suited to someone looking at the higher end of pro video. For most people the GH5 paired with an Aquatica housing is the perfect set up. 
The GH5 and GH5S is one of the most seminal camera releases in recent years, it packs high end specifications into a small camera, at an affordable cost. Most importantly, it brings professional video quality into the hands of consumers, possibly for the first time ever. A broadcast quality camera that's affordable, compact and easy to use? These are things I dreamed of just two years ago. Turn the page to see how they're made… 
Aquatica AGH5
 

$1799 USD

 

Low profile housing

 

Mechanical controls

 

Built-in leak sensor

 

The most comfortable hand grips in the industry

 

Choice of flash connectors

 

Low-profile housing

 

Large selection of ports and extension rings

 

Three accessory bulkheads

 

Depth rating options of 300' (90m)
and 430' (130m) upon ordering

 

Eight 1/4"-20 threaded holes
for accessories

 

Weigh 5.4lbs (2.45kg)
For more information visit: www.aquatica.ca
DIVER MAGAZINE. NORTH AMERICA'S LONGEST ESTABLISHED DIVE MAGAZINE. SUBSCRIBE TODAY.