Travel
Hotels on the ocean
June 21, 2021 By DIVER Editorial
By Fly & Sea 
Choosing your next trip is no small task, here are some reasons why liveaboards are a popular option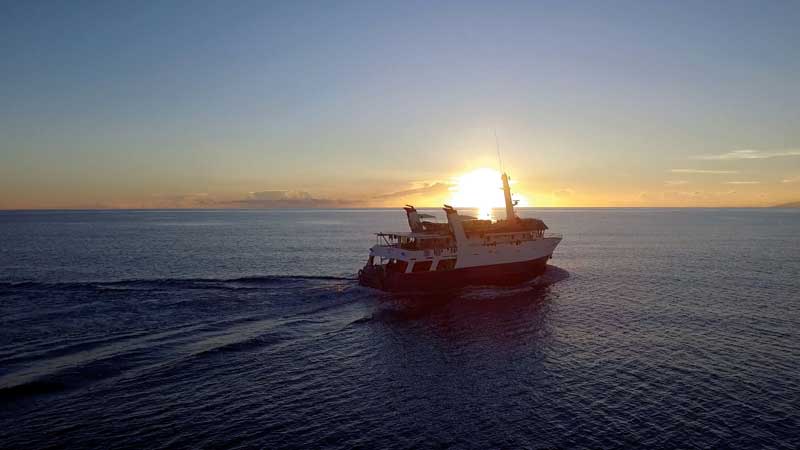 Some vacationing divers are happy to squeeze in a couple of 2-tank dives on their trip, while others are all about scuba diving and they want to be underwater at every possible opportunity. If you are in the latter group, you are generally faced with two options: book a shore-based dive trip that involves transport connections, multiple different lodgings, and moving dive gear to and fro; or jump on a liveaboard boat, settle into your "hotel on the ocean", and let an experienced dive crew take care of the rest. This is what liveaboard dive vacations are all about.
Liveaboards are all about completely immersing yourself in the ocean and its marine life, accessing the most incredible dive sites the destination has to offer, and spending your dive vacation with others who share your love of diving.
If you're still weighing up the pros and cons of a liveaboard dive vacation for your next scuba diving trip, here are some benefits of taking the plunge.
Holiday with like-minded people
One of the best aspects of liveaboard diving is spending your holiday with like-minded divers who are just as passionate about the underwater world as you are. This is particularly advantageous for single divers, as you will always have a dive buddy to share accommodation if you want to avoid paying a single supplement. Chances are there will be people who have dived places you have yet to see, offering endless inspiration for future dive trips, and there is a shared camaraderie in diving together every day that will see you make new and enduring friendships.
Unpack just once
Rather than packing and unpacking every couple of days as you move between onshore dive locations, on a liveaboard you only have to do it once. You get to enjoy settling into your scuba diving vacation and your ocean dwelling home. This is particularly advantageous to divers traveling with their own gear, as transporting wet equipment from one base to the next is far from fun.
All your dive gear is ready to go
On a liveaboard there's no traipsing back and forth with all your gear in tow between a dive shop and your day boat. It's all there, ready to go, with boats customized for easy donning of tanks and crew there to assist you all the way. In addition to having their own compressors and servicing equipment, many liveaboards provide nitrox for those who want to stay deeper for longer.
Enjoy more dives per day
One of the main reasons enthusiastic divers choose a liveaboard for their scuba diving vacation is because they offer more dives per day than your average land-based operator. Most liveaboards will include up to four or five dives per day, including a night dive each evening, and the amount you want to do is really up to you and your individual dive profile. Considering the per dive costs involved with shore-based dive operations, a liveaboard often works out to be the more economical choice when you consider the quantity of dives it offers.
Intervals with creature comforts
Rather than sitting on a cramped boat during your surface intervals, trying to stay warm or wishing you could get a chilled drink, on a dive liveaboard you return to base where all your creature comforts await. Relax in a sun lounger with a book, take a warm shower, or check your photos on a lap top straight away. Some luxury liveaboards are also equipped with hot tubs, which will transform your surface intervals into indulgent breaks.
Explore more remote dive sites
One of the biggest advantages of liveaboards is being able to access remote dive sites that just aren't possible during shore-based operations. While liveaboards will get you to all the most popular locations (probably in the early morning before the land-based divers descend), they will also take you where the day boats can't reach and dive sites where you will be the only ones in the water. The reefs here are usually wildly pristine and the marine life encounters second to none.
Fall asleep to the sound of waves
There are few things that are more conducive to sleep than listening to the waves gently lapping around you, and on a dive liveaboard that is exactly how you'll be lulled to sleep every single night of your scuba diving vacation.
While there are advantages of a shore-based dive trip, particularly for those who want to do activities other than just scuba diving on their vacation, the sheer diversity of dive sites available on a liveaboard, together with the number of daily dives on offer and the immersive dive atmosphere, makes it hard to beat for those who just can't get enough of being below the surface. 
For more visit: www.flyandsea.com