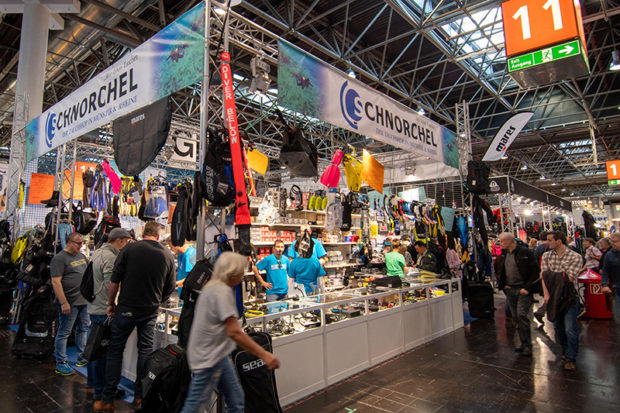 By Roger Lacasse
The Düsseldorf international boat show held its 51st edition in January. Simply known as the "boot" (German for, and pronounced like, boat), this nine-day event is the world's largest boat and watersports trade fair. With 2,000 exhibitors spread over 17 halls, it attracted 250 000 visitors from more than 100 countries.
Scuba diving has been a significant part of the show for 40 years. While some may think that the diving industry is going through difficult times, this was definitely not obvious at the boot. Due to increased demand, the dedicated exhibit space was doubled this year. This additional capacity allowed over 400 dive equipment, travel exhibitors and other diving service providers to be visited by 65 000 scuba enthusiasts making it the world's largest public diving show.
For the 2020 edition, the "Dive Center" halls were fitted with four stages and four pools. Continuous presentations on the main stage covered all forms of recreational, technical, and rebreather diving as well as freediving and even "mermaiding". They featured interviews of internationally renowned celebrities such as Anna von Boetticher, German freediver and holder of 34 records; Fred Buyle, adventurer and committed ocean activist; Guillaume Néry, freediver and filmmaker; and conservationist Pierre-Yves Cousteau.
There are many reasons to visit the boot show. With so many manufacturers under one roof, it is the perfect venue for comparing options and doing some "try before you buy". For bargain hunters, there is the very popular "dive bazar" where several large European dive shops compete for the visitors' attention. All types of diving equipment is on display: accessories, clothing, even scuba tanks and filling station hardware. One could spend a full day shopping for T-shirts and digging through the stands for hard to find parts.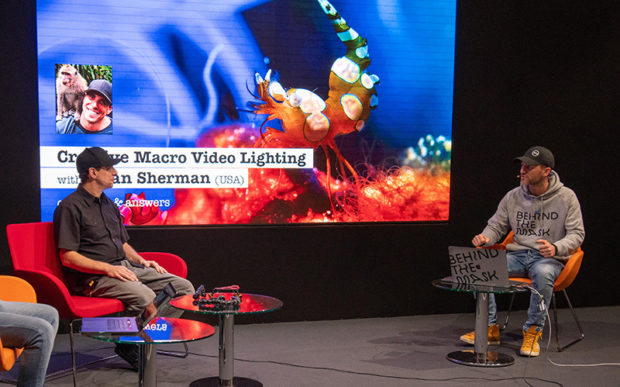 Large fairs are also ideal for spotting emerging trends and sidemount diving is obviously in fashion.  Technical diving equipment suppliers and training agencies rivaled with offerings tailored to that market. Rebreather manufactures were also very much present and several doubled-up to offer versions of their rebreathers configured for sidemount diving.
Diver Propulsion Vehicles (DPV's) are becoming smaller with surprisingly powerful miniature models being offered. When thinking "miniature DPV", visualize Subgravity's aquaProp which has been around for five years and has evolved from its heavier predecessors. Scubajet presented a much more drastic departure from the standard DPV configuration with its Pro Dive model. Instead of an exposed propeller it uses an impeller to produce a water jet. As demonstrated in the boot Diving Tower, it can pull a single-tank diver at a decent speed but is probably better suited to freedivers. At more than 2 000 €, the Scubajet Pro Dive is not cheap, but it definitely packs the highest fun to weight ratio of all DPV's.
Underwater photography and cinematography exhibitors were found in the Water Pixel World section of the Diving Center halls. Walking through the aisles and browsing the stands of numerous DSLR and mirrorless camera housing manufacturers, we find all kinds of options for those who want to bring their smart phones and computer tablets under water. They range from simple waterproof vacuum-sealed plastic envelopes to eavy-duty aluminum housings from established manufacturers. One of the most impressive was the Easydive Divepad Universal iOS and Android tablet Housing. But, at a price tag of 1 200 € for an iPad housing, its actual market might be limited.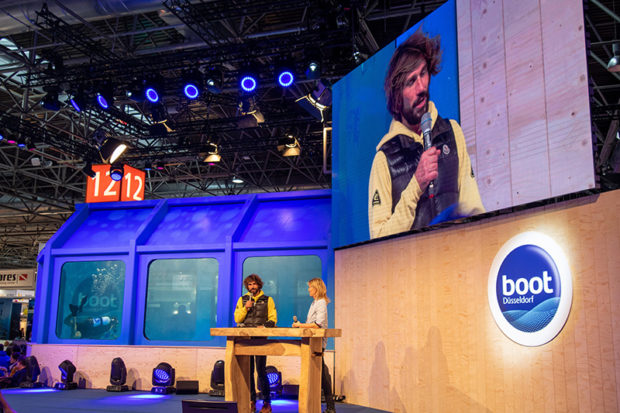 For those who could not attend the show in person, you could get a taste of the atmosphere by following the five daily webcasts hosted by "Behind the Mask" Florian Fischer. The live feeds featured interviews of world-renowned photographers, cinematographers and housing manufacturers. Alex Mustard generously answered questions on wide angle photography with the help of his stunning pictures. Laurent Ballesta presented the short documentary "700 sharks into the night" with incredible images and truly innovative underwater bullet-time shots of shark pack hunting. Julie Gautier discussed poetic cinematography. Greg Lecoeur premiered "Sardine Run" a short film with big creatures and lots of fast action. Tim Ho covered the four key elements that competition-winning pictures must include. In his final broadcast, Florian held a very informative session on how to fly a drone while on a dive trip. Thankfully, these interviews, and more, are still available on the "Behind the Mask" Facebook page and YouTube channel. They are definitely worth your time.
If you plan to visit, expect to spend a full day in the Diving Center halls especially if you want to stop at every kiosk or intend to plan your next diving vacation. Add days to your stay if you plan to venture into the other watersports and boating halls. Attendance is much lower during weekdays which allows more time to discuss with exhibitors and make business contacts. Even if most of the visitors are from Germany, you will have no problem getting around in English. Arrive early or use public transport, as traffic is especially heavy around the site during weekends.
The boot show keeps setting the standard for what dive shows should be like. During this single event, you will find all major manufacturers and dive agencies; travel information for all destinations; with lots of captivating presentations and wonderful images, all in one location. If you happen to be in Europe at the right time next year, it is definitely worth adding a stop to your itinerary.
Learn more about The Boot Show here.