Interviews
Interview: Marissa Eckert 
June 4, 2021 By DIVER Editorial
Technical, CCR, Cave Instructor / Store Owner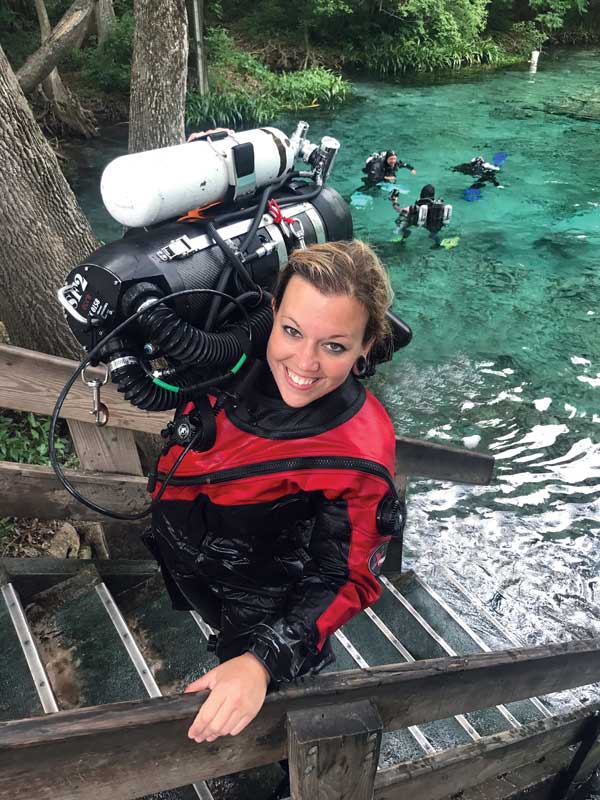 What made you want to become a diver? I was on vacation in the Maldives and I did a Discover Scuba. When I got out of the water I said I want to be a scuba instructor! I knew that moment that I wanted to share that experience with as many people as possible. That was 10 years ago.
Did you have any mentors? One of the first people to really help me, and allow me to sit in on her classes, was Jill Heinerth. For that, I will always be so thankful. It was so rewarding to learn from such a strong, independent woman in the industry.
How did diving change your life? Diving is my ENTIRE life. From the moment I took my first breaths underwater, my entire life was changed. When I was introduced to Florida and the caves, I sold everything I had and drove what I could fit in my tiny car to Florida and started a new life, determined to become a cave instructor.
What is it about cave diving? I love the technical challenge and the exploration of the unknown. The world is such a loud place but in the caves it's so quiet and peaceful. There are so few places left untouched but I feel like caves are one of them. I find nothing more rewarding then being able to show people the caves for the first time.
Who is your go-to dive buddy? James Draker, my boyfriend and business partner. He's the best underwater model ever. He's always reading my mind and helping me big time with lighting. I also know he'll yank me out of a hole if I get stuck and he'll follow me into all the tiny wiggly places I find so much fun.
Why open your own store? Honestly, James wanted to open the store more than I did, but I'm really glad we did. We just really wanted to have a nice class room space to sit down with students and do academics, a place to set up gear, and we didn't want to have to drive to five different shops just to find a double-ender.
What's challenged you as a store owner? The cave diving community can be quite cruel. Because of the small space we opened we've been told we aren't welcome at many of the other local shops because we are competition. I don't feel like we are competition; we tried to be different, sell and stock different things. I think there is enough business to go around, and we can all be successful. I wish we could all work together for the good of the community. After all, we are all here because of our love for the caves.
What's the secret to a successful store? Being competitive, being responsive, having inventory, and just having good communication. People know they can message me day or night and I'll respond immediately. They know that if I say I'm going to send something out I do it immediately. Communication is so important. We didn't want to carry a million different product lines either. We only wanted to carry the gear we dive and the gear we truly believe in. We wanted to have a clean environment that is organized and well stocked with unique things that no one else carries.
What gets you excited as an instructor? Nothing compares to the look on someone's face when you help them take their first breath underwater, or their first glimpse into a cave. It's so rewarding to get to be the person that gets to share that with them. There is no greater feeling in the world.
Most memorable marine life encounter? There is not usually a lot of marine life in the caves, but I also enjoy ocean diving very much. I was recently in Truk Lagoon diving a wreck as the sun was going down. Being on a rebreather and having no bubbles there were sharks cruising around me, and eagle rays, I remember the sharks cruising thru large bait balls and then right past me. A rebreather has mainly been a tool for me for cave diving, but it's an amazing tool for ocean diving, as well.
What is your favourite dive site? The most absolutely stunning caves in the world are the crystal caves in the Bahamas. There are formations there that are like nothing else in the world. It's absolutely breathtaking.
Where would you like to dive but haven't? I want to dive everywhere! I am a hopeless romantic when it comes to the world. Every place I travel, I fall in love with it. Right now at the top of my list is probably Socorro. I'd also like to do some mines, and some caves in France and Budapest.
What's the craziest thing you've seen? The caves in Mexico were once dry. Swimming thru them and seeing animal remains, pottery, and human remains is truly amazing. I like to imagine how the cave was when it was once dry. What was that person doing there? How did they perish? It's so surreal.
What does diving mean to you? To me diving has always been an escape. When I dive, every worry in the world goes away.
Favourite dive snack? My one student, Andrew Johnston, always has these amazing cookies with him. I had another student who always had frozen Reese's.
Favourite diving movie? That's tough because most of them are so inaccurate…. one of my favorite lines is from Sanctum, "What could possibly go wrong, diving in caves?"  There is a Netflix movie called Last Breath that is gut wrenching, had me fighting back tears, and was really moving.
Proudest diving moment or achievement? My biggest achievement is being able to never have to work a day in my life, because I get to spend every day doing something that I truly love.
What's next for you? I just want to continue to travel, continue to introduce people to the amazing world of cave diving, and I would love the opportunity to do more with my underwater photography. 
For more visit: www.dive-caves.com