Kids Diving
Jacob's Journey
January 8, 2020 By DIVER Editorial
By Margo Peyton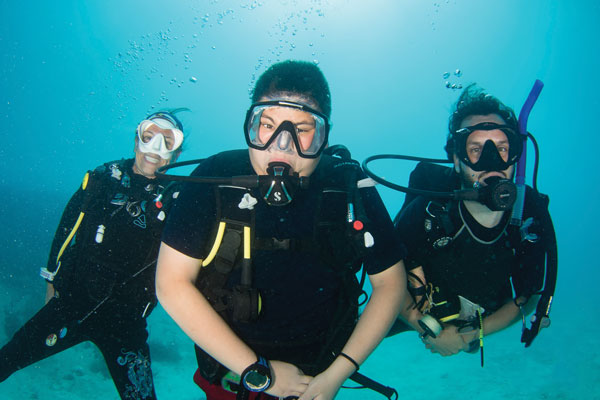 I think all kids are special. In a way, every child I have ever trained or dived with has helped forge the passion and love of diving I hold in my heart today. This is a story of one particularly courageous and inspiring young man, who changed my life for the better.
After 30 years of diving, Jacob was an unexpected gift. He has high functioning autism. While you might not think scuba diving would be a safe activity for an autistic child, it can be – and also life-changing, as it was for Jacob, his mom, and me. 
I didn't know much about autism when I first met Jacob and his mother, Alison. I've come to learn that autism is a lot like being aware of everything going on around you – touch, site, sounds – magnified, and all at the same time. It can be overwhelming. Jacob tells me diving is the perfect sport for him. He says it allows him to see clearly, think clearly, and just be. 
He told me he loves the quiet underwater because he can't hear his mom's voice yacking at him. This amused me, because my own kids have said the same! After all, you can't tell them what to do or not do, you just have to let them be. Jacob loves that.
A positive experience
Training Jacob was a greater challenge, because he does not like to be touched and he can be uncomfortable making eye contact, two important requirements in teaching kids to dive. It was important first for me to earn his trust for those things to happen. Jacob started diving with me and became a PADI Jr. Open Water diver when he was 10 years old. Since then, he and his mom have been traveling around the Kids Sea Camp world. Jacob will be 15 this coming year.
When Jacob's mom Alison first called to tell me about her son, I was uncertain about taking him diving. I wanted to make sure I would not disappoint them in any way, and that I could keep him safe. Most importantly this had to be a positive experience for Jacob. I love introducing both kids and adults to the underwater world. It's my joy in life to make it as positive for everyone as it was for me and my two kids.
Jacob learned to dive in Bonaire at Buddy Dive, where calm water is pretty much guaranteed for most of the year and the water is warm. I did not think getting Jacob in a wetsuit was going to go over well, so the warmer water was important. Bonaire is fantastic for training as the water is crystal clear. On any given day you have 100+ feet (30m+) of visibility, the best possible conditions. Buddy Dive made it easy for me to arrange. We provided Jacob with his own private instructor who had a great deal of experience in special needs. I tagged along to learn and make sure nothing went wrong. I told Alison to go enjoy her own course, as she too was becoming certified. Who knew it would become a dive-around-the-world agenda for a mom and son? She confided in me that initially her husband was to be Jacob's dive buddy, but he thought it would make a better mother-son adventure.
She told me how hard it was to get Jacob on a plane, how he did not like to sit still so long and did not like being inside of a flying capsule. I know many other travellers who have similar feelings.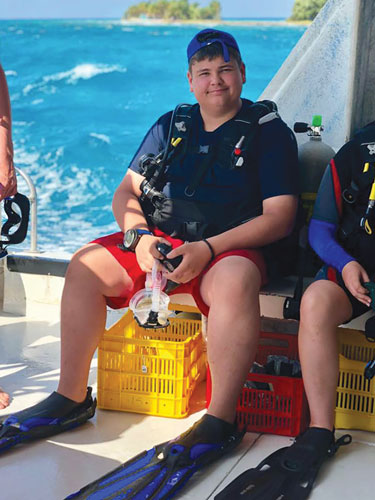 Huge leaps…
Jacob enjoyed being underwater and he became a PADI Jr. Scubadiver four years ago in Bonaire and followed with his Jr. Advanced. I had to ask his permission to touch him and clearly explain during skills why I would. For example, as I do with all kids, let him know that when he did his mask clear, I would hold him in place in case he wanted to keep his eyes close so not to get the salt water in his eyes. I also told him with the Controlled Emergency Swimming Assent (CESA) skill, I would be holding on to him to allow him to go slow and for me to feel better. Once Jacob knew he was doing something to help me he was very eager to assist. On our first adventure dive together in Roatan Honduras, I was pleasantly surprised at how fun and interesting he made our dive. Jacob told me that when he is diving, he can pay attention because he does not have the distraction of sound; he can focus on sight.
Jacob came to Palau with us this year and although some sleep meds were required for the long flight, he was excited to learn about WWI and WWII. His buoyancy, his attention, and his excitement were contagious; and, while for the most part Jacob did not interact too much with other kids or adults and kept to himself, I was proud of him. 
The instructors to whom I have introduced Jacob have thanked me for pairing them together. He renews your spirit and inspires you to be a better person, to take the time to care, and makes you realize that you can change someone else's life in a positive way. Diving does that for so many kids, but for this special boy it really brought him closer to his mom, and the rest of the world he was not so sure he would enjoy.
This August, 14-year old Jacob came to my Cayman Brac Kids Sea Camp week. He joined the kids' boat and helped other kids, and even led the dive for him and his mom (with DM in tow). Patric, another special instructor I fly in from Switzerland to help me with special needs kids, buddied with Jacob on this trip. With emotion and pride, we watched this young, confident Advanced Open Water Diver guide, engage with, and enjoy the company of other kids and divers. He even played volleyball with us one afternoon. We did not realize how big of a deal that was, but I thought his mom was going to faint when she saw him. She had thought he wondered off and was frantically looking for him all around the resort. As she was walking past the beach volleyball game she thought to ask if anyone had seen Jacob, and there he was.
She told me how this trip had indicated a moving of the needle for him. Playing volley ball, leading dives, it was all just so amazing to think about how far Jacob had come. Jacob's journey truly has been validation for me that what I do every day does matter.
…huge rewards
I have over 6000 dives now, but diving with Jacob ranks up there in my top 10. I've opened my heart and my company to special needs kids. It's a lot of responsibility and, yes, very stressful because to me each child is like my own. I want everything to be as perfect as it can be. I want to make sure that child can look at me and trust me. Since Jacob came into my life, I have enjoyed many other special kids and it has been the most challenging and most rewarding part of my career.
Jacob said he will always dive with Kids Sea Camp and he even wants to become a Dive Master someday. I'm ready when he is, and almost every member of my team can't wait to be assigned to Jacob. He has touched our lives far more than we have his. I am inspired also by the courage and love of his mother, who makes his journey her greatest joy and priority. I can't wait to dive with Jacob in the Philippines with whale sharks next summer. 
Margo Peyton is the founder of Kids Sea Camp and Family Dive Adventures, recipient of the DEMA Reaching Out Award, Woman Divers Hall of Famer, and the PADI Award of Excellence in training and education with over 6,000 certified kids and zero dive accidents! For more:
www.familydivers.com